Abstract
Background
Osteoarthritis (OA) is one of the most common joint disorders in the elderly which could be associated with considerable physical disability.
Patients and methods
In a descriptive, prospective study, 33 patients enrolled in the study from which 15 people were excluded due to incomplete course of treatment, leaving the total number of 18 patients with knee osteoarthritis. Gal-Al-As diode laser device was used as a source of low-power laser. Patients were performed laser therapy with a probe of LO7 with a wavelength of 810 nm and 50 mW output power in pulse radiation mode (F = 3,000, peak power = 80 W, Δt = 200 ns, density = 0.05 W/cm2, dose = 6 J/cm2, area = 1 cm2) and also a probe of MLO1K with a power output of 30 mW and a wavelength of 890 nm in pulse radiation mode (F = 3,000 Hz, peak power = 50 W, Δt = 200 ns, density = 0.017 W/cm2, total dose = 10 J/cm2), and were given low-level laser therapy (LLLT) three times a week with a total number of 12 sessions. Data were analyzed using SPSS ver. 15, and the obtained data were reported as mean ± SD and frequency (%). To analyze the data, repeated measurement and marginal homogeneity approaches were used.
Results
In the current study, a significant reduction was observed regarding the nocturnal pain, pain on walking and ascending the steps, knee circumference, distance between the hip and heel, and knee to horizontal hip to heel distance at the end of the treatment course.
Conclusions
In brief, the current study focuses on the fact that LLLT is effective in reducing pain in knee osteoarthritis.
Access options
Buy single article
Instant access to the full article PDF.
US$ 39.95
Tax calculation will be finalised during checkout.
Subscribe to journal
Immediate online access to all issues from 2019. Subscription will auto renew annually.
US$ 79
Tax calculation will be finalised during checkout.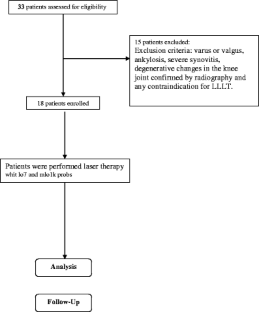 Abbreviations
LLLT:

Low-level laser therapy

TENS:

Transcutaneous electrical nerve stimulation

OA:

Osteoarthritis

WOMAC:

Western Ontario and McMaster Universities
References
1.

Brandt KD, Dieppe P, Radin EL (2008) Etiopathogenesis of osteoarthritis. Rheum Dis Clin N Am 34(3):531–559

2.

Felson DT, Zhang Y, Hannan MT, Naimark A, Weissman BN, Aliabadi P, Levy D (1995) The incidence and natural history of knee osteoarthritis in the elderly. The Framingham Osteoarthritis Study. Arthritis Rheum 38(10):1500–1505

3.

Felson DT (1993) The course of osteoarthritis and factors that affect it. Rheum Dis Clin N Am 19(3):607–615

4.

Tascioglu F, Armagan O, Tabak Y, Corapci I, Oner C (2004) Low power laser treatment in patients with knee osteoarthritis. Swiss Med Wkly 134(17–18):254–258

5.

Scheiman JM (1996) NSAIDs, gastrointestinal injury, and cytoprotection. Gastroenterol Clin N Am 25(2):279–298

6.

Cheing GL, Hui-Chan CW, Chan KM (2002) Does four weeks of TENS and/or isometric exercise produce cumulative reduction of osteoarthritic knee pain? Clin Rehabil 16(7):749–760

7.

Talbot LA, Gaines JM, Ling SM, Metter EJ (2003) A home-based protocol of electrical muscle stimulation for quadriceps muscle strength in older adults with osteoarthritis of the knee. J Rheumatol 30(7):1571–1578

8.

Kozanoglu E, Basaran S, Guzel R, Guler-Uysal F (2003) Short term efficacy of ibuprofen phonophoresis versus continuous ultrasound therapy in knee osteoarthritis. Swiss Med Wkly 133(23–24):333–338

9.

Deyle GD, Henderson NE, Matekel RL, Ryder MG, Garber MB, Allison SC (2000) Effectiveness of manual physical therapy and exercise in osteoarthritis of the knee. A randomised, controlled trial. Ann Intern Med 132(3):173–181

10.

Ozdemir F, Birtane M, Kokino S (2001) The clinical efficacy of low-power laser therapy on pain and function in cervical osteoarthritis. Clin Rheumatol 20(3):181–184

11.

Simunovic Z, Trobonjaca T, Trobonjaca Z (1998) Treatment of medial and lateral epicondylitis-tennis and golfer's elbow-with low laser therapy: a multicenter double-blind, placebo-controlled study on 324 patients. J Clin Laser Med Surg 16(3):145–151

12.

Haker EH, Lundeberg TC (1991) Lateral epicondylalgia. Report of noneffective midlaser treatment. Arch Phys Med Rehabil 72(12):984–988

13.

Vecchio P, Cave M, King V, Adebajo AO, Smith M, Hazleman BL (1993) A double-blind study of the effectiveness of low-level laser treatment of rotator cuff tendinitis. Br J Rheumatol 32(8):740–742

14.

Goats G, Hunter JA, Flett E, Stirling A (1996) Low intensity laser and phototherapy for rheumatoid arthritis. Physiotherapy 82(5):311–320

15.

Stelian J, Gil I, Habot B, Rosenthal M, Abramovici I, Kutok N, Khahil A (1992) Improvement of pain and disability in elderly patients with degenerative osteoarthritis of the treated with narrow-bandlight therapy. J Am Geriatr Soc 40(1):23–26

16.

Bülow PM, Jensen H, Danneskiold-Samsøe B (1994) Low power Ga-Al-As laser treatment of painful osteoarthritis of the knee. A double-blind placebo-controlled study. Scand J Rehabil Med 26(3):155–159

17.

http://www.laserlightcanada.com/article-details.php?ID=1255427194S at Mokmeli , Anesthesiologist, H. Attarian, Rheumatologist, M. Hosseini,MD, S. Bishea. Low level laser therapy (LLLT) for knee Osteoarthritis: (A clinical study on 386 patients.)

18.

Rayegani SM, Bahrami MH, Elyaspour D, Saeedi M, Sanjri H (2012) Therapeutic effects of Low Level Laser Therapy (LLLT) in knee osteoarthritis, compared to therapeutic ultrasound. J Lasers Med Sci 3(2):71–74

19.

Hegdus B, Viharos L, Gervain M (2009) The effect of low level laser in knee osteoarthritis: a double-blind, randomised, placebo-controlled trial. Photomed Laser Surg 27(4):577–584

20.

Bjordal JM, Johnson MI, Iversen V, Aimbire F, Lopes-Martins RAB (2006) Photoradiation in acute pain: a systematic review of possible mechanisms of action and clinical effects in randomized placebo-controlled trials. Photomed Laser Surg 24(2):158–68

21.

Bjordal JM, Lopes-Martins RA, Iversen VV (2006) A randomised, placebo controlled trial of low level laser therapy for activated Achilles tendinitis with microdialysis measurement of peritendinous prostaglandin E2 concentrations. Br J Sports Med 40(1):76–80

22.

Castano AP, Dai T, Yaroslavsky I, Cohen R, Apruzzese WA, Smotrich MH, Hamblin MR (2007) Low level laser therapy for zymosan-induced arthritis in rats: importance of illumination time. Lasers Surg Med 39(6):543–550

23.

http://discoverlasers.com/blog/low-level-laser-therapy-vs-nsaids (Last accessed 11 Dec 2013)

24.

Bjordal JM, Johnson MI, Iversen V, Aimbire F, Lopes-Martins RA (2006) Photomed Laser Surg 24(2):158–168

25.

Cho HJ, Lim SC, Kim SG, Kim YS, Kang SS, Choi SH, Cho YS, Bae CS (2004) Effect of low-level laser therapy on osteoarthropathy in rabbit. In Vivo 18(5):585–591

26.

van Breugel HH, Bär PR (1992) Power density and exposure time of He-Ne laser irradiation are more important than total energy dose in photo-biomodulation of human fibroblasts in vitro. Lasers Surg Med 12(5):528–537

27.

Tamura K, Hosoya S, Hiratsuka K, Abiko Y (1998) Laser stimulation of CDC46 gene expression in murine osteoblasts. Laser Ther 10:25–31

28.

Lam TS, Abergel RP, Meeker CA, Castel JC, Dwyer RM, Uitto J (1986) Laser stimulation of collagen synthesis in human skin fibroblasts cultures. Lasers Life Sci 1:61–77

29.

Nagasawa A, Kato K, Negishi A (1991) Bone regeneration effect of low-level lasers including argon laser. Laser Ther 3:59–62

30.

Barushka O, Yaakobi T, Oron U (1995) Effect of low energy laser (He-Ne) irradiation on the process of bone repair in the rat tibia. Bone 16:47–55

31.

Longo L, Evangelista S, Tinacci G, Sesti AG (1987) Effects of diodes laser silver arsenide aluminium (GaAlAs) 904 nm on healing of experimental wounds. Lasers Surg Med 7(5):444–447

32.

Lievens P (1988) The influence of laser treatment on the lymphatic system and on wound healing. Laser 1(2):6–12

33.

Kazem Shakouri S, Soleimanpour J, Salekzamani Y, Oskuie MR (2010) Effect of low-level laser therapy on the fracture healing process. Lasers Med Sci 25(1):73–77

34.

Lin YS, Huang MH, Chai CY, Yang RC (2004) Effects of helium-neon laser on levels of stress protein and arthritic histopathology in experimental osteoarthritis. Am J Phys Med Rehabil 83(10):758–765

35.

Enwemeka CS, Parker JC, Dowdy DS, Harkness EE, Sanford LE, Woodruff LD (2004) The efficacy of low-power lasers in tissue repair and pain control. Photomed Laser Surg 22(4):323–329

36.

Alves AC, de Carvalho Pde T, Parente M, Xavier M, Frigo L, Aimbire F, Leal EC Jr, Albertini R (2013) Low-level laser therapy in different stages of rheumatoid arthritis: a histological study. Lasers Med Sci 28(2):529–536

37.

Hopkins JT, McLoda TA, Seegmiller JG, David Baxter G (2004) Low-Level Laser Therapy facilitates superficial wound healing in humans: a triple-blind, sham-controlled study. J Athl Train 39(3):223–229
Acknowledgments
We would like to offer our special thanks to the Iranian Laser Association for assisting us throughout the current study.
Financial disclosure
The authors declare they have no financial disclosure.
Funding/Support
This article is not supported by any funding organization. There is no sponsor for this work.
Additional information
Authors' information
HS is Associate professor of Anesthesiology and Critical Care, Fellowship in Trauma Critical Care and CPR at the Department of Emergency Medicine, Tabriz University of Medical Sciences, Tabriz, Iran. He is also editorial board member of  Emergency medicine journal (EGM) and Pakistan Journal of Biological Sciences (PJBS) and member of World Stroke Organization (WSO), too. KG and RT are anesthesiologists and members of  Iranian Medical Laser Association, Tehran, Iran. SEJG is an anesthesiologist at the Department of Anesthesiology, Tabriz University of Medical Sciences, Tabriz, Iran. SS is resident of Anesthesiology and Critical Care Department, Iran University of Medical Sciences, Tehran, Iran and Managing  Editor at Anesthesiology and Pain Medicine Journal. RME is member of Neurosciences Research Center, Tabriz University of Medical Sciences, Tabriz, Iran. AI is anesthesiologist at Saudi German Hospital, Dubai, United Arab Emirates.
Electronic supplementary material
Below is the link to the electronic supplementary material.
About this article
Cite this article
Soleimanpour, H., Gahramani, K., Taheri, R. et al. The effect of low-level laser therapy on knee osteoarthritis: prospective, descriptive study. Lasers Med Sci 29, 1695–1700 (2014). https://doi.org/10.1007/s10103-014-1576-6
Received:

Accepted:

Published:

Issue Date:
Keywords
Knee osteoarthritis

Low-level laser therapy

Pain