Abstract
Ultrashort pulsed lasers (USPLs) represent a new generation of laser systems in the field of biophotonical applications. In terms of a pilot project, the study was carried out to evaluate the ablation parameters of bone tissue regarding the medical use of such a laser technology in dentistry. Specimens from ribs of freshly slaughtered pigs were assembled and irradiated with an USP Nd:YVO4 laser (pulse duration 8 ps at 1,064 nm with repetition rates between 50 and 500 kHz) using eligible average output powers in the range of 3.5–9 W and fluences between 1 and 2.5 J/cm2. Square-shaped cavities of 1-mm edge length in the bone compacta were created employing a scanner system. Cavities were analyzed with an optical profilometer to determine the ablated volume. Ablation rate was calculated by the ablated volume and the recorded irradiation time by the scanner software. Additionally, samples were examined histologically to investigate side effects of the surrounding tissue. Formed cavities showed a precise and sharp-edged appearance in bone compacta. Optimized ablation rate of 5.2 mm3/min without any accompanying side effects was obtained with an average output power of 9 W, a pulse repetition rate of 500 kHz, and an applied fluence of 2.5 J/cm2. Provided that the used laser system will be advanced and adjusted for clinical applications, the outcome of this study shows auspicious possibilities for the use of USPL systems in the preparation of bone tissue.
Access options
Buy single article
Instant access to the full article PDF.
US$ 39.95
Tax calculation will be finalised during checkout.
Subscribe to journal
Immediate online access to all issues from 2019. Subscription will auto renew annually.
US$ 79
Tax calculation will be finalised during checkout.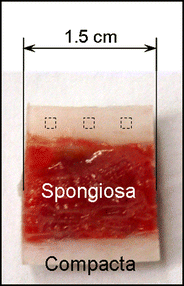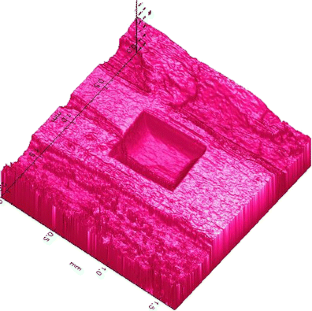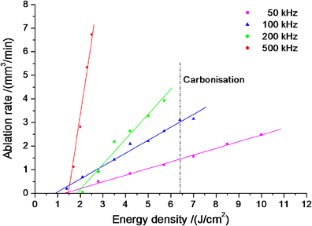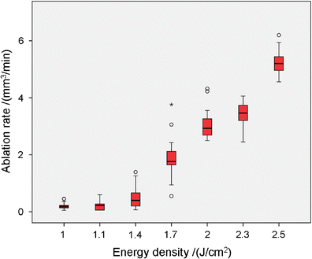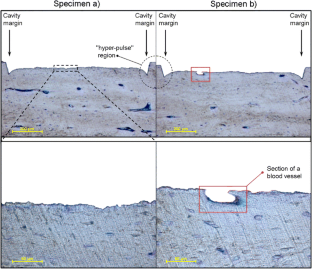 References
1.

Frentzen M, Götz W, Ivanenko M, Afilal S, Werner M, Hering P (2003) Osteotomy with 80-μs CO2 laser pulses—histological results. Lasers Med Sci 18(2):119–124. doi:10.1007/s10103-003-0264-8

2.

Romeo U, Del Vecchio A, Palaia G, Tenore G, Visca P, Maggiore C (2009) Bone damage induced by different cutting instruments—an in vitro study. Braz Dent J 20(2):162–168

3.

Pourzarandian A, Watanabe H, Aoki A, Ichinose S, Sasaki KM, Nitta H, Ishikawa I (2004) Histological and TEM examination of early stages of bone healing after Er:YAG laser irradiation. Photomed Laser Surg 22(4):342–350. doi:10.1089/pho.2004.22.342

4.

Gülnahar Y, Hüseyin Köşger H, Tutar Y (2013) A comparison of piezosurgery and conventional surgery by heat shock protein 70 expression. Int J Oral Maxillofac Surg 42(4):508–510. doi:10.1016/j.ijom.2012.10.027

5.

Bengazi F, Lang NP, Canciani E, Viganò P, Velez JU, Botticelli D (2012) Osseointegration of implants with dendrimers surface characteristics installed conventionally or with Piezosurgery®. A comparative study in the dog. Clin Oral Implants Res. doi:10.1111/clr.12082 [Epub ahead of print]

6.

Deppe H, Horch HH (2007) Laser applications in oral surgery and implant dentistry. Lasers Med Sci 22(4):217–221. doi:10.1007/s10103-007-0440-3

7.

Papadaki M, Doukas A, Farinelli WA, Kaban L, Troulis M (2007) Vertical ramus osteotomy with Er:YAG laser: a feasibility study. Int J Oral Maxillofac Surg 36(12):1193–1197. doi:10.1016/j.ijom.2007.05.019

8.

Stübinger S, Biermeier K, Bächi B, Ferguson SJ, Sader R, von Rechenberg B (2010) Comparison of Er:YAG laser, piezoelectric, and drill osteotomy for dental implant site preparation: a biomechanical and histological analysis in sheep. Lasers Surg Med 42(7):652–661. doi:10.1002/lsm.20944

9.

Kimura Y, Yu DG, Fujita A, Yamashita A, Murakami Y, Matsumoto K (2001) Effects of erbium,chromium:YSGG laser irradiation on canine mandibular bone. J Periodontol 72(9):1178–1182. doi:10.1902/jop.2000.72.9.1178

10.

Wang X, Ishizaki NT, Suzuki N, Kimura Y, Matsumoto K (2002) Morphological changes of bovine mandibular bone irradiated by Er,Cr:YSGG laser: an in vitro study. J Clin Laser Med Surg 20(5):245–250. doi:10.1089/10445470260420740

11.

Niemz MH (1996) Laser–tissue interactions: fundamentals and applications. Springer Verlag, Berlin, Heidelberg, New York

12.

Shirk MD, Molian PA (1998) A review of ultrashort pulsed laser ablation of materials. J Laser Appl 10(1):18–28. doi:10.2351/1.521827

13.

Armstrong WB, Neev JA, Da Silva LB, Rubenchik AM, Stuart BC (2002) Ultrashort pulse laser ossicular ablation and stapedotomy in cadaveric bone. Lasers Surg Med 30(3):216–220. doi:10.1002/lsm.10034

14.

Schwab B, Hagner D, Müller W, Lubatschowski H, Lenarz T, Heermann R (2004) Bone ablation using ultrashort laser pulses. A new technique for middle ear surgery. Laryngo-Rhino-Otol 83(4):219–225. doi:10.1055/s-2004-814270 [Article in German]

15.

Emigh B, An R, Hsu EM, Crawford THR, Haugen HK, Wohl GR, Hayward JE, Fang Q (2012) Porcine cortical bone ablation by ultrashort pulsed laser irradiation. J Biomed Opt 17(2):028001. doi:10.1117/1.JBO.17.2.028001

16.

Schelle F, Polz S, Haloui H, Braun A, Dehn C, Frentzen M, Meister J (2013) Ultrashort pulsed laser (USPL) application in dentistry: basic investigations of ablation rates and thresholds on oral hard tissue and restorative materials. Lasers Med Sci. doi:10.1007/s10103-013-1315-4 [Epub ahead of print]

17.

Tukey JW (1977). Exploratory Data Analysis (Addison-Wesley Series in Behavioral Science-Quantitative Methods). Addison Wesley Pub Co Inc, Boston

18.

Bello-Silva MS, Martin Wehner M, Eduardo CP, Lampert F, Poprawe R, Hermans M, Esteves-Oliveira M (2012) Precise ablation of dental hard tissues with ultra-short pulsed lasers. Preliminary exploratory investigation on adequate laser parameters. Lasers Med Sci. doi:10.1007/s10103-012-1107-2 [Epub ahead of print]

19.

Girard B, Yu D, Armstrong MR, Wilson BC, Clokie CM, Miller RJ (2007) Effects of femtosecond laser irradiation on osseous tissues. Lasers Surg Med 39(3):273–285. doi:10.1002/lsm.20466

20.

Girard B, Cloutier M, Wilson DJ, Clokie CM, Miller RJ, Wilson BC (2007) Microtomographic analysis of healing of femtosecond laser bone calvarial wounds compared to mechanical instruments in mice with and without application of BMP-7. Lasers Surg Med 39(5):458–467. doi:10.1002/lsm.20493

21.

Liu Y, Niemz M (2007) Ablation of femural bone with femtosecond laser pulses—a feasibility study. Lasers Med Sci 22(3):171–174. doi:10.1007/s10103-006-0424-8

22.

Stübinger S, von Rechenberg B, Zeilhofer HF, Sader R, Landes C (2007) Er:YAG laser osteotomy for removal of impacted teeth: clinical comparison of two techniques. Lasers Surg Med 39(7):583–588. doi:10.1002/lsm.20528

23.

Stock K, Diebolder R, Hausladen F, Wurm H, Lorenz S, Hibst R (2013) Primary investigations on the potential of a novel diode pumped Er:YAG laser system for bone surgery. In: Rechmann P, Fried D, (eds) Lasers in Dentistry XIX, Proc SPIE 8565:85656D–1–85656D–8. doi:10.1117/12.2004123.
Acknowledgments
The authors would like to thank the Federal Ministry of Education and Research Germany (grant no. 13 N10190) for the financial support. Moreover, thanks are given to the staff of our laboratory (Silke van Dyck, Imke Beier, Beate Schiermeyer-Dunkhase) for preparing the samples.
About this article
Cite this article
Plötz, C., Schelle, F., Bourauel, C. et al. Ablation of porcine bone tissue with an ultrashort pulsed laser (USPL) system. Lasers Med Sci 30, 977–983 (2015). https://doi.org/10.1007/s10103-014-1520-9
Received:

Accepted:

Published:

Issue Date:
Keywords
Ultrashort pulsed laser

Nd:YVO4 laser

Bone ablation

Ablation rate

Side effects

Periodontal surgery

Implantology