Abstract
Because a single exposure to light-emitting diode (LED) irradiation at 660 nm only demonstrated a 3-day biostimulatory effect in recovering periodontal bone level (PBL), this study sought to evaluate whether the periodontal effect could be extended through the use of multiple LED irradiations. Experimental periodontitis was developed unilaterally in 48 Sprague–Dawley rats after the placement of a silk ligature plus Porphyromonas gingivalis lipopolysaccharide injections. The animals were divided into four groups (no irradiation, a single irradiation, or two or three irradiations per week) and exposed to LED light irradiation at a wavelength of 660 ± 25 nm and energy density of 10 J/cm2 after debridement and detoxification. The animals were euthanized after 7 or 14 days, and the effect of irradiation was evaluated using micro-computed tomography and histology. By day 7, PBL was significantly reduced (p < 0.05), with significantly reduced inflammation (p < 0.05) and gingival hyperplasia (p < 0.001), in the animals receiving three irradiations per week. At day 14, the reduction in gingival hyperplasia was still significant (p < 0.05), and collagen matrix deposition and realignment appeared to be accelerated in the animals receiving three irradiations per week, despite a lack of significant difference in PBL. The treatment regimen receiving three LED light irradiations per week apparently extended the effects in reducing PBL and inflammation to 7 days. The inclusion of additional inflammation control measures or the addition of bioactive signals to mediate the repairing process is necessary to maintain long-term periodontal stability.
Access options
Buy single article
Instant access to the full article PDF.
USD 39.95
Price includes VAT (USA)
Tax calculation will be finalised during checkout.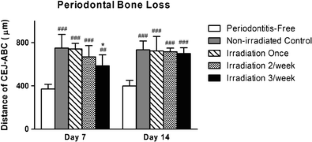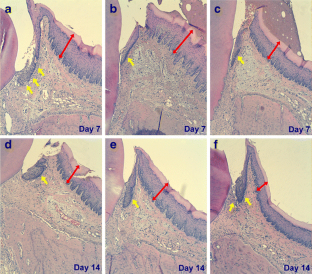 References
1.

Eke PI, Dye BA, Wei L, Thornton-Evans GO, Genco RJ, Cdc Periodontal Disease Surveillance workgroup: James Beck GDRP (2012) Prevalence of periodontitis in adults in the United States: 2009 and 2010. J Dent Res 91:914–920

2.

Albandar JM, Brunelle JA, Kingman A (1999) Destructive periodontal disease in adults 30 years of age and older in the United States, 1988–1994. J Periodontol 70:13–29

3.

Newman MG, Takei HH, Klokkevold PR, Carranza FA (2011) Carranza's clinical periodontology, 11th ed. Elsevier, Philadelphia

4.

Houreld NN, Abrahamse H (2008) Laser light influences cellular viability and proliferation in diabetic-wounded fibroblast cells in a dose- and wavelength-dependent manner. Lasers Med Sci 23:11–18

5.

Conlan MJ, Rapley JW, Cobb CM (1996) Biostimulation of wound healing by low-energy laser irradiation. A review. J Clin Periodontol 23:492–496

6.

Aykol G, Baser U, Maden I, Kazak Z, Onan U, Tanrikulu-Kucuk S, Ademoglu E, Issever H, Yalcin F (2011) The effect of low-level laser therapy as an adjunct to non-surgical periodontal treatment. J Periodontol 82:481–488

7.

Makhlouf M, Dahaba MM, Tuner J, Eissa SA, Harhash TA (2012) Effect of adjunctive low level laser therapy (LLLT) on nonsurgical treatment of chronic periodontitis. Photomed Laser Surg 30:160–166

8.

Obradovic R, Kesic L, Mihailovic D, Antic S, Jovanovic G, Petrovic A, Pesevska S (2013) A histological evaluation of a low-level laser therapy as an adjunct to periodontal therapy in patients with diabetes mellitus. Lasers Med Sci 28:9–24

9.

Ripamonti U, Reddi AH (1992) Growth and morphogenetic factors in bone induction: role of osteogenin and related bone morphogenetic proteins in craniofacial and periodontal bone repair. Crit Rev Oral Biol Med 3:1–14

10.

Choi H, Lim W, Kim I, Kim J, Ko Y, Kwon H, Kim S, Kabir KM, Li X, Kim O, Lee Y (2011) Inflammatory cytokines are suppressed by light-emitting diode irradiation of P. gingivalis LPS-treated human gingival fibroblasts: inflammatory cytokine changes by LED irradiation. Lasers Med Sci 27(2):459–467

11.

Lopes BM, Theodoro LH, Melo RF, Thompson GM, Marcantonio RA (2010) Clinical and microbiologic follow-up evaluations after non-surgical periodontal treatment with erbium:YAG laser and scaling and root planing. J Periodontol 81:682–691

12.

Persson GR, Roos-Jansaker AM, Lindahl C, Renvert S (2011) Microbiologic results after non-surgical erbium-doped:yttrium, aluminum, and garnet laser or air-abrasive treatment of peri-implantitis: a randomized clinical trial. J Periodontol 82:1267–1278

13.

Lai SM, Zee KY, Lai MK, Corbet EF (2009) Clinical and radiographic investigation of the adjunctive effects of a low-power He-Ne laser in the treatment of moderate to advanced periodontal disease: a pilot study. Photomed Laser Surg 27:287–293

14.

Ribeiro IW, Sbrana MC, Esper LA, Almeida AL (2008) Evaluation of the effect of the GaAlAs laser on subgingival scaling and root planing. Photomed Laser Surg 26:387–391

15.

Paschalis EP, Mendelsohn R, Boskey AL (2011) Infrared assessment of bone quality: a review. Clin Orthop Relat R 469:2170–2178

16.

Chang PC, Chien LY, Ye Y, Kao MJ (2013) Irradiation by light-emitting diode light as an adjunct to facilitate healing of experimental periodontitis in vivo. J Periodontal Res 48:135–143

17.

Chang PC, Chien LY, Yeo JF, Wang YP, Chung MC, Chong LY, Kuo MY, Chen CH, Chiang HC, Ng BN, Lee QQ, Phay YK, Ng JR, Erk KY (2013) Progression of periodontal destruction and the roles of advanced glycation end products in experimental diabetes. J Periodontol 84:379–388

18.

Igic M, Kesic L, Lekovic V, Apostolovic M, Mihailovic D, Kostadinovic L, Milasin J (2012) Chronic gingivitis: the prevalence of periodontopathogens and therapy efficiency. Eur J Clin Microbiol Infect Dis. doi:10.1007/s10096-011-1520-7

19.

Pejcic A, Kojovic D, Kesic L, Obradovic R (2010) The effects of low level laser irradiation on gingival inflammation. Photomed Laser Surg 28:69–74

20.

Kreisler M, Al Haj H, d'Hoedt B (2005) Clinical efficacy of semiconductor laser application as an adjunct to conventional scaling and root planing. Lasers Surg Med 37:350–355

21.

Uysal T, Ekizer A, Akcay H, Etoz O, Guray E (2012) Resonance frequency analysis of orthodontic miniscrews subjected to light-emitting diode photobiomodulation therapy. Euro J Orthodont 34:44–51

22.

Smith KC (2005) Laser (and LED) therapy is phototherapy. Photomed Laser Surg 23:78–80

23.

Rosa CB, Habib FA, de Araujo TM, Aragao JS, Gomes RS, Barbosa AF, Silveira L Jr, Pinheiro AL (2013) Effect of the laser and light-emitting diode (LED) phototherapy on midpalatal suture bone formation after rapid maxilla expansion: a Raman spectroscopy analysis. Lasers Med Sci. doi:10.1007/s10103-013-1284-7

24.

Bryan N, Ahswin H, Smart N, Bayon Y, Wohlert S, Hunt JA (2012) Reactive oxygen species (ROS)—a family of fate deciding molecules pivotal in constructive inflammation and wound healing. Euro Cells Mater 24:249–265

25.

Vanella L, Sanford C Jr, Kim DH, Abraham NG, Ebraheim N (2012) Oxidative stress and heme oxygenase-1 regulated human mesenchymal stem cells differentiation. Int J Hypertens 2012:890671

26.

Zhao L, Huang J, Zhang H, Wang Y, Matesic LE, Takahata M, Awad H, Chen D, Xing L (2011) Tumor necrosis factor inhibits mesenchymal stem cell differentiation into osteoblasts via the ubiquitin E3 ligase Wwp1. Stem Cells 29:1601–1610

27.

Pyo SJ, Song WW, Kim IR, Park BS, Kim CH, Shin SH, Chung IK, Kim YD (2013) Low-level laser therapy induces the expressions of BMP-2, osteocalcin, and TGF-beta1 in hypoxic-cultured human osteoblasts. Lasers Med Sci 28:543–550

28.

Fujimoto K, Kiyosaki T, Mitsui N, Mayahara K, Omasa S, Suzuki N, Shimizu N (2010) Low-intensity laser irradiation stimulates mineralization via increased BMPs in MC3T3-E1 cells. Lasers Surg Med 42:519–526

29.

Favaro-Pipi E, Ribeiro DA, Ribeiro JU, Bossini P, Oliveira P, Parizotto NA, Tim C, de Araujo HS, Renno AC (2011) Low-level laser therapy induces differential expression of osteogenic genes during bone repair in rats. Photomed Laser Surg 29:311–317

30.

Desmet KD, Paz DA, Corry JJ, Eells JT, Wong-Riley MT, Henry MM, Buchmann EV, Connelly MP, Dovi JV, Liang HL, Henshel DS, Yeager RL, Millsap DS, Lim J, Gould LJ, Das R, Jett M, Hodgson BD, Margolis D, Whelan HT (2006) Clinical and experimental applications of NIR-LED photobiomodulation. Photomed Laser Surg 24:121–128

31.

Brawn P, Kwong-Hing A, Boeriu S, Clokie CM (2008) Accelerated implant stability after LED photobiomodulation. J Dent Res 87:2021

32.

Park KY, Han TY, Kim IS, Yeo IK, Kim BJ, Kim MN (2013) The Effects of 830 nm light-emitting diode therapy on acute herpes zoster ophthalmicus: a pilot study. Ann Dermatol 25:163–167

33.

Oh IY, Kim BJ, Kim MN, Kim CW, Kim SE (2013) Efficacy of light-emitting diode photomodulation in reducing erythema after fractional carbon dioxide laser resurfacing: a pilot study. Dermatol Surg 39(8):1171–1176

34.

Brawn PR, Kwong-Hing A (2007) Histologic comparison of light emitting diode phototherapy-treated hydroxyapatite-grafted extraction sockets: a same-mouth case study. Implant Dent 16:204–211

35.

Tortamano A, Lenzi DC, Haddad AC, Bottino MC, Dominguez GC, Vigorito JW (2009) Low-level laser therapy for pain caused by placement of the first orthodontic archwire: a randomized clinical trial. Am J Orthod Dentofac Orthop 136:662–667

36.

Fonseca PD, de Lima FM, Higashi DT, Koyama DF, Toginho Filho Dde O, Dias IF, Ramos Sde P (2013) Effects of light emitting diode (LED) therapy at 940 nm on inflammatory root resorption in rats. Lasers Med Sci 28:49–55
Acknowledgments
The authors would like to acknowledge JETTS Technology Co., Ltd. (New Taipei, Taiwan) for fabricating the LED device and Man-Jung Kao at the National University of Singapore (NUS) for the assistance in animal care and micro-CT processing. The study was supported by research grants R-221-000-034-133 from NUS and 101R7465 from National Taiwan University.
Conflict of interest
The authors declare no financial conflicts of interest.
About this article
Cite this article
Chang, PC., Wang, CY. & Chong, L.Y. Controlling periodontal bone levels with multiple LED irradiations. Lasers Med Sci 30, 741–746 (2015). https://doi.org/10.1007/s10103-013-1416-0
Received:

Accepted:

Published:

Issue Date:
Keywords
Periodontitis

Bone regeneration

Histology

Laser therapy lower level