Abstract
The aim of the present study was to investigate and compare the effects of high intensity laser therapy (HILT) and low level laser therapy (LLLT) on the treatment of patients with Bell's palsy. Forty-eight patients participated in and completed this study. The mean age was 43 ± 9.8 years. They were randomly assigned into three groups: HILT group, LLLT group, and exercise group. All patients were treated with facial massage and exercises, but the HILT and LLLT groups received the respective laser therapy. The grade of facial recovery was assessed by the facial disability scale (FDI) and the House–Brackmann scale (HBS). Evaluation was carried out 3 and 6 weeks after treatment for all patients. Laser treatments included eight points on the affected side of the face three times a week for 6 successive weeks. FDI and HBS were used to assess the grade of recovery. The scores of both FDI and HBS were taken before as well as 3 and 6 weeks after treatment. The Friedman test and Wilcoxon signed ranks test were used to compare the FDI and HBS scores within each group. The result showed that both HILT and LLLT significantly improved the recovery of patients with Bell's palsy. Moreover, HILT was the most effective treatment modality compared to LLLT and massage with exercises. Thus, both HILT and LLLT are effective physical therapy modalities for the recovery of patients with Bell's palsy, with HILT showing a slightly greater improvement than LLLT.
This is a preview of subscription content, log in to check access.
Access options
Buy single article
Instant access to the full article PDF.
US$ 39.95
Price includes VAT for USA
Subscribe to journal
Immediate online access to all issues from 2019. Subscription will auto renew annually.
US$ 99
This is the net price. Taxes to be calculated in checkout.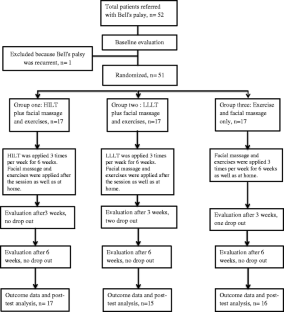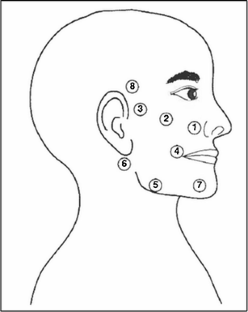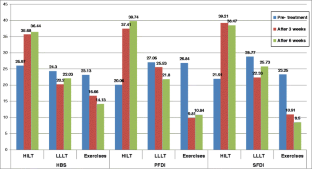 References
1.

Ho AL, Scott AM, Klassen AF, Cano SJ, Pusic AL, Van Laeken N (2012) Measuring quality of life and patient satisfaction in facial paralysis patients: a systematic review of patient-reported outcome measures. Plast Reconstr Surg 130(1):91–99

2.

Bradbury ET, Simons W, Sanders R (2006) Psychological and social factors in reconstructive surgery for hemi-facial palsy. J Plast Reconstr Aesthet Surg 59:272–278

3.

Pereira LM, Obara K, Dias JM, Menacho MO, Lavado EL, Cardoso JR (2011) Facial exercise therapy for facial palsy: systematic review and meta-analysis. Clin Rehabil 25(7):649–658

4.

Kahn JB, Gliklich RE, Boyev KP, Stewart MG, Metson RB, McKenna MJ (2001) Validation of a patient-graded instrument for facial nerve paralysis: the FaCE scale. Laryngoscope 111:387–398

5.

Teixeira LJ, Valbuza JS, Prado GF (2011) Physical therapy for Bell's palsy (idiopathic facial paralysis). Cochrane Database Syst Rev 7; (12):CD006283

6.

Danner CJ (2008) Facial nerve paralysis. Otolaryngol Clin North Am 41(3):619–632

7.

Mavrikakis I (2008) Facial nerve palsy: anatomy, etiology, evaluation, and management. Orbit 27:466–474

8.

Lockhart P, Holland NJ, Swan I, Teixeira LJ (2010) Interventions for Bell's Palsy (idiopathic facial paralysis). Cochrane Database of Systematic Reviews Issue 2

9.

Quinn R, Cramp F (2003) The efficacy of electrotherapy for Bell's palsy: a systematic review. Phys Ther Rev 8:151–164

10.

Ladalardo TC, Brugnera A, Takamoto M et al (2001) Functional and electrophysiological evaluation of the effects of laser therapy in the treatment of peripheral facial paralysis. Lasers in Dentistry VII. Proc SPIE 4249:134–138

11.

Kneebone WJ (2010) Enhancement of nerve regeneration by therapeutic laser. Practical Pain Management 10(4):70–72

12.

Barbosa RI, Marcolino AM, de Jesus Guirro RR, Mazzer N, Barbieri CH, de Cássia Registro Fonseca M (2010) Comparative effects of wavelengths of low-power laser in regeneration of sciatic nerve in rats following crushing lesion. Lasers Med Sci 25(3):423–430

13.

Rochkind S (2008) International Conference of the World Association of Laser Therapy Sun City, North West Province, South Africa, 19–22

14.

Zati A, Valent A (2006) Physical therapy: new technologies in rehabilitation medicine (translated to English). Edizioni Minerva Medica, pp 162–185

15.

Viliani T, Ricci E, Mangone G, Graziani C, Pasquetti P (2009) Effects of Hilterapia vs. Viscosupplementation in knee osteoarthritis patients: a randomized controlled clinical trial. Energy for Health 3:14–17

16.

Enwemeka C (2001) Attenuation and penetration of visible 632.8 nm and invisible infrared 904 nm light in soft tissues. Laser Therapy 13:95–101

17.

Nussbaum EL, Van Zuylen J (2007) Transmission of light through human skinfolds: effects of physical characteristics, irradiation wavelength and skin-diode coupling relevant to phototherapy. Physiother Can 59:194–207

18.

Shafshak TS (2006) The treatment of facial palsy from the point of view of physical and rehabilitation medicine. Eura Medicophys 42(1):41–47

19.

Manikandan N (2007) Effect of facial neuromuscular re-education on facial symmetry in patients with Bell's palsy: a randomized controlled trial. Clin Rehabil 21(4):338–343

20.

Lehmann EL (1998) Nonparametrics: statistical methods based on ranks. Springer Science & Business Media. USA, Revised, p 76–81

21.

Welkowitz J, Ewen RB, Cohen J (1982) Introductory statistics for the behavioral sciences, 3rd edn. Harcourt Brace Jovanovich, San Diego, CA

22.

Van Swearingen JM, Brach JS (1996) The facial disability index: reliability and validity of a disability assessment instrument for disorders of the facial neuromuscular system. Phys Ther 76:1288–1298

23.

Yen TL, Driscoll CLW, Lalwani AK (2003) Significance of House–Brackmann facial Nnerve grading global score in the setting of differential facial nerve function. Otol Neurotol 24:118–122

24.

Bernal G (1993) Helium neon and diode laser therapy is an effective adjunctive therapy for facial paralysis. Laser Ther 5:79–87

25.

Bashardoust Tajali S, Macdermid JC, Houghton P, Grewal R (2010) Effects of low power laser irradiation on bone healing in animals: a meta-analysis. J Orthop Surg Res 4; 5:1.

26.

Kujawa J, Zavodnik L, Zavodnik I, Buko V, Lapshyna A, Bryszewska M (2004) Effect of low-intensity (3.75–25 J/cm2) near-infrared (810 nm) laser radiation on red blood cell ATPase activities and membrane structure. J Clin Laser Med Surg 22(2):111–117

27.

Koutna M, Janisch R, Veselska R (2003) Effects of low-power laser irradiation on cell proliferation. Scripta Medica (BRNO) 76(3):163–172

28.

Peplow PV, Chung TY, Baxter GD (2010) Application of low level laser technologies for pain relief and wound healing: overview of scientific bases. Phys Ther Rev 15(4):253–285

29.

Bjordal JM, Johnson MI, Iverson V, Aimbire F, Lopes-Martins RAB (2006) Photoradiation in acute pain: a systematic review of possible mechanisms of action and clinical effects in randomized placebo controlled trials. Photomed Laser Surg 24:158–168

30.

Lim W, Lee S, Kim I, Chung M, Kim M, Lim H, Park J, Kim O, Choi H (2007) The anti-inflammatory mechanism of 635 nm light-emitting-diode irradiation compared with existing COX inhibitors. Lasers Surg Med 39(7):614–621

31.

Chow R, Armati P, Laakso EL, Bjordal JM, Baxter GD (2011) Inhibitory effects of laser irradiation on peripheral mammalian nerves and relevance to analgesic effects: a systematic review. Photomed Laser Surg 29(6):365–381

32.

Tam G (1999) Low power laser therapy and analgesic action. J Clin Laser Med Surg 17(1):29–33

33.

Taradaj J (2001) Lasers in medicine and rehabilitation. Fizjoterapia 9(4):42–47

34.

Lampl Y, Zivin JA, Fisher M, Lew R, Welin L, Dahlof B, Borenstein P, Andersson B, Perez J, Caparo C, Ilic S, Oron U (2007) Infrared laser therapy for ischemic stroke: a new treatment strategy: results of the NeuroThera Effectiveness and Safety Trial-1 (NEST- 1). Stroke 38:1843–1849

35.

Schaffer M, Sroka R, Fuchs C, Schrader-Reichardt U, Schaffer PM, Busch M, Diihmke E (1997) Biomodulative effects induced by 805nm laser light irradiation of normal and tumor cells. J Photochem Photobiol B Biol 40:253–257

36.

Zati A, Degli Esposti S, Bilotta TW (1997) The CO2 laser analgesic and psychological effects in a controlled study. Laser & Technology 7:723

37.

Stiglić-Rogoznica N, Stamenković D, Frlan-Vrgoc L, Avancini-Dobrović V, Vrbanić TS (2011) Analgesic effect of high intensity laser therapy in knee osteoarthritis. Coll Antropol 35(2):183–185

38.

Fortuna D, Rossi G, Zati A, Riannessi D, del Ry S, Paolini C, Piana M, Mondardini P, Masotti L (2006) HILT Therapy in the treatment of osteoarthritis: a survey of experimental animal model. Proceedings 1st National Conference Dominate Energy, Scientific Report Hilt Therapy.

39.

Zati A, Fortuna D, Benedetti E, Zaghini I, Bigotta TW (2006) HILT Therapy in the treatment of knee osteoarthritis: the first clinical cases and protocol for a multicenter double-blind randomized trial. Proceedings 1st National Conference Dominate Energy, Scientific Report.

40.

Jäämaa S, Salonen M, Seppälä I, Piiparinen H, Sarna S, Koskiniemi M (2003) Varicella zoster and Borrelia burgdorferi are the main agents associated with facial paresis, especially in children. J Clin Virol 27(2):146–151

41.

Shafshak TS, Essa AY, Bakey FA (1994) The possible contributing factors for the success of steroid therapy in Bell's palsy: a clinical and electrophysiological study. J Laryngol Otol 108:940–943
Acknowledgments
The authors express their appreciation to all subjects who participated in this study with all content and cooperation, and give special thanks to their colleagues at the Department of Physical Therapy, Faculty of Applied Medical Science, Umm AL-Qura University, Saudi Arabia. They also thank Dr. Hesham Gad Alrab, assistant professor, Faculty of Education, Mansura University, Egypt, for technical support and statistical analysis.
About this article
Cite this article
Alayat, M.S.M., Elsodany, A.M. & El Fiky, A.A.R. Efficacy of high and low level laser therapy in the treatment of Bell's palsy: A randomized double blind placebo-controlled trial. Lasers Med Sci 29, 335–342 (2014). https://doi.org/10.1007/s10103-013-1352-z
Received:

Accepted:

Published:

Issue Date:
Keywords
Bell's palsy

HILT

LLLT

FDI

HBS