Abstract
Rebonding of a dislodge bracket is considered as an economic saving option which can be done with use of in-office methods or by commercial recycling. The aim of this study was to compare the shear rebond strength (SRS) of brackets recycled with different resin removal methods. Eighty premolars were divided into four experimental groups. The teeth were bonded with metal brackets. The brackets were debonded and adhesive remnants were removed from bracket bases by means of Er:YAG laser, sandblasting, direct flame, and CO2 laser, respectively. Following adhesive removal from enamel surfaces with carbide bur, recycled brackets were rebonded. Finally, all brackets were debonded with a Dartec testing machine and the SRS values were determined. The SRS values of groups 3 and 4 were significantly lower compare to other groups (P value < 0.001). SEM examination showed complete adhesive removal from bracket base cleaned with Er:YAG laser irradiation. Microroughening of the base of sandblasted bracket was observed in the SEM image. Resin removal with direct flame and CO2 laser irradiation was incomplete. Er:YAG laser recycling of brackets is an efficient in-office method of reconditioning which caused minimum damage to the bracket base.
Access options
Buy single article
Instant access to the full article PDF.
US$ 39.95
Tax calculation will be finalised during checkout.
Subscribe to journal
Immediate online access to all issues from 2019. Subscription will auto renew annually.
US$ 79
Tax calculation will be finalised during checkout.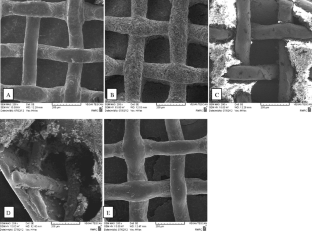 References
1.

Pakshir H, Zarif H (2008) Comparison of re bond shear strength and adhesive remnant index between coremax 2 and transbond XT using two different enamel preparation methods. Shiraz Dental School, Shiraz University of Medical Sciences. [Thesis in Persian]

2.

Proffit WR, Henry W, Fields JR. (2003) Contemporary orthodontics. 3rd Ed. Chap12. St Louis: Mosby. Pp 391–401

3.

Zachrisson B. (2000) Bonding in orthodontics. In: Graber TM, Vanarsdall RL (eds). Orthodontics: current principle and techniques. 3rd Ed. St Louis: Mosby. Chap 12: 557–576

4.

Eminkahyagil N, Arman A, Cetinsahin A, Karabulut E (2006) Effect of resin removal methods on enamel and shear bond strength of rebonded brackets. Angle Orthod 76(2):314–321

5.

Lunardi N et al (2008) The effect of repeated bracket recycling on the shear bond strength of different orthodontic adhesives. Braz J Oral Sci 7(27):1648–1652

6.

Reynolds I (1975) A review of direct orthodontic bonding. Br J Orthod 2(2):171–178

7.

Egan FR, Alexander SA, Cartwright GE (1996) Bond strength of rebonded orthodontic brackets. Am J Orthod Dentofacial Orthop 109:64–70

8.

Chetan GB, Muralidhar Reddy Y (2011) Comparative evaluation of four office reconditioning methods for orthodontic stainless steel brackets on shear bond strength—an in vitro study. Annals Essences Dentistry 3(1):6–13

9.

Sharma-Sayal SK, Rossouw PE, Kulkarni GV, Titley KC (2003) The influence of orthodontic bracket base design on shear bond strength. Am J Orthod Dentofacial Orthop 124:74–82

10.

Willems G, Carels CE, Verbeke G (1997) In vitro peel/shear bond strength evaluation of orthodontic bracket base design. J Dent 25:271–278

11.

Rosenstein P, Binder RE (1980) Bonding and rebonding peel testing of orthodontic brackets. Clin Prev Dent 2:15–17

12.

Basudan AM, Al-Emran SE (2001) The effect of in-office reconditioning on the morphology of slots and bases of stainless steel brackets and on the shear/peel bond strength. J Orthod 28:231–236

13.

Chung CH, Friedman SD, Mante FK (2002) Shear bond strength of rebonded mechanically retentive ceramic brackets. Am J Orthod Dentofacial Orthop 122:282–287

14.

Tracey S, Gracco A (2012) Laser in orthodontics. In : Orthodontics current principles and techniques. Graber L, Robert L, Katherine W (eds). 5th edition. Mosby: St Louis. Pp 1051–1052

15.

Ozer T, Başaran G, Berk N (2008) Laser etching of enamel for orthodontic bonding. Am J Orthod Dentofac Orthop 134(2):193–197

16.

Almeida HC, Vedovello Filho M, Vedovello SA, Young AAA, Ramirez-yanez GO (2009) Er:YAG laser for composite removal after bracket debonding: a qualitative SEM analysis. Int J Orthod Milwaukee 20:9–13

17.

Tortamano A, Lenzi DC, Hadad AC, Bottino MC, Dominguez GC, Vigorito JW (2009) Low-level laser therapy for pain caused by placement of the first orthodontic archwire: a randomized clinical trial. Am J Orthod Dentofacial Orthop 136:622–627

18.

Yoshida T, Yamaguchi M, Utsunomiya T, Kato M, Arai Y, Kaneda T, Yamamoto H, Kasai K (2009) Low-energy laser irradiation accelerates the velocity of tooth movement via stimulation of the alveolar bone remodeling. Orthod Craniofac Res 12:289–298

19.

Oliver RG (1988) The effect of different methods of bracket removal on the amount of residual adhesive. Am J Orthod Dentofacial Orthop 93:196–200

20.

Reynpld IR (1975) A review of direct orthodontic bonding. Br J Orthod 2:171–178

21.

Ishida K, Endo T, Shinkai K, Katoh Y (2011) Shear bond strength of rebonded brackets after removal of adhesives with Er, Cr:YSGG laser. Odontology 99(2):129–134

22.

Sonis A (1996) Air abrasion of failed bonded metal brackets: a study of shear bond strength and surface characteristics as determined by scanning electron microscopy. Am J Orthod Dentofacial Orthop 110:96–98

23.

Grabouski JK, Staley RN, Jakobsen JR (1998) The effect of microetching on the bond strength of metal brackets when bonded to previously bonded teeth: an in-vitro study. Am J Orthod Dentofacial Orthop 113:452–460

24.

Regan D, LeMasney B, Van Noort R (1993) The tensile bond strength of new and rebounded stainless steel orthodontic brackets. Eur J Orthod 15:125–135, PMid:8500538

25.

Arici S, Ozer M, Arici N, Gencer Y (2006) Effect of sandblasting metal bracket base on the bond strength of a resin-modified glass ionomer cement: an in vitro study. J Mater Sci Mater Med 17:253–258

26.

Buchman DJL (1980) Effects of recycling on metallic direct bond orthodontic brackets. Am J Orthod 77:654–668
About this article
Cite this article
Yassaei, S., Aghili, H., KhanPayeh, E. et al. Comparison of shear bond strength of rebonded brackets with four methods of adhesive removal. Lasers Med Sci 29, 1563–1568 (2014). https://doi.org/10.1007/s10103-013-1310-9
Received:

Accepted:

Published:

Issue Date:
Keywords
Er:YAG laser

Co2 laser

Rebonding

Shear bond strength