Abstract
Laser use for biopsy of suspicious lesions may simulate cytological atypia at the margin of the incisions, challenging pathological diagnosis. Erbium, chromium: yttrium–scandium–gallium–garnet (Er,Cr:YSGG) laser has shown promising results in experimental models by inducing fewer artifacts. The aims of this study were to examine the thermal wounds induced by Er,Cr:YSGG laser in a short series of oral leukoplakias in terms of cytological and epithelial architectural changes and also to assess the width of the thermal damage lateral to the incision. Four oral leukoplakia patients entered the study and underwent complete surgical excision of their lesions by using Er,Cr:YSGG laser. Patients were weekly controlled until complete healing was accomplished. The patients were included on the existing follow-up program for these lesions thereafter. Study samples were routinely processed by the same technician and double-blindedly studied by two pathologists until a consensus was reached for each case. The pathological analysis of the samples revealed no autolysis and no fixation- or handling-related artifacts. However, cellular and nuclear polymorphism could be observed in two samples. Loss of intercellular adherence was the most frequent thermal artifact in this series; all pseudodysplastic artifacts recognized in the study were of low intensity and located at the basal and suprabasal layers of the leukoplakias' epithelium. The width of the thermal damage at the edge of the incision scored an average of 26.60 ± 25.3 μm. It is concluded that irradiation with Er,Cr:YSGG laser induces a minimal amount of thermal artifacts at the surgical margins of oral leukoplakias and avoids diagnostic interferences with real dysplastic borders.
This is a preview of subscription content, log in to check access.
Access options
Buy single article
Instant access to the full article PDF.
US$ 39.95
Price includes VAT for USA
Subscribe to journal
Immediate online access to all issues from 2019. Subscription will auto renew annually.
US$ 99
This is the net price. Taxes to be calculated in checkout.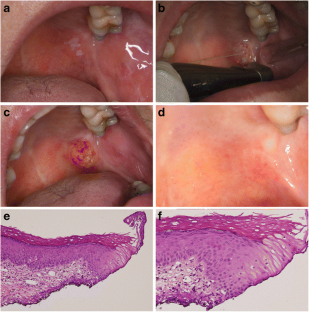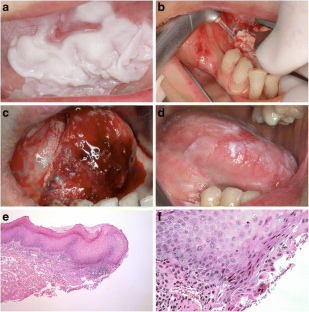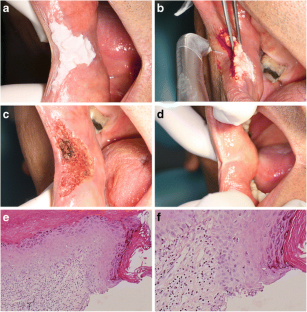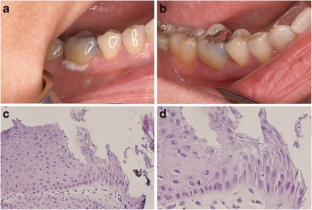 References
1.

van der Waal I (2009) Potentially malignant disorders of the oral and oropharyngeal mucosa: terminology, classification and present concepts of management. Oral Oncol 45(4–5):317–323

2.

Bagán JV, Murillo J, Poveda R, Gavaldá C, Jiménez Y, Scully C (2004) Proliferative verrucous leukoplakia: unusual locations of oral squamous cell carcinomas, and field cancerization as shown by the appearance of multiple OSCCs. Oral Oncol 40(4):440–443

3.

Ribeiro AS, Salles PR, da Silva TA, Mesquita RA (2010) A review of the nonsurgical treatment of oral leukoplakia. Int J Dent. doi:10.1155/186018

4.

Lodi G, Porter S (2008) Management of potentially malignant disorders: evidence and critique. J Oral Pathol Med 37(2):63–69

5.

Meltzer C (2007) Surgical management of oral and mucosal dysplasias: the case for laser excision. J Oral Maxillofac Surg 65(2):293–295

6.

Vivek V, Jayasree RS, Balan A, Sreelatha KT, Gupta AK (2008) Three-year follow-up of oral leukoplakia after neodymium:yttrium aluminum garnet (Nd:YAG) laser surgery. Lasers Med Sci 23(4):375–379

7.

Montebugnoli L, Frini F, Gissi DB, Gabusi A, Cervellati F, Foschini MP, Marchetti C (2012) Histological and immunohistochemical evaluation of new epithelium after removal of oral leukoplakia with Nd:YAG laser treatment. Lasers Med Sci 27(1):205–210

8.

Roodenburg JL (2011) Dissertations 25 years after date 29. CO2 laser surgery of leukoplakia of the oral mucosa. Ned Tijdschr Tandheelkd 118(10):496–500

9.

Eversole LR (1997) Laser artefacts and diagnostic biopsy. Oral Surg Oral Med Oral Pathol Oral Radiol Endod 83:639–640

10.

Seoane J, Caballero TG, Urizar JMA, Almagro M, Mosquera AG, Varela-Centelles P (2010) Pseudodysplastic epithelial artefacts associated with oral mucosa CO2 laser excision: an assessment of margin status. Int J Oral Maxillofac Surg 39:783–787

11.

Deppe H, Mücke T, Hohlweg-Majert B, Hauck W, Wagenpfeil S, Hölzle F (2012) Different CO2 laser vaporization protocols for the therapy of oral precancerous lesions and precancerous conditions: a 10-year follow-up. Lasers Med Sci 27(1):59–63

12.

Gonzalez-Mosquera A, Seoane J, García-Caballero L, Lopez-Jornet P, García-Caballero T, Varela-Centelles P (2012) Er, CR: YSGG lasers induce fewer dysplastic-like epithelial artefacts than CO2 lasers: an in vivo experimental study on oral mucosa. Br J Oral Maxillofac Surg 50:508–512

13.

Cercadillo-Ibarguren I, España-Tost A, Arnabat-Domínguez J, Valmaseda-Castellón E, Berini-Aytés L, Gay-Escoda C (2010) Histologic evaluation of thermal damage produced on soft tissues by CO2, Er, Cr:YSGG and diode lasers. Med Oral Patol Oral Cir Bucal 15(6):e912–e918

14.

Rizoiu IM, Eversole LR, Kimmel AI (1996) Effects of an erbium, chromium: yttrium, scandium, gallium, garnet laser on mucocutanous soft tissues. Oral Surg Oral Med Oral Pathol Oral Radiol Endod 82:386–395

15.

Pindborg JJ, Reichart PA, Smith CJ, van der Waal I (1997) Histological typing of cancer and precancer of the oral mucosa. WHO. International histological classification of tumours. Springer, Berlin

16.

Amagasa T, Yamashiro M, Uzawa N (2011) Oral premalignant lesions: from a clinical perspective. Int J Clin Oncol 16(1):5–14

17.

Holmstrup P, Vedtofte P, Reibel J, Stoltze K (2006) Long-term treatment outcome of oral premalignant lesions. Oral Oncol 42(5):461–474

18.

Saito T, Sugiura C, Hirai A, Notani K, Totsuka Y, Shindoh M, Fukuda H (2001) Development of squamous cell carcinoma from pre-existent oral leukoplakia: with respect to treatment modality. Int J Oral Maxillofac Surg 30(1):49–53

19.

Schwarz F, Maraki D, Yalcinkaya S, Bieling K, Böcking A, Becker J (2005) Cytologic and DNA-cytometric follow-up of oral leukoplakia after CO2- and Er:YAG-laser assisted ablation: a pilot study. Lasers Surg Med 37(1):29–36

20.

Yang SW, Wu CJ, Lee YS, Chen TA, Tsai CN (2010) Postoperative recurrence as an associated factor of malignant transformation of oral dysplastic leukoplakia. ORLJ Otorhinolaryngol Relat Spec 72(5):280–290

21.

Meister J, Franzen R, Eyrich G, Bongartz J, Gutknecht N, Hering P (2010) First clinical application of a liquid-core light guide connected to an Er:YAG laser for oral treatment of leukoplakia. Laser Med Sci 25:669–673

22.

Pentenero M, Carrozzo M, Pagano M, Galliano D, Broccoletti R, Scully C, Gandolfo S (2003) Oral mucosal dysplastic lesions and early squamous cell carcinomas: underdiagnosis from incisional biopsy. Oral Dis 9(2):68–72

23.

Lee JJ, Hung HC, Cheng SJ et al (2007) Factors associated with underdiagnosis from incisional biopsy of oral leukoplakic lesions. Oral Surg Oral Med Oral Pathol Oral Radiol Endod 104(2):217–225

24.

Jeong WJ, Paik JH, Cho SW, Sung MW, Kim KH, Ahn SH (2012) Excisional biopsy for management of lateral tongue leukoplakia. J Oral Pathol Med 41(5):384–388

25.

Thomson PJ, Hamadah O (2007) Cancerisation within the oral cavity: the use of 'field mapping biopsies' in clinical management. Oral Oncol 43(1):20–26
About this article
Cite this article
Seoane, J., González-Mosquera, A., López-Niño, J. et al. Er,Cr:YSGG laser therapy for oral leukoplakia minimizes thermal artifacts on surgical margins: a pilot study. Lasers Med Sci 28, 1591–1597 (2013). https://doi.org/10.1007/s10103-013-1266-9
Received:

Accepted:

Published:

Issue Date:
Keywords
Laser

Oral leukoplakia

Dysplasia

Er,Cr:YSGG

Biopsy