Abstract
Fox–Fordyce disease is an uncommon inflammatory disease of the apocrine sweat glands. Two recent reports indicated laser hair removal as a novel cause of axillary Fox–Fordyce disease. We report the first case of Fox–Fordyce disease developing in women after completing treatment with a depilatory hair laser appearing in the axillae, umbilicus, and pubis. We describe a case of Fox–Fordyce disease that developed in a 27-year-old woman 3 months after she had completed two LightSheer Diode laser treatments of her axilla, periumbilical region, and bikini area. Clinical and histopathological changes are as well detailed. Laser therapy induces damage to follicular infundibulum, resulting in altered maturation of keratinocytes which led to keratin plugging causing the common pathologic features in Fox–Fordyce disease. Differences in the physiologic features of the anatomic sites, in the susceptibility to laser-induced injury among these areas, or additional factors may contribute to Fox–Fordyce disease.
Access options
Buy single article
Instant access to the full article PDF.
US$ 39.95
Tax calculation will be finalised during checkout.
Subscribe to journal
Immediate online access to all issues from 2019. Subscription will auto renew annually.
US$ 79
Tax calculation will be finalised during checkout.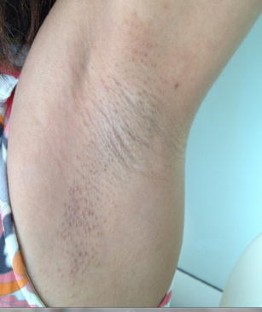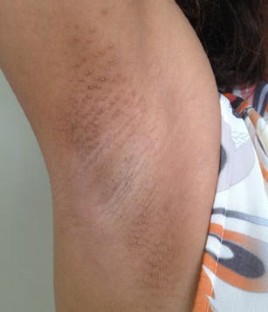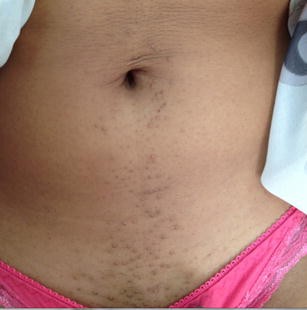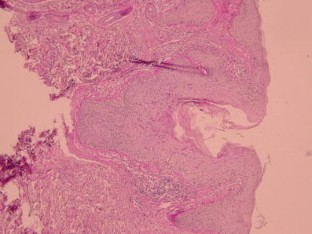 References
1.

Odom RB (2000) Fox–Fordyce disease. In: James WD, Berger TG (eds) Andrew's diseases of the skin, 9th edn. W.B. Saunders, Philadelphia, p p975

2.

Tetzlaff MT, Evans K, DeHoratius DM, Weiss R, Cotsarelis G, Elenitsas R (2011) Fox–Fordyce disease following axillary laser hair removal. Arch Dermatol 147:573–576

3.

Yazganoğlu KD, Yazici S, Büyükbabani N, Özkaya E (2012) Axillary Fox–Fordyce-like disease induced by laser hair removal therapy. J Am Acad Dermatol 67:e139–e140

4.

Handley JM (2006) Adverse events associated with nonablative cutaneous visible and infrared laser treatment. J Am Acad Dermatol 55:482–489

5.

Lim SP, Lanigan SW (2006) A review of the adverse effects of laser hair removal. Lasers Med Sci 21:121–125

6.

Ranalletta M, Rositto A, Drut R (1996) Fox–Fordyce disease in two pre-pubertal girls: histopathologic demonstration of eccrine sweat gland involvement. Pediatr Dermatol 13:294–297

7.

Mayser P, Gründer K, Nilles M, Schill WB (1993) Fox–Fordyce disease (apocrine miliaria). Hautarzt 44:309–311

8.

Effendy I, Ossowski B, Happle R (1994) Fox–Fordyce disease in a male patient: response to oral retinoid treatment. Clin Exp Dermatol 19:67–69

9.

Boer A (2004) Patterns histopathologic of Fox–Fordyce disease. Am J Dermatopathol 26:482–492

10.

Helm TN, Chen PW (2002) Fox–Fordyce disease. Cutis 69:335–342

11.

Macmillan DC, Vickers HR (1971) Fox–Fordyce disease. Br J Dermatol 84:181

12.

Winkelmann RK, Montgomery H (1956) Fox–Fordyce disease. AMA Arch Derm 74:63–68

13.

Ghislain PD, van Der Endt JD, Delescluse J (2002) Itchy papules of the axillae. Arch Dermatol 138:259–264

14.

Bormate AB Jr, Leboit PE, McCalmont TH (2008) Perifollicular xanthomatosis as the hallmark of axillary Fox–Fordyce disease: an evaluation of histopathologic features of 7 cases. Arch Dermatol 144:1020–1024

15.

Sellheyer K (2007) Mechanisms of laser hair removal: could persistent photoepilation induce vitiligo or defects in wound repair? Dermatol Surg 33:1055–1065
About this article
Cite this article
Helou, J., Maatouk, I., Moutran, R. et al. Fox–Fordyce-like disease following laser hair removal appearing on all treated areas. Lasers Med Sci 28, 1205–1207 (2013). https://doi.org/10.1007/s10103-012-1263-4
Received:

Accepted:

Published:

Issue Date:
Keywords
Laser

Fox–Fordyce

Complication

Hair removal