Abstract
Complex physical therapy is the main treatment for the secondary lymphedema after breast cancer. The low-level laser therapy (LLLT) has been used in order to stimulate lymphangiogenesis, encourage lymphatic motility, and reduce lymphostatic fibrosis. However, these factors could also favor the development of recurrence and metastasis. The objective of this study is to discuss the use of LLLT in the treatment of lymphedema after breast cancer. This study utilized a systematic review on the use of LLLT in the treatment of lymphedema after breast cancer. Evaluating quality of articles was conducted through the PEDro scale. Of the 41 articles identified, four were considered to be of high methodological quality (score ≥ 5). The low-level laser in the axillary region was performed in all studies. The control group was not similar across studies. The results presented showed that there was a reduction in limb volume in the group subjected to low-power laser when compared with other treatments. No studies have evaluated the risk of metastasis or relapse in the irradiated areas. Because no studies have included the complex physical therapy as the comparison group, we cannot claim that laser treatment is the best efficacy or effectiveness in lymphedema treatment after breast cancer. No studies have evaluated the hypothesis that the LLLT can increase the risk of recurrence or metastasis. Therefore, the questions about the safety of this procedure in cancer patients remain.
This is a preview of subscription content, log in to check access.
Access options
Buy single article
Instant access to the full article PDF.
US$ 39.95
Price includes VAT for USA
Subscribe to journal
Immediate online access to all issues from 2019. Subscription will auto renew annually.
US$ 99
This is the net price. Taxes to be calculated in checkout.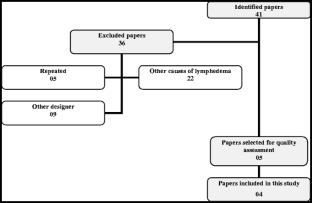 References
1.

Bevilacqua JLB, Bergmann A, Andrade MF (2008) Linfedema após o câncer de mama—Da epidemiologia ao tratamento. Rev Bras Mastol 18(4):171–178

2.

Ozcinar B, Guler SA, Kocaman N, Ozkan M, Gulluoglu BM, Ozmen V (2012) Breast cancer related lymphedema in patients with different loco-regional treatments. Breast 21(3):361–365

3.

Consensus Document of the International Society of Lymphology (2009) The diagnosis and treatment of peripheral lymphedema. Lymphology 42:51–60

4.

Gurdal SO, Kostanoglu A, Cavdar I, Ozbas A, Cabioglu N, Ozcinar B, Igci A, Muslumanoglu M, Ozmen V (2012) Comparison of intermittent pneumatic compression with manual lymphatic drainage for treatment ofbreast cancer-related lymphedema. Lymphat Res Biol 10(3):129–135

5.

Schaverien MV, Munro KJ, Baker PA, Munnoch DA (2012) Liposuction for chronic lymphoedema of the upper limb: 5 years of experience. J Plast Reconstr Aesthet Surg 65(7):935–942

6.

Oremus M, Dayes I, Walker K, Raina P (2012) Systematic review: conservative treatments for secondary lymphedema. BMC Cancer 12:6

7.

Lau RW, Cheing GL (2009) Managing postmastectomy lymphedema with low-level laser therapy. Photomed Laser Surg 27(5):763–769

8.

Kujawa J, Zavodnik IB, Lapshina A, Labieniec M, Bryszewska M (2004) Cell survival, DNA, and protein damage in B14 cells under lowintensity near-infrared (810 nm) laser irradiation. Photomed Laser Surg 22(6):504–508

9.

Mognato M, Squizzato F, Facchin F, Zaghetto L, Corti L (2004) Cell growth modulation of human cells irradiated in vitro low-level laser therapy. Photomed Laser Surg 22(6):523–526

10.

Sroka R, Schaffer M, Fuchs C, Pongratz T, Schrader-Reichard U, Busch M, Schaffer PM, Duhmke E, Baumgartner R (1999) Effects on the mitosis of normal and tumor cells induced by light treatment of different wavelengths. Lasers Surg Med 25(3):263–271

11.

Zhu NW, Perks CM, Burd AR, Holly JM (1999) Changes in the levels of integrin and focal adhesion kinase (FAK) in human melanoma cells following 532 nm laser treatment. Int J Cancer 82(3):353–358

12.

Ocanã-Quero JM, dela Perez Lastra J, Gomez-Villamandos R, Moreno-Millan M (1998) Biological effect of helium-neon (He-Ne) laser irradiation on mouse myeloma (Sp2-Ag14) cell line in vitro. Lasers Med Sci 13:214–218

13.

Morales JA, Ruiz-Gómez MJ, Gil-Carmona L, Souvirón A, Martínez-Morillo M (1995) He-Ne laser has no effect on cell cycle phases of human colon adenocarcinoma cells. Rev Esp Fisiol 51(1):43–47

14.

Van Leeuwen RL, Dekker SK, Byers HR, Vermeer BJ, Grevelink JM (1996) Modulation of alpha 4 beta 1 and alpha 5 beta 1 integrin expression: heterogeneous effects of Q-switched ruby, Nd:YAG, and alexandrite lasers on melanoma cells in vitro. Lasers Surg Med 18(1):63–71

15.

Physiotherapy Evidence Database (2009) Escala de PEDro. http://www.pedro.org.au/portuguese/downloads/pedro-scale/. Accessed 1 Feb 2011

16.

Carati CJ, Anderson SN, Gannon BJ, Piller NB (2003) Treatment of postmastectomy plymphedema with low-level laser therapy. Cancer 98(6):1114–1122

17.

Kaviani A, Fateh M, Nooraie RY, Alinagi-Zadeh MR, Ataie-Fashtami L (2006) Low-level laser therapy in management of postmastectomy lymphedema. Lasers Med Sci 21(2):90–94

18.

Kozanoglu E, Basaran S, Paydas S, Sarpel T (2009) Efficacy of pneumatic compression and low-level laser therapy in the treatment of postmastectomy lymphoedema: a randomized controlled trial. Clin Rehabil 23(2):117–124

19.

Maya AG, Olivia ED, Dibya A (2008) Effect of low energy laser therapy in the management of post-mastectomy lymphoedema. Physiotherapy Singapore 11(1):2–5

20.

Ohshiro T, Calderhead RG (1998) Laser therapy: a decade further on. Laser Therapy 10:5–6

21.

Fukuda TY et al (2008) Analise da dose do laser de baixa potencia em equipamentos nacionais. Rev Bras Fisioter 12(1):70–74

22.

Karu TI (1987) Photobiological fundamentals of low power laser therapy. IEEE J Quantum Electron QE-23 10:1703–1717

23.

Rampini Mariana P, de Sá FEM, Ferreira C, Gil A, Héliton S (2009) Utilização da terapia com laser de baixa potência para prevenção de mucosite oral: revisão de literatura. Rev Bras Cancerol 55(1):59–68

24.

Moseley AL, Carati CJ, Piller NB (2007) A systematic review of comon conservative therapies for arm lymphoedema secondary to breast cancer treatment. Ann Oncol 18:639–646

25.

Schindl A, Merwald H, Schindl L, Kaun C, Wojta J (2003) Direct stimulatory effect of low-intensity 670 nm laser irradiation on human endothelial cell proliferation. Br J Dermatol 148:334–336

26.

Yu W, Naim JO, Lanzafame RJ (1994) The effect of laser irradiation on the release of bFGF from 3T3 fibroblasts. Photochem Photobiol 59(2):167–170

27.

Yu HS, Chang KL, Yu CL, Chen JW, Chen GS (1996) Low-energy heliumneon laser irradiation stimulates interleukin-1 alpha and interleukin-8 release from cultured human keratinocytes. J Invest Dermatol 107(4):593–596

28.

Navratil L, Kymplova J (2000) Contra indications of therapeutic laser. Swedish Laser-Medical Society [serial online]. http://www.laser.nu. Accessed 3 Feb 2011

29.

Cole SR, Stuart EA (2010) Generalizing evidence from randomized clinical trials to target populations: the ACTG 320 trial. Am J Epidemiol 172(1):107–115

30.

Röhrig B, du Prel J-B, Wachtlin D, Blettner M (2009) Types of study in medical research—part 3 of a series on evaluation of scientific publications. Deutsches Ärzteblatt International 106(15):262–268

31.

Diden K, Ufuk SY, Serdar S, Zumre A (2005) The comparison of two different physiotherapy methods in treatment of lymphedema after breast surgery. Breast Cancer Res Treat 93:49–54

32.

Yamamoto RT (2007) Yamamoto: effectiveness of the treatment-phase of two-phase complex decongestive physiotherapy for the treatment of extremity lymphedema. Int J Clin Oncol 12:463–468

33.

Didem KY, Tugba S (2008) Serdar: prospective trial of intensive decongestive physiotherapy for upper extremity lymphedema. J Surg Oncol 97:572–577
About this article
Cite this article
e Lima, M.T.B.R.M., e Lima, J.G.M., de Andrade, M.F.C. et al. Low-level laser therapy in secondary lymphedema after breast cancer: systematic review. Lasers Med Sci 29, 1289–1295 (2014). https://doi.org/10.1007/s10103-012-1240-y
Received:

Accepted:

Published:

Issue Date:
Keywords
Breast neoplasm

Low-level laser therapy

Physiotherapy

Lymphedema