Abstract
Chemotherapy-induced alopecia (CIA) is one of the most distressing side effects of antineoplastic chemotherapy for which there is no effective interventional approach. A low-level laser (LLL) device, the HairMax LaserComb®, has been cleared by the FDA to treat androgenetic alopecia. Its effects may be extended to other settings; we have demonstrated that LaserComb treatment induced hair regrowth in a mouse model for alopecia areata. In the current study, we tested whether LLL treatment could promote hair regrowth in a rat model for CIA. Chemotherapy agents cyclophosphamide, etoposide, or a combination of cyclophosphamide and doxorubicin were administered in young rats to induce alopecia, with or without LLL treatment. As expected, 7–10 days later, all the rats developed full body alopecia. However, rats receiving laser treatment regrew hair 5 days earlier than rats receiving chemotherapy alone or sham laser treatment (with the laser turned off). The accelerated hair regrowth in laser-treated rats was confirmed by histology. In addition, LLL treatment did not provide local protection to subcutaneously injected Shay chloroleukemic cells. Taken together, our results demonstrated that LLL treatment significantly accelerated hair regrowth after CIA without compromising the efficacy of chemotherapy in our rat model. Our results suggest that LLL should be explored for the treatment of CIA in clinical trials because LLL devices for home use (such as the HairMax LaserComb®) provide a user-friendly and noninvasive approach that could be translated to increased patient compliance and improved efficacy.
Access options
Buy single article
Instant access to the full article PDF.
USD 39.95
Price excludes VAT (USA)
Tax calculation will be finalised during checkout.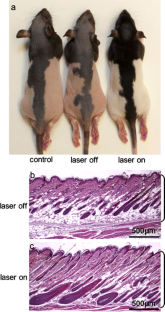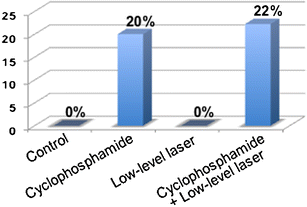 References
Trüeb RM (2009) Chemotherapy-induced alopecia. Semin Cutan Med Surg 28(1):11–14

Wang J, Lu Z, Au JL (2006) Protection against chemotherapy-induced alopecia. Pharm Res 23(11):2505–2514

Casey AS, Goldberg D (2008) Guidelines for laser hair removal. J Cosmet Laser Ther 10(1):24–33

Miteva M, Misciali C, Fanti PA, Vincenzi C, Romanelli P, Tosti A (2011) Permanent alopecia after systemic chemotherapy: a clinicopathological study of 10 cases. Am J Dermatopathol 33(4):345–350

Münstedt K, Manthey N, Sachsse S, Vahrson H (1997) Changes in self-concept and body image during alopecia induced cancer chemotherapy. Support Care Cancer 5(2):139–143

McGarvey EL, Baum LD, Pinkerton RC, Rogers LM (2001) Psychological sequelae and alopecia among women with cancer. Cancer Pract 9(6):283–289

Harrison S, Sinclair R (2003) Optimal management of hair loss (alopecia) in children. Am J Clin Dermatol 4(11):757–770

Leavitt M, Charles G, Heyman E, Michaels D (2009) HairMax LaserComb laser phototherapy device in the treatment of male androgenetic alopecia: a randomized, double-blind, sham device-controlled, multicentre trial. Clin Drug Investig 29(5):283–292

Wikramanayake TC, Rodriguez R, Choudhary S, Mauro LM, Nouri K, Schachner LA, Jimenez JJ (2012) Effects of the Lexington LaserComb on hair regrowth in the C3H/HeJ mouse model of alopecia areata. Lasers Med Sci 27(2):431–436

Katsimbri P, Bamias A, Pavlidis N (2000) Prevention of chemotherapy-induced alopecia using an effective scalp cooling system. Eur J Cancer 36(6):766–771

Christodoulou C, Klouvas G, Efstathiou E, Zervakis D, Papazachariou E, Plyta M, Skarlos DV (2002) Effectiveness of the MSC cold cap system in the prevention of chemotherapy-induced alopecia. Oncology 62(2):97–102

Jimenez JJ, Roberts SM, Mejia J, Mauro LM, Munson JW, Elgart GW, Connelly EA, Chen Q, Zou J, Goldenberg C, Voellmy R (2008) Prevention of chemotherapy-induced alopecia in rodent models. Cell Stress Chaperones 13(1):31–38

Ibrahimi OA, Avram MM, Hanke CW, Kilmer SL, Anderson RR (2011) Laser hair removal. Dermatol Ther 24(1):94–107

Gold MH (2007) Lasers and light sources for the removal of unwanted hair. Clin Dermatol 25(5):443–453

Slominski A, Wortsman J, Plonka PM, Schallreuter KU, Paus R, Tobin DJ (2005) Hair follicle pigmentation. J Invest Dermatol 124(1):13–21

Sellheyer K (2007) Mechanisms of laser hair removal: could persistent photoepilation induce vitiligo or defects in wound repair? Dermatol Surg 33(9):1055–1065

Choudhary S, Elsaie ML, Nouri K (2009) Laser assisted hair-removal. G Ital Dermatol Venereol 144(5):595–602

Moreno-Arias G, Castelo-Branco C, Ferrando J (2002) Paradoxical effect after IPL photoepilation. Dermatol Surg 28(11):1013–1016, discussion 1016

Moreno-Arias GA, Castelo-Branco C, Ferrando J (2002) Side-effects after IPL photodepilation. Dermatol Surg 28(12):1131–1134

Lolis MS, Marmur ES (2006) Paradoxical effects of hair removal systems: a review. J Cosmet Dermatol 5(4):274–276

Desai S, Mahmoud BH, Bhatia AC, Hamzavi IH (2010) Paradoxical hypertrichosis after laser therapy: a review. Dermatol Surg 36(3):291–298

Kontoes P, Vlachos S, Konstantinos M, Anastasia L, Myrto S (2006) Hair induction after laser-assisted hair removal and its treatment. J Am Acad Dermatol 54(1):64–67

Alajlan A, Shapiro J, Rivers JK, MacDonald N, Wiggin J, Lui H (2005) Paradoxical hypertrichosis after laser epilation. J Am Acad Dermatol 53(1):85–88

Bouzari N, Firooz AR (2006) Lasers may induce terminal hair growth. Dermatol Surg 32(3):460

Avram MR, Leonard RT Jr, Epstein ES, Williams JL, Bauman AJ (2007) The current role of laser/light sources in the treatment of male and female pattern hair loss. J Cosmet Laser Ther 9(1):27–28

Peplow PV, Chung TY, Baxter GD (2010) Laser photobiomodulation of wound healing: a review of experimental studies in mouse and rat animal models. Photomed Laser Surg 28(3):291–325

Kim WS, Lee HI, Lee JW, Lim YY, Lee SJ, Kim BJ, Kim MN, Song KY, Park WS (2011) Fractional photothermolysis laser treatment of male pattern hair loss. Dermatol Surg 37(1):41–51

Ito M, Yang Z, Andl T, Cui C, Kim N, Millar SE, Cotsarelis G (2007) Wnt-dependent de novo hair follicle regeneration in adult mouse skin after wounding. Nature 447(7142):316–320

Al-Mutairi N (2007) 308-nm excimer laser for the treatment of alopecia areata. Dermatol Surg 33(12):1483–1487

Ohtsuki A, Hasegawa T, Ikeda S (2010) Treatment of alopecia areata with 308-nm excimer lamp. J Dermatol 37(12):1032–1035
Acknowledgments
We would like to acknowledge the Locks of Love Foundation (J.J.J.) for their generous support in this investigation. T.C.W. is supported by a Career Development Award from NIH/NIAMS (AR-050487).
Conflict of interest
The authors state no conflict of interest.
About this article
Cite this article
Wikramanayake, T.C., Villasante, A.C., Mauro, L.M. et al. Low-level laser treatment accelerated hair regrowth in a rat model of chemotherapy-induced alopecia (CIA). Lasers Med Sci 28, 701–706 (2013). https://doi.org/10.1007/s10103-012-1139-7
Received:

Accepted:

Published:

Issue Date:

DOI: https://doi.org/10.1007/s10103-012-1139-7
Keywords
Chemotherapy-induced alopecia

Laser

Rat

Hair follicle