Abstract
Chronic autoimmune thyroiditis (CAT) is the most common cause of acquired hypothyroidism, which requires lifelong levothyroxine replacement therapy. Currently, no effective therapy is available for CAT. Thus, the objective of this study was to evaluate the efficacy of low-level laser therapy (LLLT) in patients with CAT-induced hypothyroidism by testing thyroid function, thyroid peroxidase antibodies (TPOAb), thyroglobulin antibodies (TgAb), and ultrasonographic echogenicity. A randomized, placebo-controlled trial with a 9-month follow-up was conducted from 2006 to 2009. Forty-three patients with a history of levothyroxine therapy for CAT-induced hypothyroidism were randomly assigned to receive either 10 sessions of LLLT (830 nm, output power of 50 mW, and fluence of 707 J/cm2; L group, n = 23) or 10 sessions of a placebo treatment (P group, n = 20). The levothyroxine was suspended 30 days after the LLLT or placebo procedures. Thyroid function was estimated by the levothyroxine dose required to achieve normal concentrations of T3, T4, free-T4 (fT4), and thyrotropin after 9 months of postlevothyroxine withdrawal. Autoimmunity was assessed by measuring the TPOAb and TgAb levels. A quantitative computerized echogenicity analysis was performed pre- and 30 days postintervention. The results showed a significant difference in the mean levothyroxine dose required to treat the hypothyroidism between the L group (38.59 ± 20.22 μg/day) and the P group (106.88 ± 22.90 μg/day, P < 0.001). Lower TPOAb (P = 0.043) and greater echogenicity (P < 0.001) were also noted in the L group. No TgAb difference was observed. These findings suggest that LLLT was effective at improving thyroid function, promoting reduced TPOAb-mediated autoimmunity and increasing thyroid echogenicity in patients with CAT hypothyroidism.
Access options
Buy single article
Instant access to the full article PDF.
USD 39.95
Price excludes VAT (USA)
Tax calculation will be finalised during checkout.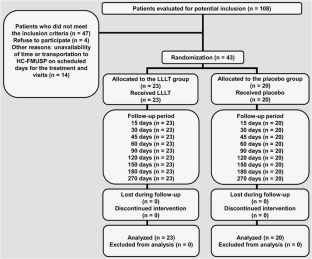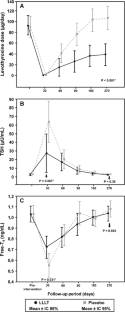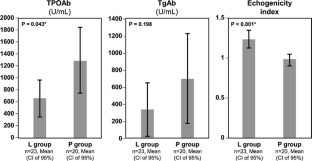 References
Roberts CG, Ladenson PW (2004) Hypothyroidism. Lancet 363:793–803

Nielsen CH, Hegedus L, Rieneck K, Moeller AC, Leslie RG, Bendtzen K (2007) Production of interleukin (IL)-5 and IL-10 accompanies T helper cell type 1 (Th1) cytokine responses to a major thyroid self-antigen, thyroglobulin, in health and autoimmune thyroid disease. Clin Exp Immunol 147:287–295

Weetman AP (2004) Autoimmune thyroid disease. Autoimmunity 37:337–340

Rapoport B, McLachlan SM (2001) Thyroid autoimmunity. J Clin Invest 108:1253–1259

Dayan CM, Daniels GH (1996) Chronic autoimmune thyroiditis. N Engl J Med 335:99–107

Vanderpump MP, Tunbridge WM (2002) Epidemiology and prevention of clinical and subclinical hypothyroidism. Thyroid 12:839–847

Padberg S, Heller K, Usadel KH, Schumm-Draeger PM (2001) One-year prophylactic treatment of euthyroid Hashimoto's thyroiditis patients with levothyroxine: is there a benefit? Thyroid 11:249–255

Gartner R, Gasnier BC, Dietrich JW, Krebs B, Angstwurm MW (2002) Selenium supplementation in patients with autoimmune thyroiditis decreases thyroid peroxidase antibodies concentrations. J Clin Endocrinol Metab 87:1687–1691

Bonfig W, Gartner R, Schmidt H (2010) Selenium supplementation does not decrease thyroid peroxidase antibody concentration in children and adolescents with autoimmune thyroiditis. Sci World J 10:990–996

Brosseau L, Robinson V, Wells G, Debie R, Gam A, Harman K, Morin M, Shea B, Tugwell P (2005) Low level laser therapy (classes I, II and III) for treating rheumatoid arthritis. Cochrane Database Syst Rev (4):CD002049

Gao X, Xing D (2009) Molecular mechanisms of cell proliferation induced by low power laser irradiation. J Biomed Sci 16:4

Vidal L, Ortiz M, Perez de Vargas I (2002) Ultrastructural changes in thyroid perifollicular capillaries during normal postnatal development and after infrared laser radiation. Lasers Med Sci 17:187–197

Parrado C, Carrillo de Albornoz F, Vidal L, Perez de Vargas I (1999) A quantitative investigation of microvascular changes in the thyroid gland after infrared (IR) laser radiation. Histol Histopathol 14:1067–1071

Azevedo LH, Aranha AC, Stolf SF, Eduardo Cde P, Vieira MM (2005) Evaluation of low intensity laser effects on the thyroid gland of male mice. Photomed Laser Surg 23:567–570

Mikhailov VA, Denisov IN, Aleksandrova O, Poliakov AV (1998) The treatment of autoimmune thyroiditis using low-intensity laser radiation. Vopr Kurortol Fizioter Lech Fiz Kult 3:15–16

Höfling DB, Chavantes MC, Juliano AG, Cerri GG, Romao R, Yoshimura EM, Chammas MC (2010) Low-level laser therapy in chronic autoimmune thyroiditis: a pilot study. Lasers Surg Med 42:589–596

Duarte GC, Tomimori EK, Camargo RY, Rubio IG, Wajngarten M, Rodrigues AG, Knobel M, Medeiros-Neto G (2009) The prevalence of thyroid dysfunction in elderly cardiology patients with mild excessive iodine intake in the urban area of Sao Paulo. Clinics (Sao Paulo) 64:135–142

Nordmeyer JP, Shafeh TA, Heckmann C (1990) Thyroid sonography in autoimmune thyroiditis. A prospective study on 123 patients. Acta Endocrinol (Copenh) 122:391–395

Brunn J, Block U, Ruf G, Bos I, Kunze WP, Scriba PC (1981) Volumetric analysis of thyroid lobes by real-time ultrasound. Dtsch Med Wochenschr 106:1338–1340 (author's translation)

Tramalloni J, Monpeyssen H (2006) Thyroïde normale et variants. In: Tramalloni J, Monpeyssen H (eds) Écographie de la thyroïde. Ed Masson, Issy-les-Moulieaux, pp 1–30

Loy M, Cianchetti ME, Cardia F, Melis A, Boi F, Mariotti S (2004) Correlation of computerized gray-scale sonographic findings with thyroid function and thyroid autoimmune activity in patients with Hashimoto's thyroiditis. J Clin Ultrasound 32:136–140

Mazziotti G, Sorvillo F, Iorio S, Carbone A, Romeo A, Piscopo M, Capuano S, Capuano E, Amato G, Carella C (2003) Grey-scale analysis allows a quantitative evaluation of thyroid echogenicity in the patients with Hashimoto's thyroiditis. Clin Endocrinol (Oxf) 59:223–229

Schiemann U, Avenhaus W, Konturek JW, Gellner R, Hengst K, Gross M (2003) Relationship of clinical features and laboratory parameters to thyroid echogenicity measured by standardized grey scale ultrasonography in patients with Hashimoto's thyroiditis. Med Sci Monit 9:MT13–MT17

Vitti P (2000) Grey scale thyroid ultrasonography in the evaluation of patients with Graves' disease. Eur J Endocrinol 142:22–24

Moher D (1998) CONSORT: an evolving tool to help improve the quality of reports of randomized controlled trials. Consolidated Standards of Reporting Trials. JAMA 279:1489–1491

Bjordal JM, Couppe C, Chow RT, Tuner J, Ljunggren EA (2003) A systematic review of low level laser therapy with location-specific doses for pain from chronic joint disorders. Aust J Physiother 49:107–116

Hu WP, Wang JJ, Yu CL, Lan CC, Chen GS, Yu HS (2007) Helium-neon laser irradiation stimulates cell proliferation through photostimulatory effects in mitochondria. J Invest Dermatol 127:2048–2057

Karu TI (2008) Mitochondrial signaling in mammalian cells activated by red and near-IR radiation. Photochem Photobiol 84:1091–1099

Aimbire F, de Lima FM, Costa MS, Albertini R, Correa JC, Iversen VV, Bjordal JM (2009) Effect of low level laser therapy on bronchial hyper-responsiveness. Lasers Med Sci 24:567–576

Safavi SM, Kazemi B, Esmaeili M, Fallah A, Modarresi A, Mir M (2008) Effects of low-level He-Ne laser irradiation on the gene expression of IL-1beta, TNF-alpha, IFN-gamma, TGF-beta, bFGF, and PDGF in rat's gingiva. Lasers Med Sci 23:331–335

Mafra de Lima F, Villaverde AB, Salgado MA, Castro-Faria-Neto HC, Munin E, Albertini R, Aimbire F (2010) Low intensity laser therapy (LILT) in vivo acts on the neutrophils recruitment and chemokines/cytokines levels in a model of acute pulmonary inflammation induced by aerosol of lipopolysaccharide from Escherichia coli in rat. J Photochem Photobiol B 101:271–278

Pires D, Xavier M, Araujo T, Silva JA Jr, Aimbire F, Albertini R (2011) Low-level laser therapy (LLLT; 780 nm) acts differently on mRNA expression of anti- and pro-inflammatory mediators in an experimental model of collagenase-induced tendinitis in rat. Lasers Med Sci 26:85–94

Yamaura M, Yao M, Yaroslavsky I, Cohen R, Smotrich M, Kochevar IE (2009) Low level light effects on inflammatory cytokine production by rheumatoid arthritis synoviocytes. Lasers Surg Med 41:282–290

Drugarin D, Negru S, Koreck A (1998) Th1 cytokines in autoimmune thyroiditis. Roum Arch Microbiol Immunol 57:309–319

Diez JJ, Hernanz A, Medina S, Bayon C, Iglesias P (2002) Serum concentrations of tumour necrosis factor-alpha (TNF-alpha) and soluble TNF-alpha receptor p55 in patients with hypothyroidism and hyperthyroidism before and after normalization of thyroid function. Clin Endocrinol (Oxf) 57:515–521

Akinci B, Comlekci A, Yener S, Bayraktar F, Demir T, Ozcan MA, Yuksel F, Yesil S (2008) Hashimoto's thyroiditis, but not treatment of hypothyroidism, is associated with altered TGF-beta1 levels. Arch Med Res 39:397–401

Karanikas G, Schuetz M, Wahl K, Paul M, Kontur S, Pietschmann P, Kletter K, Dudczak R, Willheim M (2005) Relation of anti-TPO autoantibody titre and T-lymphocyte cytokine production patterns in Hashimoto's thyroiditis. Clin Endocrinol (Oxf) 63:191–196

Rago T, Chiovato L, Grasso L, Pinchera A, Vitti P (2001) Thyroid ultrasonography as a tool for detecting thyroid autoimmune diseases and predicting thyroid dsfunction in apparently healthy subjects. J Endocrinol Investig 24:763–769

Yoshida A, Adachi T, Noguchi T, Urabe K, Onoyama S, Okamura Y, Shigemasa C, Abe K, Mashiba H (1985) Echographic findings and histological feature of the thyroid: a reverse relationship between the level of echo-amplitude and lymphocytic infiltration. Endocrinol Jpn 32:681–690

Muller HW, Schroder S, Schneider C, Seifert G (1985) Sonographic tissue characterisation in thyroid gland diagnosis. A correlation between sonography and histology. Klin Wochenschr 63:706–710

Schartinger VH, Galvan O, Riechelmann H, Dudas J (2011) Differential responses of fibroblasts, non-neoplastic epithelial cells, and oral carcinoma cells to low-level laser therapy. Support Care Cancer 20:523–529. doi:10.1007/s00520-011-1113-0

Ohshiro T, Fujino T (1993) Laser applications in plastic and reconstructive surgery. Keio J Med 42:191–195

Valcavi R, Riganti F, Bertani A, Formisano D, Pacella CM (2010) Percutaneous laser ablation of cold benign thyroid nodules: a 3-year follow-up study in 122 patients. Thyroid 20:1253–1261
Acknowledgments
We would like to thank Berenice B. Mendonça, Suemi Marui, Noedir A. G. Stolf, Mikiya Muramatsu, Rosangela Itri, and Claudio Leone for their assistance and support in this study. This research project was supported by grants from the "Fundação de Amparo à Pesquisa do Estado de São Paulo" (FAPESP), "Conselho Nacional de Desenvolvimento Científico e Tecnológico" (CNPq), and a fellowship from "Coordenação de Aperfeiçoamento de Pessoal de Nível Superior" (CAPES).
Disclosure of proprietary interests
"I certify that I have no affiliation with or financial involvement in any organization or entity with a direct financial interest in the subject matter or materials discussed in the manuscript."
Additional information
Clinical trial registration number
NCT01129492
About this article
Cite this article
Höfling, D.B., Chavantes, M.C., Juliano, A.G. et al. Low-level laser in the treatment of patients with hypothyroidism induced by chronic autoimmune thyroiditis: a randomized, placebo-controlled clinical trial. Lasers Med Sci 28, 743–753 (2013). https://doi.org/10.1007/s10103-012-1129-9
Received:

Accepted:

Published:

Issue Date:

DOI: https://doi.org/10.1007/s10103-012-1129-9
Keywords
Autoimmunity

Hashimoto's thyroiditis

LLLT

Thyroid

Ultrasound