Abstract
Rheumatoid arthritis (RA) is an autoimmune inflammatory disease of unknown etiology. Treatment of RA is very complex, and in the past years, some studies have investigated the use of low-level laser therapy (LLLT) in treatment of RA. However, it remains unknown if LLLT can modulate early and late stages of RA. With this perspective in mind, we evaluated histological aspects of LLLT effects in different RA progression stages in the knee. It was performed a collagen-induced RA model, and 20 male Wistar rats were divided into 4 experimental groups: a non-injured and non-treated control group, a RA non-treated group, a group treated with LLLT (780 nm, 22 mW, 0.10 W/cm2, spot area of 0.214 cm2, 7.7 J/cm2, 75 s, 1.65 J per point, continuous mode) from 12th hour after collagen-induced RA, and a group treated with LLLT from 7th day after RA induction with same LLLT parameters. LLLT treatments were performed once per day. All animals were sacrificed at the 14th day from RA induction and articular tissue was collected in order to perform histological analyses related to inflammatory process. We observed that LLLT both at early and late RA progression stages significantly improved mononuclear inflammatory cells, exudate protein, medullary hemorrhage, hyperemia, necrosis, distribution of fibrocartilage, and chondroblasts and osteoblasts compared to RA group (p < 0.05). We can conclude that LLLT is able to modulate inflammatory response both in early as well as in late progression stages of RA.
Access options
Buy single article
Instant access to the full article PDF.
USD 39.95
Price excludes VAT (USA)
Tax calculation will be finalised during checkout.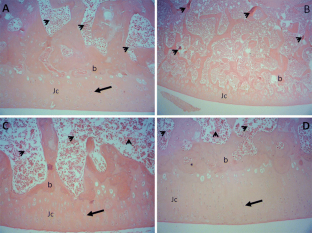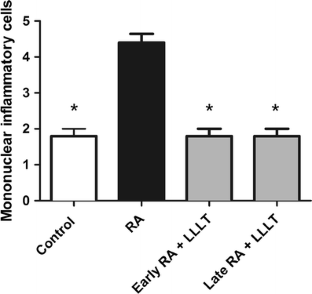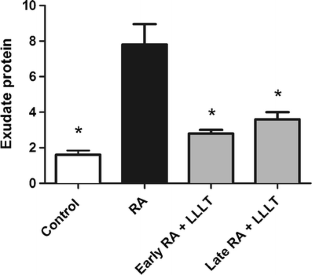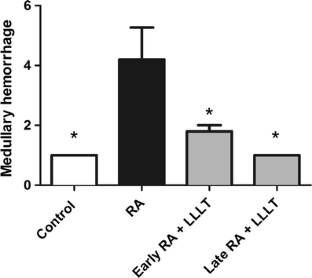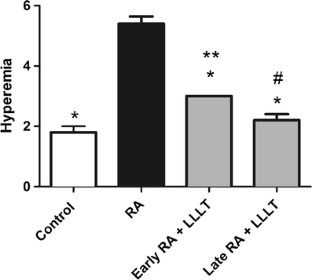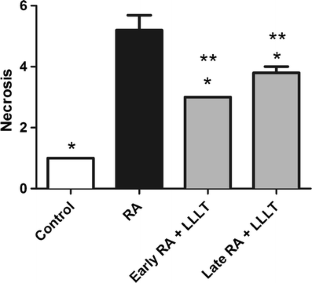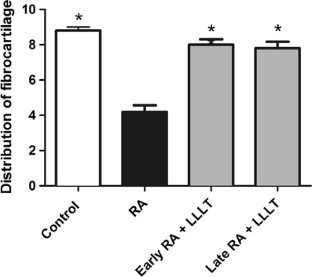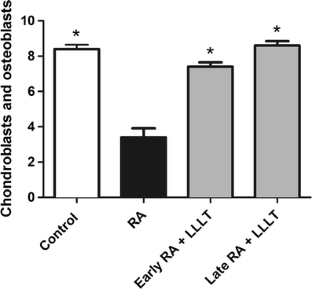 References
Ide MR, Gonzalez-Gay MA, Yano KC, Imai MJ, de Andrade MC, Jr LJ (2011) Functional capacity in rheumatoid arthritis patients: comparison between Spanish and Brazilian sample. Rheumatol Int 31:221–226

Gibofsky A (2006) Combination therapy for rheumatoid arthritis in the era of biologicals. HSS J 2:30–41

Pallotta RC, Bjordal JM, Frigo L, Leal Junior EC, Teixeira S, Marcos RL, Ramos L, de Moura MF, Lopes-Martins RA (2012) Infrared (810-nm) low-level laser therapy on rat experimental knee inflammation. Lasers Med Sci 27:71–78

Kucuk BB, Oral K, Selcuk NA, Toklu T, Civi OG (2010) The anti-inflammatory effect of low-level laser therapy on experimentally induced inflammation of rabbit temporomandibular joint retrodiscal tissues. J Orofac Pain 24:293–297

de Morais NC, Barbosa AM, Vale ML, Villaverde AB, de Lima CJ, Cogo JC, Zamuner SR (2010) Anti-inflammatory effect of low-level laser and light-emitting diode in zymosan-induced arthritis. Photomed Laser Surg 28:227–232

Sandoval MC, Mattiello-Rosa SM, Soares EG, Parizotto NA (2009) Effects of laser on the synovial fluid in the inflammatory process of the knee joint of the rabbit. Photomed Laser Surg 27:63–69

Valdes K, Marik T (2010) A systematic review of conservative interventions for osteoarthritis of the hand. J Hand Ther 23:334–350

Castano AP, Dai T, Yaroslavsky I, Cohen R, Apruzzese WA, Smotrich MH, Hamblin MR (2007) Low-level laser therapy for zymosan-induced arthritis in rats: Importance of illumination time. Lasers Surg Med 39:543–550

Bjordal JM, Johnson MI, Lopes-Martins RA, Bogen B, Chow R, Ljunggren AE (2007) Short-term efficacy of physical interventions in osteoarthritic knee pain: a systematic review and meta-analysis of randomised placebo-controlled trials. BMC Musculoskelet Disord 22:51

Hegedus B, Viharos L, Gervain M, Gálfi M (2009) The effect of low-level laser in knee osteoarthritis: a double-blind, randomized, placebo-controlled trial. Photomed Laser Surg 27:577–584

Brosseau L, Welch V, Wells G, Tugwell P, de Bie R, Gam A, Harman K, Shea B, Morin M (2000) Low level laser therapy for osteoarthritis and rheumatoid arthritis: a meta analysis. J Rheumatol 27:1961–1969

Ekim A, Armagan O, Tascioglu F, Oner C, Colak M (2007) Effect of low level laser therapy in rheumatoid arthritis patients with carpal tunnel syndrome. Swiss Med Wkly 137:347–352

Juhl C (2006) Short term beneficial effects of low level laser therapy for patients with rheumatoid arthritis. Aust J Physiother 52:224

Yamaura M, Yao M, Yaroslavsky I, Cohen R, Smotrich M, Kochevar IE (2009) Low level light effects on inflammatory cytokine production by rheumatoid arthritis synoviocytes. Lasers Surg Med 41:282–290

Brosseau L, Robinson V, Wells G, Debie R, Gam A, Harman K, Morin M, Shea B, Tugwell P (2005) Low level laser therapy (Classes I, II and III) for treating rheumatoid arthritis. Cochrane Database Syst Rev 4:CD002049

Meireles SM, Jones A, Jennings F, Suda AL, Parizotto NA, Natour J (2010) Assessment of the effectiveness of low-level laser therapy on the hands of patients with rheumatoid arthritis: a randomized double-blind controlled trial. Clin Rheumatol 29:501–509

Bálint G, Barabás K, Zeitler Z, Bakos J, Kékesi KA, Pethes A, Nagy E, Lakatos T, Bálint PV, Szekanecz Z (2011) Ex vivo soft-laser treatment inhibits the synovial expression of vimentin and α-enolase, potential autoantigens in rheumatoid arthritis. Phys Ther 91:665–674

Stuart JM, Cremer MA, Dixit SN, Kang AH, Townes AS (1979) Collagen-induced arthritis in rats. Comparison of vitreous and cartilage-derived collagens. Arthritis Rheum 22:347–352

Leonel EC, Porciúncula HF, Sobrinho JA, Ramalho LTO, Mangilli PD, Rapoport A (2004) The action of the castor bean polymer during the bone neoformation. Acta Cir Bras 19:342–350

Ré Poppi R, Da Silva AL, Nacer RS, Vieira RP, de Oliveira LV, de Faria S, Júnior N, de Tarso Camilo Carvalho P (2011) Evaluation of the osteogenic effect of low-level laser therapy (808 nm and 660 nm) on bone defects induced in the femurs of female rats submitted to ovariectomy. Lasers Med Sci 26:515–522

AboElsaad NS, Soory M, Gadalla LM, Ragab LI, Dunne S, Zalata KR, Louca C (2009) Effect of soft laser and bioactive glass on bone regeneration in the treatment of bone defects (an experimental study). Lasers Med Sci 24:527–533

Aimbire F, Albertini R, Pacheco MT, Castro-Faria-Neto HC, Leonardo PS, Iversen VV, Lopes-Martins RA, Bjordal JM (2006) Low-level laser therapy induces dose-dependent reduction of TNFalpha levels in acute inflammation. Photomed Laser Surg 24:33–37

Aimbire F, Lopes-Martins RA, Albertini R, Pacheco MT, Castro-Faria-Neto HC, Martins PS, Bjordal JM (2007) Effect of low-level laser therapy on hemorrhagic lesions induced by immune complex in rat lungs. Photomed Laser Surg 25:112–117

Albertini R, Aimbire FS, Correa FI, Ribeiro W, Cogo JC, Antunes E, Teixeira SA, De Nucci G, Castro-Faria-Neto HC, Zângaro RA, Lopes-Martins RA (2004) Effects of different protocol doses of low power gallium-aluminum-arsenate (Ga-Al-As) laser radiation (650 nm) on carrageenan induced rat paw ooedema. J Photochem Photobiol B 74:101–107

Albertini R, Villaverde AB, Aimbire F, Salgado MA, Bjordal JM, Alves LP, Munin E, Costa MS (2007) Anti-inflammatory effects of low-level laser therapy (LLLT) with two different red wavelengths (660 nm and 684 nm) in carrageenan-induced rat paw edema. J Photochem Photobiol B 89:50–55

Bjordal JM, Lopes-Martins RA, Iversen VV (2006) A randomised, placebo controlled trial of low level laser therapy for activated achilles tendinitis with microdialysis measurement of peritendinous prostaglandin E2 concentrations. Br J Sports Med 40:76–80

Correa F, Lopes Martins RA, Correa JC, Iversen VV, Joenson J, Bjordal JM (2007) Low-level laser therapy (GaAs lambda =904 nm) reduces inflammatory cell migration in mice with lipopolysaccharide-induced peritonitis. Photomed Laser Surg 25:245–249

Hemvani N, Chitnis DS, George M, Chammania S (2005) In vitro effect of nitrogen and He-Ne laser on the apoptosis of human polymorphonuclear cells from burn cases and healthy volunteers. Photomed Laser Surg 23:476–479

de Almeida P, Lopes-Martins RÁ, Tomazoni SS, Silva JA Jr, de Carvalho PT, Bjordal JM, Leal Junior EC (2011) Low-level laser therapy improves skeletal muscle performance, decreases skeletal muscle damage and modulates mRNA expression of COX-1 and COX-2 in a dose-dependent manner. Photochem Photobiol 87:1159–1163

Xavier M, David DR, de Souza RA, Arrieiro NA, Miranda H, Santana ET, Silva JA Jr, Salgado MA, Aimbire F, Albertini R (2010) Anti-inflammatory effects of low-level light emitting diode therapy on achilles tendinitis in rats. Lasers Surg Med 42:553–558

Casalechi HL, Nicolau RA, Casalechi VL, Silveira-Júnior L, Paula AM, Pacheco MT (2009) The effects of low level light emitting diode on the repair process of Achilles tendon therapy in rats. Lasers Med Sci 24:659–665

Madan B, Mandal BC, Kumar S, Ghosh B (2003) Canscora decussata (Roxb.) Schult (Gentianaceae) inhibits LPSinduced expression of ICAM-1 and E-selectin on endothelial cells and carrageenan-induced paw-edema in rats. J Ethnopharmacol 89:211–216

Pierce JW, Schoenleber R, Jesmok G, Best J, Moore SA, Collins T, Gerritsen ME (1997) Novel inhibitors of cytokine-induced IkappaBalpha phosphorylation and endothelial cell adhesion molecule expression show anti-inflammatory effects in vivo. J Biol Chem 272:21096–21103

Schroder AK, Von der Ohe M, Kolling U, Altstaedt J, Uciechowski P, Fleischer D, Dalhoff K, Ju X, Zenke M, Heussen N, Rink L, Fleischer D, Zenke M, Heussen N, Rink L (2006) Polymorphonuclear leucocytes selectively produce anti-inflammatory interleukin-1 receptor antagonist and chemokines, but fail to produce pro-inflammatory mediators. Immunology 119:317–327

Honmura A, Yanase M, Obata J, Haruki E (1992) Therapeutic effect of Ga-Al-As diode laser irradiation on experimentally induced inflammation in rats. Lasers Surg Med 12:441–449

Hui AY, McCarty WJ, Masuda K, Firestein GS, Sah RL (2012) A systems biology approach to synovial joint lubrication in health, injury, and disease. Wiley Interdiscip Rev Syst Biol Med 4:15–37
About this article
Cite this article
Alves, A.C.A., de Carvalho, P.T.C., Parente, M. et al. Low-level laser therapy in different stages of rheumatoid arthritis: a histological study. Lasers Med Sci 28, 529–536 (2013). https://doi.org/10.1007/s10103-012-1102-7
Received:

Accepted:

Published:

Issue Date:

DOI: https://doi.org/10.1007/s10103-012-1102-7
Keywords
Phototherapy

Rheumatoid arthritis

Inflammation