Abstract
Reduced aerobic fitness is associated with an increased risk of cardiovascular diseases among the older population. The aim of this study was to investigate the effects of LED irradiation (850 nm) applied during treadmill training on the maximal exercise tolerance in postmenopausal women. At the beginning of the study, 45 postmenopausal women were assigned randomly to three groups, and 30 women completed the entire 6 months of the study. The groups were: (1) the LED group (treadmill training associated with phototherapy, n = 10), (2) the exercise group (treadmill training, n = 10), and (3) the sedentary group (neither physical training nor phototherapy, n = 10). The training was performed for 45 min twice a week for 6 months at intensities between 85% and 90% maximal heart rate (HRmax). The irradiation parameters were 39 mW/cm2, 45 min and 108 J/cm2. The cardiovascular parameters were measured at baseline and after 6 months. As expected, no significant differences were found in the sedentary group (p ≥ 0.05). The maximal time of tolerance (Tlim), metabolic equivalents (METs) and Bruce stage reached significantly higher values in the LED group and the exercise group (p < 0.01). Furthermore, the HR, double product and Borg score at isotime were significantly lower in the LED group and in the exercise group (p < 0.05). However, the time of recovery showed a significant decrease only in the LED group (p = 0.003). Moreover, the differences between before and after training (delta values) for the Tlim, METs and HR at isotime were greater in the LED group than in the exercise group with a significant intergroup difference (p < 0.05). Therefore, the infrared LED irradiation during treadmill training can improve maximal performance and post-exercise recovery in postmenopausal women.
This is a preview of subscription content, log in to check access.
Access options
Buy single article
Instant access to the full article PDF.
US$ 39.95
Price includes VAT for USA
Subscribe to journal
Immediate online access to all issues from 2019. Subscription will auto renew annually.
US$ 99
This is the net price. Taxes to be calculated in checkout.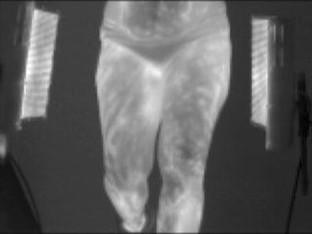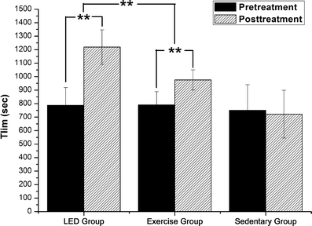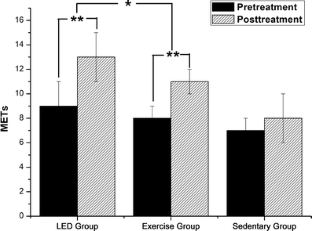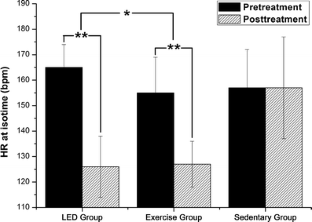 References
1.

Lynch NA, Ryan AS, Berman DM, Sorkin JD, Nicklas BJ (2002) Comparison of VO2max and disease risk factors between perimenopausal and postmenopausal women. Menopause 9(6):456–462

2.

Meersman RE, Stein PK (2007) Vagal modulation and aging. Biol Psychol 74:165–173

3.

Pal GK, Pal P, Nanda N, Amudharaj D, Karthik S (2009) Spectral analysis of heart rate variability (HRV) may predict the future development of essential hypertension. Med Hypotheses 72:183–185

4.

Gorodeski GI (2002) Update on cardiovascular disease in post-menopausal women. Best Pract Res Clin Obstet Gynaecol 16:329–355

5.

Paolillo FR, Milan JC, Aniceto IV, Barreto SG, Rebelatto JR, Borghi-Silva A, Parizotto NA, Kurachi C, Bagnato VS (2011) Effects of infrared-LED illumination applied during high-intensity treadmill training in postmenopausal women. Photomed Laser Surg 29(9):639–645

6.

Di Blasio A, Di Donato F, Mastrodicasa M et al (2010) Effects of the time of day of walking on dietary behaviour, body composition and aerobic fitness in post-menopausal women. J Sports Med Phys Fitness 50(2):196–201

7.

Kemmler W, Lauber D, Weineck J, Hensen J, Kalender W, Engelke K (2004) Benefits of 2 years of intense exercise on bone density, physical fitness, and blood lipids in early postmenopausal osteopenic women. Arch Intern Med 164:1084–1091

8.

Leal Junior ECP, Lopes-Martins RAB, Barone BM et al (2009) Effect of 830 nm Low-Level Laser Therapy Applied Before High-Intensity Exercises on Skeletal Muscle Recovery in Athletes. Lasers Med Sci 24:857–863

9.

Leal Junior ECP, Lopes-Martins RAB, Baroni BM et al (2009) Comparison between single-diode low-level laser therapy (LLLT) and LED multi-diode (cluster) therapy (LEDT) applications before high-intensity exercise. Photomed Laser Surg 27:617–623

10.

Ferraresi C, Oliveira TB, Zafalon LO et al (2011) Effects of low level laser therapy (808 nm) on physical strength training in humans. Lasers Med Sci 26:349–358

11.

Amat A, Rigau J, Waynant RW, Ilev IK, Tomas J, Anders JJ (2005) Modification of the intrinsic fluorescence and the biochemical behavior of ATP after irradiation with visible and near-infrared laser light. J Photochem Photobiol B 81:26–32

12.

Karu TI, Piatybrat LV, Afanasyeva NI (2004) A novel mitochondrial signaling pathway activated by visible-to-near infrared radiation. Photochem Photobiol 80:366–372

13.

Bakeeva LE, Manteifel VM, Rodichev EB, Karu TI (1993) Formation of gigantic mitochondria in human blood lymphocytes under the effect of an He-Ne laser. Mol Biol (Mosk) 27:608–617

14.

Lumini-Oliveira J, Magalhães J, Pereira CV, Aleixo I, Oliveira PJ, Ascensão A (2009) Endurance training improves gastrocnemius mitochondrial function despite increased susceptibility to permeability transition. Mitochondrion 9:454–462

15.

Irrcher I, Adhihetty PJ, Joseph AM, Ljubicic V, Hood DA (2003) Regulation of mitochondrial biogenesis in muscle by endurance exercise. Sports Med 33:783–793

16.

De Marchi T, Leal Junior EC, Bortoli C, Tomazoni SS, Lopes-Martins RA, Salvador M (2012) Low-level laser therapy (LLLT) in human progressive-intensity running: effects on exercise performance, skeletal muscle status, and oxidative stress. Lasers Med Sci 27:231–236

17.

Paolillo FR, Borghi-Silva A, Parizotto NA, Kurachi C, Bagnato VS (2011) New treatment of cellulite with infrared-LED illumination applied during high-intensity treadmill training. J Cosmet Laser Ther 13:166–171

18.

American College of Sports Medicine (2006) Guidelines for exercise testing and prescription, 7th edn. Lippincott, Williams & Wilkins, Philadelphia

19.

Fletcher GF, Balady GJ, Amsterdam EA et al (2011) Exercise standards for testing and training: a statement for healthcare professionals from the American Heart Association. Circulation 104:1694–1740

20.

King AC, Haskell WL, Young DR, Oka RK, Stefanick ML (1995) Long-term effects of varying intensities and formats of physical activity on participation rates, fitness, and lipoproteins in men and women aged 50 to 65 years. Circulation 91:2596–2604

21.

Enoksen E, Shalfawi SA, Tønnessen E (2011) The effect of high- vs. low-intensity training on aerobic capacity in well-trained male middle-distance runners. J Strength Cond Res 25:812–818

22.

Riedl I, Yoshioka M, Nishida M et al (2010) Regulation of skeletal muscle transcriptome in elderly men after 6 weeks of endurance training at lactate threshold intensity. Exp Gerontol 45:896–903

23.

Gibbons RJ, Balady GJ, Bricker JT et al (2002) ACC/AHA 2002 guideline update for exercise testing: summary article: a report of the American College of Cardiology/American Heart Association Task Force on Practice Guidelines (Committee to Update the 1997 Exercise Testing Guidelines). Circulation 106:1883–1892

24.

Haskell WL, Lee IM, Pate RR (2007) Physical activity and public health: updated recommendation for adults from the American College of Sports Medicine and the American Heart Association. Med Sci Sports Exerc 39:1423–1434

25.

Borghi-Silva A, Baldissera V, Sampaio LM et al (2006) L-carnitine as an ergogenic aid for patients with chronic obstructive pulmonary disease submitted to whole-body and respiratory muscle training programs. Braz J Med Biol Res 39:465–474

26.

Ostojic SM, Markovic G, Calleja-Gonzalez J, Jakovljevic DG, Vucetic V, Stojanovic MD (2010) Ultra short-term heart rate recovery after maximal exercise in continuous versus intermittent endurance athletes. Eur J Appl Physiol 108:1055–1059

27.

Lamberts RP, Swart J, Capostagno B, Noakes TD, Lambert MI (2010) Heart rate recovery as a guide to monitor fatigue and predict changes in performance parameters. Scand J Med Sci Sports 20:449–457

28.

Zoll J, Ponsot E, Dufour S et al (2006) Exercise training in normobaric hypoxia in endurance runners. III. Muscular adjustments of selected gene transcripts. J Appl Physiol 100:1258–1266

29.

Leal Junior EC, Lopes-Martins RA, Dalan F et al (2008) Effect of 655 nm low-level laser therapy on exercise-induced skeletal muscle fatigue in humans. Photomed Laser Surg 26:419–424

30.

Almeida P, Lopes-Martins RA, De Marchi T et al (2011) Red (660 nm) and infrared (830 nm) low-level laser therapy in skeletal muscle fatigue in humans: what is better? Lasers Med Sci (Epub ahead of print). doi:10.1007/s10103-011-0957-3.

31.

Gorgey AS, Wadee AN, Sobhi NN (2008) The effect of low-level laser therapy on electrically induced muscle fatigue: a pilot study. Photomed Laser Surg 26:501–506

32.

Baroni BM, Leal Junior ECP, De Marchi T, Lopes AL, Salvador M, Vaz MA (2010) Low level laser therapy before eccentric exercise reduces muscle damage markers in humans. Eur J Appl Physiol 110:789–796

33.

Leal Junior ECP, Lopes-Martins RAB, Rossi RP et al (2009) Effect of cluster multi-diode light emitting diode therapy (LEDT) on exercise-induced skeletal Muscle fatigue and skeletal muscle recovery in humans. Lasers Surg Med 41:572–577

34.

Baroni BM, Leal Junior ECP, Geremia JM, Diefenthaeler F, Vaz FM (2010) Effect of light-emitting diodes therapy (LEDT) on knee extensor muscle fatigue. Photomed Laser Surg 28:653–658

35.

Svanberg S (2002) Tissue diagnostics using lasers. In: Waynant RW (ed) Lasers in medicine. CRC Press, Boca Raton, FL, pp 135–169

36.

Pöntinen PJ (2000) Laseracupuncture. In: Simunovic Z (ed) Lasers in medicine and dentistry: basic and up-to-date clinical application of low-energy-level laser therapy (LLLT). Vitgraf, Rijeka, Croatia, pp 455–475

37.

Makihara E, Makihara M, Masumi SI, Sakamoto E (2005) Evaluation of facial thermographic changes before and after low level laser irradiation. Photomed Laser Surg 23:191–195

38.

Merla A, Mattei PA, Donato L, Romani GL (2010) Thermal imaging of cutaneous temperature modifications in runners during graded exercise. Ann Biomed Eng 38:158–163

39.

Paolillo FR, Paolillo AR, Cliquet A Jr (2005) Cardiorespiratory responses of patients with spinal cord injuries. Acta Ortop Bras 13(3):148–151

40.

Oron U (2006) Photoengineering of tissue repair in skeletal and cardiac muscles. Photomed Laser Surg 24(2):111–120

41.

Oron U, Yaakobi T, Oron A (2001) Low-energy laser irradiation reduces formation of scar tissue after myocardial infarction in rats and dogs. Circulation 103: 296–301

42.

Karu TI, Piatybrat LV, Afanasyeva NI (2005) Cellular effects of low power laser therapy can be mediated by nitric oxide. Lasers in Surgery and Medicine 36:307–314

43.

Yu SY, Chiu JH, Yan SD, Hsu YC, Lui WY, Wu CW (2006) Biological effect of far-infrared therapy on increasing skin microcirculation in rats. Photodermatol Photoimmunol Photomed 22:78–86
Acknowledgments
We would like to thank the Fundação de Amparo à Pesquisa do Estado de São Paulo (FAPESP, grant nos. 98/14270-8 and 09/01842-0), the Conselho Nacional de Desenvolvimento Científico e Tecnológico (CNPq, grant no. 150949/2011-1) and the Coordenação de Aperfeiçoamento de Pessoal de Nível Superior (CAPES) for financial support. We also acknowledge the valuable technical assistance graciously provided by Ms. Juliana Cristina Milan (physical therapist) and Ms. Isabela Verzola Aniceto (medical doctor).
About this article
Cite this article
Paolillo, F.R., Corazza, A.V., Borghi-Silva, A. et al. Infrared LED irradiation applied during high-intensity treadmill training improves maximal exercise tolerance in postmenopausal women: a 6-month longitudinal study. Lasers Med Sci 28, 415–422 (2013). https://doi.org/10.1007/s10103-012-1062-y
Received:

Accepted:

Published:

Issue Date:
Keywords
Infrared LED

Treadmill training

Aerobic capacity

Postmenopausal women