Abstract
Phototherapy with low-level coherent light (laser) has been reported as an analgesic and anti-inflammatory as well as having a positive effect in tissue repair in orthodontics. However, there are few clinical studies using low-level LED therapy (non-coherent light). The aim of the present study was to analyze the pain symptoms after orthodontic tooth movement associated with and not associated with coherent and non-coherent phototherapy. Fifty-five volunteers (mean age = 24.1 ± 8.1 years) were randomly divided into four groups: G1 (control), G2 (placebo), G3 (protocol 1: laser, InGaAlP, 660 nm, 4 J/cm2, 0.03 W, 25 s), G4 (protocol 2: LED, GaAlAs, 640 nm with 40 nm full-bandwidth at half-maximum, 4 J/cm2, 0.10 W, 70 s). Separators were used to induce orthodontic pain and the volunteers pain levels were scored with the visual analog scale (VAS) after the separator placement, after the therapy (placebo, laser, or LED), and after 2, 24, 48, 72, 96, and 120 h. The laser group did not have statistically significant results in the reduction of pain level compared to the LED group. The LED group had a significant reduction in pain levels between 2 and 120 h compared to the control and the laser groups. The LED therapy showed a significant reduction in pain sensitivity (an average of 56%), after the orthodontic tooth movement when compared to the control group.
Access options
Buy single article
Instant access to the full article PDF.
US$ 39.95
Tax calculation will be finalised during checkout.
Subscribe to journal
Immediate online access to all issues from 2019. Subscription will auto renew annually.
US$ 79
Tax calculation will be finalised during checkout.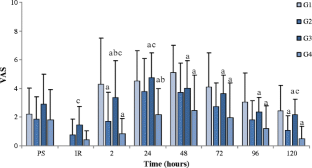 References
1.

Fortini A, Lupoli M, Cacciafesta V (2005) A new low-friction ligation system. J Clin Orthod 39:464–470

2.

Berger JL, Waram T (2007) Force levels of nickel titanium initial archwires. J Clin Orthod 41(5):286–292

3.

Krishnan V (2007) Orthodontic pain: from causes to management—a review. Eur J Orthod 29:170–179

4.

Bergius M, Kiliaridis S, Berggren U (2000) Pain in orthodontics. J Orofac Orthop 61:125–137

5.

Kluemper GT, Hiser DG, Rayens MK, Jay MJ (2002) Efficacy of a wax containing benzocaine in the relief of oral mucosal pain caused by orthodontic appliances. Am J Orthod Dentofacial Orthop 122(4):359–365

6.

Bondemark L, Fredriksson K, Ilros S (2004) Separation effect and perception of pain and discomfort from two types of orthodontics separators. World J Orthod 5:172–176

7.

Erdinç AME, Dinçer B (2004) Perception of pain during orthodontic treatment with fixed appliances. Eur J Orthod 26:79–85

8.

Polat O, Karaman AI (2005) Pain control during fixed orthodontic appliance therapy. Angle Orthod 75(2):210–215

9.

Polat O (2007) Pain and discomfort after orthodontic appointments. Semin Orthod 13(4):292–300

10.

Youssef M, Ashkar S, Hamade E, Gutknecht N, Lampert F, Maziar M (2008) The effect of low-level laser therapy during orthodontic movement: a preliminary study. Lasers Med Sci 23(1):27–33

11.

Bernhardt MK, Southard KA, Batterson KD, Logan HL, Baker KA, Jakobsen JR (2001) The effect of preemptive and/or postoperative ibuprofen therapy for orthodontic pain. Am J Orthod Dentofacial Orthop 120(1):20–27

12.

Kawasaki K, Shimizu N (2000) Effects of low-energy laser irradiation on bone remodeling during experimental tooth movement in rats. Lasers Surg Med 26:282–291

13.

Pinheiro ALB, Gerbi ME (2006) Photoengineering of bone repair processes. Photomed Laser Surg 24(2):169–178

14.

Karu TI (1989) Photobiology of lower-power laser therapy. Harwood Academic, London

15.

Califano AR, Nicolau RA, Lobo PDC, Kelencz CA, Munoz ISS (2009) Electromyographic analysis of the masseter muscle and anterior bundle of the temporal muscle after muscular fatigue induction and LED irradiation (640 nm). J Bras Laser 2:30–38

16.

Turhani D, Scheriau M, Kapral D, Benesch T, Jonke E, Bantleon HP (2006) Pain relief by single low-level laser irradiation in orthodontic patients undergoing fixed appliance therapy. Am J Orthod Dentofacial Orthop 130(3):371–377

17.

Seifi M, Shafeei HA, Daneshdoost S, Mir M (2007) Effects of two types of low-level laser wavelengths (850 and 630 nm) on the orthodontic tooth movements in rabbits. Lasers Med Sci 22(4):261–264

18.

Pinheiro ALB, Bittencourt MAV, Cangussu MCT, Ferreira RFA, Ferreira Filho RFA (2008) Avaliação clínica da ação antiálgica do laser de baixa potência após instalação de separadores ortodônticos. Rev Assoc Paul Cir Dent 62(2):98–104

19.

Tortamano A, Lenzi DC, Haddad ACSS, Bottino MC, Dominguez GC, Vigorito JW (2009) Low-level laser for pain caused by placement of the first orthodontic archwire: a randomized clinical trial. Am J Orthod Dentofacial Orthop 136(5):662–667

20.

Casalechi HL, Nicolau RA, Casalechi VL, Silveira L Jr, De Paula AMB, Pacheco MTT (2009) The effects of low-level light emitting diode on the repair process of Achilles tendon therapy in rats. Lasers Med Sci 24:659–665

21.

Dall Agnol MA, Nicolau RA, Lima CJ, Munin E (2009) Comparative analysis of coherent light action (laser) versus non-coherent light (light-emitting diode) for tissue repair in diabetic rats. Lasers Med Sci 24(6):909–916

22.

Lim HM, Lew KK, Tay DK (1995) A clinical investigation of the low-level laser therapy in reducing orthodontic postadjustment pain. Am J Orthod Dentofacial Orthop 108(6):614–622

23.

Bird SE, Williams K, Kula K (2007) Preoperative acetaminophen vs. ibuprofen for control of pain after orthodontic separator placement. Am J Orthod Dentofacial Orthop 132(4):504–510

24.

Bergius M, Broberg AG, Hakeberg M, Berggren U (2008) Prediction of prolonged pain experiences during orthodontic treatment. Am J Orthod Dentofacial Orthop 133(3):339.e1–339.e8

25.

Fujiyama K, Deguchi T, Murakami T, Fujii A, Kushima K, Takano-Yamamoto T (2008) Clinical effect of CO2 laser in reducing pain in orthodontics. Angle Orthod 78(2):299–303

26.

Otasevic M, Naini FB, Gill DS, Lee RT (2006) Prospective randomized clinical trial comparing the effects of a masticatory bite wafer and avoidance of hard food on pain associated with initial orthodontic tooth movement. Am J Orthod Dentofacial Orthop 130:e9–e15

27.

Turner J, Hode L (2002) Laser theraphy. Clinical practice and scientific background. Prima Books, Grangesberg, Sweden

28.

Rhudy JL, Meagher MW (2000) Fear and anxiety: divergent effects on human pain thresholds. Pain 84:65–75

29.

Andreasen JO, Petersen JK, Laskin DM (1997) Textbook and color atlas of tooth impactions. Munksgaard, Copenhagen, pp 369–437

30.

Brugnera A Jr, Santos EE, Bologna ED et al (2006) Atlas of Laser Therapy Applied to Clinical Dentistry. Quintessence, Berlin

31.

Brugnera A Jr (2009) Laser phototherapy in dentistry. Photom Laser Surg 27(4):533–534

32.

Karu TI (2002) Cellular mechanisms of low-power laser therapy. Advanced Energy Med. avaiable from: http://www.tinnitus.us/tiinakarupresentation.html. [acces: 2008/07/26]

33.

Enwemeka CS (2005) Light is light. Photom Laser Surg 23(2):159–160

34.

Corazza AV, Jorge J, Kurachi C, Bagnato VS (2007) Photobiomodulation on the angiogenesis of skin wounds in rats using different light sources. Photomed Laser Surg 25(2):102–106

35.

Cruz DR, Kohara EK, Ribeiro MS, Wetter N (2004) Effects of low-intensity laser therapy on the orthodontic movement velocity of human teeth: a preliminary study. Lasers Surg Med 35:117–120

36.

Goulart CS, Nouer PRA, Martins LM, Garbin IU, Lizarelli RFZ (2006) Photoradiation and orthodontic movement: experimental study with canines. Photomed Laser Surg 24(2):192–196

37.

Fujita S, Yamaguchi M, Utsunomiya T, Yamamoto H, Kasai K (2008) Low-energy laser stimulates tooth movement velocity via expression of RANK and RANKL. Orthod Craniofac Res 11:143–155

38.

Colls JC (1984) La Terapia Láser, hoy. Centro Documentación Láser de Meditec, Barcelona

39.

Bjordal JM, Johnson MI, Iversen V, Aimbire F, Lopes-Martins RAB (2006) Low-level laser therapy in acute pain: a systematic review of possible mechanisms of action and clinical effects in randomized placebo-controlled trials. Photomed Laser Surg 24:158–168

40.

Gigo-Benato D, Geuna S, Rochkind S (2005) Phototherapy for enhancing peripheral nerve repair: a review of the literature. Muscle Nerve 31:694–701

41.

Karu TI (1988) Molecular mechanism of the therapeutic effect of low-intensity laser radiation. Laser Life Sci 2(1):53–74

42.

Wollmann DE, Nicolau RA (2009) Dentin hypersensitivity treatment therapy with LED – clinical. Conscientiae Saude 8(4):575–580

43.

Bos A, Hoogstraten J, Prahl-Anderson B (2005) Towards a comprehensive model for the study of compliance in orthodontics. Eur J Orthod 27(3):296–301

44.

Turner JA, Deyo RA, Loeser JD, Korff MV, Fordyce WE (1974) The importance of placebo effects in pain treatment and research. JAMA 271(20):1609–1614

45.

Levine JD, Gordon NC, Bornstein JC, Fields HL (1979) Role of pain in placebo analgesia. Proc Natl Acad Sci USA 76(7):3528–3531
About this article
Cite this article
Esper, M.Â.L.R., Nicolau, R.A. & Arisawa, E.Â.L.S. The effect of two phototherapy protocols on pain control in orthodontic procedure—a preliminary clinical study. Lasers Med Sci 26, 657–663 (2011). https://doi.org/10.1007/s10103-011-0938-6
Received:

Accepted:

Published:

Issue Date:
Keywords