Abstract
The study investigated the influence of varying amounts of air/water spray and the energy used by an erbium, chromium:yttrium–scandium–gallium–garnet (Er,Cr:YSGG) 2,780 nm laser when treating dental tissues. The morphological effects produced by the laser interaction on healthy human enamel were evaluated by scanning electron microscopy (SEM). The vestibular and lingual surfaces of ten molars were treated with laser at different power settings; each surface was subdivided into cervical, median, and occlusal parts and treated with different proportions of water spray; the series contained 60 tooth portions. Treatment differed in terms of power setting and air/water percentage. All specimens were then subjected to dehydration and metallisation. At SEM evaluation, the classic aspect of laser-treated enamel was visible: grooves, flakes, shelves and sharp edges, indicative of micro-explosion rather than melting. Vaporisation of the tissue created a clear delimitation from surrounding healthy tissue, with partial respect to the prismatic structure of the treated enamel. The aspect of the enamel was rarely type 1 Silverstone but more frequently type 2 or 3, with prismatic structure not respected and/or completely disordered. These morphological differences appeared to be correlated with the inclination of the laser beam aimed at the enamel prisms and with the percentage of air/water used. The laser system analysed showed itself to be effective at removing human dental enamel. The results appeared to be closely correlated with the variation of the percentage of the laser's water–air spray.
This is a preview of subscription content, log in to check access.
Access options
Buy single article
Instant access to the full article PDF.
US$ 39.95
Price includes VAT for USA
Subscribe to journal
Immediate online access to all issues from 2019. Subscription will auto renew annually.
US$ 99
This is the net price. Taxes to be calculated in checkout.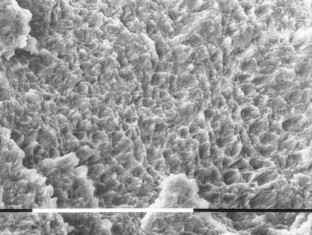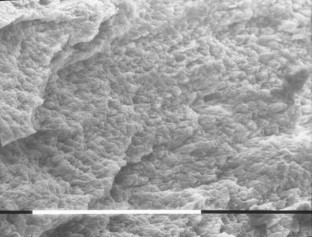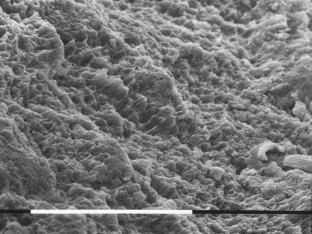 References
1.

Keller U, Hibst R (1989) Ablative effects of an Er:YAG laser on enamel and dentin. Dtsch Zahnarztl 44:600–602

2.

Hibst R, Keller U (1989) Experimental studies of the application of the Er:YAG laser on dental hard substances. I. Measurements of the ablation rate. Lasers Surg Med 9:338–344. doi:10.1002/lsm.1900090405

3.

Hibst R, Keller U (1990) Heat effect of pulsed of Er:YAG laser radiation. Proc SPIE 1200:379–386. doi:10.1117/12.17481

4.

Keller U, Hibst R (1990) Ultrastructural changes of enamel and dentin following Er:YAG laser on teeth. Proc SPIE 1200:408–415. doi:10.1117/12.17486

5.

Rosemberg SP (2003) The use of erbium, chromium:YSGG laser in microdentistry. Dent Today 22:70–73

6.

Francescut P, Lussi A (2006) Performance of a conventional sealant and a flowable composite on minimally invasive prepared fissures. Oper Dent 31:543–550. doi:10.2341/05-91

7.

Matson JR, Matson E, Navarro RS et al (2002) Er:YAG laser effects on enamel occlusal fissures: an in vitro study. J Clin Laser Med Surg 20:27–35. doi:10.1089/104454702753474986

8.

Tokonabe H, Kouji R, Watanabe H, Nakamura Y, Matsumoto K (1999) Morphological changes of human teeth with Er:YAG laser irradiation. J Clin Laser Med Surg 17:7–12

9.

Hossain M, Nakamura Y, Yamada Y, Kimura Y, Nakamura G, Matsumoto K (1999) Ablation depths and morphological changes in human enamel and dentin after Er:YAG laser irradiation with or without water mist. J Clin Laser Med Surg 17:105–109

10.

Armengol V, Jean A, Rohanizadeh R, Hamel H (1999) Scanning electron microscopic analysis of diseased and healthy dental hard tissues after Er:YAG laser irradiation: in vitro study. J Endod 25:543–546. doi:10.1016/S0099-2399(99)80376-8

11.

Shigetani Y, Okamoto A, Abu-Bakr N, Tanabe K, Kondo S, Iwaku M (2002) A study of cavity preparation by Er:YAG laser—observation of hard tooth structures by laser scanning microscope and examination of the time necessary to remove caries. J Dent Mater 21:20–23

12.

Mir M, Meister J, Franzen R, Sabounchi SS, Lampert F, Gutknecht N (2007) Influence of water-layer thickness on Er:YAG laser ablation of enamel of bovine anterior teeth. Lasers Med Sci 23:451–457

13.

Delmé KI, De Moor RJ (2007) Scanning electron microscopic evaluation of enamel and dentin surfaces after Er:YAG laser preparation and laser conditioning. Photomed Laser Surg 25:393–401. doi:10.1089/pho.2006.2069

14.

Freitas PM, Navarro RS, Barros JA, de Paula Eduardo C (2007) The use of Er:YAG laser for cavity preparation: an SEM evaluation. Microsc Res Tech 70:803–808. doi:10.1002/jemt.20470

15.

Keller U, Hibst R (1991) Tooth pulp reaction following Er:YAG laser application. Proc SPIE 1424:127–133. doi:10.1117/12.43999

16.

Dostálová T, Jelínková H, Krejsa O, Hamal K, Kubelka J, Procházka S, Himmlová L (1997) Dentin and pulp response to erbium:YAG laser ablation: a preliminary evaluation of human teeth. J Clin Laser Med Surg 15:117–121

17.

Glockner K, Rumpler J, Ebeleseder K, Städtler P (1998) Intrapulpal temperature during preparation with the Er:YAG laser compared to the conventional burr: an in vitro study. J Clin Laser Med Surg 16:153–157

18.

Rizoiu I, Kohanghadosh F, Kimmel AI, Eversole LR (1998) Pulpal thermal responses to an erbium, chromium:YSGG pulsed laser hydrokinetic system. Oral Surg Oral Med Oral Pathol Oral Radiol Endod 86:220–223. doi:10.1016/S1079-2104(98)90128-7

19.

Eversole LR, Rizoiu I, Kimmel AI (1997) Pulpal response to cavity preparation by an erbium, chromium:YSGG laser-powered hydrokinetic system. J Am Dent Assoc 128:1099–1106

20.

Kimmel A, Rizoiu IM, Eversole LR (1996). Phase Doppler particle analysis of laser energized exploding water droplets. International Laser Congress, Athens, Greece. Abstract no. 67

21.

Freiberg RJ, Cozean CD (2002) Pulsed erbium laser ablation of hard dental tissue: the effects of atomized water spray versus water surface film. Proc SPIE 4610:74–80

22.

Aoki A, Sakaki MK, Watanabe H, Ishikawa I (2004) Lasers in nonsurgical periodontal therapy. Periodontology 2000 36:59–97. doi:10.1016/S1079-2104(98)90128-7

23.

Wigdor HA, Walsh JT, Featherstone JDB, Visuri SR, Fried D, Waldvogel JL (1995) Lasers in dentistry. Lasers Surg Med 16:103–108. doi:10.1002/lsm.1900160202

24.

Kim ME, Jeoung DJ, Kim KS (2003) Effects of water flow on dental hard tissue ablation using Er:YAG laser. J Clin Laser Med Surg 21:139–144. doi:10.1089/104454703321895581

25.

Meister J, Franzen R, Forner K, Grebe H, Stanzel S, Lampert F, Apel C (2006) Influence of the water content in dental enamel and dentin on ablation with erbium YAG and erbium YSGG lasers. J Biomed Opt 11:034030. doi:10.1117/1.2204028

26.

Olivi G, Genovese MD (2007) Effect of Er:YAG laser on enamel: SEM observations. J Oral Laser Appl 7:27–35

27.

Kang HW, Rizoiu I, Welch AJ (2007) Hard tissue ablation with a spray-assisted mid-IR laser. Phys Med Biol 52:7243–7259
Acknowledgements
The SEM image resulted from collaboration with the University of Siena (Italy) and the Institute of Normal Human Anatomy (Head: Prof. L. Fonzi). We thank Prof. Fonzi for his support in producing these images.
About this article
Cite this article
Olivi, G., Angiero, F., Benedicenti, S. et al. Use of the erbium, chromium:yttrium–scandium–gallium–garnet laser on human enamel tissues. Influence of the air–water spray on the laser–tissue interaction: scanning electron microscope evaluations. Lasers Med Sci 25, 793–797 (2010). https://doi.org/10.1007/s10103-009-0689-9
Received:

Accepted:

Published:

Issue Date:
Keywords
Erbium, chromium:yttrium–scandium–gallium–garnet (Er,Cr:YSGG) laser

Water spray

Enamel

Scanning electron microscopy (SEM)

Surface morphology