Abstract
The purpose of this study was to investigate the efficiency of hand instrumentation and laser irradiation on calculus removal from the root surfaces, in vitro. Thirty-two human teeth, extracted for periodontal reasons, were used in this study. Root surfaces of single-rooted teeth were treated by different methods including (1) conventional hand instruments; (2) hand instruments and tetracycline-hydrochloride (Tet-HCl); (3) erbium, chromium:yttrium–scandium–gallium–garnet (Er,Cr:YSGG) laser irradiation, setting I (short pulse); (4) Er,Cr:YSGG laser irradiation, setting II (long pulse). Three premolar teeth, extracted for orthodontic reasons, served as control. The morphology of the root surfaces was evaluated by light and scanning electron microscopy. Energy dispersive X-ray (EDX) analysis was performed to compare the mineral content of root surfaces treated with hand instrumentation and lasing procedures. The results of this study demonstrated that all treatments were efficient in calculus removal from the root surfaces. Thermal changes, including melting and carbonization, were not observed in either lasing procedure. The surface was rougher in the laser groups than in the groups treated with hand instruments. Moreover, roughness was greater in the long-pulse laser setting than in the short-pulse setting. While increased calcium (Ca) and decreased phosphate (P) (weight concentration percent) were observed in all treatments when compared with the control, laser procedures resulted in a more similar mineral content than in the groups treated with hand instruments. Based on these findings, laser procedures, when used in appropriate settings, are capable of performing scaling and root planing in the treatment of periodontitis. It may be concluded that short pulse laser may be more suitable for the micro-morphology of the root surface. However, additional in vitro and clinical studies are necessary to clarify the success of laser in periodontal therapy.
This is a preview of subscription content, log in to check access.
Access options
Buy single article
Instant access to the full article PDF.
US$ 39.95
Price includes VAT for USA
Subscribe to journal
Immediate online access to all issues from 2019. Subscription will auto renew annually.
US$ 99
This is the net price. Taxes to be calculated in checkout.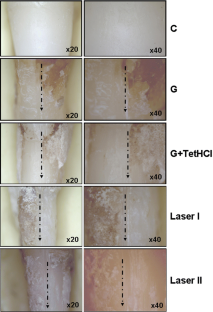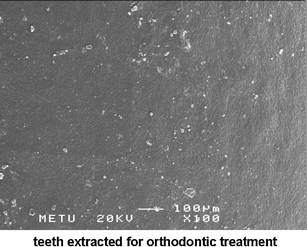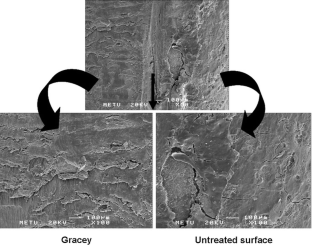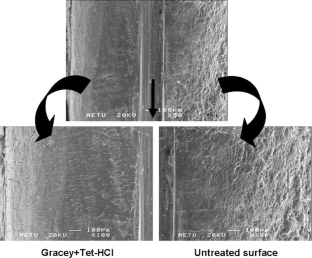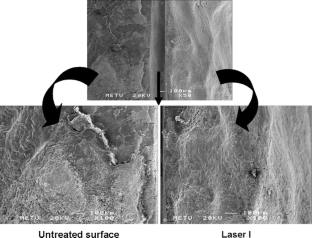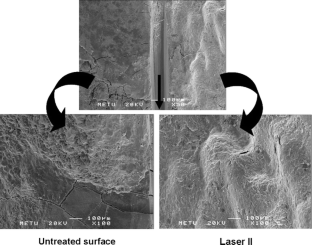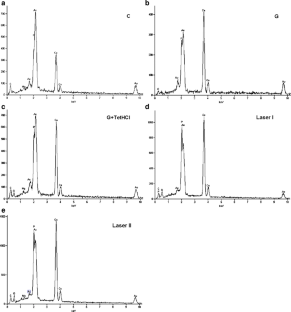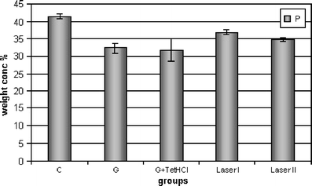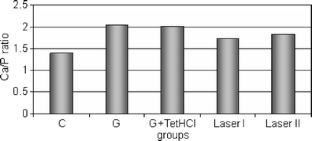 References
1.

Theodoro LH, Haypek P, Bachmann L, Garcia VG, Sampaio JEC, Zezell DM, Eduardo CP (2003) Effect of Er:YAG and diode laser irradiation on the root surface: morphological and thermal analysis. J Periodontol 74:838–843. doi:10.1902/jop.2003.74.6.838

2.

Cobb CM (2006) Lasers in periodontics: a review of the literature. J Periodontol 77:545–564. doi:10.1902/jop.2006.050417

3.

Sasaki KM, Aoki A, Ichinose S, Ishikawa I (2002) Morphological analysis of cementum and root dentin after Er:YAG laser irradiation. Lasers Surg Med 31:79–85. doi:10.1002/lsm.10074

4.

Sasaki KM, Aoki A, Masuno H, Ichinose S, Yamada S, Ishikawa I (2002) Compositional analysis of root cementum and dentin after Er:YAG laser irradiation compared with CO2 lased and intact roots using Fourier transformed infrared spectroscopy. J Periodontal Res 37:50–59. doi:10.1034/j.1600-0765.2002.00657.x

5.

Barone A, Covani U, Crespi R, Romanos GE (2002) Root surface morphological changes after focused versus defocused CO2 laser irradiation: a scanning electron microscopy analysis. J Periodontol 73:370–373. doi:10.1902/jop.2002.73.4.370

6.

Crespi R, Romanos GE, Barone A, Sculean A, Covani U (2005) Er:YAG laser In defocused mode for scaling of periodontally involved root surfaces: an in vitro pilot study. J Periodontol 76:686–690. doi:10.1902/jop.2005.76.5.686

7.

Frentzen M, Braun A, Aniol D (2002) Er:YAG laser scaling of diseased root surfaces. J Periodontol 73:524–530. doi:10.1902/jop.2002.73.5.524

8.

Gomez C, Costela A, García-Moreno I, García JA (2006) In vitro evaluation of Nd:YAG laser radiation at three different wavelengths (1064, 532, and 355 nm) on calculus removal in comparison with ultrasonic scaling. Photomed Laser Surg 24:366–376. doi:10.1089/pho.2006.24.366

9.

Ting CC, Fukuda M, Watanabe T, Aoki T, Sanaoka A, Noguchi T (2007) Effects of Er,Cr:YSGG laser irradiation on the root surface: morphologic analysis and efficiency of calculus removal. J Periodontol 78:2156–2164. doi:10.1902/jop.2007.070160

10.

Moghare Abed A, Tawakkoli M, Dehchenari MA, Gutknecht N, Mir M (2007) A comparative SEM study between hand instrument and Er:YAG laser scaling and root planing. Lasers Med Sci 22:25–29. doi:10.1007/s10103-006-0413-y

11.

Kelbauskiene S, Maciulskiene V (2007) A pilot study of Er,Cr:YSGG laser therapy used as an adjunct to scaling and root planing in patients with early and moderate periodontitis. Stomatologija 9:21–26

12.

Lopes BM, Marcantonio RA, Thompson GM, Neves LH, Theodoro LH (2008) Short-term clinical and immunologic effects of scaling and root planing with Er:YAG laser In chronic periodontitis. J Periodontol 79:1158–1167. doi:10.1902/jop.2008.070600

13.

Ishikawa I, Aoki A, Takasaki AA (2008) Clinical application of erbium:YAG laser In periodontology. J Int Acad Periodontol 10:22–30

14.

Crespi R, Capparè P, Toscanelli I, Gherlone E, Romanos GE (2007) Effects of Er:YAG laser compared to ultrasonic scaler in periodontal treatment: a 2-year follow-up split-mouth clinical study. J Periodontol 78:1195–1200. doi:10.1902/jop.2007.060460

15.

Crespi R, Barone A, Covani U (2006) Er:YAG laser scaling of diseased root surfaces: a histologic study. J Periodontol 77:218–222. doi:10.1902/jop.2006.050043

16.

Maruyama H, Aoki A, Sasaki KM, Takasaki AA, Iwasaki K, Ichinose S, Oda S, Ishikawa I, Izumi Y (2008) The effect of chemical and/or mechanical conditioning on the Er:YAG laser-treated root cementum: analysis of surface morphology and periodontal ligament fibroblast attachment. Lasers Surg Med 40:211–222. doi:10.1002/lsm.20609

17.

Crespi R, Barone A, Covani U (2005) Effect of Er:YAG laser on diseased root surfaces: an in vivo study. J Periodontol 76:1386–1390. doi:10.1902/jop.2005.76.8.1386

18.

Noori ZT, Fekrazad R, Eslami B, Etemadi A, Khosravi S, Mir M (2008) Comparing the effects of root surface scaling with ultrasound instruments and Er,Cr:YSGG laser. Lasers Med Sci 23:283–287. doi:10.1007/s10103-007-0480-8

19.

Schwarz F, Putz N, Georg T, Reich E (2001) Effect of an Er:YAG laser on periodontally involved root surfaces: an in vivo and in vitro SEM comparison. Lasers Surg Med 29:328–335. doi:10.1002/lsm.1125

20.

Folwaczny M, George G, Thiele L, Mehl A, Hickel R (2002) Root surface roughness following Er:YAG laser irradiation at different radiation energies and working tip angulations. J Clin Periodontol 29:598–603. doi:10.1034/j.1600-051X.2002.290703.x

21.

Kimura Y, Yu DG, Fujita A, Yamashita A, Murakami Y, Matsumoto K (2001) Effects of erbium,chromium:YSGG laser irradiation on canine mandibular bone. J Periodontol 72:1178–1182. doi:10.1902/jop.2000.72.9.1178

22.

Secilmis A, Altintas S, Usumez A, Berk G (2007) Evaluation of mineral content of dentin prepared by erbium, chromium:yttrium scandium gallium garnet laser. Lasers Med Sci 23:421–425. doi:10.1007/s10103-007-0498-y
About this article
Cite this article
Hakki, S.S., Berk, G., Dundar, N. et al. Effects of root planing procedures with hand instrument or erbium, chromium:yttrium–scandium–gallium–garnet laser irradiation on the root surfaces: a comparative scanning electron microscopy study. Lasers Med Sci 25, 345–353 (2010). https://doi.org/10.1007/s10103-009-0643-x
Received:

Accepted:

Published:

Issue Date:
Keywords
Er,Cr:YSGG laser

Root surfaces

Scanning electron microscopy

Mineral content