Abstract
Our objective was to assess the efficacy and safety of combined 10.6 μm and 650 nm laser irradiation on patients with knee osteoarthritis (OA). Forty patients with OA were randomly allocated to an active laser group or to a placebo laser group (20 per group). They either received active or sham laser treatment at acupoint Dubi (ST 35) in a total of 12 sessions. There was significant difference between the two groups in the Western Ontario and McMaster Universities (WOMAC) osteoarthritis index pain score change from baseline after 2 weeks of treatment (P = 0.047). The pain reduction of the active laser treatment group was 49%, whereas that of the placebo control group was only 13%. However, due to the high patient drop-out rate, the 4-week assessment could not be analyzed. Combined laser treatment seems beneficial to patients with knee OA. However, due to the small sample size and the high drop-out rate of patients in the placebo group, a large sample-size clinical trial is warranted to determine further the therapeutic efficacy of the device.
Access options
Buy single article
Instant access to the full article PDF.
US$ 39.95
Tax calculation will be finalised during checkout.
Subscribe to journal
Immediate online access to all issues from 2019. Subscription will auto renew annually.
US$ 79
Tax calculation will be finalised during checkout.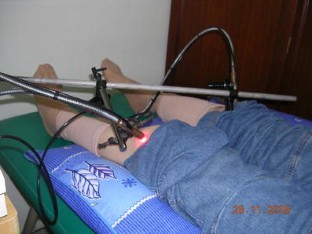 References
1.

Lawrence RC, Helmick CG, Arnett FC, Deyo RA, Felson DT, Giannini EH et al (1998) Estimates of the prevalence of arthritis and selected musculoskeletal disorders in the United States. Arthritis Rheum 41:778–799. DOI 10.1002/1529-0131

2.

Felson DT, Lawrence RC, Dieppe PA, Hirsch R, Helmick CG, Jordan JM et al (2000) Osteoarthritis: new insights. Part 1: the disease and its risk factors. Ann Intern Med 133:635–646

3.

Silverstein FE, Faich G, Goldstein JL, Simon LS, Pincus T, Whelton A et al (2000) Gastrointestinal toxicity with celecoxib vs nonsteroidal anti-inflammatory drugs for osteoarthritis and rheumatoid arthritis. The CLASS study: a randomized controlled trial. JAMA 284:1247–1255

4.

McAlindon TE (2000) Glucosamine and chondroitin for treatment of osteoarthritis: a systematic quality assessment and meta-analysis. JAMA 283:1469–1475

5.

Cheing GL, Hui-Chan CW, Chan KM (2002) Does four weeks of TENS and/or isometric exercise produce cumulative reduction of osteoarthritic knee pain? Clin Rehabil 16:749–760

6.

Talbot LA, Gaines JM, Ling SM, Metter EJ (2003) A home-based protocol of electrical muscle stimulation for quadriceps muscle strength in older adults with osteoarthritis of the knee. J Rheumatol 30:1571–1578

7.

Kozanoglu E, Basaran S, Guzel R, Guler-Uysal F (2003) Short term efficacy of ibuprofen phonophoresis versus continuous ultrasound therapy in knee osteoarthritis. Swiss Med Wkly 14:333–338

8.

Deyle GD, Henderson NE, Matekel RL, Ryder MG, Garber MB, Allison SC (2000) Effectiveness of manual physical therapy and exercise in osteoarthritis of the knee. A randomized, controlled trial. Ann Intern Med 132:173–181

9.

Berman BM, Lao L, Langenberg P, Lee WL, Gilpin AM, Hochberg MC (2004) Effectiveness of acupuncture as adjunctive therapy in osteoarthritis of the knee: a randomized, controlled trial. Ann Intern Med 141:901–910

10.

Vas J, Méndez C, Perea-Milla E, Vega E, Panadero MD, León JM et al (2004) Acupuncture as a complementary therapy to the pharmacological treatment of osteoarthritis of the knee: randomized controlled trial BMJ 329:1216–1220. DOI 10.1136/bmj.38238.601447.3A

11.

Sangdee C, Teekachunhatean S, Sananpanich K, Sugandhavesa N, Chiewchantanakit S, Pojchamarnwiputh S et al (2002) Electroacupuncture versus diclofenac in symptomatic treatment of osteoarthritis of the knee: a randomized controlled trial. BMC Complement Altern Med 2:3–11. DOI 10.1186/1472-6882-2-3

12.

Tukmachi E, Jubb R, Dempsey E, Jones P (2004) The effect of acupuncture on the symptoms of knee osteoarthritis—an open randomised controlled study. Acupunct Med 22:14–22

13.

Yang C (1988) Acupuncture–moxibustion therapeutics. Shanghai Science & Technology Press, Shanghai, pp 87–88

14.

Matsumoto T, Terasawa S (2001) Influence of acupuncture and moxibustion on QOL of the elderly living in nursing home and care house. Nippon Ronen Igakkai Zasshi 38:205–211

15.

Li CD, Huang XY, Yang XG, Wang QF, Huang SQ (2006) Observation on therapeutic effect of warming needle moxibustion on knee osteoarthritis of deficiency-cold type. Zhongguo Zhen Jiu 26:189–191

16.

Park JS, Kwon SJ, Kwon YS (2006) The effects of Dogbi (ST35) & Sulan moxibustion on knee joint pain, range of motion and discomfort during ADL in the aged. Taehan Kanho Hakhoe Chi 36:189–196

17.

Vas J, Perea-Milla E, Méndez C (2004) Acupuncture and moxibustion as an adjunctive treatment for osteoarthritis of the knee—a large case series. Acupunct Med 22:23–28

18.

Dong XM, Dong QS, Xian MQ, Zheng XL, Zhang SH (1999) Observation of acupoint temperature under different kinds of moxibustion. Zhongguo Zhen Jiu 19:22–26

19.

Whittaker P (2004) Laser acupuncture: past, present, and future. Lasers Med Sci 19:69–80. DOI 10.1007/s10103-004-0296-8

20.

Ackermann G, Hartmann M, Scherer K, Lang EW, Hohenleutner U, Landthaler M et al (2002) Correlations between light penetration into skin and the therapeutic outcome following laser therapy of port-wine stains. Lasers Med Sci 17:70–78. DOI 10.1007/s101030200013

21.

Gungor A, Dogru S, Cincik H, Erkul E, Poyrazoglu E (2007) Effectiveness of transmeatal low power laser irradiation for chronic tinnitus. J Laryngol Otol 12:1–5

22.

Lopes-Martins RA, Albertini R, Martins PS, Bjordal JM, Faria Neto HC (2005) Spontaneous effects of low-level laser therapy (650 nm) in acute inflammatory mouse pleurisy induced by carrageenan. Photomed Laser Surg 23:377–381

23.

Schubert MM, Eduardo FP, Guthrie KA, Franquin JC, Bensadoun RJ, Migliorati CA et al (2007) A phase III randomized double-blind placebo-controlled clinical trial to determine the efficacy of low level laser therapy for the prevention of oral mucositis in patients undergoing hematopoietic cell transplantation. Support Care Cancer 15:1145–1154. DOI 10.1007/s00520-007-0238-7

24.

Aimbire F, Albertini R, Pacheco MT, Castro-Faria-Neto HC, Leonardo PS, Iversen VV et al (2006) Low-level laser therapy induces dose-dependent reduction of TNF alpha levels in acute inflammation. Photomed Laser Surg 24:33–37

25.

Li Z, Zhang Z (2005) The mechanism on laser acupuncture and moxibustion. Acta Laser Biology Sinica 14:8–11

26.

Zhao L, Shen XY, Gao JP, Ding GH, Wei JZ, Deng HP et al (2006) Effect of different LLLT on pituitrin-induced bradycardia in the rabbit. Lasers Med Sci 21:61–66, DOI 10.1007/s10103-006-0371-4

27.

Makihara E, Makihara M, Masumi S, Sakamoto E (2005) Evaluation of facial thermographic changes before and after low-level laser irradiation. Photo Med Laser Surg 23:191–195

28.

Al-Saadi MH, Nadeau V, Dickinson MR (2006) A novel modelling and experimental technique to predict and measure tissue temperature during CO2 laser stimuli for human pain studies. Lasers Med Sci 21:95–100. DOI 10.1007/s10103-006-0381-2

29.

Bellamy N, Buchanan W (1988) Validation study of WOMAC: a health status instrument for measuring clinical important patient relevant outcomers to antirheumatic drug therapy in patients with OA of the hip or knee. J Rheumatol 15:1833–1840

30.

Hochberg MC, Altman RD, Brandt KD, Clark BM, Dieppe PA, Griffin MR et al (1995) Guidelines for the medical management of osteoarthritis. Part 1. Osteoarthritis of the hip. Arthritis Rheum 38:1535–1540

31.

Cheng X (1999) Chinese acupuncture and moxibustion. Foreign Languages Press, Beijing, pp 145–146

32.

Bálint GP, Buchanan WW, Ádám A et al (2007) The effect of the thermal mineral water of Nagybaracska on patients with knee joint osteoarthritis—a double blind study. Clin Rheumatol 26:890–894. DOI 10.1007/s10067-006-0420-1

33.

Scharf HP, Mansmann U, Streitberger K, Witte S, Krämer J, Maier C, Trampisch HJ et al (2006) Acupuncture and knee osteoarthritis—a three-armed randomized trial. Ann Intern Med 145:1–17

34.

Brosseau L, Welch V, Wells G, DeBie R, Gam A, Harman K, Tugwell P et al (2004) Low level laser therapy (classes I, II and III) for treating osteoarthritis. Cochrane Database Syst Rev 3:CD002046

35.

Tascioglu F, Armagan O, Tabak Y, Corapci I, Oner C (2004) Low power laser treatment in patients with knee osteoarthritis. Swiss Med Wkly 134:254–258

36.

Hou Z, Li K (2004) Experimental study of low power laser treatment on the recovery of bone injury. Appl Laser 22:415–417

37.

Honmura A, Ishii A, Yanase M, Obata J, Haruki E (1993) Analgesic effect of Ga-Al-As diode laser irradiation on hyperalgesia in carrageenin-induced inflammation. Lasers Surg Med 13:463–469

38.

Walker J (1983) Relief from chronic pain by low power laser irradiation. Neurosci Lett 43:339–344

39.

Coderre TJ, Katz J, Vaccarino AL, Melzack R (1993) Contribution of central neuroplasticity to pathological pain: review of clinical and experimental evidence. Pain 52:259–285

40.

Tsuchiya K, Kawatani M, Takeshige C, Sato T, Matsumoto I (1993) Diode laser irradiation selectively diminishes slow component of axonal volleys to dorsal roots from the saphenous nerve in the rat. Neurosci Lett 161:65–68. DOI 10.1016/0304-3940(93)90141-7

41.

Luo L, He Y, Zhou Z (1997) Analysis and study on laser analgesia. Appl Laser 17:47–48
Acknowledgments
We would like to thank Min Xijin and Cao Yuelong for their patient evaluation, Song Hualing for part of the statistical analysis, and Lyn Lowry for English editorial support. The project was partially supported by NSFC (30572306), 973 Program of China (2005CB523306) and by Shanghai Science and Technology Developing Foundation (07DZ19722-2).
About this article
Cite this article
Shen, X., Zhao, L., Ding, G. et al. Effect of combined laser acupuncture on knee osteoarthritis: a pilot study. Lasers Med Sci 24, 129–136 (2009). https://doi.org/10.1007/s10103-007-0536-9
Received:

Accepted:

Published:

Issue Date:
Keywords
Laser acupuncture

Pain

Osteoarthritis