Abstract
Laser hair removal is ever increasing in popularity. Technology is fast advancing, and there are increasingly excessive commercial claims that laser hair removal in all skin types is free of side effects. The aim of this study is to review the evidence from published literature regarding the incidence of adverse effects after laser and light systems for hair removal. A review of the current published literature on the ill effects reported after laser/light-assisted depilation was conducted. Overall incidence of adverse effects after laser/light hair removal appears to be low, with very uncommon permanent sequelae. The two largest studies to date have shown that acute and transient side effects do occur. Higher incidence of pigmentary alterations is associated with the shorter wavelength lasers (up to 19%), particularly with darker skin types, compared with lower incidence using the neodymium–yttrium–aluminium–garnet laser (2–3%). Both studies did not show any long-term side effects or scarring. Laser/light hair removal, carried out by trained professionals, is a safe procedure with a very low incidence of permanent sequelae. The majority of adverse effects are transient and minor. They are more common in darker skin. Longer wavelength devices reduce the risk in darker skin.
Access options
Buy single article
Instant access to the full article PDF.
USD 39.95
Price excludes VAT (USA)
Tax calculation will be finalised during checkout.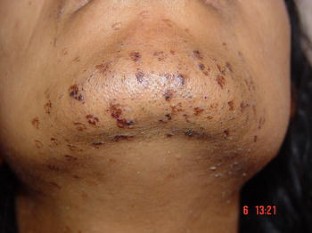 References
Sommer S, Render C, Burd R, Sheehan-Dare R (1998) Ruby laser treatment for hirsutism: clinical response and patient tolerance. Br J Dermatol 138:1009–1014

Garcia C, Alamoudi H, Nakib M, Zimmo S (2000) Alexandrite laser hair removal is safe for Fitzpatrick skin types IV–VI. Dermatol Surg 26:130–134

Campos VB, Dierickx CC, Farinelli WA et al (2000) Ruby laser hair removal: evaluation of long-term efficacy and side effects. Lasers Surg Med 26:177–185

Lanigan SW (2003) Incidence of side effects after laser hair removal. J Am Acad Dermatol 49:882–886

Nanni CA, Alster TS (1999) Laser-assisted hair removal: side effects of Q-switched Nd:YAG, long-pulsed ruby and alexandrite lasers. J Am Acad Dermatol 41:165–171

Bjerring P, Zachariae H, Lybecker H, Clement M (1998) Evaluation of the free-running ruby laser for hair removal: a retrospective study. Acta Derm Venereol 78:48–51

Wimmershoff MB, Scherer K, Lorenz S et al (2000) Hair removal using a 5-msec long pulsed ruby laser. Dermatol Surg 26:205–209

Nanni CA, Alster TS (1998) A practical review of laser-assisted hair removal using the Q-switched Nd:YAG, long-pulsed ruby and long-pulsed alexandrite lasers. Dermatol Surg 24:1399–1405

Nanni CA, Alster TS (1998) Efficacy of multiple hair removal sessions using the Q-switched Nd:YAG, long-pulsed ruby and long-pulsed alexandrite laser systems. Lasers Surg Med Suppl 10:40

Nanni CA, Alster TS (1998) Complications of laser-assisted hair removal using the Q-switched Nd:YAG, long-pulsed ruby and long-pulsed alexandrite lasers. Lasers Surg Med Suppl 10:67

Eremia S, Li CY, Umar SH, Newman N (2001) Laser hair removal: long-term results with a 755 nm alexandrite laser. Dermatol Surg 27:920–924

Weisberg NK, Greenbaum SS (2003) Pigmentary changes after alexandrite laser hair removal. Dermatol Surg 29:415–419

Nanni CA, Alster TS (1999) Long pulsed alexandrite laser assisted hair removal at 5, 10, and 20 millisecond pulse durations. Lasers Surg Med 24:332–337

Finkel B, Eliezri YD, Waldman A, Slatkine M (1997) Pulsed alexandrite laser technology for non-invasive hair removal. J Clin Laser Med Surg 15:225–229

Alajlan A, Shapiro J, Rivers JK, MacDonald N, Wiggin J, Lui H (2005) Paradoxical hypertrichosis after laser epilation. J Am Acad Dermatol 53:85–88

Lou WW, Quintana AT, Geronemus RG, Grossman MC (2000) Prospective study of hair reduction by diode laser (800 nm) with long term follow up. Dermatol Surg 26:428–432

Handrick C, Alster TS (2001) Comparison of long-pulsed diode and long-pulsed alexandrite lasers for hair removal: a long-term clinical and histologic study. Dermatol Surg 27:622–626

Bencini PL, Luci A, Galimberti M, Ferranti G (1999) Long-term epilation with long-pulsed neodymium:YAG laser. Dermatol Surg 25:175–178

Goldberg DJ, Samady JA (2000) Evaluation of a long-pulse Q-switched Nd:YAG laser for hair removal. Dermatol Surg 26:109–113

Greppi I (2001) Diode laser hair removal of the black patient. Lasers Surg Med 28:150–155

Alster TS, Bryan H, Williams CM (2001) Long-pulsed Nd:YAG laser-assisted hair removal in pigmented skin: a clinical and histological evaluation. Arch Dermatol 137:885–889

Bernstein EF (2005) Hair growth induced by diode laser treatment. Dermatol Surg 31:584–586

Lapidoth M, Shafirstein G, Ben Amitai D, Hodak E, Waner M, David M (2004) Reticulate erythema following diode laser-assisted hair removal: a new side effect of a common procedure. J Am Acad Dermatol 51:774–777

Sadick NS, Weiss RA, Shea CR et al (2000) Long-term photoepilation using a broad-spectrum intense pulsed light source. Arch Dermatol 136:1336–1340

Marayiannis KB, Vlachos SP, Savva MP, Kontoes PP (2003) Efficacy of long and short pulse alexandrite lasers compared with an intense pulsed light source for epilation: a study on 532 sites in 389 patients. J Cosmet Laser Ther 5:140–145

Moreno-Arias GA, Costelo-Branco C, Ferrando J (2002) Side-effects after IPL photodepilation. Dermatol Surg 28:1131–1134

Vlachos SP, Kontoes PP (2002) Development of terminal hair following skin lesion treatments with an intense pulsed light source. Aesthetic Plast Surg 26:303–337

Radmanesh M, Mostaghimi M, Yousefi I et al (2002) Leukotrichia developed following application of intense pulsed light for hair removal. Dermatol Surg 28:572–574

Goh CL (2003) Comparative study on a single treatment response to long pulse Nd:YAG lasers and intense pulse light therapy for hair removal on skin type IV to VI is longer wavelengths lasers preferred over shorter wavelengths lights for assisted hair removal. J Dermatolog Treat 14:243–247
About this article
Cite this article
Lim, S.P.R., Lanigan, S.W. A review of the adverse effects of laser hair removal. Lasers Med Sci 21, 121–125 (2006). https://doi.org/10.1007/s10103-006-0377-y
Received:

Accepted:

Published:

Issue Date:

DOI: https://doi.org/10.1007/s10103-006-0377-y
Keywords
Laser hair removal

Adverse effects

Hirsutism