Abstract
The present study investigates the impact of incidental emotions on tax compliance behavior in an experimental setting. Different theories are divided about how experiencing incidental emotions should influence tax decisions and the few existing studies yield inconsistent results. Our aim was to investigate differences between three specific emotions, namely anger, fear, and happiness. This allowed a comparison in compliance behavior as a function of differences in emotional valence as well as in specific emotional qualities. For this purpose, a sample of 264 individuals participated in a tax experiment. After a baseline treatment, one of the three emotions was induced using video-clips with background music. Moreover, emotional arousal was assessed by measuring electrodermal activity. Manipulation check items as well as elevated arousal levels after the emotion induction provided support for a successful emotion induction. Nevertheless, we did not observe any tax compliance differences between the anger, fear, and happiness conditions. Our results speak against a fundamental role of incidental emotions for tax compliance decisions.
Access options
Buy single article
Instant access to the full article PDF.
US$ 39.95
Tax calculation will be finalised during checkout.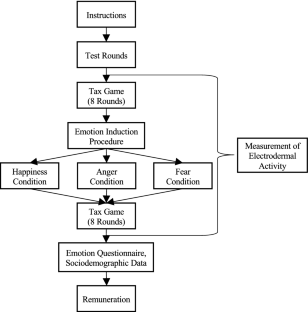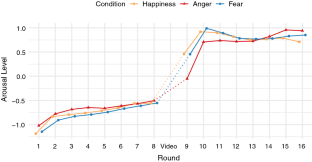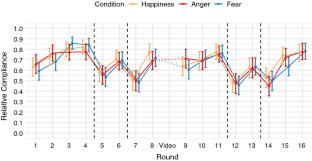 Notes
1.

For the Velten technique, participants are asked to read emotionally laden statements (e.g. "I feel rather sluggish now.") and are instructed to try to feel the described mood (Westermann et al. 1996).

2.

The adapted version of the questionnaire was constructed as follows: The adjectives active, interested, strong, guilty, inspired, proud, irritable, enthusiastic, ashamed, alert, nervous, determined, and attentive from the PANAS were kept unchanged. Furthermore, the adjectives distressed, excited, upset, scared, afraid, hostile, and jittery were removed, while the adjectives sad, happy, stressed, fearful, helpless, angry, and insecure were added.

3.

Planned contrasts for the other two emotions revealed significantly higher levels of the respective emotion in comparison to both other conditions. More specifically, the level of the emotion anger in the anger condition was higher compared to the happiness condition, t(261) = − 3.09, p = .002, and higher compared to the fear condition, t(261) = − 3.28, p = .001. Also, the level of the emotion fear in the fear condition was higher compared to the happiness condition, t(261) = − 4.10, p < .001, as well as compared to the anger condition, t(261) = − 3.16, p = .002.
References
Allingham MG, Sandmo A (1972) Income tax evasion: a theoretical analysis. J Public Econ 1:323–338. https://doi.org/10.1016/0047-2727(72)90010-2

Alm J, Torgler B (2011) Do ethics matter? Tax compliance and morality. J Bus Ethics 101:635–651

Au K, Chan F, Wang D, Vertinsky I (2003) Mood in foreign exchange trading: cognitive processes and performance. Organ Behav Hum Decis Process 91:322–338. https://doi.org/10.1016/S0749-5978(02)00510-1

Benedek M, Kaernbach C (2010) A continuous measure of phasic electrodermal activity. J Neurosci Methods 190:80–91. https://doi.org/10.1016/j.jneumeth.2010.04.028

Bless H, Clore GL, Schwarz N, Golisano V, Rabe C, Wölk M (1996) Mood and the use of scripts: does a happy mood really lead to mindlessness? J Pers Soc Psychol 71:665–679. https://doi.org/10.1037/0022-3514.71.4.665

Braithwaite V (2007) Responsive regulation and taxation: introduction. Law & Policy 29:3–10. https://doi.org/10.1111/j.1467-9930.2007.00242.x

Buchwald AM, Strack S, Coyne JC (1981) Demand characteristics and the Velten mood induction procedure. J Consult Clin Psychol 49:478–479. https://doi.org/10.1037/0022-006X.49.3.478

Casal S, Mittone L (2016) Social esteem versus social stigma: The role of anonymity in an income reporting game. J Econ Behav Organ 124:55–66. https://doi.org/10.1016/j.jebo.2015.09.014

Cavanaugh LA, Bettman JR, Luce MF (2015) Feeling love and doing more for distant others: specific positive emotions differentially affect prosocial consumption. J Market Res 52(5):657–673. https://doi.org/10.1509/jmr.10.0219

Chou KL, Lee TMC, Ho AHY (2007) Does mood state change risk taking tendency in older adults? Psychol Aging 22:310–318. https://doi.org/10.1037/0882-7974.22.2.310

Coricelli G, Joffily M, Montmarquette C, Villeval MC (2010) Cheating, emotions, and rationality: an experiment on tax evasion. Exp Econ 13:226–247. https://doi.org/10.1007/s10683-010-9237-5

Coricelli G, Rusconi E, Villeval MC (2014) Tax evasion and emotions: an empirical test of re-integrative shaming theory. J Econ Psychol 40:49–61. https://doi.org/10.1016/j.joep.2012.12.002

Dawson ME, Schell AM, Filion DL, Berntson GG (2007) The Electrodermal System. In: Cacioppo JT, Tassinary LG, Berntson G (eds) Handbook of Psychophysiology. Cambridge University Press, Cambridge, pp 157–181. https://doi.org/10.1017/CBO9780511546396.007

Di Muro F, Murray KB (2012) An arousal regulation explanation of mood effects on consumer choice. J Consumer Res 39:574–584. https://doi.org/10.1086/664040

Drouvelis M, Grosskopf B (2016) The effects of induced emotions on pro-social behaviour. J Public Econ 134:1–8. https://doi.org/10.1016/j.jpubeco.2015.12.012

Dulleck U, Fooken J, Newton C, Ristl A, Schaffner M, Torgler B (2016) Tax compliance and psychic costs: behavioral experimental evidence using a physiological marker. J Public Econ 134:9–18. https://doi.org/10.1016/j.jpubeco.2015.12.007

Enachescu J, Olsen J, Kogler C, Zeelenberg M, Breugelmans SM, Kirchler E (2019) The role of emotions in tax compliance behavior: a mixed-methods approach. J Econ Psychol 74:102194. https://doi.org/10.1016/j.joep.2019.102194

Enachescu J, Puklavec Z, Bauer C, Olsen J, Kirchler E, Alm J (2020) Incidental emotions, integral emotions, and decisions to pay taxes. In: Erdoğdu MM, Batrancea L, Çevik S (eds) Behavioural Public Finance: Individuals, Society, and the State. Routledge. https://doi.org/10.4324/9781351107372

Erard B, Kasper M, Kirchler E, Olsen J (2018) What influence do IRS audits have on taxpayer attitudes and perceptions? Evidence from a National Survey. National Taxpayer Advocate 2018 Annual Report to Congress, 2, 77–130. Retrieved from https://www.taxpayeradvocate.irs.gov/wp-content/uploads/2020/11/ARC18_Volume2_04_InfluenceAudits.pdf

Fochmann M, Hechtner F, Kirchler E, Mohr P (2019) When happy people make society unhappy: How incidental emotions affect compliance behavior. SSRN Electronic J. https://doi.org/10.2139/ssrn.3259071

Forgas JP (1995) Mood and judgment: the affect infusion model (AIM). Psychol Bull 117:39–66. https://doi.org/10.1037/0033-2909.117.1.39

Frijda NH, Kuipers P, ter Schure E (1989) Relations among emotion, appraisal, and emotional action readiness. J Pers Soc Psychol 57:212–228. https://doi.org/10.1037/0022-3514.57.2.212

Gerrards-Hesse A, Spies K, Hesse FW (1994) Experimental inductions of emotional states and their effectiveness: a review. Br J Psychol 85:55–78. https://doi.org/10.1111/j.2044-8295.1994.tb02508.x

Gill D, Prowse V (2012) A structural analysis of disappointment aversion in a real effort competition. Am Econ Rev 102(1):469–503. https://doi.org/10.1257/aer.102.1.469

Hirshleifer D, Shumway T (2003) Good day sunshine: stock returns and the weather. J Finance 58:1009–1032. https://doi.org/10.1111/1540-6261.00556

Isen AM, Geva N (1987) The influence of positive affect on acceptable level of risk: the person with a large canoe has a larger worry. Organ Behav Hum Decis Process 39:145–154. https://doi.org/10.1190/segam2015-5817144.1

Johnson EJ, Tversky A (1983) Affect, generalization, and the perception of risk. J Pers Soc Psychol 45:20–31. https://doi.org/10.1037/0022-3514.45.1.20

Joseph DL, Chan MY, Heintzelman SJ, Tay L, Diener E, Scotney VS (2020) The manipulation of affect: a meta-analysis of affect induction procedures. Psychol Bull 146(4):355–375. https://doi.org/10.1037/bul0000224

Kirchsteiger G, Rigotti L, Rustichini A (2006) Your morals might be your moods. J Econ Behav Organ 59:155–172. https://doi.org/10.1016/j.jebo.2004.07.004

Kreutz G, Ott U, Teichmann D, Osawa P, Vaitl D (2008) Using music to induce emotions: influences of musical preference and absorption. Psychol Music 36(1):101–126. https://doi.org/10.1177/0305735607082623

Krohne HW, Egloff B, Kohlmann C-W, Tausch A (1996) Untersuchungen mit einer deutschen Version der "Positive and Negative Affect Schedule" (PANAS). Diagnostica 42:139–156

Lerner JS, Small DA, Loewenstein G (2004) Heart strings and purse strings: carry-over effects of emotion on economic transactions. Psychol Sci 15:337–340

Lerner JS, Li Y, Valdesolo P, Kassam KS (2015) Emotion and decision making. Annu Rev Psychol 66:799–823. https://doi.org/10.1016/0001-6918(80)90026-8

Mittone L (2006) Dynamic behaviour in tax evasion: An experimental approach. J Socio-Econ 35:813–835. https://doi.org/10.1016/j.socec.2005.11.065

Murphy K, Harris N (2007) Shaming, shame and recidivism. Br J Criminol 47:900–917. https://doi.org/10.1093/bjc/azm037

Nygren TE, Isen AM, Taylor PJ, Dulin J (1996) The influence of positive affect on the decision rule in risk situations: focus on outcome (and especially avoidance of loss) rather than probability. Organ Behav Hum Decis Process 66:59–72. https://doi.org/10.1006/obhd.1996.0038

Saunders EM (1993) Stock prices and wall street weather. Am Econ Rev 83:1337–1345

Schaefer A, Nils F, Sanchez X, Philippot P (2010) Assessing the effectiveness of a large database of emotion-eliciting films: a new tool for emotion researchers. Cogn Emot 24(7):1153–1172. https://doi.org/10.1080/02699930903274322

Scherer KR (2005) What are emotions? And how can they be measured? Soc Sci Inf 44:695–729. https://doi.org/10.1177/0539018405058216

Schwarz N (1990) Feelings as information: informational and motivational functions of affective states. In: Higgins ET, Sorrentino RM (eds) Handbook of motivation and cognition: foundations of social behavior, vol 2. The Guilford Press, pp 527–561

Schwarz N, Clore GL (1983) Mood, misattribution, and judgments of well-being: Informative and directive functions of affective states. J Pers Soc Psychol 45:513–523. https://doi.org/10.1037/0022-3514.45.3.513

Västfjäll D, Slovic P, Burns WJ, Erlandsson A, Koppel L, Asutay E, Tinghög G (2016) The arithmetic of emotion: integration of incidental and integral affect in judgments and decisions. Front Psychol 7:1–10. https://doi.org/10.3389/fpsyg.2016.00325

Watson D, Clark LA, Tellegen A (1988) Development and validation of brief measures of positive and negative affect: the PANAS scales. J Pers Soc Psychol 54:1063–1070. https://doi.org/10.1037/0022-3514.54.6.1063

Westermann R, Spies K, Stahl G, Hesse FW (1996) Relative effectiveness and validity of mood induction procedures: a meta- analysis. Eur J Soc Psychol 26:557–580. https://doi.org/10.1002/(SICI)1099-0992(199607)26:4%3c557::AID-EJSP769%3e3.0.CO;2-4

Zeelenberg M, Pieters R (2006) Feeling is for doing: A pragmatic approach to the study of emotions in economic behavior. In: De Cremer D, Zeelenberg M, Murnighan K (eds) Social psychology and economics. Psychology Press, New York, pp 117–137
Acknowledgements
We thank the students of the 2018 theory and empirical research seminar in economic psychology at the Faculty of Psychology, University of Vienna, for their assistance in running the laboratory experiment: Christian Bauer, Lisa Braun, Franziska Flock, David Gritschneder, Viviane Haschka, Armin Jaeger, Benjamin Kirchler, Magdalena Kohlbauer, Lars Materne, Philip Phangthong, Verena Radnitzky, Lucas Sorge, and Benedikt Wilke. We also want to thank Michael Forster and Andreas Gartus for their technical support and advice in analyzing electrodermal activity data.
Funding
We gratefully acknowledge funding by the University of Vienna Förderstipendium.
Ethics declarations
Conflict of interest
Not applicable.
Additional information
Publisher's Note
Springer Nature remains neutral with regard to jurisdictional claims in published maps and institutional affiliations.
About this article
Cite this article
Enachescu, J., Puklavec, Z., Olsen, J. et al. Tax compliance is not fundamentally influenced by incidental emotions: An experiment. Econ Gov (2021). https://doi.org/10.1007/s10101-021-00256-9
Received:

Accepted:

Published:
Keywords
Tax compliance

Incidental emotions

Experiment

Emotion induction

Electrodermal activity

Arousal
JEL Classification