Abstract
Public libraries are a billion dollar industry in the United States. We explore the institutional determinants of public library technical efficiency using data from West Virginia. We first document considerable cross-district variation in library efficiency. While the average library district in our sample is between 81 and 90% efficient depending upon the year and measure, there are many district-years that are under 50%. We then explain our technical efficiency measures as a function of institutional variables reflecting the type of district and sources of funding. We find consistent evidence that urban libraries are more inefficient, perhaps because they are too small to achieve sufficient economies-of-scale in production of library services. In addition, we find revenue from local sources is associated with reduced efficiency, contrary to what would be predicted by local public goods producer theory.
Access options
Buy single article
Instant access to the full article PDF.
USD 39.95
Price excludes VAT (USA)
Tax calculation will be finalised during checkout.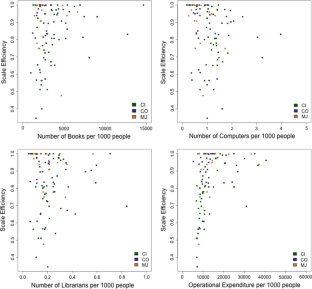 Notes
One reason to look within states, like we do with West Virginia, is that technical efficiency is a relative measure and the institutional constraints and funding methods vary so much across political jurisdictions that comparing Hawaii to West Virginia can be problematic.

We also calculate the TE using a constant return to scale assumption, and use it to identify the libraries operating under increasing returns to scale and the scale efficiency. It is interesting that no library operates under decreasing returns to scale.

Library programs are services provided to its patrons. For instance, children's programs usually focus on education-related programs such as reading groups and activities or science programs, and entertainment programs like crafting and gaming programs. Adult programs, on the other hand, often focus on book activities, development of skills such as coding, and job search services. For more detail on these programs visit http://www.ala.org/alsc/kickstart and http://www.ala.org/tools/atoz/adultservices/adult_lib_svcs.

West Virginia Library Commission (2013) lists seven different types of public library governing authorities. We count anything that is not a county commission or a municipality as multi-jurisdictional. For example, the six joint County/Municipality library systems are counted as multi-jurisdictional, as are the nine Board of Education/County/Municipality governed library systems.

Special laws are laws initiated locally and passed by the Legislature. These laws set aside part of the tax dollars from local government (Board of Education, County or City) to public libraries. Some of special laws have been in place since 1930s and the most recent is from 1994. However, since 2013 it is no longer a mandatory that Board of Educations to continue providing funding to public libraries. For more on these special laws, see West Virginia Library Commission (2013).

All city libraries are, by definition, smaller in area—but maybe not population—than county or multi-jurisdictional libraries.
References
Aabø S (2005) Valuing the benefits of public libraries. Inf Econ Policy 17(2):175–198

Aabø S, Strand J (2004) Public library valuation, nonuse values, and altruistic motivations. Libr Inf Sci Res 26(3):351–372

Afonso A, Aubyn MS (2005) Non-parametric approaches to education and health efficiency in OECD countries. J Appl Econ 8(2):227–246

Afonso A, Fernandes S (2006) Measuring local government spending efficiency: evidence for the Lisbon region. Reg Stud 1:39–53

Afonso A, Schuknecht L, Tanzi V (2005) Public sector efficiency: an international comparison. Public Choice 123(3):321–347

American Library Association (2015) http://www.ala.org/tools/...libfactsheets/alalibraryfactsheet01. Accessed on 20 Sept 2015

Arbia G (1988) Spatial data configuration in then statistical analysis of regional economic and related problems. Kluwer Academic Publishers, Dordrecht

Bhatt R (2010) The impact of public library use on reading, television, and academic outcomes. J Urban Econ 68(2):148–166

Blau R (2011) Funding cuts closing book on all 62 branches in Queens library. Daily News, May 24

Bogetoft P, Otto L (2010) Benchmarking with DEA, SFA, and R. Springer, Berlin

Briant A, Combes P-P, Lafourcade M (2010) Dots to boxes: Do the size and shape of spatial units jeopardize economic geography estimations? J Urban Econ 67(3):287–302

Cleaver J (2015) New Hartford library grapples with budget cuts. Utica Observer Dispatch, Nov 17

Collins A, Halverson R (2010) The second educational revolution: rethinking education in the age of technology. J Comput Assist Learn 26(1):18–27

Cooper W, Seiford L, Tone K (2007) Data envelopment analysis: a comprehensive text with models, applications, references and DEA-solver software, 2nd edn. Springer, New York

Davis A (2015) Looming crisis: several local libraries preparing for cuts if state budget isn't passed. The Bradford Era, Dec 2

Detotto C, McCannon BC (2017) Economic freedom and public, non-market institutions: evidence from criminal prosecution. Econ Gov 18(2):1–22

Fischel WA (2007) The congruence of American school districts with other local government boundaries: a google-earth exploration. Dartmout College Economics Working Paper, Hanover

Gazette W (2016) County election results from around West Virginia. WV Gazette, May 10

Hall JC (2007) Local school finance and productive efficiency: evidence from Ohio. Atl Econ J 35:289–301

Hammond C (2002) Efficiency in the provision of public services: a data envelopment analysis of UK public library systems. Appl Econ 34(5):649–657

Hammond CJ (2009) The effect of organisational change on UK public library efficiency. Int J Prod Econ 121(1):286–295

Hemmeter JA (2006) Estimating public library efficiency using stochastic frontiers. Public Finance Rev 34(3):328–348

Hoxby CM (1999) The productivity of schools and other local public goods producers. J Public Econ 74(1):1–30

Institute of Museums & Libraries Services (2013a) FY 2013 PLS: supplementary tables–tables 21–31A. Institute of Museums & Libraries Services, Washington, DC

Institute of Museums & Libraries Services (2013b) Public libraries in the United States survey: FY 2012. Institute of Museums & Libraries Services, Washington, DC

Kelley A (2015) State budget impasse forces library cuts. WNEP.com, Dec 8

McCallum I, Quinn S (2004) Valuing libraries. Aust Libr J 53(1):55–69

Ostrom V, Tiebout CM, Warren R (1961) The organization of government in metropolitan areas: a theoretical inquiry. Am Polit Sci Rev 55(4):831–842

Sharma KR, Leung P, Zane L (1999) Performance measurement of Hawaii state public libraries: an application of data envelopment analysis. Agric Resour Econ Rev 28(2):190–198

Smith R (2015) Cedar Rapids library board hears first suggestion on budget cuts. The Gazette, Nov 6

Smith PC, Street A (2005) Measuring the efficiency of public services: the limits of analysis. J R Stat Soc Ser A 168(2):401–417

Stepleton I (2015) Library will keep staff, hours intact despite cuts. Ripon Commonwealth Press, Dec 2

Vitaliano DF (1997) X-inefficiency in the public sector: the case of libraries. Public Finance Rev 25(6):629–643

Vitaliano DF (1998) Assessing public library efficiency using data envelopment analysis. Ann Public Coop Econ 69(1):107–122

Warburton B (2013) Libraries around the country under budget pressure. Library Journal, June 28

West Virginia Library Commission (2013) Public library funding review. West Virginia Library Commission, Charleston

Willes S (2016) Monongalia County voters favor 4 of 6 proposed levies. WAJR.com, May 11

Witte KD, Geys B (2011) Evaluating efficient public good provision: theory and evidence from a generalised conditional efficiency model for public libraries. J Urban Econ 69(3):319–327

Woods D (2015) Bridgeton proposes to close Cumberland County library. New Jersey, December

Worthington A (1999) Performance indicators and efficiency measurement in public libraries. Aust Econ Rev 32(1):31–42

Zhu M, Peyrache A (2017) The quality and efficiency of public service delivery in the UK and China. Reg Stud 2(51):285–296
Appendix 1: Average TE by library
Appendix 1: Average TE by library
| Name | Gov | AvgTE | Name | Gov | AvgTE |
| --- | --- | --- | --- | --- | --- |
| Alderson | CI | 0.90 | Moundsville-Marshall County | MJ | 1.00 |
| Belington | CI | 0.93 | Mountaintop | MJ | 0.66 |
| Bolivar-Harpers Ferry | MJ | 0.84 | New Martinsville | CI | 0.71 |
| Boone-Madison | MJ | 0.88 | Nitro | CI | 0.95 |
| Bridgeport | CI | 1.00 | Nutter Fort | CI | 0.45 |
| Brooke County | CO | 0.87 | Ohio County | CO | 1.00 |
| Buffalo Creek Memorial | CI | 0.85 | Paden City | CI | 0.77 |
| Burnsville | CI | 0.85 | Parkersburg/Wood Co. | MJ | 1.00 |
| Cabell County | MJ | 1.00 | Paw Paw | CI | 0.75 |
| Calhoun County | CO | 0.80 | Pendleton County | CO | 0.89 |
| Capon Bridge | CI | 0.75 | Peterstown | CI | 0.91 |
| Chapmanville | CI | 0.85 | Philippi | CI | 0.79 |
| Charles W. Gibson | CI | 1.00 | Piedmont | CI | 0.94 |
| Clarksburg-Harrison Co. | MJ | 0.99 | Pine Grove | CI | 0.83 |
| Clay County | CO | 0.91 | Pioneer Memorial | CO | 0.85 |
| Cowen | CI | 0.92 | Pleasants County | CO | 0.71 |
| Craft Memorial | CI | 1.00 | Pocahontas County Free | CO | 1.00 |
| Craigsville | CO | 0.97 | Princeton | CI | 0.95 |
| Doddridge County | CO | 0.50 | Putnam County | CO | 1.00 |
| Dora Bee Woodyard Memorial | CO | 0.51 | Rainelle | CI | 0.86 |
| Elkins-Randolph | MJ | 1.00 | Raleigh County | MJ | 1.00 |
| Fayette County | CO | 1.00 | Richwood | CI | 0.75 |
| Five Rivers | CI | 0.56 | Ritchie County | CO | 1.00 |
| Gassaway | CI | 0.92 | Roane County | CO | 1.00 |
| Gilmer | CI | 0.76 | Ronceverte | CI | 0.68 |
| Grant County | CO | 0.54 | Rupert | CI | 0.89 |
| Greenbrier County | CI | 1.00 | Shepherdstown | CI | 1.00 |
| Hamlin-Lincoln County | CI | 0.92 | Sistersville | MJ | 0.82 |
| Hampshire County | CO | 1.00 | South Charleston | CI | 1.00 |
| Hardy County | MJ | 0.76 | South Jefferson | CO | 0.99 |
| Helvetia | CO | 0.90 | Southern Area | CI | 0.90 |
| Hundred | MJ | 1.00 | Summers County | CO | 0.88 |
| Jackson County | CO | 1.00 | Summersville | CI | 0.80 |
| Kanawha County | CO | 1.00 | Sutton | CI | 0.89 |
| Keyser-Mineral County | MJ | 0.94 | Swaney Memorial | CI | 0.57 |
| Kingwood | CI | 0.90 | Taylor County | MJ | 0.86 |
| Logan Area | CO | 0.83 | Terra Alta | CI | 1.00 |
| Louis Bennett | CO | 1.00 | Tygart Valley | CI | 0.61 |
| Lowe | CI | 0.57 | Tyler County | CI | 0.73 |
| Lynn Murray Memorial | CI | 0.87 | Upshur County | CO | 0.84 |
| Marion County | MJ | 1.00 | Valley Head | CO | 0.79 |
| Martinsburg-Berkeley Co. | CI | 0.94 | Vienna | MJ | 0.86 |
| Mary H. Weir | CI | 0.38 | War | CI | 0.94 |
| Mason County | CO | 0.82 | Wayne County | CO | 1.00 |
| Mcdowell | CI | 1.00 | Webster-Addison | MJ | 0.75 |
| Mingo County | CO | 1.00 | White Sulphur Springs | CI | 0.83 |
| Monroe County | CO | 0.84 | Williamson | CI | 0.55 |
| Morgan County | CO | 0.72 | Wyoming County | CO | 1.00 |
| Morgantown | CI | 1.00 |   |   |   |
About this article
Cite this article
Ferreira Neto, A.B., Hall, J.C. Economies of scale and governance of library systems: evidence from West Virginia. Econ Gov 20, 237–253 (2019). https://doi.org/10.1007/s10101-018-0215-2
Received:

Accepted:

Published:

Issue Date:

DOI: https://doi.org/10.1007/s10101-018-0215-2
Keywords
Data envelopment analysis

Efficiency

Government

Public libraries
JEL Classification