Abstract
One line of thought in development economics and political science emphasizes the need for state building to achieve economic growth and better outcomes throughout the developing world. Conventionally, this has been conceptualized in terms of "state capacity," sometimes operationalized via the Worldwide Governance Indicators report. This paper proposes a simple alternative, using two of the five components of the Economic Freedom of the World report, with a greater emphasis placed on state power within an economy, as opposed to its capacity. This alternative measure, here called the "State Economic Modernity" index (SEM) is a combination of various measures of a state's willingness and ability to perform its core public goods functions, and the state's size relative to the economy. It is shown that the SEM index, in combination with the Economic Freedom of the World report, creates intuitive categorizations of economic institutions across countries. The SEM index is shown to relate to various measures of social capital and may be determined by them. Finally, while the SEM index is closely related to economic growth and output as seen in raw correlations, it appears to cause neither upon the inclusion of country fixed effects.
This is a preview of subscription content, log in to check access.
Access options
Buy single article
Instant access to the full article PDF.
US$ 39.95
Price includes VAT for USA
Subscribe to journal
Immediate online access to all issues from 2019. Subscription will auto renew annually.
US$ 99
This is the net price. Taxes to be calculated in checkout.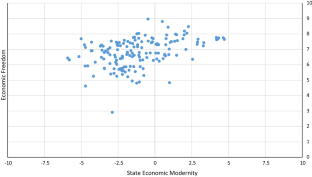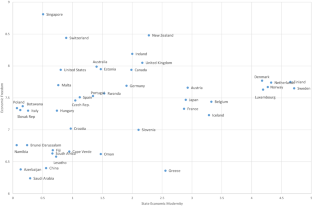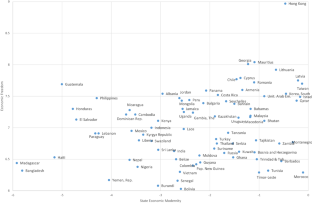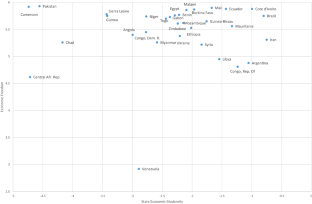 Notes
1.

2.

Another framing is "private property institutions" versus "contracting institutions," as in Acemoglu and Johnson (2005). "Private property institutions" relate to both "protection" or "supporting markets" and avoidance of "predation," while "contracting institutions" relate to "protection" or "supporting markets."

3.

The closest antecedent to the methodology here is Sumner (2010), which constructs an index of "Egalitarian Neoliberalism" by using the Heritage Institute's Index of Economic Freedom. Sumner deletes the corruption and taxation components of Heritage's index, and inverts the government spending measure. In the course of the paper, he also considers Economic Freedom of the World for periods prior to the beginning of the Index of Economic Freedom data set, eliminating the size of government area while otherwise leaving it intact. These methods ultimately rank countries according to something of a combination of what is called economic freedom and state economic modernity in this paper.

4.

As detailed in earlier editions of the report, other data sources were consulted for years before these reports came online.

5.

There is an even higher correlation between just Area 2 and "Government Effectiveness" in 2015 (R = 0.899), which could be interpreted as an argument for using Area 2 as a measure of state building or state capacity. However, this high correlation is unlikely to hold in earlier periods when the data for Area 2 is less complete, and using Area 2 as a stand-in for "Government Effectiveness" is to conflate the effectiveness of the state with the institutional protection of property rights, which are two competing hypotheses within New Institutional Economics.

6.

A more formal technique, k-means clustering, was attempted. It did not work as well since, with a few exceptions, the scatterplot is better thought of as a continuum than sets of clusters. However, some of the intuition for the groupings used draws on Huskinson and Lawson (2014).

7.

The term "anacrocy," taken from political science used to describe regimes with fundamentally contradictory sets of political institutions, is meant to mean something similar here.

8.

The count of nine sets aside the possible use of overlapping 5 year differences when yearly data is collected by either WGI or EFW. A panel with much more time variation is more desirable, econometrically, regardless. For pointing out this issue raised by Kaufmann et al. (2010), I thank Kathleen Sheehan.
References
Acemoglu D (2003) The form of property rights: oligarchic vs. democratic societies. NBER working paper no. 10037

Acemoglu D (2005) Politics and economics in weak and strong states. J Monet Econ 52:1199–1226

Acemoglu D, Johnson S (2005) Unbundling institutions. J Political Econ 113(5):949–995

Adler PS, Kwon S-W (2000) Social capital: the good, the bad, and the ugly. In: Lesser EL (ed) Knowledge and social capital: foundations and applications. Butterworth-Heineman, Woburn, pp 89–115

Adler PS, Kwon S-W (2002) Social capital: prospects for a new concept. Acad Manag Rev 27(1):17–40

Andrews M, Pritchett L, Woolcock M (2017) Building state capacity: evidence, analysis, and action. Oxford University Press, Oxford

Baier S, Dwyer G, Tamura R (2006) How important are capital and total factor productivity for economic growth. Econ Inq 44(1):23–49

Barro R, Lee JW (2013) A new data set on educational attainment in the world, 1950–2010. J Dev Econ 104:184–198

Berggren N, Bjornskov C (2017) The market-promoting and market-preserving roles of social trust in reforms of policies and institutions. South Econ J 84(1):3–25

Berggren N, Jordahl H (2006) Free to trust: economic freedom and social capital. Kyklos 59(2):141–169

Bergh A, Bjornskov C (2011) Historical trust levels predict the current size of the welfare state. Kyklos 64(1):1–19

Besley T, Ghatak M (2010) Property rights and economic development. In: Rodrik D, Rosenzweig M (eds) Handbook of development economics, vol 5. Elsevier, Oxford, pp 4525–4595

Besley T, Persson T (2009) The origins of state capacity: property rights, taxation, and politics. Am Econ Rev 99(4):1218–1244

Besley T, Persson T (2010) State capacity, conflict, and development. Econometrica 78(1):1–34

Besley T, Persson T (2013) Taxation and development. In: Auerbach AJ, Chetty R, Feldstein M, Saez E (eds) Handbook of public economics, vol 5. Elsevier, Oxford, pp 51–110

Bjornskov C (2010) How does social trust lead to better governance? An attempt to separate electoral and bureaucratic mechanisms. Public Choice 144(1–2):323–346

Borjas G (2015) Immigration and globalization: a review essay. J Econ Lit 53(4):961–974

Buchanan JM (1975) The limits of liberty: between anarchy and Leviathan. University of Chicago Press, Chicago

Burakova L, Lawson R (2014) Georgia's Rose revolution: how one country beat the odds, transformed its economy, and provided a model for reformers everywhere. The Antigua Forum, Guatemala

Clark JR, Lawson R, Nowrasteh A, Powell B, Murphy RH (2015) Does immigration impact institutions? Public Choice 163(3–4):321–334

De Soto H (2000) The mystery of capital: why capitalism succeeds in the west and fails everywhere else. Basic Books, New York

Dinecco M, Prado M (2012) Warfare, fiscal capacity, and performance. J Econ Growth 17:171–203

Easterly W (2014) The tyranny of experts: economists, dictators, and the forgotten rights of the poor. Basic Books, New York

Elster J (1989) The cement of society: a survey of social order. Cambridge University Press, Cambridge

Fike R (2016) Gender disparity in legal rights and its effect on economic freedom. In: Gwartney J, Lawson R, Hall J (eds) Economic freedom of the world: 2016 annual report. Fraser Institute, Vancouver, pp 189–211

Fukuyama F (1996) Trust: the social virtues and the creation of prosperity. Free Press, New York

Fukuyama F (2004) State building: governance and world order in the 21st century. Cornell University Press, Ithaca

Fukuyama F (2011) The origins of political order. Farrar, Straus and Giroux, New York

Fukuyama F (2014) Political order and political decay. Farrar, Straus and Giroux, New York

Gennaioli N, Voth H-J (2015) State capacity and military conflict. Rev Econ Stud 82(4):1409–1448

Glaeser EL, La Porta R, Lopez-de-Silanes F, Shleifer A (2004) Do institutions cause growth? J Econ Growth 2004(9):271–303

Gwartney J (2009) Institutions, economic freedom, and cross-country differences in performance. South Econ J 75(4):937–956

Gwartney J, Lawson R, Hall J (2017) Economic freedom of the world. Fraser Institute, Vancouver

Haan D, Jakob SL, Sturm J-E (2006) Market-oriented institutions and policies and economic growth: a critical survey. J Econ Surv 20(2):157–191

Hall J, Lawson R (2014) economic freedom of the world: an accounting of the literature. Contemp Econ Policy 32(1):1–19

Herbst JI (2000) States and power in Africa: comparative lessons in authority and control. Princeton University Press, Princeton

Huskinson T, Lawson R (2014) Clusters of economic freedom. Appl Econ Lett 21(15):1070–1074

Jackson J (2017) Economic freedom and social capital: pooled mean group evidence. Appl Econ Lett 24(6):370–373

Jackson J, Carden A, Compton R (2015) Economic freedom and social capital. Appl Econ 47(54):5853–5867

Jones G (2016) Do immigrants import their economic destiny?" Evonomics. http://evonomics.com/do-immigrants-import-their-economic-destiny-garrett-jones/. Accessed 28 July 2017

Kaufmann D, Kraay A, Mastruzzi M (2009) Governance matters VIII: aggregate and individual governance indicators 1996–2008. World Bank Policy Research working paper no. 4978

Kaufmann D, Kraay A, Mastruzzi M (2010) The worldwide governance indicators: methodological and analytical issues. Global Economy and Development at Brookings. https://www.brookings.edu/wp-content/uploads/2016/06/09_wgi_kaufmann.pdf. Accessed 11 Nov 2017

Lawson R, Murphy RH (2015) Measuring institutions and policies across countries. In: Cebula R, Hall JC, Mixon FG, Payne JE (eds) Economic behavior, economic freedom, and entrepreneurship. Edward Elgar Publishing, Northampton

Mankiw NG, Romer D, Weil DN (1992) A contribution to the empirics of economic growth. Q J Econ 107:407–437

Marshall MG, Gurr TR, Jaggers K (2016) Polity IV project: political regime characteristics and transitions 1800–2015. Center for Systemic Peace, Vienna

Migdal J (1988) Strong societies and weak states: state-society relations and state capabilities in the third world. Princeton University Press, Princeton

Murphy RH (2018) The perils of buying social capital locally. J Priv Enterp 33(2):67–81

North DC, Wallis JJ, Weingast BR (2009) Violence and social orders: a conceptual framework for interpreting recorded history. Cambridge University Press, Cambridge

Ott J (2018) Measuring economic freedom: better without size of government. Soc Indic Res 135(2):479–498

Putnam RD, Leonardi R, Nanetti RY (1993) Making democracy work: civic traditions in modern Italy. Princeton University Press, Princeton

Rajagopalan S, Tabarrok A (2014) Lessons from Gurgaon, India's private city. In: Andersson DE, Moroni S (eds) Cities and private planning: property rights, entrepreneurship, and transaction costs. Edward Elgar, Northampton, pp 199–231

Ruhland JH (2016) The impact of social trust and system support on economic freedom. Working paper. https://www.depts.ttu.edu/freemarketinstitute/research/templeton_papers/TheImpactofSocialTrustandSystemSupportonEconomicFreedom.pdf. Accessed 25 July 2017

Sala-I-Martin XX (1997) I just ran two million regressions. Am Econ Rev 87(2):178–183

Stringham E (2015) Private governance: creating order in economic and social life. Oxford University Press, UK

Sumner S (2010) The Great Danes: cultural values and neoliberal reforms. Working paper. https://papers.ssrn.com/sol3/papers.cfm?abstract_id=1629940. Accessed 5 Sep 2017

Szreter S, Woodcock M (2004) Health by association? social capital, social theory, and the political economy of public health. Int J Epidemiol 33(4):650–667

Tabellini G (2010) Culture and institutions: economic development in the regions of Europe. J Eur Econ Assoc 8(4):677–716

Tilly C (1990) Coercion, capital, and European States, AD 990–1992. Blackwell, Cambridge

Williamson OE (2000) The new institutional economics: taking stock, looking ahead. J Econ Lit 38:595–613

Williamson CR (2009) Informal institutions rule: institutional arrangements and economic performance. Public Choice 139(3):371–387

Williamson CR, Kerekes CD (2011) Securing Private property: formal versus informal institutions. J Law Econ 54(3):537–572
Additional information
Publisher's Note
Springer Nature remains neutral with regard to jurisdictional claims in published maps and institutional affiliations.
About this article
Cite this article
Murphy, R.H. The state economic modernity index: an index of state building, state size and scope, and state economic power. Econ Gov 20, 73–101 (2019). https://doi.org/10.1007/s10101-018-00220-0
Received:

Accepted:

Published:

Issue Date:
Keywords
State building

State capacity

Economic freedom

Economic institutions

Governance

Social capital
JEL Classification