Abstract
This paper examines the relationship between individuals' experience of corruption and their anxiety using microeconomic data from the Afrobarometer surveys. The results show a statistically significant and economically meaningful relationship in probit models using both an experience of corruption index and a simple dummy variable. Having to pay a bribe to obtain documents and permits, to avoid problems with the police or to access medical care are the scenarios in which this relationship is strongest. Some evidence is presented that an individual needs to experience such corruption more than 'once or twice' for these relationships to become evident.
Access options
Buy single article
Instant access to the full article PDF.
USD 39.95
Price excludes VAT (USA)
Tax calculation will be finalised during checkout.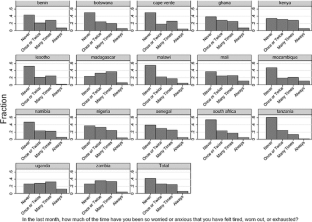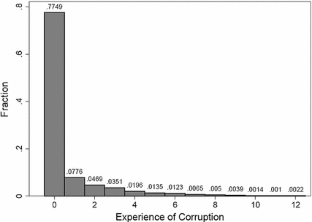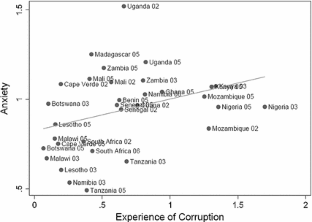 Notes
The Round 2 survey for Mozambique allowed the additional response of 'always.' As only a tiny proportion of the sample opted for this option in any of the corruption questions and it was not an option in other countries, I add those who did to the 'often' category.

Round 2 asks about paying a bribe to cross a border. I opt not to use this as it is not possible to tell if the bribe is paid to agents of the respondents own country or of another and it was not asked in Mozambique.

Constructing the index using a principal components approach does not alter the results.

While Round 3 does ask about school expenses, I omit this as there are many things which could fall under this category that we may not wish to include in a poverty index such as private school fees.

While it is far from clear that people have a common understanding of 'always' and 'many times', I am potentially ignoring information by using a dummy variable to measure anxiety. The results of an ordered probit model support the results presented here and are available on request.

Using the Round 2 data, Graham and Hoover (2007) find a negative effect of crime on living conditions. The main difference in their specification is that they use the data on income decile as opposed to a lived poverty index. When I do likewise, I too find that crime and corruption are detrimental to self-reported living conditions. However, when I include both lived poverty and income, neither crime nor corruption is significant at the 5 % level, though corruption is significant at 10 %.

32 % of the respondents choose this response for the documents and permits question, 28 % for the school placement question, 36 % for the household services question, 22 % for the accessing medicine or medical treatment question and 32 % for the avoiding problems with the police question.

Another way to tackle this issue is to use dummies which contrast those with no experience with those who do but did not experience corruption. The results from this exercise lead to the same conclusions as those presented here.

The physical health dummy is created from the question 'in the last month, how much of the time has your physical health reduced the amount of work you normally do inside or outside your home?' The dummy takes a value of one if the respondent answers 'many times' or 'always' and zero otherwise.
References
Alesina A, Di Tella R, MacCulloch R (2004) Inequality and happiness: are Europeans and Americans different? J Public Econ 88(9):2009–2042

Ari A (2008) Some educational sources of anxiety in Kyrgyz youth. Soc Behav Personal Int J 36(5):577–584

Azfar O, Gurgur T (2008) Does corruption affect health outcomes in the Philippines? Econ Gov 9(3):197–244

Banerjee A, Duflo E (2011) Poor economics: a radical rethinking of the way to fight global poverty (PublicAffairs)

Ebrahim A, Botha F, Snowball J (2013) Determinants of life satisfaction among race groups in South Africa. Dev South Afr 30(2):168–185

Gardner J, Oswald AJ (2007) Money and mental wellbeing: a longitudinal study of medium-sized lottery wins. J Health Econ 26(1):49–60

Gambetti E, Giusberti F (2012) The effect of anger and anxiety traits on investment decisions. J Econ Psychol 33(6):1059–1069

Graham C (2009) Happiness around the world: the paradox of happy peasants and miserable millionaires. Oxford University Press, Oxford

Graham C, Hoover M (2007) Optimism and poverty in Africa: adaptation or a means to survival? Working paper 76, Afrobarometer

Graham C, Chattopadhyay S (2009) Well-being and public attitudes in Afghanistan: some insights from the economics of happiness. Working papers 2, Foreign Policy at Brookings

Greenberg PE, Sisitsky T, Kessler RC, Finkelstein SN, Berndt ER, Davidson JR, Ballenger JC, Fyer AJ (1999) The economic burden of anxiety disorders in the 1990s. J Clin Psychiatry 60(7):427–435

Heflin CM, Siefert K, Williams DR (2005) Food insufficiency and women's mental health: findings from a 3-year panel of welfare recipients. Soc Sci Med 61(9):1971–1982

Helliwell JF, Putnam RD (2004) The social context of well-being. Philos Trans R Soc B Biol Sci 359(1449):1435

Marciniak M, Lage MJ, Landbloom RP, Dunayevich E, Bowman L (2004) Medical and productivity costs of anxiety disorders: case control study. Depress Anxiety 19:112–120

Mattes R, Bratton M, Davids YD (2003) Poverty, survival, and democracy in Southern Africa. Working paper 23, Afrobarometer

Møller V, Jackson A (1997) Perceptions of service delivery and happiness. Dev South Afr 14(2):169–184

Pedigo KL, Marshall V (2009) Bribery: Australian managers' experiences and responses when operating in international markets. J Bus Ethics 87(1):59–74

Peng J, Xiao W, Yang Y, Wu S, Miao D (2014) The impact of trait anxiety on self-frame and decision making. J Behav Decis Mak 27(1):11–19

Porcelli AJ, Delgado MR (2009) Acute stress modulates risk taking in financial decision making. Psychol Sci 20(3):278

Sen A (1999) Development as freedom. Oxford University Press, Oxford

Shavell S (1993) An economic analysis of threats and their illegality: blackmail, extortion, and robbery. University of Pennsylvania Law Review, pp 1877–1903

Stafford M, Chandola T, Marmot M (2007) Association between fear of crime and mental health and physical functioning. Am J Public Health 97(11):2076

Tavits M (2008) Representation, corruption, and subjective well-being. Comp Polit Stud 41(12):1607

van den Bos R, Harteveld M, Stoop H (2009) Stress and decision-making in humans: performance is related to cortisol reactivity, albeit differently in men and women. Psychoneuroendocrinology 34(10):1449–1458

Wiesenfeld BM (1997) Procedural unfairness and managers surviving layoffs: self-threat and coping in the context of organizational change. Soc Justice Res 10(2):225–239
Additional information
This research was carried out while the author was funded by the Irish Research Council for the Humanities and Social Sciences. I am indebted to Julia Anna Matz, Ron Davies, Liam Delaney, Kanika Kapur, Oliver Morrissey, Mark McGovern, Peter Neary, Karl Whelan, two anonymous referees and the editor for helpful comments and suggestions.
About this article
Cite this article
Gillanders, R. Corruption and anxiety in Sub-Saharan Africa. Econ Gov 17, 47–69 (2016). https://doi.org/10.1007/s10101-015-0177-6
Received:

Accepted:

Published:

Issue Date:

DOI: https://doi.org/10.1007/s10101-015-0177-6
Keywords
JEL Classification