Abstract
In this paper, we analyse the company behaviour in duopoly taking into account the most common strategies, including dominant, reactive, cooperative and tit-for-tat strategies, since they account for most of the decisions made by companies. Dominant, reactive and cooperative strategies may lead to different outcomes, such as Stackelberg, Cournot, Cartel, Cartel with one cheater and Perfect competition equilibria, while the tit-for-tat strategy may lead to Cartel, Cournot or Perfect competition equilibria due to its retribution nature. However, we argue that these outcomes are mainly valid in the short-run since in the long-run the companies learn and adapt to the behavioural pattern of their peer, which leads them to evolve to a new way of thinking and strategic planning taking into account the long-run effects. Due to the long-term perspective, the outcome of the implementation of various strategies in duopoly may not be efficiently solved using simple game theory analysis. For that purpose, we propose the utilization of more complex analysis, an evolutionary game theory, which is based on the adaption of the company to the behaviour of other players in a duopoly. When the probability of choices is applied, new fitness equations are obtained which show the changing tendencies towards the companies' strategies that ensure payoffs above the average, in the long run, using a replicator dynamics concept. We analyse several scenarios, in which players choose among two, three or four strategies. Our results indicate that the long-run equilibrium and preferred options are significantly altered depending on the starting set of strategies.
Access options
Buy single article
Instant access to the full article PDF.
US$ 39.95
Tax calculation will be finalised during checkout.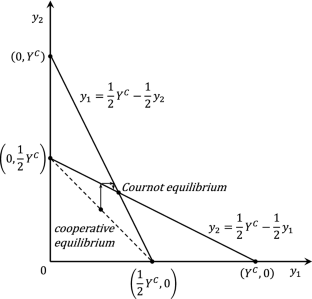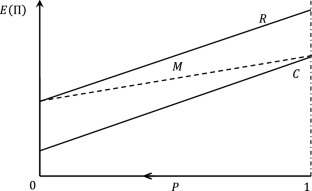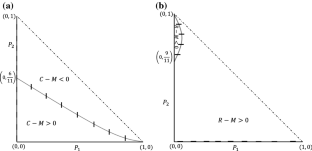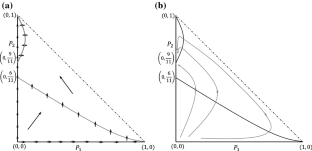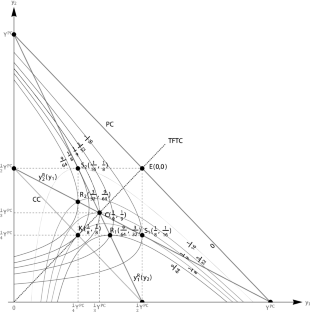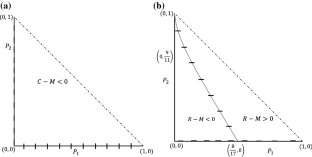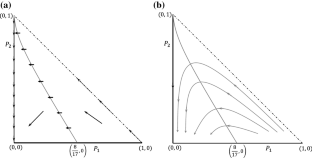 References
Barron EN (2013) Game Theory: an Introduction. Wiley, Hoboken

Ding Y, Gao X, Huang C, Shu J, Yang D (2018) Service competition in an online duopoly market. Omega 77:58–72

Eigruber M, Wirl F (2019) Cheating as a dynamic marketing strategy in monopoly, cartel and duopoly. CEJOR 28:461–478

Elsadany AA (2015) A dynamic Cournot duopoly model with different strategies. J. Egypt. Math. Soc. 23(1):56–61

Elsadany AA (2017) Dynamics of a Cournot duopoly game with bounded rationality based on relative profit maximization. Appl. Math. Comput. 294:253–263

Fonseca MA, Müller W, Normann H (2006) Endogenous timing in duopoly: experimental evidence. Int. J. Game Theory 34:443–456

Gori L, Sodini M (2017) Price competition in a nonlinear differentiated duopoly. Chaos Solitons Fractals 104:557–567

Haurie A, Krawczyk JB, Zaccour G (2012) Games and Dynamic Games. HEC Montréal, Montréal

Huang H, Ke H, Wang L (2016) Equilibrium analysis of pricing competition and cooperation in supply chain with one common manufacturer and duopoly retailers. Int J Prod Econ 178:12–21

Jehle GA, Reny PJ (2011) Advanced Microeconomics Theory, 3rd edn. Pearson, USA

Kopal R, Korkut D (2014) Uvod u teoriju igara. Effectus, Zagreb

Peng Y, Lu Q, Xiao Y (2016) A dynamic Stackelberg duopoly model with different strategies. Chaos Solitons Fractals 851:128–134

Roca CP, Cuesta JA, Sánchez A (2009) Evolutionary game theory: temporal and spatial effects beyond replicator dynamics. Phys. Life Rev. 6:208–249

Sánchez Carrera EJ, Pavlinović S (2013) Evolution of the place attachment: an economic approach. Croatian Oper. Res. Rev. 4:109–119

Schaffer ME (1989) Are profit maximizers the best survivors? J. Econ. Behav. Organ. 12:29–45

Schecter S, Gintis H (2016) An Introduction to Classical and Evolutionary Models. Princeton University Press, Princeton

Silveira D, Vasconcelos S (2020) Essays on duopoly competition with asymmetric firms: Is profit maximization always an evolutionary stable strategy? Int. J. Prod. Econ. 225:107592

Simaan T, Takayama T (1978) Game theory applied to dynamic duopoly problems with production constraints. Automatica 14:161–166

Simon CP, Blume L (1994) Mathematics for Economists. Norton&Co, New York
Additional information
Publisher's Note
Springer Nature remains neutral with regard to jurisdictional claims in published maps and institutional affiliations.
About this article
Cite this article
Vrankić, I., Herceg, T. & Pejić Bach, M. Dynamics and stability of evolutionary optimal strategies in duopoly. Cent Eur J Oper Res 29, 1001–1019 (2021). https://doi.org/10.1007/s10100-020-00713-6
Accepted:

Published:

Issue Date:
Keywords
Evolutionary game theory

Duopoly

Cooperative strategy

Dominant strategy

Reactive strategy

The tit-for-tat strategy