Abstract
A methodological approach to the strategic evaluation of electric energy production technologies in Slovenia is presented. The aim of this work is to make a transparent and reproducible identification of reliable, rational, and environmentally sound production of electric energy in Slovenia by 2050. The approach is based on a qualitative multi-criteria modelling method DEX and consists of three stages: (1) assessment of individual technologies for electricity production, (2) assessment of mixtures of technologies and (3) evaluation of scenarios of shutting-down existing old power plants and constructing the new ones until 2050. Technology alternatives include both conventional and renewable energy sources: coal fired, gas fired, biomass fired, oil fired, nuclear, hydro, wind, and photovoltaic. The results indicate that only mixtures of nuclear, hydro, and gas fired technologies can meet expected energy needs in a sufficiently reliable and rational way.
This is a preview of subscription content, log in to check access.
Access options
Buy single article
Instant access to the full article PDF.
US$ 39.95
Price includes VAT for USA
Subscribe to journal
Immediate online access to all issues from 2019. Subscription will auto renew annually.
US$ 99
This is the net price. Taxes to be calculated in checkout.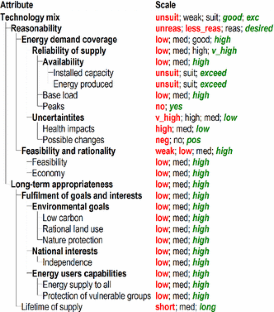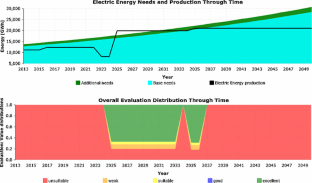 References
Begić F, Afgan N (2007) Sustainability assessment tool for the decision making in selection of energy system-Bosnian case. Energy 32(10):1979–1985

Bohanec M (2015) DEXi: program for multi-attribute decision making, user's manual, version 5.00. In: Report IJS DP-11897. Jožef Stefan Institute, Ljubljana, http://kt.ijs.si/MarkoBohanec/pub/DEXiManual500

Bohanec M, Rajkovič V, Bratko I, Zupan B, žnidaršič M (2013) DEX methodology: three decades of qualitative multi-attribute modelling. Informatica 37:49–54

Figueira J, Greco S, Ehrgott M (2005) Multi criteria decision analysis: state of the art surveys. Springer, London

Greco S, Matarazzo B, Słowiński R (2010) Dominance-based rough set approach to decision under uncertainty and time preference. Ann Oper Res 176(1):41–75

Hirschberg S, Dones R, Heck T, Burgherr P, Schenler W, Bauer C (2004) Sustainability of electricity supply technologies under German conditions: a comparative evaluation. Paul Scherrer Institut, PSI Bericht Nr. 04-15, ISSN 1019-0643

Ishizaka A, Nemery P (2013) Multi-criteria decision analysis: methods and software. Wiley, Somerset

Kahraman C, Kaya I (2010) A fuzzy multicriteria methodology for selection among energy alternatives. Expert Syst Appl 37:6270–6281

Kontić B, Kontić D, Zagorc S, Matko M, Dermol U, Bohanec M, Trdin, N (2014) Ocena vzdržnosti za razvoj energetike v Sloveniji do leta 2030s poudarkom na jedrski tehnologiji (Appraisal of Sustainability of Electrical Energy Production in Slovenia with the Emphasis on Nuclear Technology). In: Report IJS DP-11583. Jožef Stefan Institute, Ljubljana

Kontić B, Bohanec M, Kontić D, Trdin N, Matko M (2016) Improving appraisal of sustainability of energy options—a view from Slovenia. Energy Policy 90:154–171

Legget J (2016) Winning of the carbon war. Latest edition of the e-book, http://www.wcre.de/index.php/publications

Mainali B, Silveira S (2015) Using a sustainability index to assess energy technologies for rural electrification. Renew Sustain Energy Rev 41:1351–1365

National Renewable Energy Laboratory (NREL) (2014) Making sustainable energy choices. In: Insights on the Energy/Water/Land nexus. US Department of Energy, http://www.nrel.gov/docs/fy15osti/62566

Pohekar SD, Ramachandran M (2004) Application of multi-criteria decision making to sustainable energy planning—a review. Renew Sustain Energy Rev 8:365–381

Ribeiro F, Ferreira P, Araújo M (2013) Evaluating future scenarios for the power generation sector using a multi-criteria decision analysis (MCDA) tool: the Portuguese case. Energy 52:126–136

Saaty TL (2008) Decision making with the analytic hierarchy process. Int J Serv Sci 1(1):83–98

Santoyo-Castelazo E, Azapagic A (2014) Sustainability assessment of energy systems: integrating environmental, economic and social aspects. J Clean Prod 80:119–138

Stein EW (2013) A comprehensive multi-criteria model to rank electric energy production technologies. Renew Sustain Energy Rev 22:640–654

Trdin N, Bohanec M (2014). New generation platform for multi-criteria decision making with method DEX. DSS 2.0—supporting decision making with new technologies, supplemental proceedings. In: Phillips-Wren G, Carlsson S, Burstein F, Respício A, Brézillon P (eds) IFIP working group 8.3 digital publications. ISSN 1647–7103, 12

Wimmler C, Hejazi G, de Oliveira Fernandes E, Moreira C, Connors S (2015) Multi-criteria decision support methods for renewable energy systems on Islands. J Clean Energy Technol 3(3):185–195

World Nuclear Association (WNA) (2016) Renewable energy and electricity. Available at http://www.world-nuclear.org/info/energy-and-environment/renewable-energy-and-electricity/

Žnidaršič M, Bohanec M (2010) Handling uncertainty in DEX methodology. URPDM 2010: Uncertainty and robustness in planning and decision making. In: Antunes CH et al. (eds) Proceedings of the 25th Mini-EURO conference. University of Coimbra, 15–17 April
Acknowledgments
This research has been financially supported by the Ministry of Education, Science, Culture and Technology of the Republic of Slovenia (Research Voucher No. OPRR/1/1/002-0-MIZKŠ dated September 24, 2012), and GEN energija, d.o.o., and was implemented as a research voucher project in the framework of the EU Operational Programme for Strengthening Regional Development Potentials for the period 2007–2013, priority axis "Competitiveness and research excellence".
Additional information
This is an extended and revised version of the paper presented at SOR 2015, 13th International Symposium on Operations Research in Slovenia, September 23–25, 2015, Bled, Slovenia.
About this article
Cite this article
Bohanec, M., Trdin, N. & Kontić, B. A qualitative multi-criteria modelling approach to the assessment of electric energy production technologies in Slovenia. Cent Eur J Oper Res 25, 611–625 (2017). https://doi.org/10.1007/s10100-016-0457-4
Keywords
Electric energy production technology

Power plants

Multi-criteria decision modelling

Qualitative model

Decision rules

Method DEX