Abstract
Measuring the efficiency of Freight Villages (FVs) has important implications for logistics companies and other related companies as well as governments. In this paper we apply data envelopment analysis (DEA) to measure the efficiency of European FVs in a purely data-driven way, incorporating the nature of FVs as complex operations that use multiple inputs and produce several outputs. We employ several DEA models and perform a complete sensitivity analysis of the appropriateness of the chosen input and output variables, and an assessment of the robustness of the efficiency score. It turns out that about half of the 20 FVs analyzed are inefficient, with utilization of the intermodal area, warehouse capacity and level of goods handling being the most important areas of improvement. While we find no significant differences in efficiency between FVs of different sizes and in different countries, it turns out that the FVs Eurocentre Toulouse, Interporto Quadrante Europa and GVZ Nürnberg constitute more than 90 % of the benchmark share.
Access options
Buy single article
Instant access to the full article PDF.
US$ 39.95
Tax calculation will be finalised during checkout.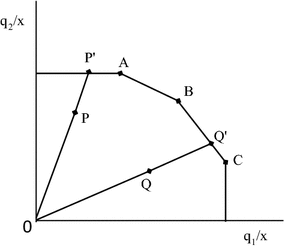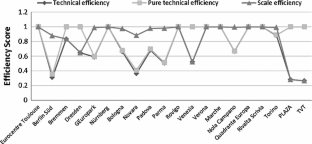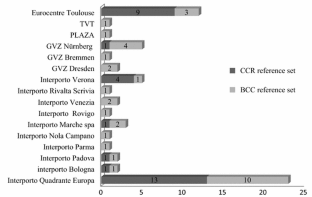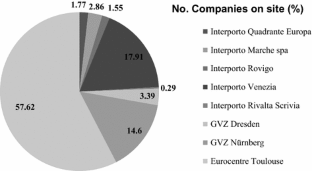 References
Amirteimoori A (2011) An extended transportation problem: a DEA-based approach. Cent Eur J Oper Res 19(4):513–521

Andrejić M, Bojović N, Kilibarda M (2013) Benchmarking distribution centres using principal component analysis and data envelopment analysis: a case study of serbia. Expert Syst Appl 40(10):3926–3933

Adler N, Liebert V, Yazhemsky E (2013) Benchmarking airports from a managerial perspective. Omega 41(2):442–458

Ballis A (2006) Freight villages: warehouse design and rail link aspects. Transp Res Rec 1966(1):27–33

Ballis A, Golias J (2002) Comparative evaluation of existing and innovative rail-road freight transport terminals. Transp Res Part A Policy Pract 36(7):593–611

Banaszewska A, Cruijssen F, Dullaert W, Gerdessen JC (2012) A framework for measuring efficiency levels—the case of express depots. Int J Prod Econ 139(2):484–495

Banker RD, Charnes A, Cooper WW (1984) Some models for estimating technical and scale inefficiencies in data envelopment analysis. Manag Sci 30(9):1078–1092

Banker RD, Thrall RM (1992) Estimation of returns to scale using data envelopment analysis. Eur J Oper Res 62(1):74–84

Bhanot N, Singh H (2014) Benchmarking the performance indicators of Indian Railway container business using data envelopment analysis. Benchmark Int J 21(1):101–120

Cezar-Gabriel C (2010) Performance assessment in operating dry ports. Ann Faculty Econ 1(2):934–938

Chakraborty PS, Majumder G, Sarkar B (2011) Performance measurement of distribution center combining data envelopment analysis and analytic hierarchy process. Adv Ind Eng Manag 6(2):117–128

Charles V, Kumar M, Irene Kavitha S (2012) Measuring the efficiency of assembled printed circuit boards with undesirable outputs using data envelopment analysis. Int J Prod Econ 136(1):194–206

Charnes A, Cooper WW, Rhodes E (1978) Measuring the efficiency of decision making units. Eur J Oper Res 2(6):429–444

Chen G, Qian Z (2010) MaxDEA LP manual. http://www.maxdea.cn/. Accessed 14 June 2014

Coelli TJ, Rao DSP, O'Donnell CJ, Battese GE (2005) An introduction to efficiency and productivity analysis. Springer, New York

Cooper WW, Seiford LM, Tone K (2007) Data envelopment analysis: a comprehensive text with models, applications, references and DEA-solver software. Springer, New York

Cooper WW, Seiford LM, Zhu J (2011) Handbook on data envelopment analysis. Springer Science and Business Media, London

Cook WD, Tone K, Zhu J (2014) Data envelopment analysis: prior to choosing a model. Omega 44:1–4

Cullinane K, Wang TF, Song DW, Ji P (2006) The technical efficiency of container ports: comparing data envelopment analysis and stochastic frontier analysis. Transp Res Part A Policy Pract 40(4):354–374

de Carvalho CC, Lima Jr OF (2010) Efficient logistic platform design: the case of Campinas Platform. http://www.abepro.org.br/biblioteca/enegep2010_TI_ST_113_741_17234.pdf. Accessed 20 Feb 2013

De Witte K, Marques RC (2010) Designing performance incentives, an international benchmark study in the water sector. Cent Eur J Oper Res 18(2):189–220

Dyson RG, Allen R, Camanho AS, Podinovski VV, Sarrico CS, Shale EA (2001) Pitfalls and protocols in DEA. Eur J Oper Res 132(2):245–259

Europlatforms EEIG (2004) Logistics centres directions for use, Europlatforms EEIG. http://www.unece.org/fileadmin/DAM/trans/main/eatl/docs/EN-REV-WhatisaFreightVillageFinalcorretto.pdf. Accessed 12 May 2012

Farrell MJ et al (1957) The measurement of productive efficiency. J R Stat Soc Ser A (General) 3(120):253–290

George SA, Rangaraj N (2008) A performance benchmarking study of Indian railway zones. Benchmark Int J 15(5):599–617

Golany B, Roll Y (1989) An application procedure for DEA. Omega 17(3):237–250

Grewal D, Levy M, Mehrotra A, Sharma A (1999) Planning merchandising decisions to account for regional and product assortment differences. J Retail 75(3):405–424

Hamdan A, Rogers KJ (2008) Evaluating the efficiency of 3PL logistics operations. Int J Prod Econ 113(1):235–244

Haralambides H, Gujar G (2012) On balancing supply chain efficiency and environmental impacts: an eco-DEA model applied to the dry port sector of India. Marit Econ Logis 14(1):122–137

Ho CT, Zhu DS (2004) Performance measurement of Taiwan's commercial banks. Int J Prod Perform Manag 53(5):425–434

Hung SW, Lu WM (2008) The comparative productivity efficiency of Taiwan's integrated circuits packaging/testing firms. INFOR Inf Syst Oper Res 46(3):189–198

Jacobs R, Smith PC, Street A (2006) Measuring efficiency in health care: analytic techniques and health policy. Cambridge University Press, New York

Jha DK, Shrestha R (2006) Measuring efficiency of hydropower plants in Nepal using data envelopment analysis. IEEE Trans Power Syst 21(4):1502–1511

Kapros S, Panou K, Tsamboulas D (2005) Multi-criteria approach to the evaluation of intermodal freight villages. Transp Res Rec 1906(1):56–63

Koch H, Münch S, Nestler S, Nobel N (2010) Ranking of the European Freight Village locations—benchmarking of the European experience. wvb Wissenschaftlicher Verlag, Berlin

Kritikos M, Markellos RN, Prastacos G (2010) Corporate real estate analysis: evaluating telecom branch efficiency in Greece. Appl Econ 42(9):1133–1143

Kumar S, Gulati R (2008) Evaluation of technical efficiency and ranking of public sector banks in India: an analysis from cross-sectional perspective. Int J Prod Perform Manag 57(7):540–568

Kumar Singh S, Kumar Bajpai V (2013) Estimation of operational efficiency and its determinants using DEA: the case of Indian coal-fired power plants. Int J Energy Sect 7(4):409–429

Lau KH (2012) Distribution network rationalization through benchmarking with DEA. Benchmark Int J 19(6):668–689

Liang L, Wu J, Cook WD, Zhu J (2008) Alternative secondary goals in DEA cross-efficiency evaluation. Int J Prod Econ 113(2):1025–1030

Lin LC, Hong CH (2006) Operational performance evaluation of international major airports: an application of data envelopment analysis. J Air Transp Manag 12(6):342–351

Liu CC (2008) Evaluating the operational efficiency of major ports in the Asia-Pacific region using data envelopment analysis. Appl Econ 40(13):1737–1743

Liu JH, Dong JQ, Chang Q (2013) Assessing logistics park operational efficiency using dual variables DEA model. Stat Decis 8:60–62

Liu J, Zhou Y, Wei X (2010) International studies on logistics parks from 1999 to 2009: a literature review. Logist Technol 29(8):43–45

Luo J (2013) Analysis on the operation effects of logistics park based on BP neural network. In: Proceedings of the 19th international conference on industrial engineering and engineering management, pp 1073–1079

Malekmohammadi N, Lotfi FH, Jaafar AB (2011) Data envelopment scenario analysis with imprecise data. Cent Eur J Oper Res 19(1):65–79

Manfred G, Martin P, Thouraya B (2008) Assessing performance indicators for inland terminals. http://simcont.net/fileadmin/simcont/downloads/Pub_PI.pdf. Accessed 3 May 2010

Markovits-Somogyi R, Gecse G, Bokor Z (2011) Basic efficiency measurement of Hungarian logistics centres using data envelopment analysis. Period Polytech Soc Manag Sci 19(2):97–101

Meidute I (2005) Comparative analysis of the definitions of logistics centres. Transport 20(3):106–110

Merkert R, Mangia L (2014) Efficiency of Italian and Norwegian airports: a matter of management or of the level of competition in remote regions? Transp Res Part A Policy Pract 62:30–38

Mostafa M (2007) Benchmarking top Arab banks' efficiency through efficient frontier analysis. Ind Manage Data Syst 107(6):802–823

Nataraja NR, Johnson AL (2011) Guidelines for using variable selection techniques in data envelopment analysis. Eur J Oper Res 215(3):662–669

Nyhan RC, Martin LL (1999) Comparative performance measurement: a primer on data envelopment analysis. Public Perform Manag Rev 22(3):348–364

Ondrich J, Ruggiero J (2002) Outlier detection in data envelopment analysis: an analysis of jackknifing. J Oper Res Soc 53(3):342–346

Pahwa A, Feng X, Lubkeman D (2003) Performance evaluation of electric distribution utilities based on data envelopment analysis. Power Syst IEEE Trans 18(1):400–405

Peng Wong W, Yew Wong K (2007) Supply chain performance measurement system using DEA modelling. Ind Manage Data Syst 107(3):361–81

Podinovski VV, Thanassoulis E (2007) Improving discrimination in data envelopment analysis: some practical suggestions. J Prod Anal 28(1–2):117–126

Ramanathan R (2003) An introduction to data envelopment analysis: a tool for performance measurement. Sage Publ, India

Ross AD, Droge C (2004) An analysis of operations efficiency in large-scale distribution systems. J Oper Manag 21(6):673–688

Sarkis J, Talluri S (2004) Performance based clustering for benchmarking of US airports. Transp Res Part A Policy Pract 38(5):329–346

Smith P, Mayston D (1987) Measuring efficiency in the public sector. Omega 15(3):181–189

Sufian F (2007) Trends in the efficiency of Singapore's commercial banking groups: a non-stochastic frontier DEA window analysis approach. Int J Prod perform Manag 56(2):99–136

Tongzon J (2001) Efficiency measurement of selected Australian and other international ports using data envelopment analysis. Transp Res Part A Policy Pract 35(2):107–122

Vrochidis B (2013) Logistics centres as economic drivers of their regions. Department of Erasmus School of Economics: Erasmus University of Rotterdam, Rotterdam. http://thesis.eur.nl/pub/14748

Wang DZ, Chen JJ (2009) Analysis on logistics park performance appraisal based on fuzzy synthetic evaluation method. Logist Sci Tech 10(32):79–82

Winkler H, Seebacher G (2011) Management of freight villages: findings from an exploratory study in Germany. Int J Logist Res App 14(4):271–283

Wu J, Haasis HD (2013) Converting knowledge into sustainability performance of freight villages. Logist Res 6(2–3):63–88

Yadav VK, Padhy NP, Gupta HO (2010) A micro level study of an Indian electric utility for efficiency enhancement. Energy 35(10):4053–4063

Yadav VK, Padhy NP, Gupta HO (2011) Performance evaluation and improvement directions for an Indian electric utility. Energy Policy 39(11):7112–7120

Yu MM, Chen PC (2011) Measuring air routes performance using a fractional network data envelopment analysis model. Cent Eur J Oper Res 19(1):81–98

Zhou G, Min H, Xu C, Cao Z (2008) Evaluating the comparative efficiency of Chinese third-party logistics providers using data envelopment analysis. Int J Phys Distrib Log 38(4):262–279

Zhu J (2000) Multi-factor performance measure model with an application to Fortune 500 companies. Eur J Oper Res 123(1):105–124

Zhu J, Shen ZH (1995) A discussion of testing DMUs' returns to scale. Eur J Oper Res 81(3):590–596
Acknowledgments
The authors would like to thank Dr. Claudio di Ciccio for the questionnaire translation and all of the participants who kindly provided useful information for our survey. The authors are grateful to two anonymous referees for their very constructive suggestions for improving the paper.
Ethics declarations
We express our appreciation for the State Scholarship Fund of China Scholarship Council (Grant No. 2011613013). We herewith state that there are no potential conflicts of interest (financial or non-financial) and that the submission complies with the Ethical Rules of the Central European Journal of Operations Research (CJOR).
About this article
Cite this article
Yang, C., Taudes, A. & Dong, G. Efficiency analysis of European Freight Villages: three peers for benchmarking. Cent Eur J Oper Res 25, 91–122 (2017). https://doi.org/10.1007/s10100-015-0424-5
Keywords
Freight Village

Benchmarking

Efficiency measurement

Data envelopment analysis (DEA)