Abstract
Although China has experienced an overall decline in CO2 emissions intensity from 2009 to 2016, the intensity from one province to another varies considerably. As China seeks to reduce CO2 emissions intensity further, understanding how intensity differs provincially and regionally, as well as why, will be important for developing equitable management strategies. The Kaya-Theil model has been extensively applied to analyze the emission inequality; however, there have been no studies focusing on the inequality in carbon intensity in the different sectors and from different resource types in China. Here, we develop a comprehensive analysis on the inequality in China's carbon intensity from both sectoral and energy perspectives from 1997 to 2016. The Theil index is decomposed into the within-region inequality and between-region inequality based on four economic development strategies. We used the LMDI decomposition analysis to identify the driving factors of the inequality (GDP share, emission coefficients, energy structure, energy intensity and economic structure). We find that after a decline in the inequality from 2003 to 2009, the inequality in the total carbon intensity increased by 28.4% from 2009 to 2016, mainly from an increase in the inequality from the industry sector (+ 53.1%), construction sector (+ 47.6%) and coal (+ 40.6%). The within-region inequality was the main source of the inequality in the carbon intensity, accounting for more than 60% of the inequality of the total carbon intensity from 2009 to 2016. Further decomposition identified the energy intensity disparity as the key driving factor of the carbon intensity inequality, inducing a 26.5% increase of the inequality from 2009 to 2016. Moreover, our results demonstrate how the structural transformation of energy and economic structure impact the inequality in carbon intensity.
Graphic abstract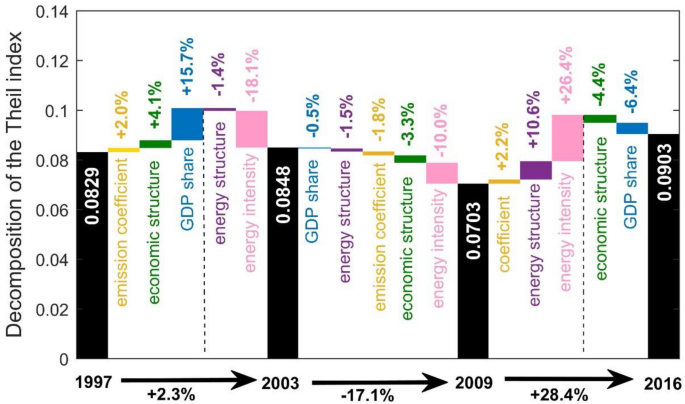 Access options
Buy single article
Instant access to the full article PDF.
US$ 39.95
Tax calculation will be finalised during checkout.
Subscribe to journal
Immediate online access to all issues from 2019. Subscription will auto renew annually.
US$ 79
Tax calculation will be finalised during checkout.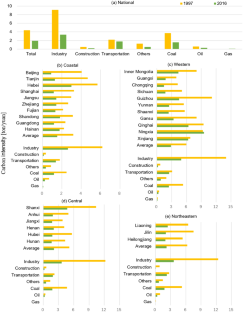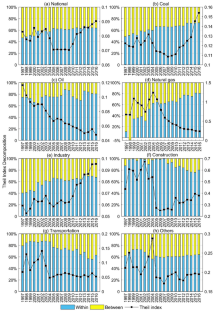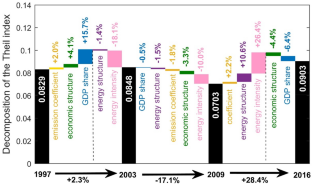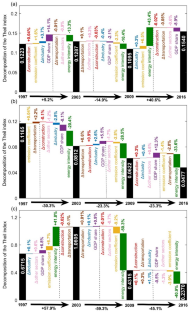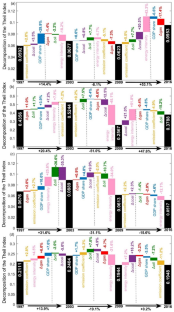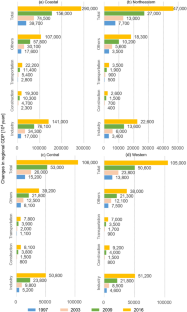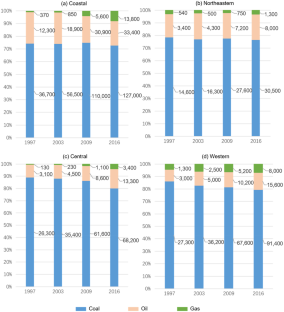 Availability of data and material
The authors declare that all data and materials used or analyzed during the current study are available from the corresponding author on reasonable request and comply with field standards.
References
Ang BW (2004) Decomposition analysis for policymaking in energy. Energy Policy 32(9):1131–1139

Bianco V, Cascetta F, Marino A, Nardini S (2019) Understanding energy consumption and carbon emissions in Europe: a focus on inequality issues. Energy 170:120–130

Bosello F, Roson R (2002) Carbon emissions trading and equity in international agreements. Environ Model Assess 7(1):29–37

Cantore N, Padilla E (2010) Equality and CO2 emissions distribution in climate change integrated assessment modelling. Energy 35(1):298–313

Chai J, Guo J-E, Wang S-Y, Lai KK (2009) Why does energy intensity fluctuate in China? Energy Policy 37(12):5717–5731

Chen J, Cheng S, Song M, Wang J (2016) Interregional differences of coal carbon dioxide emissions in China. Energy Policy 96:1–13

Chen L, Xu LY, Yang ZF (2017) Accounting carbon emission changes under regional industrial transfer in an urban agglomeration in China's Pearl River Delta. J Clean Prod 167:110–119

Chen C, Huang J, Chang H, Lei H (2019a) The effects of indigenous R&D activities on China's energy intensity: a regional perspective. Sci Total Environ 689:1066–1078

Chen J, Xu C, Cui L, Huang S, Song M (2019b) Driving factors of CO2 emissions and inequality characteristics in China: a combined decomposition approach. Energy Econ 78:589–597

Chen L, Xu L, Yang Z (2019c) Inequality of industrial carbon emissions of the urban agglomeration and its peripheral cities: a case in the Pearl River Delta, China. Renew Sustain Energy Rev 109:438–447

Cheng Z, Li L, Liu J (2018) Industrial structure, technical progress and carbon intensity in China's provinces. Renew Sustain Energy Rev 81:2935–2946

Chinese Statistical Yearbook (CSY) (2017)

Chongqing Municipal People's Government (GCMP) (2005) The basic idea of Chongqing's 11th FYP. http://www.gov.cn/ztzl/2005-10/28/content_85866.htm

Clarke-Sather A, Qu J, Wang Q, Zeng J, Li Y (2011) Carbon inequality at the sub-national scale: a case study of provincial-level inequality in CO2 emissions in China 1997–2007. Energy Policy 39(9):5420–5428

Dong L, Liang H (2014) Spatial analysis on China's regional air pollutants and CO2 emissions: emission pattern and regional disparity. Atmos Environ 92:280–291

Duro JA (2012) On the automatic application of inequality indexes in the analysis of the international distribution of environmental indicators. Ecol Econ 76:1–7

Duro JA (2013) Weighting vectors and international inequality changes in environmental indicators: an analysis of CO2 per capita emissions and Kaya factors. Energy Econ 39:122–127

Duro JA (2015) The international distribution of energy intensities: some synthetic results. Energy Policy 83:257–266

Duro JA, Padilla E (2006) International inequalities in per capita CO2 emissions: a decomposition methodology by Kaya factors. Energy Econo 28(2):170–187

Emir F, Balcilar M, Shahbaz M (2018) Inequality in carbon intensity in EU-28: analysis based on club convergence. Environ Sci Pollut Res 26(4):3308–3319

Groot L (2010) Carbon Lorenz curves. Resour Energy Econ 32(1):45–64

Grunewald N, Jakob M, Mouratiadou I (2014) Decomposing inequality in CO2 emissions: the role of primary energy carriers and economic sectors. Ecol Econ 100:183–194

Guan D, Meng J (2018) Structural decline in China's CO2 emissions through transitions in industry and energy systems. Nat Geosci 11(8):551–555

Han M, Lao J, Yao Q, Zhang B, Meng J (2020) Carbon inequality and economic development across the Belt and Road regions. J Environ Manag 262:110250

Jorgenson A, Schor J, Huang X (2017) Income inequality and carbon emissions in the United States: a state-level analysis, 1997–2012. Ecol Econ 134:40–48

Li RR, Jiang XT (2017) Inequality of carbon intensity: empirical analysis of China 2000–2014. Sustainability 9(5):71

Liang H, Dong L, Luo X, Ren J, Zhang N, Gao Z, Dou Y (2016) Balancing regional industrial development: analysis on regional disparity of China's industrial emissions and policy implications. J Clean Prod 126:223–235

Lin B, Fei R (2015) Regional differences of CO2 emissions performance in China's agricultural sector: a Malmquist index approach. Eur J Agron 70:33–40

Lu S, Jiang H, Liu Y, Huang S (2017) Regional disparities and influencing factors of Average CO2 Emissions from transportation industry in Yangtze River Economic Belt. Transp Res Part D Transp Environ 57:112–123

Mussini M, Grossi L (2015) Decomposing changes in CO2 emission inequality over time: the roles of re-ranking and changes in per capita CO2 emission disparities. Energy Econ 49:274–281

National Bureau of Statistics (NBS) (2017) Chinese Energy Statistical Yearbook

National Development Reform Commission (NDRC) (2012) The 12th FYP for the development of coal industry. http://www.gov.cn/zwgk/2012-03/22/content_2097451.htm

Padilla E, Duro JA (2013) Explanatory factors of CO2 per capita emission inequality in the European Union. Energy Policy 62:1320–1328

Pakrooh P, Hayati B, Pishbahar E, Nematian J, Brännlund ER (2020) Focus on the provincial inequalities in energy consumption and CO2 emissions of Iran's agriculture sector. Sci Total Environ 715:137029

Peters GP, Weber C, Liu J (2006) Construction of Chinese energy and emissions inventory. Norwegian University of Science and Technology, Trondheim, pp 5939–5944

Remuzgo L, Sarabia JM (2015) International inequality in CO2 emissions: a new factorial decomposition based on Kaya factors. Environ Sci Policy 54:15–24

Sauter C, Grether J-M, Mathys NA (2016) Geographical spread of global emissions: within-country inequalities are large and increasing. Energy Policy 89:138–149

Sinha A (2015) Inequality of carbon intensities across OECD countries. Energy Proc 75:2529–2533

Teixidó-Figueras J, Steinberger JK, Krausmann F, Haberl H, Wiedmann T, Peters GP, Kastner T (2016) International inequality of environmental pressures: decomposition and comparative analysis. Ecol Ind 62:163–173

Bulletin on statistics of national economic and social development (NESDSB) (2016) The basic idea of Xinjiang. http://www.xjtj.gov.cn/tjfw/dh_tjgb/201712/t20171213_548562.html

Voigt S, De Cian E, Schymura M, Verdolini E (2014) Energy intensity developments in 40 major economies: structural change or technology improvement? Energy Econ 41:47–62

Wang M, Feng C (2017) Decomposition of energy-related CO2 emissions in China: an empirical analysis based on provincial panel data of three sectors. Appl Energy 190:772–787

Wang H, Zhou P (2018) Assessing global CO2 emission inequality from consumption perspective: an index decomposition analysis. Ecol Econ 154:257–271

Wang S, Wang J, Fang C, Feng K (2019) Inequalities in carbon intensity in China: a multi-scalar and multi-mechanism analysis. Appl Energy 254:113720

Wang Y, Yan Q, Li Z, Baležentis T, Zhang Y, Gang L, Streimikiene D (2020) Aggregate carbon intensity of China's thermal electricity generation: the inequality analysis and nested spatial decomposition. J Clean Prod 247:119139

Wiedenhofer D, Guan D, Liu Z, Meng J, Zhang N, Wei Y-M (2016) Unequal household carbon footprints in China. Nat Clim Change 7(1):75–80

Xu X, Han L, Lv X (2016) Household carbon inequality in urban China, its sources and determinants. Ecol Econ 128:77–86

Yu S, Zhang J, Zheng S, Sun H (2015) Provincial carbon intensity abatement potential estimation in China: a PSO–GA-optimized multi-factor environmental learning curve method. Energy Policy 77:46–55

Yuan X, Wang X, Zuo J (2013) Renewable energy in buildings in China—a review. Renew Sustain Energy Rev 24:1–8

Zhang W, Li K, Zhou D, Zhang W, Gao H (2016) Decomposition of intensity of energy-related CO2 emission in Chinese provinces using the LMDI method. Energy Policy 92:369–381

Zhang P, Yuan H, Bai F, Tian X, Shi F (2018) How do carbon dioxide emissions respond to industrial structural transitions? Empirical results from the northeastern provinces of China. Struct Change Econ Dyn 47:145–154

Zhang G, Zhang P, Zhang ZG, Li J (2019) Impact of environmental regulations on industrial structure upgrading: an empirical study on Beijing-Tianjin-Hebei region in China. J Clean Prod 238:117848

Zhang F, Deng X, Phillips F, Fang C, Wang C (2020a) Impacts of industrial structure and technical progress on carbon emission intensity: evidence from 281 cities in China. Technol Forecast Soc Change 154:119949

Zhang J, Tan Y, Zhang T, Yu K, Wang X, Zhao Q (2020b) Natural gas market and underground gas storage development in China. J Energy Storage 29:101338

Zheng J, Mi Z, Coffman DM, Shan Y, Guan D, Wang S (2019a) The slowdown in China's carbon emissions growth in the new phase of economic development. One Earth 1(2):240–253

Zheng J, Mi Z, Coffman DM, Milcheva S, Shan Y, Guan D, Wang S (2019b) Regional development and carbon emissions in China. Energy Econ 81:25–36
Acknowledgments
We appreciate the anonymous reviewers for their valuable comments on an earlier draft of our paper. This paper is supported by Fundamental Research Funds for the Central Universities (Grant No. 2019CDSKXYJG0037).
Ethics declarations
Conflicts of interest
The authors declare that they have no conflict of interest.
Additional information
Publisher's Note
Springer Nature remains neutral with regard to jurisdictional claims in published maps and institutional affiliations.
Supplementary Information
Below is the link to the electronic supplementary material.
About this article
Cite this article
Tian, Q., Zhao, T. & Yuan, R. An overview of the inequality in China's carbon intensity 1997–2016: a Theil index decomposition analysis. Clean Techn Environ Policy (2021). https://doi.org/10.1007/s10098-021-02050-x
Received:

Accepted:

Published:
Keywords
Carbon intensity

Inequality

Theil index

Index decomposition analysis

China