Abstract
The rapid development of renewable energy enterprises has produced important benefits for contemporary efforts to address serious environmental pollution and depletion of fossil energy resources. However, the environmental pollution that exists in the production and operation of enterprises has been ignored, and so an objective evaluation of this issue is becoming urgent. This paper established an evaluation index system for green technology innovation efficiency and used dynamic data envelopment analysis (DEA) considering undesirable output to measure the green technology innovation efficiency of renewable energy enterprises, and the improvement potential of ineffective enterprises was put forward. The results show that: (1) the green technology innovation of renewable energy enterprises needs to be greatly improved. The average efficiency score of sample was 0.385 over four years, and only 16 enterprises were found to operate effectively; (2) when effective and inefficient DMUs were compared, the latter were found to have significant output shortfalls, especially in environmental tax, and were found to show an improvement potential of 55.71 percent; (3) the efficiency analysis of different types of renewable energy enterprises found that the green technology innovation efficiency score of nuclear energy enterprises was the highest, and rapidly rose; (4) the green technology innovation efficiency of renewable energy enterprises in the western region greatly exceeded the efficiency of the eastern and central regions. The efficiency evaluation results could not only provide a guidance for central and local governances to optimize the structure of renewable energy sector, but also potentially provide a reference for the operation and management of renewable energy enterprises in China.
Graphic abstract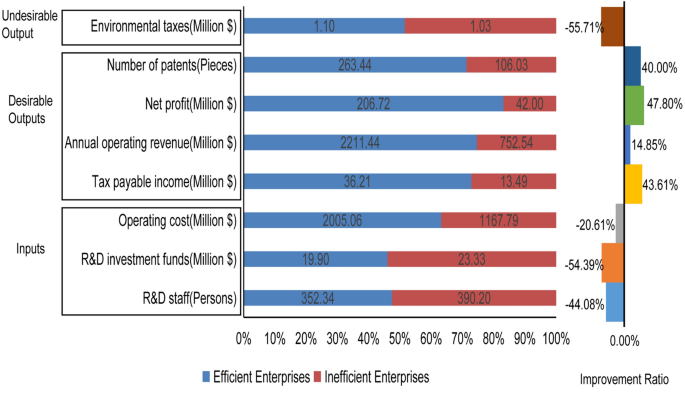 Access options
Buy single article
Instant access to the full article PDF.
US$ 39.95
Tax calculation will be finalised during checkout.
Subscribe to journal
Immediate online access to all issues from 2019. Subscription will auto renew annually.
US$ 79
Tax calculation will be finalised during checkout.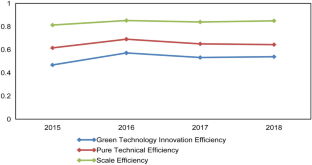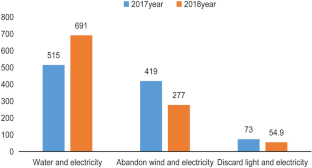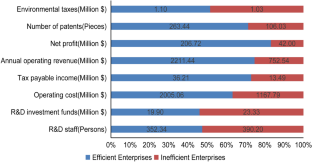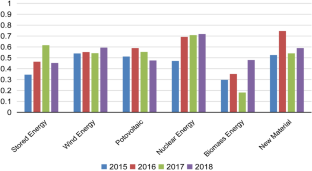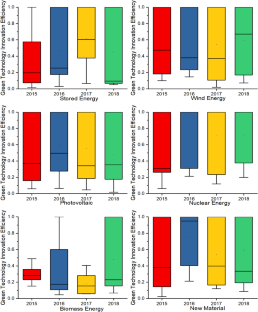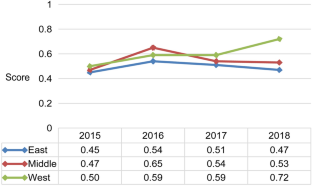 References
Administration CNE (2018) Energy Work Guidance. http://www.gov.cn/xinwen/2018-03/09/content_5272569.htm

Alizadeh R, Beiragh RG, Soltanisehat L, Soltanzadeh E, Lund PD (2020) Performance evaluation of complex electricity generation systems: A dynamic network-based data envelopment analysis approach Energy Economics:104894

Bai Y, Hua C, Jiao J, Yang M, Li F (2018) Green efficiency and environmental subsidy: evidence from thermal power firms in China. J Clean Prod 188:49–61

Becheikh N, Landry R, Amara N (2006) Lessons from innovation empirical studies in the manufacturing sector: a systematic review of the literature from 1993–2003. Technovation 26:644–664

Braun E, Wield D (1994) Regulation as a means for the social control of technology. Technol Anal Strateg Manag 6:259–272

Çelikbilek Y, Tüysüz F (2016) An integrated grey based multi-criteria decision making approach for the evaluation of renewable energy sources. Energy 115:1246–1258

Charnes A, Cooper WW, Rhodes E (1978) Measuring the efficiency of decision making units. Eur J Oper Res 2:429–444

Cheng P, Jin Q, Jiang H, Hua M, Ye Z (2020) Efficiency assessment of rural domestic sewage treatment facilities by a slacked-based DEA model. J Clean Prod 267:122111

Dong FG, Shi L (2019) Regional differences study of renewable energy performance: a case of wind power in China. J Cleaner Prod 233:490–500

Filbeck G, Gorman RF (2004) The relationship between the environmental and financial performance of public utilities. Environ Resource Econ 29:137–157

Guo Y, Xia X, Zhang S, Zhang D (2018) Environmental regulation, government R&D funding and green technology innovation: evidence from china provincial data. Sustainability 10:940–961 (Switzerland)

Hosseinzadeh-Bandbafha H, Safarzadeh D, Ahmadi E, Nabavi-Pelesaraei A (2016) Optimization of energy consumption of dairy farms using data envelopment analysis –a case study: Qazvin city of Iran. J Saudi Soc Agri Sci 17(3):217–228

Hou GF et al (2016) Life cycle assessment of grid-connected photovoltaic power generation from crystalline silicon solar modules in China. Appl Energy 164:882–890

Pastor JT, Ruiz JL, Sirvent I (1999) An enhanced DEA Russell graph efficiency measure. Eur J Op Res 115:596–607

Jacobson MZ (2009) Effects of biofuels vs. other new vehicle technologies on air pollution, global warming, land use and water. Int J Biotechnol 11:14–59

Jiang H, Hua M, Zhang J, Cheng P, Ye Z, Huang M, Jin Q (2020) Sustainability efficiency assessment of wastewater treatment plants in China: a data envelopment analysis based on cluster benchmarking. J Clean Prod 244:118729

Kaleibari SS, Beiragh RG, Alizadeh R, Solimanpur M (2016) A framework for performance evaluation of energy supply chain by a compatible network data envelopment analysis model. Scientia Iranica 23:1904–1917

Kao C (2013) Dynamic data envelopment analysis: A relational analysis. Eur J Oper Res 227:325–330

Lee J, Veloso F, Hounshell DA, Rubin ES (2010) Forcing technological change: a case of automobile emissions control technology development in the US. Technovation 30:249–264

Li H, Sun Y, Ren L (2017) Research on Green Technology Innovation Performance of New Energy Listed Companies. Sci Technol Manag Res 37:240–246 ((In Chinese))

Li N, Liu C, Zha D (2016) Performance evaluation of Chinese photovoltaic companies with the input-oriented dynamic SBM model. Renew Energy 89:489–497

Li TC, Liang L, Han DR (2018) Research on the efficiency of green technology innovation in China's provincial high-end manufacturing industry based on the RAGA-PP-SFA model. Math Probl Eng 18:1024–1237

Li Y, Chiu Y-h, Lu LC (2019) New energy development and pollution emissions in China. Int J Environ Res Public Health 16:24

Li Z (2018) Liu Y-q A measurement of China's new energy vehicle industry using the improved general combined-oriented CCR model. J Discrete Math Sci Cryptogr 21:895–906

Lin B, Xu B (2018) How to promote the growth of new energy industry at different stages? Energy Policy 118:390–403

Lin S, Sun J, Marinova D, Zhao D (2018) Evaluation of the green technology innovation efficiency of China's manufacturing industries: DEA window analysis with ideal window width. Technol Anal Strat Manag 30:1166–1181

Luo L, Liang S (2016) Study on the efficiency and regional disparity of green technology innovation in China's industrial companies. Chinese J popul Resour Environ 14:262–270

Luo QL, Miao CL, Sun LY, Meng XN, Duan MM (2019) Efficiency evaluation of green technology innovation of China's strategic emerging industries: an empirical analysis based on Malmquist-data envelopment analysis index. J Clean Prod 238:77–82

Mohammadi A, Rafiee S, Mohtasebi SS, Avval SHM, Rafiee H (2011) Energy efficiency improvement and input cost saving in kiwifruit production using Data Envelopment Analysis approach. Renew Energy 36:2573–2579

Mousavi-Avval SH, Rafiee S, Jafari A, Mohammadi A (2011) Improving energy use efficiency of canola production using data envelopment analysis (DEA) approach. Energy 36:2765–2772

National Assembly of the PRC (2015) Made in China 2025. http://www.gov.cn/zhengce/zhengcewenjianku/index.htm. Accessed 2015

Shen N, Liao HL, Deng RM, Wang QW (2019) Different types of environmental regulations and the heterogeneous influence on the environmental total factor productivity: empirical analysis of China's industry. J Clean Prod 211:171–184

Sun LY, Miao CL, Yang L (2017) Ecological-economic efficiency evaluation of green technology innovation in strategic emerging industries based on entropy weighted TOPSIS method. Ecol Ind 73:554–558

The National Development and Reform Commission (2019) Guidance catalogue for industrial structure adjustment. http://www.gov.cn/xinwen/2019-11/06/content_5449193.htm. Accessed 2019

Tone K (2001) A slacks-based measure of super-efficiency in data envelopment analysis. Eur J Oper Res 143:32–41

Tone K, Tsutsui M (2010) Dynamic DEA: a slacks-based measure approach. Omega 38:145–156

Wang Q, Hang Y, Sun L, Zhao Z (2016) Two-stage innovation efficiency of new energy enterprises in China: A non-radial DEA approach. Technol Forecast Soc Chang 112:254–261

Wang Y, Zhang DY, Ji Q, Shi XP (2020) Regional renewable energy development in China: a multidimensional assessment. Renew Sustain Energy Rev 124:109797

Xie BC, Chen YF, Gao J, Zhang S (2021) Dynamic environmental efficiency analysis of China's power generation enterprises: a game cross-Malmquist index approach. Environ Sci Pollut Res 28:1697–1711

Xu B, Lin B (2018) Assessing the development of China's new energy industry. Energy Econ 70:116–131

Zeng S, Jiang C, Ma C, Su B (2018) Investment efficiency of the new energy industry in China. Energy Econ 70:536–544

Zeng Y, Guo W, Wang H, Zhang F (2020) A two-stage evaluation and optimization method for renewable energy development based on data envelopment analysis. Appl Energy 262:114363

Zeng Y, Guo W, Zhang F (2019) Comprehensive evaluation of renewable energy technical plans based on data envelopment analysis. Energy Procedia 158:3583–3588

Zhang LX, Wang JQ, Wen HJ, Fu ZT, Li XX (2016) Operating performance, industry agglomeration and its spatial characteristics of Chinese photovoltaic industry. Renew Sustain Energy Rev 65:373–386

Zhao XG, Wei Z (2019) The technical efficiency of China's wind power list enterprises: an estimation based on DEA method and micro-data. Renew Energy 133:470–479

Zhong W, Yuan W, Li SX, Huang Z (2011) The performance evaluation of regional R&D investments in China: an application of DEA based on the first official China economic census data Omega-international Journal of. Manage Sci 39:447–455

Zhou P, Ang BW, Poh KL (2008) A survey of data envelopment analysis in energy and environmental studies. Eur J Oper Res 189:1–18

Zhou ZF (2014) On evaluation model of green technology innovation capability of pulp and paper enterprise based on support vector machines. Adv Mater Res 886:285–288
Ethics declarations
Conflicts of interest
The authors declare that they have no conflict of interest.
Additional information
Publisher's Note
Springer Nature remains neutral with regard to jurisdictional claims in published maps and institutional affiliations.
About this article
Cite this article
Jiang, T., Ji, P., Shi, Y. et al. Efficiency assessment of green technology innovation of renewable energy enterprises in China: a dynamic data envelopment analysis considering undesirable output. Clean Techn Environ Policy (2021). https://doi.org/10.1007/s10098-021-02044-9
Received:

Accepted:

Published:
Keywords
Green technology innovation

Efficiency assessment

Data envelopment analysis

Renewable energy enterprises