Abstract
Thermally activated coal gangue and lanthanum-modified coal gangue were prepared by thermal activation and hydrothermal methods, respectively. Their structures and properties were characterized by X-ray diffraction (XRD), attenuated total reflection flourier transformed infrared spectroscopy (ATR-FTIR) and transmission electron microscopy (TEM). Thermally activated coal gangue and coal gangue modified by lanthanum were used in a closed water body and compared to polymeric ferric sulfate. The results show that gangue modified by lanthanum exhibits stronger chemical oxygen demand by chromium method (CODcr), total phosphorus (TP) and ammonia nitrogen (NH4-N) removal capacities in overlying water than thermally activated coal gangue. The concentrations of CODcr, TP and NH4-N in overlying water during the stable period reached 11–14 mg/L, 0.023–0.028 mg/L and 0.16–0.20 mg/L, respectively. Thermally activated coal gangue had a good removal effect on CODcr but a poor inhibition effect on the TP. Compared to the thermally activated coal gangue and polymerized ferric sulfate, the lanthanum-modified coal gangue exhibited a better capacity to fix phosphorus in sediment, and the phosphorus extracted by hydrochloric acid (HCL-P) and residual phosphorus (Res-P) levels in the sediment increased, where HCL-P accounted for 57.40% of the TP, exceeding the control group's value by 34.15%. Thermally activated coal gangue showed a limited capacity to fix phosphorus in sediment, while polymeric ferric sulfate improved phosphorus extracted by bicarbonate dithionite (BD-P) content in the sediment.
Graphical abstract
Access options
Buy single article
Instant access to the full article PDF.
US$ 39.95
Tax calculation will be finalised during checkout.
Subscribe to journal
Immediate online access to all issues from 2019. Subscription will auto renew annually.
US$ 79
Tax calculation will be finalised during checkout.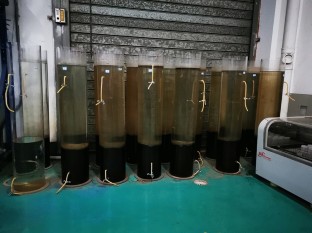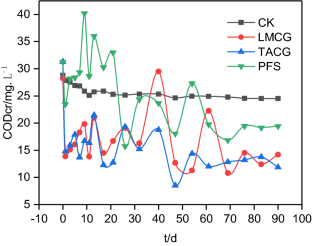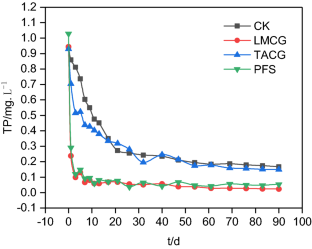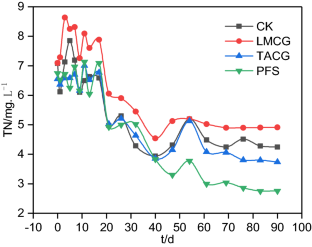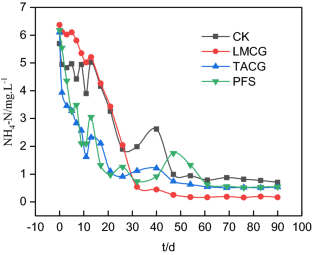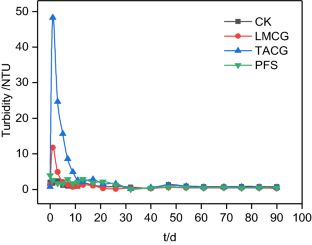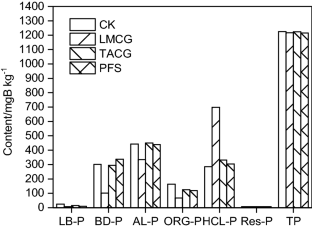 References
Araújo F, Santos HRD, Becker V, Attayde JL (2018) The use of polyaluminium chloride as a restoration measure to improve water quality in tropical shallow lakes. Acta Limnol Bras 30:e109. https://doi.org/10.1590/s2179-975x8416

Bao T, Chen TH, Qing C, Xie JJ, Frost RL (2016) Development and application of Palygorskite porous ceramsite in a biological aerated filter (BAF). Desalination Water Treat 57(4):1790–1803

Ding B, Chen Z, Li Z, Qin Y, Chen S (2019) Nitrogen loss through anaerobic ammonium oxidation coupled to Iron reduction from ecosystem habitats in the Taihu estuary region. Sci Total Environ 662:600–606

Drenkova-Tuhtan A, Schneider M, Franzreb M, Meyer C, Gellermann C, Sextl G et al (2017) Pilot-scale removal and recovery of dissolved phosphate from secondary wastewater effluents with reusable ZnFeZr adsorbent @ Fe3O4/SiO2 particles with magnetic harvesting. Water Res 109:77–87

Fan Y, Li Y, Wu D, Li C, Kong H (2017) Application of zeolite/hydrous zirconia composite as a novel sediment capping material to immobilize phosphorus. Water Res 123:1–11

Fang T, Bao S, Sima X, Jiang H, Zhu W, Tang W (2016) Study on the application of integrated eco-engineering in purifying eutrophic river waters. Ecol Eng 94:320–328

Ferone C, Liguori B, Capasso I, Colangelo F, Cioffi R, Cappelletto E et al (2015) Thermally treated clay sediments as geopolymer source material. Appl Clay Sci 107:195–204. https://doi.org/10.1016/j.clay.2015.01.027

González-Rovira L, Sanchez-Amaya J, Lopez-Haro M, Hungria A, Boukha Z, Bernal S et al (2008) Formation and characterization of nanotubes of La (OH) 3 obtained using porous alumina membranes. Nanotechnology 19(49):495305. https://doi.org/10.1088/0957-4484/19/49/495305

Gu D, Xu H, He Y, Zhao F, Huang M (2015) Remediation of urban river water by Pontederia cordata combined with artificial aeration: organic matter and nutrients removal and root-adhered bacterial communities. Int J Phytorem 17(11):1105–1114

Han C, Ding S, Yao L, Shen Q, Zhu C, Wang Y et al (2015) Dynamics of phosphorus–iron–sulfur at the sediment–water interface influenced by algae blooms decomposition. J Hazard Mater 300:329–337

Huang W, Gong B, Wang Y, Lin Z, He L, Zhou J et al (2020) Metagenomic analysis reveals enhanced nutrients removal from low C/N municipal wastewater in a pilot-scale modified AAO system coupling electrolysis. Water Res 173:115530. https://doi.org/10.1016/j.watres.2020.115530

Kumar PR, Maharajan TM, Chinnasamy M, Prabu AP, Suthagar JA, Kumar KS (2019) Hydroxyl radical scavenging activity of La2O3 nanoparticles. Pharma Innov J 8(8):759–763

Li B (2018) Response of microbial communities in lakes and soils to Input of nitrogen and Phosphorus. Dissertation, University of science and technology of China.

Li C, Yu H, Tabassum S, Li L, Wu D, Zhang Z et al (2017) Effect of calcium silicate hydrates (CSH) on phosphorus immobilization and speciation in shallow lake sediment. Chem Eng J 317:844–853

Li B, Udugama IA, Mansouri SS, Yu W, Baroutian S, Gernaey KV et al (2019a) An exploration of barriers for commercializing phosphorus recovery technologies. J Clean Prod 229:1342–1354

Li J, Zuo X, Zhao X, Ouyang J, Yang H (2019b) Insight into the effect of crystallographic structure on thermal conductivity of kaolinite nanoclay. Appl Clay Sci 173:12–18. https://doi.org/10.1016/j.clay.2019.03.011

Li Y, Zhao R, Wang L, Niu L, Wang C, Hu J et al (2020) Silver nanoparticles and Fe (III) co-regulate microbial community and N2O emission in river sediments. Sci Total Environ 706:135712. https://doi.org/10.1016/j.scitotenv.2019.135712

Lu B, Xu Z, Li J, Chai X (2018) Removal of water nutrients by different aquatic plant species: An alternative way to remediate polluted rural rivers. Ecol Eng 110:18–26

Meis S, Spears BM, Maberly SC, O'Malley MB, Perkins RG (2012) Sediment amendment with Phoslock® in Clatto Reservoir (Dundee, UK): investigating changes in sediment elemental composition and phosphorus fractionation. J Environ Manage 93(1):185–193

Osuch E, Osuch A, Podsiadłowski S, Piechnik L, Chwirot D (2017) Project of Coagulant Dispenser in Pulverization Aerator With Wind Drive. J Ecol Eng 18(5):192–198

Petrovic J, Acic S, Obratov-Petkovic D, Stevanovic ZD, Ristic R, Stavretovic N (2016) Ecological Features Of Vascular Flora On Ski Trails On Np Kopaonik Mountain. Serbia Fresenius Environmental Bulletin 25(8):2985–2990

Rothe M, Kleeberg A, Grüneberg B, Friese K, Pérez-Mayo M, HuPFSer M (2015) Sedimentary sulphur: iron ratio indicates vivianite occurrence: a study from two contrasting freshwater systems. PLoS ONE 10(11):e0143737. https://doi.org/10.1371/journal.pone.0143737

Rydin E, Welch EB (1998) Aluminum dose required to inactivate phosphate in lake sediments. Water Res 32(10):2969–2976

Schumacher BA (2002) Methods for the determination of total organic carbon in soils and sediments. Carbon 32:25

Shu D, He Y, Yue H, Wang Q (2016) Metagenomic and quantitative insights into microbial communities and functional genes of nitrogen and iron cycling in twelve wastewater treatment systems. Chem Eng J 290:21–30

Sruthi PL, Reddy PHP (2017) Characterization of kaolinitic clays subjected to alkali contamination. Appl Clay Sci 146:535–547. https://doi.org/10.1016/j.clay.2017.07.012

Schlesinger WH  (1991) Biogeochemistry: an analysis of global change. Academic Press, California

Van Dael T, De Cooman T, Verbeeck M, Smolders E (2020) Sediment respiration contributes to phosphate release in lowland surface waters. Water Res 168:115168. https://doi.org/10.1016/j.watres.2019.115168

Wang C, He R, Wu Y, Lürling M, Cai H, Jiang HL et al (2017) Bioavailable phosphorus (P) reduction is less than mobile P immobilization in lake sediment for eutrophication control by inactivating agents. Water Res 109:196–206

Xu D, Wu W, Ding S, Sun Q, Zhang C (2012) A high-resolution dialysis technique for rapid determination of dissolved reactive phosphate and ferrous iron in pore water of sediments. Sci Total Environ 421:245–252

Xu W, Yang Y, Cheng C, Pei X, Luo J (2015) Treat Phoenix River water by constructed rapid Infiltration system. J Coastal Res 73(sp1):386–391

Xu R, Zhang M, Mortimer RJ, Pan G (2017) Enhanced phosphorus locking by novel lanthanum/aluminum–hydroxide composite: implications for eutrophication control. Environ Sci Technol 51(6):3418–3425

Yeh N, Yeh P, Chang YH (2015) Artificial floating islands for environmental improvement. Renew Sustain Energy Rev 47:616–622

Yin H, Kong M, Fan C (2013) Batch investigations on P immobilization from wastewaters and sediment using natural calcium rich sepiolite as a reactive material. Water Res 47(13):4247–4258

Yin H, Han M, Tang W (2016) Phosphorus sorption and supply from eutrophic lake sediment amended with thermally-treated calcium-rich attapulgite and a safety evaluation. Chem Eng J 285:671–678

Yin H, Yang P, Kong M, Li W (2020) Use of lanthanum/aluminum co-modified granulated attapulgite clay as a novel phosphorus (P) sorbent to immobilize P and stabilize surface sediment in shallow eutrophic lakes. Chem Eng J 385:123395. https://doi.org/10.1016/j.cej.2019.123395

Yuan H, Tai Z, Li Q, Liu E (2020) In-situ, high-resolution evidence from water-sediment interface for significant role of iron bound phosphorus in eutrophic lake. Sci Total Environ 706:136040. https://doi.org/10.1016/j.scitotenv.2019.136040

Zhan Y, Yu Y, Lin J, Wu X, Wang Y, Zhao Y (2019) Simultaneous control of nitrogen and phosphorus release from sediments using iron-modified zeolite as capping and amendment materials. J Environ Manage 249:109369. https://doi.org/10.1016/j.jenvman.2019.109369

Zhang Q, Sun F, Dong W (2016) Nitrobenzene removal from micro-polluted water resource by a submerged MBR and the importance of activated sludge. Desalination Water Treat 57(24):11300–11308

Zhang Y, Islam MS, McPhedran KN, Dong S, Rashed EM, El-Shafei MM et al (2017) A comparative study of microbial dynamics and phosphorus removal for a two side-stream wastewater treatment processes. RSC Advances 7(73):45938–45948
Acknowledgements
The authors thank the editor and reviewers for their very useful suggestions and comments.
Ethics declarations
Conflicts of Interest
The authors declare no conflicts of interest.
Additional information
Publisher's Note
Springer Nature remains neutral with regard to jurisdictional claims in published maps and institutional affiliations.
Supplementary Information
Below is the link to the electronic supplementary material.
About this article
Cite this article
Zhou, J., Fu, Y. & Pan, S. The use of modified coal gangue for the remediation and removal of phosphorus in an enclosed water area. Clean Techn Environ Policy (2021). https://doi.org/10.1007/s10098-021-02026-x
Received:

Accepted:

Published:
Keywords
Water remediation

Coal gangue

Modification

Phosphorus removal

Lanthanum hydroxide