Abstract
One of the challenging tasks for governments is to curtail the production and consumption of single-use plastic bags. Despite multiple advantages of plastic and its ubiquity, the environmental damage of single-use plastic bags is irreversible. However, policy intervention by the governments is also a need of the time to reduce its production and consumption. This study provides a strategic analysis of government policy options regarding the ban on single-use plastic production in Pakistan. A game-theoretic model is developed to examine the behavior of plastic bag producers vis-à-vis the government's climate change policy. The study concludes that game theory is very effective in analyzing the efficient promulgation and productive implementation of environmental management policy regarding banning single-use plastic in Pakistan.
Graphic abstract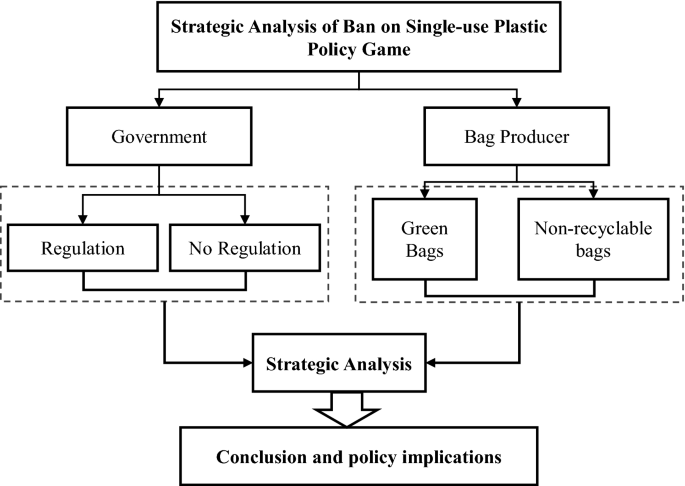 Access options
Buy single article
Instant access to the full article PDF.
US$ 39.95
Tax calculation will be finalised during checkout.
Subscribe to journal
Immediate online access to all issues from 2019. Subscription will auto renew annually.
US$ 79
Tax calculation will be finalised during checkout.
References
Ahmed SI (2019) Problems with plastic | Special Report | thenews.com.pk. The News International. https://www.thenews.com.pk/tns/detail/567702-problems-plastic. Accessed 26 Dec 2019

Albiac J, Sánchez-Soriano J, Dinar A (2008) Game theory and policy making in natural resources and the environment. Routledge Taylor & Francis Group, London. https://doi.org/10.4324/9780203932018

Bond A, Pope J, Morrison-Saunders A, Retief F (2016) A game theory perspective on environmental assessment: what games are played and what does this tell us about decision making rationality and legitimacy? Environ Impact Assess Rev 57:187–194. https://doi.org/10.1016/j.eiar.2016.01.002

Finus M, Rundshagen B (2016) Game theory and environmental and resource economics—in honour of Alfred Endres. Part Two. Environ Resour Econ 65(1):1–4. https://doi.org/10.1007/s10640-016-0059-6

Fundenberg D, Tirole J (1991) Game theory. The MIT Press, Cambridge

Hamilton LA, Feit S, Muffett C, Kelso M (2019) Plastic & Climate: The hidden costs of plastic planet. Center for International Environmental Law (CIEL), Washington, DC. https://www.ciel.org/reports/plastic-health-the-hidden-costs-of-a-plastic-planet-may-2019/

Heidbreder LM, Bablok I, Drews S, Menzel C (2019) Tackling the plastic problem: a review on perceptions, behaviors, and interventions. Sci Total Environ 668:1077–1093. https://doi.org/10.1016/J.SCITOTENV.2019.02.437

Horton AA, Walton A, Spurgeon DJ, Lahive E, Svendsen C (2017) Microplastics in freshwater and terrestrial environments: evaluating the current understanding to identify the knowledge gaps and future research priorities. Sci Total Environ. https://doi.org/10.1016/j.scitotenv.2017.01.190

Irfan T, Khalid S, Taneez M, Hashmi MZ (2020) Plastic driven pollution in Pakistan: the first evidence of environmental exposure to microplastic in sediments and water of Rawal Lake. Environ Sci Pollut Res 27(13):15083–15092. https://doi.org/10.1007/s11356-020-07833-1

Jiang M, He W, Cao Y, Yin W, Guo M, Wang G et al (2015) Static game research on incomplete information of internet governance- based on game of the chinese government regulators and internet companies. Open Cybern Syst J 9(2011):904–908. https://doi.org/10.2174/1874110X01509010904

Khurshid N (2019) The looming plastic pollution crisis | Pakistan Today. Pakistan Today. Islamabad. https://www.pakistantoday.com.pk/2019/03/14/the-looming-plastic-pollution-crisis/. Accessed 25 Dec 2019

Liang Q, Hu H, Wang Z, Hou F (2019) A game theory approach for the renegotiation of public–private partnership projects in Chinese environmental and urban governance industry. J Clean Prod. https://doi.org/10.1016/j.jclepro.2019.117952

Mendenhall E (2018) Oceans of plastic: a research agenda to propel policy development. Mar Policy 96:291–298. https://doi.org/10.1016/J.MARPOL.2018.05.005

Mu S, Niu J (2011) An analysis of the effect of government-enterprise game in the government-leading industrial energy saving model. Energy Procedia 5:633–637. https://doi.org/10.1016/j.egypro.2011.03.111

Mukheed M, Khan A (2020) Plastic pollution in Pakistan: environmental and health implications. J Pollut Eff Cont 8(4):251. https://doi.org/10.35248/2375-4397.20.8.251

Munro GR (2009) Game theory and the development of resource management policy: the case of international fisheries. Environ Dev Econ. https://doi.org/10.2307/44378990

Munshi S (2019) Overview of Pakistan plastic industry. PAKPLAS: Voice of Pakistan Plastics Industry, pp 13–19. http://www.pakplas.com.pk/allpdf/PAKPLASFORWEB.pdf

Nigar M (2019a) Environment and sustainability: assessing the risks. PAKPLAS: Voice of Pakistan Plastics Industry, pp 37–39. http://www.pakplas.com.pk/allpdf/PAKPLASFORWEB.pdf

Nigar M (2019b) Marine plastics pollution: reversing the tide. PAKPLAS: Voice of Pakistan Plastics Industry, pp 99–103. http://www.pakplas.com.pk/allpdf/PAKPLASFORWEB.pdf

Plastemart (2020, March 14). An overview of Pakistan's plastics industry. http://atozplastics.com/upload/literature/pakistan.asp. Accessed 2 Dec 2020

PlasticEurope (2017) Plastics—the Facts 2017: an analysis of European plastics production, demand and waste data

Rashida Q, Shaffat M (2015) Distribution and abundance of marine debris along the coast of Karachi (Arabian Sea), Pakistan. Pak J Sci Ind Res 58(2):98–103

Sumaila UR, Dinar A, Albiac J (2009) Game theoretic applications to environmental and natural resource problems. Environ Dev Econ 14(1):1–5. https://doi.org/10.1017/S1355770X08004609

Thompson RC, Swan SH, Moore CJ, Vom Saal FS (2009) Our plastic age. Philos Trans R Soc B Biol Sci R Soc. https://doi.org/10.1098/rstb.2009.0054

UNDP (2020) The good, the bad and the ugly of plastics in Pakistan. https://www.pk.undp.org/content/pakistan/en/home/blog/2020/the-good--the-bad-and-the-ugly-of-plastics-in-pakistan.html. Accessed 1 Dec 2020

UNEP (2018) Single-use plastics: a roadmap for sustainability. Nairobi. https://wedocs.unep.org/bitstream/handle/20.500.11822/25496/singleUsePlastic_sustainability.pdf?isAllowed=y&sequence=1. Accessed 9 Oct 2019

Xianshi LI (2017) Research on the water resource management based on game model. Procedia Comput Sci 107(1):262–267. https://doi.org/10.1016/j.procs.2017.03.098

Zhang L, Xue L, Zhou Y (2019) How do low-carbon policies promote green diffusion among alliance-based firms in China? An evolutionary-game model of complex networks. J Clean Prod 210:518–529. https://doi.org/10.1016/j.jclepro.2018.11.028
Acknowledgements
The first draft of the paper was submitted for the oral presentation in the "2020 Research Symposium in the Field of Business, Economics, & Applied Psychology," February 01, 2020, University of Sahiwal, Sahiwal, Pakistan.
Additional information
Publisher's Note
Springer Nature remains neutral with regard to jurisdictional claims in published maps and institutional affiliations.
About this article
Cite this article
Ali, S., Ahmed, W., Solangi, Y. et al. Strategic analysis of single-use plastic ban policy for environmental sustainability: the case of Pakistan. Clean Techn Environ Policy (2021). https://doi.org/10.1007/s10098-020-02011-w
Received:

Accepted:

Published:
Keywords
Climate change

Environmental management policy

Green bags

Game theory

Strategic analysis

Environmental behavior

Pakistan