Abstract
The eco-design approach was developed in the field of design and architecture in the second half of the twentieth century, with the aim of considering and reducing the environmental impact of products throughout their whole life cycle. The purpose of this study is to reveal how and the extent to which the carbon footprints of small houses that were designed with industrial construction techniques have been reduced during the production phase of the life cycle. For this purpose, the small houses and their materials were reconsidered to reduce their carbon footprints under the guidance of eco-design strategies according to the life cycle assessment method. The study focuses on 7 small houses, a reflective design process in which designs are reconsidered and the reconsidered small house designs in which carbon footprints are reduced as a result of the process within the scope of the Ecological Architecture course conducted by the Department of Architecture at Ataturk University. The CCaLC program was used in the study to calculate and compare the carbon footprints of the first small house designs and the small house designs reconsidered under the guidance of eco-design strategies. Small houses stand out due to their lower use of natural resources and low environmental impact at all stages of their life cycle. Using such houses as examples, this study reveals that the carbon footprints of buildings can be significantly reduced based on their materials by reflective design processes under the guidance of eco-design strategies.
Graphic abstract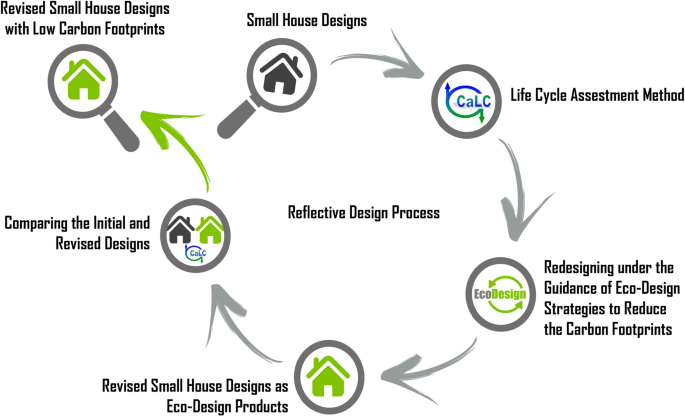 Access options
Buy single article
Instant access to the full article PDF.
US$ 39.95
Tax calculation will be finalised during checkout.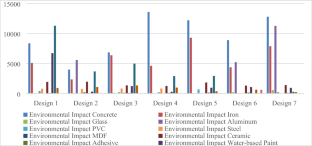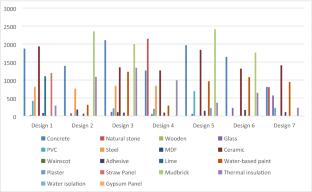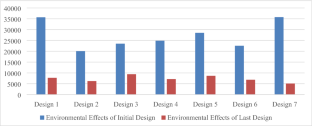 Availability of data and material
Data will be available if they are needed.
References
Azapagic A (2012) Ccalc carbon footprinting tool. The University of Manchester, Manchester

Bartocci P, Zampilli M, Liberti F, Pistolesi V, Massoli S, Bidini G, Fantozzi F (2020) LCA analysis of food waste co-digestion. Sci Total Environ 709:1–12. https://doi.org/10.1016/j.scitotenv.2019.136187

Birol G (2006) Modern mimarlığın ortaya çıkışı ve gelişimi. Megaron Mimarlar Odası Balıkesir Şubesi Yayını 1(October):3–16

Blanc I, Peuportier B (2007) Eco-design of buildings and comparison of materials, 1st International Seminar on Society and Materials, Séville, 6-7 March 2007, Séville, Spain, pp 1-8

Bovea M, Pérez-Belis V (2012) A taxonomy of ecodesign tools for integrating environmental requirements into the product design process. J Clean Prod 20(1):61–71. https://doi.org/10.1016/j.jclepro.2011.07.012

Carlin TM (2014) Tiny homes: improving carbon footprint and the American lifestyle on a large scale, celebrating scholarship & creativity day. College of Saint Benedict and Saint John's University, Minnesota

Carreras J, Boer D, Cabeza LF, Jiménez L, Guillén-Gosálbez G (2016) Eco-costs evaluation for the optimal design of buildings with lower environmental impact. Energy Build 119:189–199. https://doi.org/10.1016/j.enbuild.2016.03.034

Cobut A, Beauregard R, Blanchet P (2015) Reducing the environmental footprint of interior wood doors in non-residential buildings–part 2: ecodesign. J Clean Prod 109:247–259. https://doi.org/10.1016/j.jclepro.2015.05.068

Curran MA (2020) Life-cycle assessment: inventory guidelines and principles. CRC Press, Florida

Donnelly K, Beckett-Furnell Z, Traeger S, Okrasinski T, Holman S (2006) Eco-design implemented through a product-based environmental management system. J Clean Prod 14(15–16):1357–1367. https://doi.org/10.1016/j.jclepro.2005.11.029

Evans K (2018) Integrating tiny and small homes into the urban landscape: history, land use barriers and potential solutions. J Geogr Reg Plan 11(3):34–45. https://doi.org/10.5897/JGRP2017.0679

Favi C, Marconi M, Germani M (2019) Teaching eco-design by using LCA analysis of company's product portfolio: the case study of an Italian manufacturing firm. Procedia CIRP 80:452. https://doi.org/10.1016/j.procir.2019.01.032

Ford J, Gomez-Lanier L (2017) Are tiny homes here to stay? A review of literature on the tiny house movement. Family Consum Sci Res J 45(4):394–405. https://doi.org/10.1111/fcsr.12205

Freemark Y (2020) Upzoning Chicago: Impacts of a zoning reform on property values and housing construction. Urb Aff Rev 56(3):758–789. https://doi.org/10.1177/1078087418824672

Glaeser EL, Gyourko J (2003) The impact of building restrictions on housing affordability. Econ Policy Rev 9(2):21–39

Güngör A, Palamutçu S, İkiz Y (2009) Pamuklu tekstiller ve çevre: Bir bornozun yaşam döngü değerlendirmesi. J Text Apparel/Tekstil Ve Konfeksiyon 19(3):197–205

Handoko J P S (2020) Comparative study on application of ecological architecture concept on Javanese traditional house in Central Jawa, In: eduarchsia & Senvar 2019 International conference (EduARCHsia 2019), Atlantis Press, Hon Kong, pp 166-170

Hildner C (2012) Small houses: Contemporary Japanese dwellings. Birkhäuser, Basel

Hunter C (1999) Ranches, rowhouses, and railroad flats. W. W. Norton & Company, New York

Kalakul S, Malakul P, Siemanond K, Gani R (2014) Integration of life cycle assessment software with tools for economic and sustainability analyses and process simulation for sustainable process design. J Clean Prod 71:98–109. https://doi.org/10.1016/j.jclepro.2014.01.022

Kautz AW (2011) 880 Square foot house: a small residential design that transforms to accommodate multiple household types. Florida University, Florida

Keleş R (2013) Kentleşme politikası. İmge Kitabevi, Ankara

Kilman C (2016) Small house, big impact: The effect of tiny houses on community and environment. Undergrad J Human Stud 2:1–12

Kofoworola OF, Gheewala SH (2008) Environmental life cycle assessment of a commercial office building in Thailand. Int J Life Cycle Assess 13(6):498–511. https://doi.org/10.1007/s11367-008-0012-1

Kulözü N (2016) Youths' perception and knowledge towards environmental problems in a developing country: in the case of Atatürk University Turkey. Environ Sci Pollut Res 23(12):12482–12490. https://doi.org/10.1007/s11356-016-6693-2

Kulözü Uzunboy N, Kocabaş A (2020) Modernitenin çevresel sonuçlarının kentleşme ve planlama üzerinden irdelenmesi, 5th International Symposium on Environment and Moral. Istanbul, Turkey

Mair-Bauernfeind C, Zimek M, Lettner M, Hesser F, Baumgartner RJ, Stern T (2020) Comparing the incomparable? A review of methodical aspects in the sustainability assessment of wood in vehicles. Int J Life Cycle Assess 25(11):2217–2240

Mumford L (2007) Tarih boyunca kent: Kökenleri, geçirdiği dönüşümler ve geleceği. Ayrıntı Yayınları, İstanbul

Pflaumer D H (2015) Tiny house handbook. Dissertation, Ball State University.

Prasara AJ, Gheewala SH, Silalertruksa T, Pongpat P, Sawaengsak W (2019) Environmental and social life cycle assessment to enhance sustainability of sugarcane-based products in Thailand. Clean Technol Environ Policy 21(7):1447–1458. https://doi.org/10.1007/s10098-019-01715-y

Ragheb A, El-Shimy H, Ragheb G (2016) Green architecture: a concept of sustainability. Proc Soc Behav Sci 216(6):778–787. https://doi.org/10.1016/j.sbspro.2015.12.075

Roy P, Defersha F, Rodriguez-Uribe A, Misra M, Mohanty AK (2020) Evaluation of the life cycle of an automotive component produced from biocomposite. J Clean Prod 273:123051

Schmidt K, Juul L, Nielsen CB (2002) Manual on product-oriented environmental work. Danish Environmental Protection Agency, Kopenhag

Sipahi S (2018) Otel mobilyalarında sürdürülebilirlik. Dissertation, Karadeniz Technical University

Suau C (2008) A manifesto for minimum dwellings: against oversized architecture Welsh School of Architecture. Made 4:74–83

UN (2020) 2018 revision of World urbanization prospects. Department of economic and social affairs–population dynamics. https://population.un.org/wup/. Accessed 3 May 2020

URL 1 (2020) Small Houses, https://smallhousesociety.net/about/. Accessed 4 June 2020

Varžinskas V, Staniškis JK, Knašytė M (2012) Decision-making support system based on LCA for aseptic packaging recycling. Waste Manag Res 30(9):931–939. https://doi.org/10.1177/0734242X12448519

Walker L (2013) Tiny houses: Designs for 43 tiny houses for getting away from it all. Overlook Press, New York

Yazıcı S, Tanacan L (2020) Material-based computational design (MCD) in sustainable architecture. J Build Eng 32:1–12. https://doi.org/10.1016/j.jobe.2020.101543

Yücel S, Kariptaş FS (2019) Mikro hacimlerde mobilya sistemleri. Haliç Üniversitesi Fen Bilimleri Dergisi 2(1):103–112

Zhang Z, Wu X, Yang X, Zhu Y (2006) BEPAS—a life cycle building environmental performance assessment model. Build Environ 41(5):669–675. https://doi.org/10.1016/j.buildenv.2005.02.028
Acknowledgements
This study has been prepared based on the Ecological Architecture Course in the 2019–2020 Fall Semester at the Department of Architecture at the Faculty of Architecture and Design of Atatürk University and the products that have been revealed as a result of the course. We would like to thank the students who took the course for their contributions to the course and their contributions to this study.
Ethics declarations
Conflict of interest
The authors declare that they have no conflict of interest.
Consent to participate
All authors concur with the submission and have seen a draft copy of the manuscript and agree with its publication.
Consent for publication
I wish to state that the manuscript is not at present being considered for publication elsewhere and that if accepted for publication, it will not be published elsewhere without journal consent.
Ethics approval
This article does not contain any studies with human participants or animals performed by any of the authors.
Additional information
Publisher's Note
Springer Nature remains neutral with regard to jurisdictional claims in published maps and institutional affiliations.
About this article
Cite this article
Sipahi, S., Kulözü-Uzunboy, N. A study on reducing the carbon footprint of architectural buildings based on their materials under the guidance of eco-design strategies. Clean Techn Environ Policy 23, 991–1005 (2021). https://doi.org/10.1007/s10098-020-02009-4
Received:

Accepted:

Published:

Issue Date:
Keywords
Eco-design

Life cycle

Environmental impact

Carbon footprint

Small house