Abstract
Street lighting (SL) forms a major share of municipal energy consumption and should thus be energy efficient. However, question of how much energy can be saved on SL without compromising on the feeling of safety (FoS), which SL helps to provide for pedestrians, poses a major challenge. To tackle this challenge, in this study, we attempt to determine the amount of energy that can potentially be saved by a proper selection of SL attributes, such as light color and uniformity, while preserving FoS by pedestrians. As the study indicates, using warmer lights and increasing light uniformity can result in 30–50% energy savings on SL. Using this assessment, we estimate that for medium-size cities with population of 200–400 K residents, energy savings on SL can reach 8–23 MWh per annum, which is equal to the output of a small-to-medium-size power plant. As we conclude, the study findings help to design more efficient SL systems that can promote urban residents' well-being, while saving energy and contributing to a cleaner and more sustainable urban environment. To the best of our knowledge, this study is the first that shows that energy on SL can be saved by using warmer lights and increasing light uniformity, while preserving a reasonable level of FoS.
Graphic abstract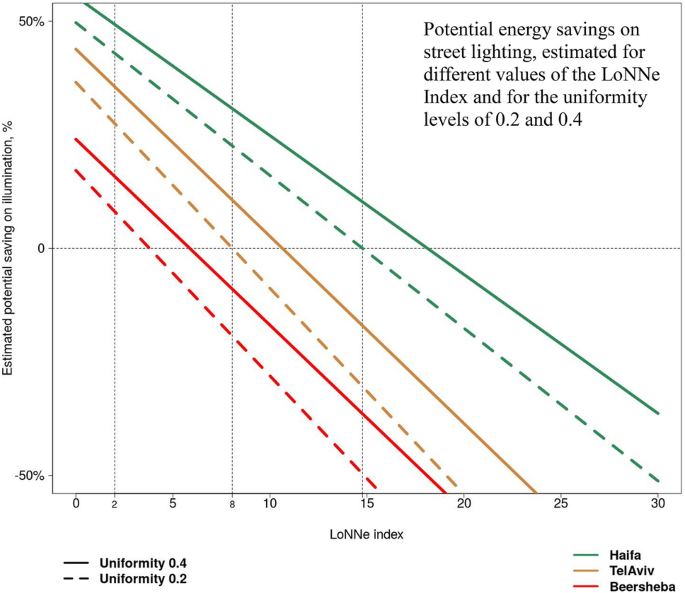 Access options
Buy single article
Instant access to the full article PDF.
USD 39.95
Price excludes VAT (USA)
Tax calculation will be finalised during checkout.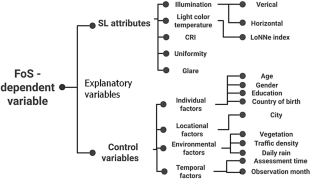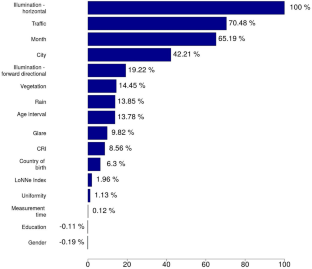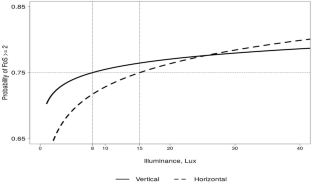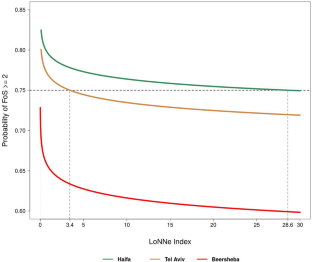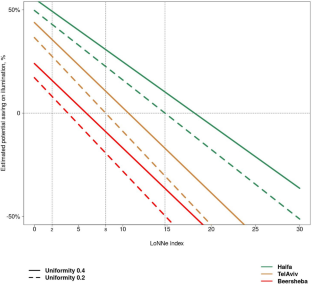 Availability of data and material
The researchers interested in gaining access to the data used in the study can ask for a de-identified dataset by contacting the Israel Science Foundation directly by email: israkeren@isf.org.il.
References
Archibong EI, Ozuomba S, Ekott E (2020) Internet of things (IoT)-based, solar powered street light system with anti-vandalisation mechanism. In: International conference in mathematics, computer engineering and computer science (ICMCECS), Ayobo, Ipaja, Lagos, Nigeria, pp 1–6, https://doi.org/10.1109/icmcecs47690.2020.240867

Beccalia M, Bonomolob M, Lo Branob V, Ciullab G, Di Diob V, Massarob F, Favuzza S (2019) Energy saving and user satisfaction for a new advanced public lighting system. Energy Convers Manag 195:943–957. https://doi.org/10.1016/j.enconman.2019.05.070

Belcher MC, Klein AK, Gadberry B (1999) User survey of subjective preference for street-lighting sources. J Architect Eng 5(3):92–97

Bonaiuto M, Fornara F, Bonnes M (2006) Perceived residential environment quality in middle- and low-extension Italian cities. Eur Rev Appl Psychol 56(1):23–34

Boomsma C, Steg L (2014) Feeling safe in the dark: examining the effect of entrapment, lighting levels, and gender on feelings of safety and lighting policy acceptability. Environ Behav 46(2):193–212. https://doi.org/10.1177/0013916512453838

Boyce PR, Eklund NH, Hamilton BJ, Bruno LD (2000) Perceptions of safety at night in different lighting conditions. Lighting Res Technol 32:79–91

Bullough J, Snyder J, Kiefer K (2019) Impacts of average illuminance, spectral distribution, and uniformity on brightness and safety perceptions under parking lot lighting. Lighting Res Technol. https://doi.org/10.1177/1477153519875171

Chyung SYY, Roberts K, Swanson I, Hankinson A (2017) Evidence-based survey design: the use of a midpoint on the Likert scale. Performance Improvement 56:15–23. https://doi.org/10.1002/pfi.21727

CIE (1994) Glare evaluation system for use within outdoor sports and area lighting. Technical Report 112. Vienna: Commission Internationale de l'Eclairage

Cost-LoNNe (2016) Protected areas in Europe: essential for safeguarding the nighttime environment. Statement of the EU-COST Action ES 1204 LoNNe Loss of the Night Network

Dialog (2020) https://dialogue.co.il/

DiLaura D, Houser K, Mistrick R, Steffy G (2011) The lighting handbook. In: Reference and application, 10th ed. Illuminating Engineering Society, New York

Djuretic A, Miomir K (2018) Actual energy savings when replacing high-pressure sodium with LED luminaires in street lighting. Energy 157:367–378. https://doi.org/10.1016/j.energy.2018.05.179

EIA—US energy information, administration (2019) Energy and the environment explained: Where greenhouse gases come from? (Retrieved May 2020), from https://www.eia.gov/energyexplained/energy-and-the-environment/where-greenhouse-gases-come-from.php

European Standards (2015) EN 13201-1-5—Road lighting. https://www.en-standard.eu/csn-en-13201-1-4-road-lighting/; Accessed 6 May 2020. EN 13201, Road lighting—Part 2: performance requirements. https://infostore.saiglobal.com/preview/98702708293.pdf?sku=862133_SAIG_NSAI_NSAI_2050991

Fornara F, Bonaiuto M, Bonnes M (2010) Cross-validation of abbreviated perceived residential environment quality (PREQ) and Neighborhood Attachment (NA) indicators. Environ Behav 42(2):171–196

Fotios S, Goodman T (2012) Proposed UK guidance for lighting in residential roads. Lighting Res Technol 44:69e83. http://dx.doi.org/10.1177/1477153511432678

Fotios S, Liachenko Monteiro A, Uttley J (2018) Evaluation of pedestrian reassurance gained by higher illuminances in residential streets using the day-dark approach. Lighting Res Technol 51(4):557–575

Gibbons RB, Hankey JM (2006) Influence of vertical illuminance on pedestrian visibility in crosswalks. Transp Res Rec 1973(1):105–112. https://doi.org/10.1177/0361198106197300113

Gokhale V (2013) People's perception of urban lighting in public space. J Architect 1:24

Guimarães JCF, Severo EA, Felix Júnior LA, Costa WPLB, Salmoria FT (2020) Governance and quality of life in smart cities: towards sustainable development goals. J Clean Prod. https://doi.org/10.1016/j.jclepro.2019.119926

Haans A, de Kort YAW (2012) Light distribution in dynamic street lighting: two experimental studies on its effects on perceived safety, prospect, concealment, and escape. J Environ Psychol 32(4):342–352

ICBS–Israel Central Bureau of Statistics (2019) Available online: https://www.cbs.gov.il/en/publications/Pages/2019/Welfare-Statistical-Abstract-of-Israel-2019-No-70.aspx. Retrieved in December 2019

IME–Israeli Ministry of Energy (2018) Available online: https://energysaving.energydmz.org/authoritiesMetrics/. Retrieved July 2020

Jagadeesh YM, Akilesh S, Karthik S, Prasanth S (2015) Intelligent street lights. Proc Technol 21:547–551. https://doi.org/10.1016/j.protcy.2015.10.050

Johansson M, Rosén M, Küller R (2011) Individual factors influencing the assessment of the outdoor lighting of an urban footpath. Lighting Res Technol. https://doi.org/10.1177/1477153510370757

Knight C (2010) Field surveys investigating the effect of lamp spectrum on the perception of safety and comfort at night. Lighting Res Technol 42(3):313–330

Kovacova M, Tomas K, Aurel P, Iulia G, Gheorghe G (2019) Big data governance of automated algorithmic decision-making processes. Rev Contemp Philos 18:126–132. https://doi.org/10.22381/RCP1820196

Lewicki M (2001) Street lighting-pollution and power waste. ReNew: Technol Sustain Future 75: 31–33. (Retrieved July 12, 2020), from www.jstor.org/stable/renetechsustfutu.75.31

Ludbrook F, Michalikova KF, Musova Z, Suler P (2019) Business models for sustainable innovation in industry 4.0: smart manufacturing processes, digitalization of production systems, and data-driven decision making. J Self-Govern Manage Econ 7(3):21–26. https://doi.org/10.22381/jsme7320193

Mardoyan A, Braun P (2015) Analysis of Czech subsidies for solid biofuels. Int J Green Energy 12(4):405–408. https://doi.org/10.1080/15435075.2013.841163

Maroušek J (2013) Study on commercial scale steam explosion of winter brassica napus STRAW. Int J Green Energy 10(9):944–951. https://doi.org/10.1080/15435075.2012.732158

Maroušek J, Strunecký O, Stehel V (2019) Biochar farming: defining economically perspective applications. Clean Technol Environ Policy 21:1389–1395. https://doi.org/10.1007/s10098-019-01728-7

Maroušek J, Strunecký O, Kolář L, Vochozka M, Kopecký M, Maroušková A, Batt J, Poliak M, Šoch M, Bartoš P, Klieštik T, Filip M, Konvalina P, Moudrý J, Peterka J, Suchý K, Zoubek T, Cera E (2020) Advances in nutrient management make it possible to accelerate biogas production and thus improve the economy of food waste processing. Energy Source A Recov Utilizat Environ Effect. https://doi.org/10.1080/15567036.2020.1776796

Moser G, Uzzell D (2003) Environmental psychology. Handbook Psychol 17:419–445

Nasar J, Bokharaei S (2017a) Lighting modes and their effects on impressions of public squares. J Environ Psychol 49:96–105

Nasar J, Bokharaei S (2017b) Impressions of lighting in public squares after dark. Environ Behav 49:227–254

Nasar JL, Fisher B, Grannis M (1993) Proximate physical cues to fear of crime. Landsc Urban Plann 26(1):161–178

Nazarenko A, Burova Z, Nazarenko O, Burima A, Babak V, Isaienko V, Zaporozhets A (2020) Multifunctional wireless automatic street led lighting monitoring, control and management system. Stud Syst Decis Control 298:137–150. https://doi.org/10.1007/978-3-030-48583-2_9

Novikova A, Stelmakh K, Klinge A, Juergens I, Hessling M (2020) Financing models for energy efficiency in public buildings and street lighting in Germany and neighbouring countries. In: Bertoldi P (ed) Improving energy efficiency in commercial buildings and smart communities. Springer Proceedings in Energy. Springer, Cham

Painter KA, Farrington DP (2001) Evaluating situational crime prevention using a young people's survey. Br J Criminol 41(2):266–284

Peña-García A, Salata F (2020) The perspective of total lighting as a key factor to increase the sustainability of strategic activities. Sustainability 12:7. https://doi.org/10.1080/15502724.2019.1574138

Rahm J, Johansson M (2018) Assessing the pedestrian response to urban outdoor lighting: a full-scale laboratory study. PLoS ONE. https://doi.org/10.1371/journal.pone.0204638

Raynham P (2016) Book review: wout van bommel: road lighting: fundamentals, technology and application. Lighting Res Technol 48(5):654. https://doi.org/10.1177/1477153516660939

Sahoo BN, Mahakud JJ, Pattanaik P (2019) Automatic street light control system. Int J Innovat Technol Explor Eng 8(11):942–945

Sánchez SF, Cano-Ortega A (2020) Smart public lighting control and measurement system using LoRa network. Electronics 9:124

Scott G, Horak J, Kovacova M, Valaskova K, Poliak M (2019a) Consumer attitudes and behaviors in the technology-driven sharing economy: motivations for participating in collaborative consumption. J Self-Govern Manage Econ 7(1):25–30. https://doi.org/10.22381/JSME7120194

Scott G, Suler P, Kliestik T, Kicova E (2019b) Industrial big data analytics for cognitive internet of things: wireless sensor networks, smart computing algorithms, and machine learning techniques. Anal Metaphys 18:23–29. https://doi.org/10.22381/AM1820193

Sloane D, Morgan SP (1996) An introduction to categorical data analysis. Ann Rev Sociol 22:351–375

Sulaiman C, Abdul-Rahim AS, Ofozor CA (2020) Does wood biomass energy use reduce CO2 emissions in European Union member countries? Evidence from 27 members. J Clean Prod. https://doi.org/10.1016/j.jclepro.2020.119996

Svechkina A, Portnov BA, Trop T (2020a) The impact of artificial light at night on human and ecosystem health: a systematic literature review. Landscape Ecol 35:1725–1742. https://doi.org/10.1007/s10980-020-01053-1

Svechkina A, Trop T, Portnov BA (2020b) How much lighting is required to feel safe when walking through the streets at night? Sustainability 12(8):3133

Tomlinson M, Solomon W, Singh Y et al (2009) The use of mobile phones as a data collection tool: a report from a household survey in South Africa. BMC Med Inform Decis Mak 9:51. https://doi.org/10.1186/1472-6947-9-51

Van Rijswijk L, Rooks G, Haans A (2016) Safety in the eye of the beholder: individual susceptibility to safety-related characteristics of nocturnal urban scenes. J Environ Psychol 45:103–115

Wu S (2014) Investigating lighting quality: examining the relationship between pedestrian lighting environment and perceived Safety. Blackburg. Virginia. https://vtechworks.lib.vt.edu/handle/10919/48170

Zhu J, Raison C (2014) Cost effective automated street lighting control. Int J Electric Comput Eng 4(4):637–642
Funding
This research was supported by the Israel Science Foundation (Grant number 400/18).
Ethics declarations
Conflict of interest
We declare hereby no conflict of interest regarding the paper.
Consent to participate
The participants consent was obtained individually from each participant online, by the survey company (Dialog Ltd.), as a precondition for participating in the survey.
Ethics approval
The study was approved by the ethics committee of the University of Haifa (Approval number 177/90).
Additional information
Publisher's Note
Springer Nature remains neutral with regard to jurisdictional claims in published maps and institutional affiliations.
Appendices
Appendix 1
See Table 5.
Appendix 2: Location of the survey neighborhoods and survey routes in the cities under study
Appendix 3
See Table 6.
About this article
Cite this article
Saad, R., Portnov, B.A. & Trop, T. Saving energy while maintaining the feeling of safety associated with urban street lighting. Clean Techn Environ Policy 23, 251–269 (2021). https://doi.org/10.1007/s10098-020-01974-0
Received:

Accepted:

Published:

Issue Date:

DOI: https://doi.org/10.1007/s10098-020-01974-0
Keywords
Street lighting (SL)

Feeling of safety (FoS)

Energy efficiency

Urban environment