Abstract
Small and medium enterprises cannot achieve environmental sustainability goals in isolation. They need to acquire capabilities to perform within networks of professional and social relations with other organizations. However, network relationships are often insufficient due to lack of sustainability in network capability. This multidimensional concept involves four components: coordination, relational skills, partner knowledge, and internal communication. This study proposes a new dimension related to the collaborative environmental relationship. This component addresses an enterprise's ability to enhance environmental collaboration, share knowledge, and increase environmental awareness. This study, therefore, suggests testing and comparing the five-dimensional scale of network capability with the existing four-dimensional scale, and examining its impact on eco-innovation capability and sustainable performance. This has not been tested previously. Using partial least squares path modelling, this study tests a set of hypothesised relationships that focus on a sample of 237 Tunisian enterprises. The findings reveal that: (1) the sample supports measurement properties of the updated network capability and indicates that the new dimension in network capability research and sustainable development is important and can be added to the finalised network capability construct, (2) network capability, with the updated five dimensions, directly and positively influences eco-innovation capability and sustainable performance, and the impacts are more effective than in the previous four-dimensional construct, and (3) eco-innovation mediates the relationship between network capability with the updated five dimensions and enterprises' sustainable performance, and the impact is more effective than in the previous four-dimensional construct. Therefore, our study will help strengthen the enterprise's performance in promoting sustainable development.
Graphic abstract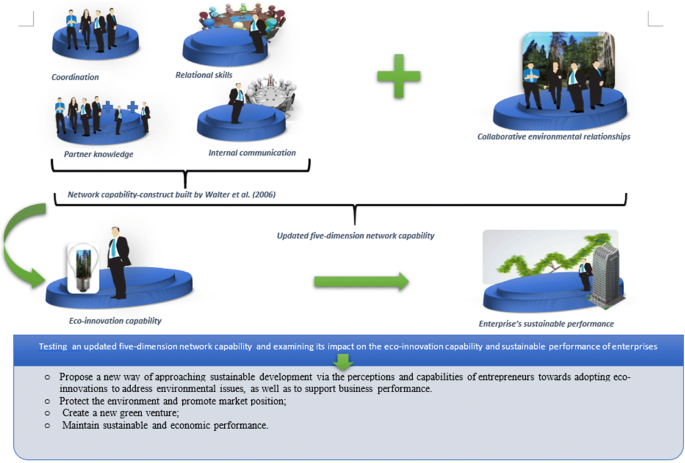 This is a preview of subscription content,
to check access.
Access this article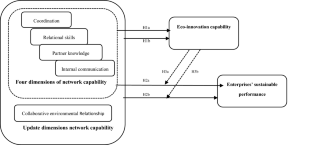 Similar content being viewed by others
References
Ahuja G, Soda G, Zaheer A (2012) The genesis and dynamics of organizational networks. Organ Sci 23:434–448

Anderson JC, Gerbing DW (1988) Structural equation modeling in practice: a review and recommended two-step approach. Psychol Bull 103:411

Aragón-Sánchez A, Sánchez-Marín G (2005) Strategic orientation, management characteristics, and performance: a study of Spanish SMEs. J Small Bus Manag 43:287–308

Arranz N, Arroyabe M, Li J, Fernandez de Arroyabe, Juan C (2020) Innovation as a driver of eco-innovation in the firm: An approach from the dynamic capabilities theory. Bus Strat Environ

Ben Amara D (2019) Questionnaire MOTIV_EIC_PDM. Harvard Dataverse, Harvard

Brass DJ, Galaskiewicz J, Greve HR, Tsai W (2004) Taking stock of networks and organizations: a multilevel perspective. Acad Manag J 47:795–817

Carnes CM, Ireland RD (2013) Familiness and innovation: resource bundling as the missing link. Entrep Theory Pract 37:1399–1419

Chandler GN, Hanks SH (1994) Market attractiveness, resource-based capabilities, venture strategies, and venture performance. J Bus Ventur 9:331–349

Chebbi HE, Pellissier J-P, Rolland J-P, Khechimi W (2019) Rapport de synthèse sur l'agriculture en Tunisie

Cochran WG (1977) Sampling techniques, 3rd edn. Wiley, New York

Cohen WM, Levinthal DA (1990) Absorptive capacity: a new perspective on learning and innovation. Adm Sci Q 35:128–152

Darnall N, Edwards D Jr (2006) Predicting the cost of environmental management system adoption: the role of capabilities, resources and ownership structure. Strateg Manag J 27:301–320

del Río P, Carrillo-Hermosilla J, Könnölä T, Bleda M (2011) Business strategies and capacities for eco-innovation. Instituto de Empresa Business School Working Paper No. EC8-124-I

Dickel P, Hörisch J, Ritter T (2018) Networking for the environment: the impact of environmental orientation on start-ups' networking frequency and network size. J Clean Prod 179:308–316

Dolfsma W, Van der Eijk R (2017) Network position and firm performance–the mediating role of innovation. Technol Anal Strateg Manag 29:556–568

Fernando Y, Chiappetta J, Jose C, Wah W-X (2019) Pursuing green growth in technology firms through the connections between environmental innovation and sustainable business performance: does service capability matter? Resour Conserv Recycl 141:8–20

Fornell C, Larcker DF (1981) Evaluating structural equation models with unobservable variables and measurement error. J Mark Res 39–50

Ghassim B, Foss L (2020) How do leaders embrace stakeholder engagement for sustainability-oriented innovation? In: New leadership in strategy and communication. Springer, New York

Gulati R, Nohria N, Zaheer A (2000) Strategic networks. Strateg Manag J 21:203–215

Hair JF Jr, Black WC, Babin BJ, Anderson RE (2010) Multivariate data analysis. Vectors, 7th edn. Pearson Prentice Hall, London

Hair JF, Sarstedt M, Ringle Christian M, Mena JA (2012) An assessment of the use of partial least squares structural equation modeling in marketing research. J Acad Mark Sci 40:414–433

Hair JF, Ringle CM, Sarstedt M (2013) Partial least squares structural equation modeling: rigorous applications, better results and higher acceptance. Long Range Plan 46:1–12

Hoang H, Antoncic B (2003) Network-based research in entrepreneurship: a critical review. J Bus Ventur 18:165–187

ITES (2017) 'La Tunisie en 2025: Les fondements de la croissance et du développement économique in Rapport économique complet'. www.ites.tn/wp-content/…/Rapport-finaleconomique-Tunisie-2025-28-aout-2017-1.pdf

Jeong I, Pae JH, Zhou D (2006) Antecedents and consequences of the strategic orientations in new product development: the case of Chinese manufacturers. Ind Mark Manag 35:348–358

Laforet S (2011) A framework of organisational innovation and outcomes in SMEs. Int J Entrep Behav Res 17:380–408

Li Y (2011) Research on the performance measurement of green supply chain management in China. J Sustain Dev 4:101

McGovern P (2006) Learning networks as an aid to developing strategic capability among small and medium-sized enterprises: a case study from the Irish polymer industry. J Small Bus Manag 44:302–305

Mellett S, Kelliher F, Harrington D (2018) Network-facilitated green innovation capability development in micro-firms. J Small Bus Enterp Dev 25:1004–1024

Paulraj A (2011) Understanding the relationships between internal resources and capabilities, sustainable supply management and organizational sustainability. J Supply Chain Manag 47:19–37

Podsakoff PM, MacKenzie SB, Lee J-Y, Podsakoff NP (2003) Common method biases in behavioral research: a critical review of the literature and recommended remedies. J Appl Psychol 88:879

Saunila M, Ukko J (2012) A conceptual framework for the measurement of innovation capability and its effects. Balt J Manag 7:355–375

Saunila M, Ukko J, Rantala T (2018) Sustainability as a driver of green innovation investment and exploitation. J Clean Prod 179:631–641

Tolstoy D, Agndal H (2010) Network resource combinations in the international venturing of small biotech firms. Technovation 30:24–36

Vesalainen J, Hakala H (2014) Strategic capability architecture: the role of network capability. Ind Mark Manag 43:938–950

Walter A, Auer M, Ritter T (2006) The impact of network capabilities and entrepreneurial orientation on university spin-off performance. J Bus Ventur 21:541–567

Wang CL, Ahmed PK (2007) Dynamic capabilities: a review and research agenda. Int J Manag Rev 9:31–51

Wang X, Dass M (2017) Building innovation capability: the role of top management innovativeness and relative-exploration orientation. J Bus Res 76:127–135

Wong KK-K (2016) Mediation analysis, categorical moderation analysis, and higher-order constructs modeling in partial least squares structural equation Modeling (PLS-SEM): a B2B example using SmartPLS', Mark Bull 26

Wong CW, Lai K-h, Shang K-C, Chin-Shan L, Leung TKP (2012) Green operations and the moderating role of environmental management capability of suppliers on manufacturing firm performance. Int J Prod Econ 140:283–294

Ying Q, Hassan H, Ahmad H (2019) The role of a manager's intangible capabilities in resource acquisition and sustainable competitive performance. Sustainability 11:527
Additional information
Publisher's Note
Springer Nature remains neutral with regard to jurisdictional claims in published maps and institutional affiliations.
About this article
Cite this article
Ben Amara, D., Chen, H. Investigating the effect of multidimensional network capability and eco-innovation orientation for sustainable performance. Clean Techn Environ Policy 22, 1297–1309 (2020). https://doi.org/10.1007/s10098-020-01871-6
Received:

Accepted:

Published:

Issue Date:

DOI: https://doi.org/10.1007/s10098-020-01871-6
Keywords