Abstract
In this study, the life cycle assessment of cotton woven shirt production, from cotton cultivation to the final product, has been done. In this scope, four alternative production scenarios were developed and evaluated with GaBi 8.0 software with CML 2001—January 2016 methodology. These scenarios include conventional cotton woven shirt production, organic cotton cultivation incorporated with renewable energy use in production phase, evaluation of natural dyeing in manufacturing process and using recovered cotton as the raw material. For each of these scenarios, several environmental impact categories including global warming, acidification and eutrophication potentials were evaluated. The functional unit was determined as 1000 pcs of shirts. In the assessment of conventional cotton woven shirt production, pesticide and synthetic fertilizer usage during cotton cultivation as well as the energy supply for the production phases were found to be the major factors increasing environmental impacts. Using organic cotton cultivation and renewable energy sources instead of the traditional techniques, decreased eutrophication potential, acidification potential and global warming potential by 48%, 52% and 70%, respectively. Using recovered cotton fibers as the raw material decreased eutrophication potential, acidification potential, abiotic depletion potential and global warming potential by 96%, 90%, 69% and 47%, respectively, by eliminating the environmental impacts that originate from cotton cultivation stage. Moreover, as these recovered cotton fibers are already colored, additional dyeing is not required. Alternatively, natural dyeing process could be a good alternative to synthetic dyeing and decline environmental impacts by minimizing the use of chemicals and decreasing the required heat for dyeing.
Graphic abstract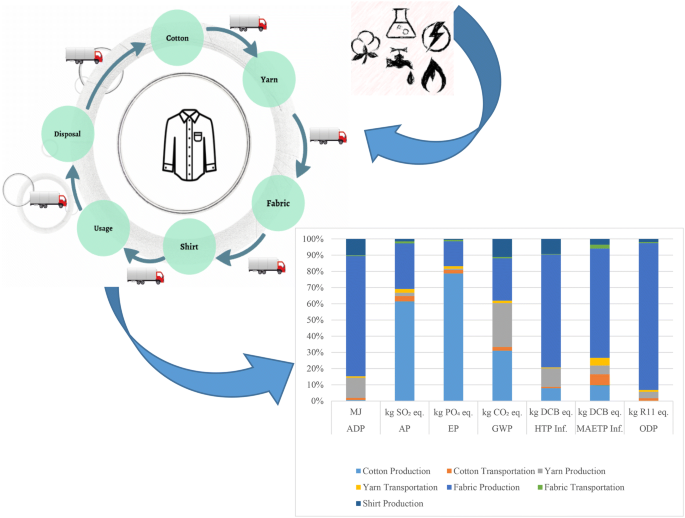 This is a preview of subscription content,
to check access.
Access this article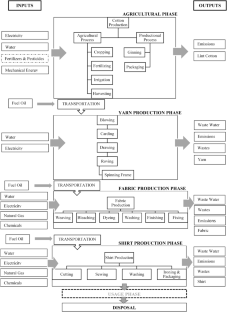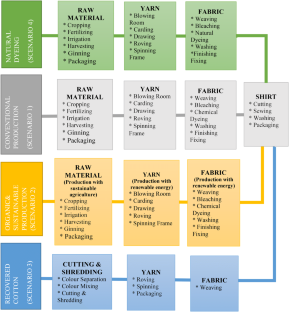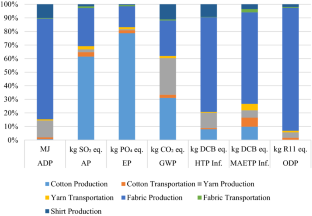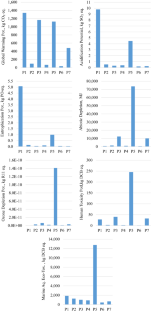 Similar content being viewed by others
References
Adviento-Borbe MAA et al (2018) Water quality of surface runoff and lint yield in cotton under furrow irrigation in Northeast Arkansas. Sci Total Environ 613–614:81–87. https://doi.org/10.1016/j.scitotenv.2017.09.020

Afreh D et al (2018) Long-term fertilization on nitrogen use efficiency and greenhouse gas emissions in a double maize cropping system in subtropical China. Soil Tillage Res 180:259–267. https://doi.org/10.1016/j.still.2018.03.016

Batool F, Iqbal N, Azeem M, Adeel S, Ali M (2019) Sustainable dyeing of cotton fabric using black carrot (Daucus carota L.) plant residue as a source of natural colorant. Pol J Environ Stud 28:3081–3087. https://doi.org/10.15244/pjoes/93712

Baydar G, Ciliz N, Mammadov A (2015) Life cycle assessment of cotton textile products in Turkey. Resour Conserv Recy 104:213–223. https://doi.org/10.1016/j.resconrec.2015.08.007

Berradi M, Hsissou R, Khudhair M, Assouag M, Cherkaoui O, El Bachiri A, El Harfi A (2019) Textile finishing dyes and their impact on aquatic environs. Heliyon 5:e02711. https://doi.org/10.1016/j.heliyon.2019.e02711

Busi E, Maranghi S, Corsi L, Basosi R (2016) Environmental sustainability evaluation of innovative self-cleaning textiles. J Clean Prod 133:439–450. https://doi.org/10.1016/j.jclepro.2016.05.072

Chapagain AK, Hoekstra AY, Savenije HHG, Gautam R (2006) The water footprint of cotton consumption: an assessment of the impact of worldwide consumption of cotton products on the water resources in the cotton producing countries. Ecol Econ 60:186–203. https://doi.org/10.1016/j.ecolecon.2005.11.027

Cheng M-D (2018) Atmospheric chemistry of hydrogen fluoride. J Atmos Chem 75:1–16. https://doi.org/10.1007/s10874-017-9359-7

CI (2012) The life cycle inventory and life cycle assessment of cotton fiber and fabric-full report. Cotton Incorporated, PE International America, Cary

Ellen MacArthur Foundation (2017) A new textiles economy: redesigning fashion's future. https://www.ellenmacarthurfoundation.org/publications/a-new-textiles-economy-redesigning-fashions-future

Esteve-Turrillas FA, de la Guardia M (2017) Environmental impact of recover cotton in textile industry. Resour Conserv Recy 116:107–115. https://doi.org/10.1016/j.resconrec.2016.09.034

Funk PA, Hardin R IV (2017) Energy utilization and conservation in cotton gins. J Cotton Sci 21:156–166

Hedayati M, Brock PM, Nachimuthu G, Schwenke G (2019) Farm-level strategies to reduce the life cycle greenhouse gas emissions of cotton production: an Australian perspective. J Clean Prod 212:974–985

Holmatov B, Hoekstra AY, Krol MS (2019) Land, water and carbon footprints of circular bioenergy production systems. Renew Sustain Energy Rev 111:224–235. https://doi.org/10.1016/j.rser.2019.04.085

ISO (2006) Environmental management—life cycle assessment—principles and framework. International Standardisation Organisation, Geneva

Kalliala EM, Nousiainen P (1999) Environmental profile of cotton and polyester–cotton fabrics. AUTEX Res J 1:8–20

Khatri A, Peerzada MH, Mohsin M, White M (2015) A review on developments in dyeing cotton fabrics with reactive dyes for reducing effluent pollution. J Clean Prod 87:50–57. https://doi.org/10.1016/j.jclepro.2014.09.017

Lescheva M, Ivolga A (2015) Current state and perspectives of sheep breeding development in Russian modern economic conditions. Econ Agric 62:467

Linhares T, de Amorim MTP (2017) LCA of textile dyeing with Acacia Dealbata tree bark: a case study research. In: Fangueiro R (ed) 3rd international conference on natural fibers: advanced materials for a greener world, ICNF 2017, vol 200. Procedia Engineering. Elsevier, Amsterdam

Manda BMK, Worrell E, Patel MK (2015) Prospective life cycle assessment of an antibacterial t-shirt and supporting business decisions to create value. Resour Conserv Recy 103:47–57. https://doi.org/10.1016/j.resconrec.2015.07.010

Mekonnen MM, Hoekstra AY (2011) The green, blue and grey water footprint of crops and derived crop products. Hydrol Earth Syst Sci 15:1577–1600

Mungai M et al (2016) World energy resources. World Energy Council, London

Muthu SS, Li Y, Hu JY, Mok PY (2012) Quantification of environmental impact and ecological sustainability for textile fibres. Ecol Indic 13:66–74. https://doi.org/10.1016/j.ecolind.2011.05.008

Nill M, Wick K (2013) The carbon and water footprint of cotton made in Africa, 2nd edn. Aid by Trade Foundation, Hamburg

Ramanantenasoa MMJ et al (2018) A new framework to estimate spatio-temporal ammonia emissions due to nitrogen fertilization in France. Sci Total Environ 645:205–219. https://doi.org/10.1016/j.scitotenv.2018.06.202

Ramírez Y, Kraslawski A, Cisternas LA (2019) Decision-support framework for the environmental assessment of water treatment systems. J Clean Prod 225:599–609. https://doi.org/10.1016/j.jclepro.2019.03.319

Roos S, Holmquist H, Jonsson C, Arvidsson R (2018) USEtox characterisation factors for textile chemicals based on a transparent data source selection strategy. Int J Life Cycle Ass 23:890–903. https://doi.org/10.1007/s11367-017-1330-y

Roos S, Posner S, Jonsson C, Peters GM (2015) Is unbleached cotton better than bleached? Exploring the limits of life-cycle assessment in the textile sector. Cloth Text Res J 33:231–247. https://doi.org/10.1177/0887302x15576404

Santoyo-Castelazo E, Azapagic A (2014) Sustainability assessment of energy systems: integrating environmental, economic and social aspects. J Clean Prod 80:119–138. https://doi.org/10.1016/j.jclepro.2014.05.061

Schmidt Rivera XC, Bacenetti J, Fusi A, Niero M (2017) The influence of fertiliser and pesticide emissions model on life cycle assessment of agricultural products: the case of Danish and Italian barley. Sci Total Environ 592:745–757. https://doi.org/10.1016/j.scitotenv.2016.11.183

Shah P, Bansal A, Singh RK (2018) Life cycle assessment of organic, BCI and conventional cotton: a comparative study of cotton cultivation practices in India. In: Benetto E, Gericke K, Guiton M (eds) designing sustainable technologies, products and policies: from science to innovation. Springer, Cham

Sipperly E, Edinger K, Teamhy S, Jasper N (2015) Life cycle assessment of conventional and organic cotton cultivation for the production of a t-shirt. https://www.edensipperly.com/uploads/5/0/7/9/50792091/lca_final_paper.pdf. Accessed 6 June 2019

Sohail Yasin NB, Perwuelz A, Guan J (2017) Life cycle assessment of flame retardant cotton textiles with optimized end-of-life phase. J Clean Prod. https://doi.org/10.1016/j.jclepro.2017.10.198

Stoppato A (2008) Life cycle assessment of photovoltaic electricity generation. Energy 33:224–232. https://doi.org/10.1016/j.energy.2007.11.012

TE (2014) The life cycle assessment of organic cotton fiber-a global average. Textile Exchange, Lamesa

Tyrell K, Denissen A-K, Roger I, Schonenberg L, Holland R, Peters E, Woolford J, Verhoestraete E (2017) Sustainable cotton ranking. Pesticide Action Network UK, Solidaridad, WWF International

Ullah A, Perret SR, Gheewala SH, Soni P (2016) Eco-efficiency of cotton-cropping systems in Pakistan: an integrated approach of life cycle assessment and data envelopment analysis. J Clean Prod 134:623–632. https://doi.org/10.1016/j.jclepro.2015.10.112

van der Velden NM, Patel MK, Vogtlander JG (2014) LCA benchmarking study on textiles made of cotton, polyester, nylon, acryl, or elastane. Int J Life Cycle Ass 19:331–356. https://doi.org/10.1007/s11367-013-0626-9

Yacout DMM, El-Kawi MAA, Hassouna MS (2016) Cradle to gate environmental impact assessment of acrylic fiber manufacturing. Int J Life Cycle Ass 21:326–336. https://doi.org/10.1007/s11367-015-1023-3

Yıldız M, Gürkan O, Cafer T, Ümmühan K, Gültekin Ü (2005) Tarımsal Savaşımda Kullanılan Pestisitlerin Yol Açtığı Çevre Sorunları.22

Zhang Y, Kang H, Hou HC, Shao S, Sun XY, Qin CL, Zhang SS (2018) Improved design for textile production process based on life cycle assessment. Clean Technol Environ Policy 20:1355–1365. https://doi.org/10.1007/s10098-018-1572-9
Ethics declarations
Conflict of interest
The authors declare that they have no conflict of interest.
Additional information
Publisher's Note
Springer Nature remains neutral with regard to jurisdictional claims in published maps and institutional affiliations.
About this article
Cite this article
Kazan, H., Akgul, D. & Kerc, A. Life cycle assessment of cotton woven shirts and alternative manufacturing techniques. Clean Techn Environ Policy 22, 849–864 (2020). https://doi.org/10.1007/s10098-020-01826-x
Received:

Accepted:

Published:

Issue Date:

DOI: https://doi.org/10.1007/s10098-020-01826-x
Keywords