Abstract
The current work reports experimental outcomes about anaerobic digestion (AD) of the organic fraction of catering solid waste to produce biogas and methane yield and solidity of the entire system. The possibility of developing AD as an efficient technique for food waste management has also been considered. Inoculation is an established technique to enhance biogas yield through digested sludge, rumen fluid, and slurry recirculation; although this method is proven on cattle manure, however, it is not well studied on food waste. The current study investigates the use of animal intestinal waste as inoculums to enhance biogas yield of food waste. The findings are benchmarked with cattle manure employing known digester materials of carbon steel, aluminum alloy, and at anaerobic mesophilic conditions. The inoculation was varied up to 30% by mass of the substrate materials in each case. The research finds that food waste inoculation was up to 30% using carbon steel reactor under mesophilic temperature conditions (30 ± 1 °C). The food waste produced biogas at a faster rate with a higher yield compared to cattle manure in all digester materials. The biogas yield kept increasing with increasing inoculum ratio reaching optimal at 30% in the case of both food waste and cattle manure with all the digester materials.
Graphic abstract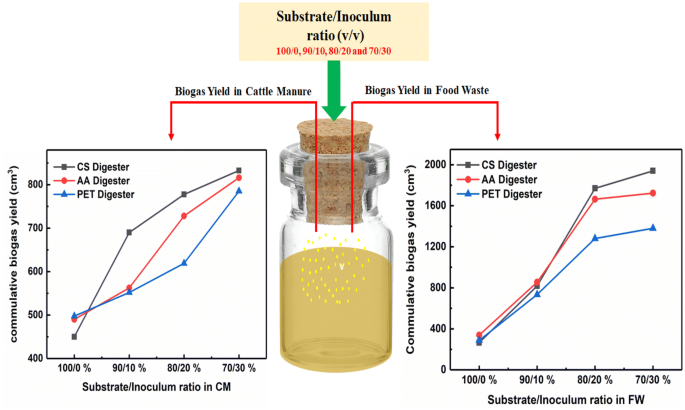 This is a preview of subscription content, log in to check access.
Access options
Buy single article
Instant access to the full article PDF.
US$ 39.95
Price includes VAT for USA
Subscribe to journal
Immediate online access to all issues from 2019. Subscription will auto renew annually.
US$ 99
This is the net price. Taxes to be calculated in checkout.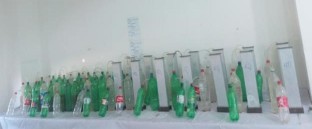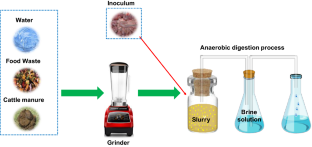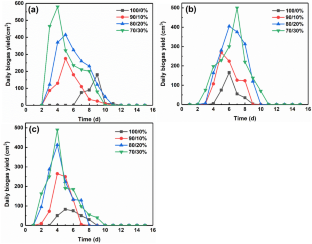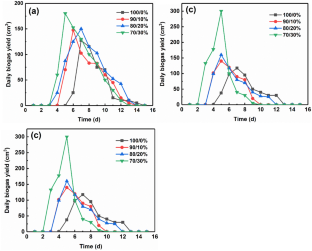 References
Agrahari R, Tiwari G (2013) The production of biogas using kitchen waste. Int J Energy Sci 3(6):408–413

Agyeman FO, Tao W (2014) Anaerobic co-digestion of food waste and dairy manure: effects of food waste particle size and organic loading rate. J Environ Manag 133:268–274

Aragaw T, Gessesse A (2013) Co-digestion of cattle manure with organic kitchen waste to increase biogas production using rumen fluid as inoculums. Int J Phys Sci 8(11):443–450

Aslam M, Yang P, Lee P-H, Kim J (2018) Novel staged anaerobic fluidized bed ceramic membrane bioreactor: energy reduction, fouling control and microbial characterization. J Membr Sci 553:200–208

Bouallagui H, Haouari O, Touhami Y, Cheikh RB, Marouani L, Hamdi M (2004) Effect of temperature on the performance of an anaerobic tubular reactor treating fruit and vegetable waste. Process Biochem 39(12):2143–2148

Browne JD, Murphy JD (2013) Assessment of the resource associated with biomethane from food waste. Appl Energy 104:170–177

Budiyono B, Seno J, Sunarso S (2009) Influence of inoculum content on performance of anaerobic reactors for treating cattle manure using rumen fluid inoculum. Int J Eng Technol 1(3):109–116

Chen Z, Yun S, Xue L, Wang Z, Xu H, Du T (2018) Low-cost composited accelerants for anaerobic digestion of dairy manure: focusing on methane yield, digestate utilization and energy evaluation. Bioresour Technol 263:517–524

Chynoweth D, Turick C, Owens J, Jerger D, Peck M (1993) Biochemical methane potential of biomass and waste feedstocks. Biomass Bioenergy 5(1):95–111

Chynoweth D, Townsend T, Sinfontes J (2002) Anaerobic composting for recovery of energy, nutrients, and composting from solids waste during extended space missions. Environmental Systems Commercial Space Technology Center. Annual Report, 1–11

David A, Govil T, Tripathi A, McGeary J, Farrar K, Sani R (2018) Thermophilic anaerobic digestion: enhanced and sustainable methane production from co-digestion of food and lignocellulosic wastes. Energies 11(8):2058

Davidsson Å, Wawrzynczyk J, Norrlöw O, la Cour Jansen J (2007) Strategies for enzyme dosing to enhance anaerobic digestion of sewage sludge. J Residuals Sci Technol 4(1):1–7

Demirel B, Yenigün O (2002) Two-phase anaerobic digestion processes: a review. J Chem Technol Biotechnol Int Res Process Environ Clean Technol 77(7):743–755

Feng L, Li Y, Chen C, Liu X, Xiao X, Ma X, Zhang R, He Y, Liu G (2013) Biochemical methane potential (BMP) of vinegar residue and the influence of feed to inoculum ratios on biogas production. BioResources 8(2):2487–2498

Forster-Carneiro T, Pérez M, Romero L, Sales D (2007) Dry-thermophilic anaerobic digestion of organic fraction of the municipal solid waste: focusing on the inoculum sources. Biores Technol 98(17):3195–3203

Forster-Carneiro T, Pérez M, Romero L (2008) Influence of total solid and inoculum contents on performance of anaerobic reactors treating food waste. Biores Technol 99(15):6994–7002

Gerardi MH (2003) The microbiology of anaerobic digesters. Wiley, New York

Hagos K, Zong J, Li D, Liu C, Lu X (2017) Anaerobic co-digestion process for biogas production: progress, challenges and perspectives. Renew Sustain Energy Rev 76:1485–1496

Han F, Yun S, Zhang C, Xu H, Wang Z (2019) Steel slag as accelerant in anaerobic digestion for nonhazardous treatment and digestate fertilizer utilization. Biores Technol 282:331–338

Huang X, Yun S, Zhu J, Du T, Zhang C, Li X (2016) Mesophilic anaerobic co-digestion of aloe peel waste with dairy manure in the batch digester: focusing on mixing ratios and digestate stability. Biores Technol 218:62–68

Iqbal SA, Rahaman S, Rahman M, Yousuf A (2014) Anaerobic digestion of kitchen waste to produce biogas. Proc Eng 90:657–662

Iyagba ET, Mangibo IA, Mohammad YS (2009) The study of cow dung as co-substrate with rice husk in biogas production. Sci Res Essays 4(9):861–866

Jestin-Fleury N (1994) International Energy Agency. World energy outlook. Politique étrangère 59(59):564–565

Kheiredine B, Derbal K, Bencheikh-Lehocine M (2014) Effect of inoculums to substrate ratio on thermophilic anaerobic digestion of the dairy wastewater. Chem Eng 37:865–870

Kiran EU, Trzcinski AP, Liu Y (2015) Enhancing the hydrolysis and methane production potential of mixed food waste by an effective enzymatic pretreatment. Bioresour Technol 183:47–52

Labatut RA, Scott NR (2008) Experimental and predicted methane yields from the anaerobic co-digestion of animal manure with complex organic substrates. ASABE paper (085087)

Latif MA, Mehta CM, Batstone DJ (2017) Influence of low pH on continuous anaerobic digestion of waste activated sludge. Water Res 113:42–49

Lawal A, Dzivama A, Wasinda M (2016) Effect of inoculum to substrate ratio on biogas production of sheep paunch manure. Res Agric Eng 62(1):8–14

Liu G, Zhang R, El-Mashad HM, Dong R (2009) Effect of feed to inoculum ratios on biogas yields of food and green wastes. Biores Technol 100(21):5103–5108

Liu C, Li H, Zhang Y, Liu C (2016) Improve biogas production from low-organic-content sludge through high-solids anaerobic co-digestion with food waste. Biores Technol 219:252–260

Lopes WS, Leite VD, Prasad S (2004) Influence of inoculum on performance of anaerobic reactors for treating municipal solid waste. Biores Technol 94(3):261–266

Lopez VM, Florentino B, Barlaz MA (2016) Chemical composition and methane potential of commercial food wastes. Waste Manag 56:477–490

Mohan S, Bindhu BK (2008) Effect of phase separation on anaerobic digestion of kitchen waste. J Environ Eng Sci 7(2):91–103

Nasir IM, Ghazi TIM, Omar R, Idris A (2013) Anaerobic digestion of cattle manure: influence of inoculum concentration. Int J Eng Technol 10(1):22–26

Pettygrove G, Heinrich A, Eagle A (2009) Dairy manure nutrient content and forms-UC manure technical guide series. University of California Cooperative Extension, Half Moon Bay, CA

Poliafico M (2007) Anaerobic digestion: decision support software. Masters Degree Dissertation. Cork Institute of Technology, Department of Civil, Structural and Environmental Engineering. Supervisor Dr. Jerry D. Murphy June

Qiao W, Yan X, Ye J, Sun Y, Wang W, Zhang Z (2011) Evaluation of biogas production from different biomass wastes with/without hydrothermal pretreatment. Renew Energy 36(12):3313–3318

Rabiu A, Yaakub H, Liang J, Samsudin A (2014) Enhancing biogas production rate of cattle manure using rumen fluid of ruminants. J Agric Vet Sci 7:25–28

Raposo F, Fernández-Cegrí V, De la Rubia M, Borja R, Béline F, Cavinato C, Demirer G, Fernández B, Fernández-Polanco M, Frigon J (2011) Biochemical methane potential (BMP) of solid organic substrates: evaluation of anaerobic biodegradability using data from an international interlaboratory study. J Chem Technol Biotechnol 86(8):1088–1098

Richard T (1996) The effect of lignin on biodegradability. Cornell Composting Science and Engineering

Salminen EA, Rintala JA (2002) Semi-continuous anaerobic digestion of solid poultry slaughterhouse waste: effect of hydraulic retention time and loading. Water Res 36(13):3175–3182

Shah GM, Groot J, Oenema O, Lantinga E (2012) Covered storage reduces losses and improves crop utilisation of nitrogen from solid cattle manure. Nutr Cycl Agroecosyst 94(2–3):299–312

Shah G, Rashid M, Shah G, Groot J, Lantinga E (2013) Mineralization and herbage recovery of animal manure nitrogen after application to various soil types. Plant Soil 365(1–2):69–79

Shimizu C (1992) Holding anaerobic bacteria in digestion tank. JP Patent, 4341398

Wang Z, Yun S, Xu H, Wang C, Zhang Y, Chen J, Jia B (2019) Mesophilic anaerobic co-digestion of acorn slag waste with dairy manure in a batch digester: focusing on mixing ratios and bio-based carbon accelerants. Biores Technol 286:121394

Wilkie AC (2005) Anaerobic digestion of dairy manure: Design and process considerations. Dairy Manure Manag Treat Hand Commun Relat 301:312

Wong M, Cheung Y (1995) Gas production and digestion efficiency of sewage sludge containing elevated toxic metals. Biores Technol 54(3):261–268

Wu X, Chen G, Wu X, Yang Q, Alsaedi A, Hayat T, Ahmad B (2015) Renewability and sustainability of biogas system: cosmic exergy based assessment for a case in China. Renew Sustain Energy Rev 51:1509–1524

Xu F, Li Y, Ge X, Yang L, Li Y (2018) Anaerobic digestion of food waste—challenges and opportunities. Biores Technol 247:1047–1058

Yong Z, Dong Y, Zhang X, Tan T (2015) Anaerobic co-digestion of food waste and straw for biogas production. Renew Energy 78:527–530

Yun S, Fang W, Du T, Hu X, Huang X, Li X, Zhang C, Lund PD (2018) Use of bio-based carbon materials for improving biogas yield and digestate stability. Energy 164:898–909

Yun S, Zhang C, Wang Y, Zhu J, Wei Y (2019) Synergistic effects of Fe salts and composite additives on anaerobic digestion of dairy manure. Int Biodeterior Biodegrad 136:82–90

Zhang R, El-Mashad HM, Hartman K, Wang F, Liu G, Choate C, Gamble P (2007) Characterization of food waste as feedstock for anaerobic digestion. Biores Technol 98(4):929–935
Acknowledgements
The authors acknowledge support from COMSATS University Islamabad, Lahore and Vehari campus. Financial support from the National Key R&D Program of China (2018YFB1502902) and Key Program for International S&T Cooperation Projects of Shaanxi Province (2019KWZ-03) is greatly acknowledged. The authors also thank Mr. Kaijun Wang, Ms. Feng Han, Mr. Jiageng Chen, and Dr. Nosheen Zaffer for providing valuable suggestions on the revision.
Additional information
Publisher's Note
Springer Nature remains neutral with regard to jurisdictional claims in published maps and institutional affiliations.
About this article
Cite this article
Abbas, Y., Jamil, F., Rafiq, S. et al. Valorization of solid waste biomass by inoculation for the enhanced yield of biogas. Clean Techn Environ Policy 22, 513–522 (2020). https://doi.org/10.1007/s10098-019-01799-6
Received:

Accepted:

Published:

Issue Date:
Keywords
Inoculation

Biogas

Food waste

Cattle manure

Digester material