The impacts of the sulphur emission regulation on the sulphur emission abatement innovation system in the Baltic Sea region
Abstract
According to the Porter hypothesis, regulations on environmental emissions under certain conditions can promote eco-innovation. This is why the technological innovation systems (TIS) theory sees regulatory pressure as a major system function critical in the take-off phase. In other words, the design and timing of any regulation may be decisive for the regulatory outcome. The research seeks to provide empirical evidence on how the Baltic Sea Sulphur Emission Control Area (SECA) has impacted the technological innovation system within the Baltic Sea Region maritime sectors. The results (1) show that regulatory compliance gave a knowledge development that has made it possible for clean-tech companies to engage in entrepreneurial activities that created new markets, (2) empirically support the TIS theory and the Porter hypothesis, and (3) provide qualitative evidence on how businesses see environmental regulation.
Graphical abstract
The innovation system for ship sulphur emission abatement.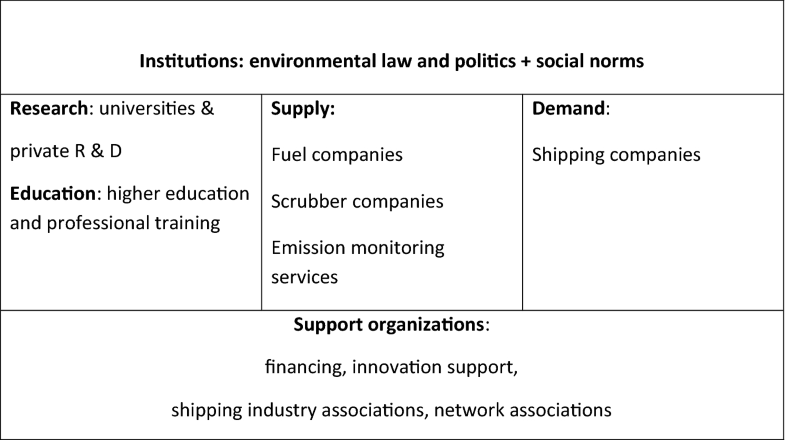 Keywords
Eco-innovation 
Environmental regulation 
Technological innovation system (TIS) 
Sulphur 
Notes
Acknowledgements
Funding was provided by EU Interreg Baltic Sea Region Program. Open access funding provided by University of Turku (UTU) including Turku University Central Hospital.
Copyright information
© The Author(s) 2019
Open AccessThis article is distributed under the terms of the Creative Commons Attribution 4.0 International License (http://creativecommons.org/licenses/by/4.0/), which permits unrestricted use, distribution, and reproduction in any medium, provided you give appropriate credit to the original author(s) and the source, provide a link to the Creative Commons license, and indicate if changes were made.