Abstract
This article deals with experiences acquired during the process of developing the Timbre Brownfield Prioritization Tool (TBPT). Developing a decision support tool that takes into account the expectations and experiences of its potential users is similar to creating applicable knowledge by the joint action of scientists and heterogeneous actors. Actor network theory is used to explore the construction of this form of applicable knowledge as a process of actor network creation. Following the French sociologist Callon, networks are seen to be initiated and carried out by a group of scientists (tool developers) via four moments of translation, called problematization, interessement, enrolment and mobilization. Each step in the construction of the TBPT—from the initial research question to the final model—can be linked in retrospect to changing configurations of actor networks. Based on the experiences of the tool developers in the Czech Republic, Poland, Germany and Romania, we illustrate how these configurations varied across space and time. This contribution emphasizes the ability to correlate gains in knowledge with the more visible changes in the scope of actor networks in order to highlight achievements but also limitations in acquiring applicable knowledge.
This is a preview of subscription content, log in to check access.
Access options
Buy single article
Instant access to the full article PDF.
US$ 39.95
Price includes VAT for USA
Subscribe to journal
Immediate online access to all issues from 2019. Subscription will auto renew annually.
US$ 99
This is the net price. Taxes to be calculated in checkout.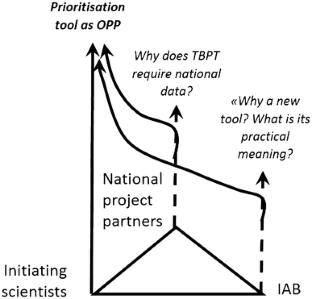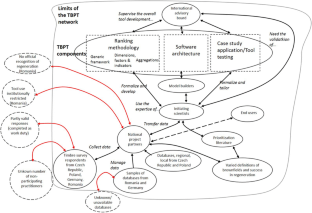 Notes
1.

Timbre is the acronym of the FP7 project Tailored Improvement of Brownfield Regeneration in Europe (2011–2014).

2.

This includes material objects, non-human beings and texts (Callon 1990).

3.

The word context is ours rather than Latour's.

4.

As used here, intelligence has a broader meaning than in that of the first phase of the decision process (intelligence gathering), which is followed by the design and choice phases (McIntosh et al. 2011).

5.

This means being defined as more than of strict scientific interest.

6.
References
Arnott D, Pervan G (2005) A critical analysis of decision support systems research. J Inf Technol 20(2):67–87. doi:10.1057/palgrave.jit.2000035

Arnott D, Pervan G (2008) Eight key issues for the decision support systems discipline. Decis Support Syst 44(3):657–672. doi:10.1016/j.dss.2007.09.003

Bartke S, Schwarze R (2015) There cannot be perfect tools: trade-offs of sustainability principles and user requirements in designing tools supporting sustainable land-use decisions between greenfields and brownfields. J Environ Manag 153:11–24. doi:10.1016/j.jenvman.2015.01.040

Bartke S, Martinát S, Klusáček P, Pizzol L, Alexandrescu F, Frantál B, Critto A, Zabeo A (2016) Targeted selection of brownfields from portfolios for sustainable regeneration: user experiences from five cases testing the timbre brownfield prioritization tool. J Environ Manag 184:94–107. doi:10.1016/j.jenvman.2016.07.037

Boerboom L, Ferretti V (2014) Actor-network-theory perspective on a forestry decision support system design. Scand J For Res 29(sup 1):84–95. doi:10.1080/02827581.2014.946960

Bojovic D, Bonzanigo L, Giupponi C, Maziotis A (2015) Online participation in climate change adaptation: a case study of agricultural adaptation measures in Northern Italy. J Environ Manag 157:8–19

Brno Brownfields (2013) [online] available from: gis.brno.cz/flex/flexviewer/index.php?project = gismb_brownfields_public

Callon M (1986) The sociology of an actor-network: the case of the electric vehicle. In: Callon M, Law J, Rip A (eds) Mapping the dynamics of science and technology: sociology of science in the real world. Macmillan, Basingstoke, pp 19–34

Callon M (1990) Techno-economic networks and irreversibility. Sociol Rev 38(S1):132–161

Callon M (2007 [1986a]) Some elements of a sociology of translation: domestication of the scallops and the fishermen of St Brieuc Bay. In: Asdal K, Brenna B, Moser I (eds) Technoscience: the politics of interventions, Oslo Academic Press, Oslo, pp 57–78

Callon M, Latour B (1981) Unscrewing the big Leviathan: how actors macro-structure reality and how sociologists help them to do so. In: Knorr-Cetina K, Cicourel AV (eds) Advances in social theory and methodology: toward an integration of micro-and macro-sociologies, Routledge, Boston, pp 277–303

Callon M, Law J (1997) After the individual in society: lessons on collectivity from science, technology and society. Can J Sociol 22(2):165–182

Callon M, Rabeharisoa V (2003) Research "in the wild" and the shaping of new social identities. Technol Soc 25:193–204

Callon M, Lascoumes P, Barthe Y (2009) Acting in an uncertain world: an essay on technical democracy. MIT Press, Cambridge

Cobârzan B (2007) Brownfield redevelopment in Romania. Transylv Rev Adm Sci 3:28–46

Courtney JF (2001) Decision making and knowledge management in inquiring organizations: toward a new decision-making paradigm for DSS. Decis Support Syst 31:17–38

Diez E, McIntosh BS (2009) A review of the factors which influence the use and usefulness of information systems. Environ Model Softw 24:588–602

El-Gayar O, Fritz B (2006) Environmental management information systems (EMIS) for Sustainable development : a conceptual overview. Commun Assoc Inf Syst 17:756–784

Eom S (2011) The intellectual structure of decision support systems research (1991–2004). In: Schuff D, Paradice D, Burstein F, Power DJ, Ramesh S (eds) Decision support an examination of the DSS discipline. Springer, New York, pp 49–68

Frantál B, Klusáček P, Kunc J, Martinát S (2012) Report on results of survey on brownfield regeneration and statistical analysis. TIMBRE Deliv D3:1. doi:10.13140/2.1.1546.7202

Frantál B, Kunc J, Klusáček P, Martinát S (2015) Assessing success factors of brownfields regeneration: international and inter-stakeholder perspective. Transylv Rev Adm Sci 44(E):91–107

Gad C, Jensen CB (2010) On the consequences of post-ANT. Sci Technol Hum Values 35(1):55–80. doi:10.1177/0162243908329567

Garb Y, Jackson J (2010) Brownfields in the Czech Republic 1989–2009: the long path to integrated land management. J Urban Regen Renew 3(3):263–276

Gross M (2006) Beyond expertise: ecological science and the making of socially robust restoration strategies. J Nat Conserv 14(3):172–179. doi:10.1016/j.jnc.2006.05.004

Jóhannesson GT (2005) Tourism translations: actor-network theory and tourism research. Tour Stud 5(2):133–150. doi:10.1177/1468797605066924

Klusáček P, Frantál B, Kunc J, Martinát S, Osman R, Zabeo A, Bartke S, Finkel M, Morio M, Cosmo L, Pizzol L (2013) Prioritization tool, software, and manual. Timbre Deliv D3:2. doi:10.13140/2.1.1382.8807

Klusáček P, Frantál B, Kunc J, Martinát S, Osman R, Zabeo A, Cosmo L, Alexandrescu F, Brückmann C, Bartke S, Finkel M, Morio M, Pizzol L, Krupanel J, Homuth A, Sileam T (2014) Prioritization tool: result of demonstration studies and outreach material. Timbre Deliv D3:3. doi:10.13140/2.1.3078.6247

Latour B (1987) Science in action: how to follow scientists and engineers through society. Harvard University Press, Cambridge

Latour B (1999) Pandora's hope: essays on the reality of science studies. Harvard University Press, Cambridge

Latour B (2005) Reassembling the social-an introduction to actor-network-theory. Oxford University Press, Oxford

Latour M, Woolgar S (1979) Laboratory life: the social construction of scientific facts. Sage, London

Liberecký Region database (2013) [online] available from: regionalni-rozvoj.kraj-lbc.cz/page3531/english-version

Mason RO, Mitroff II (1973) Program for research on management information systems. Manag Sci 19(6):475–488

McIntosh BS, Ascough JC, Twery M et al (2011) Environmental decision support systems (EDSS) development: challenges and best practices. Environ Model Softw 26:1389–1402

Murdoch J (1998) The spaces of actor-network theory. Geoforum 29(4):357–374. doi:10.1016/S0016-7185(98)00011-6

Onwubuya K, Cundy A, Puschenreiter M (2009) Developing decision support tools for the selection of "gentle" remediation approaches. Sci Total Environ 407:6132–6142

Pippin AM (2009) Community involvement in brownfield redevelopment Makes cents: a study of brownfield redevelopment initiatives in the United States and Central and Eastern Europe. Georg J Int Comp Law 37:589–619

Pizzol L, Zabeo A, Klusáček P, Giubilato E, Critto A, Frantál B, Martinát S, Kunc J, Osman R, Bartke S (2016) Timbre brownfield prioritization tool to support effective brownfield regeneration. J Environ Manag 116:178–192. doi:10.1016/j.jenvman.2015.09.030

Popescu G, Pătrăşcoiu R (2012) Brownfields sites—between abandonment and redevelopment case study: craiova City. Hum Geogr 6(1):91–97. doi:10.5719/hgeo.2012.61.9

Review of Brno Brownfields Revitalisation (2013) [online] available from: www.brno.cz/fileadmin/user_upload/Podnikatel/Brownfields_2013_EN.pdf

Rizzoli AE, Young WJ (1997) Delivering environmental decision support systems: software tools and techniques. Environ Model Softw 12(2–3):237–249. doi:10.1016/S1364-8152(97)00016-9

Sandink D, Simonovic SP, Schardong A, Srivastav R (2016) A decision support system for updating and incorporating climate change impacts into rainfall intensity-duration-frequency curves: review of the stakeholder involvement process. Environ Model Softw 84:193–209

Semezin E, Sutter GW II (2009) Decision support systems (DSSs) for Inland and coastal waters Management—gaps and challenges. In: Marcomini A, Sutter GW II, Critto A (eds) Decision support systems for risk-based management of contaminated sites. Springer, London, pp 427–430

Shim JP, Warkentin M, Courtney JF, Power DJ, Sharda R, Carlsson C (2002) Past, present, and future of decision support technology. Decis Support Syst 33(2):111–126. doi:10.1016/S0167-9236(01)00139-7

Timbre (2010): Description of Work of European Commission's Seventh Framework Programme funded project Timbre—Tailored Improvement of Brownfield Regeneration in Europe—in theme ENV.2010.3.1.5-2—environmental technologies for brownfield regeneration—available on request from coordinator—timbre-info@ufz.de

Walsham G, Sahay S (1999) GIS for district-level administration in India: problems and opportunities. MIS Q 23(1):39–65
Acknowledgement
The authors gratefully acknowledge the financial support for the research leading to this article. This work was supported by the European Commission's Seventh Framework Programme in the theme ENV.2010.3.1.5-2—Environmental technologies for brownfield regeneration: project Timbre—Tailored Improvement of Brownfield Regeneration in Europe (Grant No. 265364). The sponsor had neither influence on the study design nor any involvement in the collection, analysis or interpretation of the data, in writing the report or in the decision to submit the report for publication. The work was also enabled by the Czech Science Foundation (Geography of recycling of urban space, 17-26934S). We are, moreover, grateful for valuable comments to members of the Timbre International Advisory Board, two anonymous reviewers and the editorial team. We are also thankful to all our respondents who have shared their insights with us and in particular to the late Teodor Sileam. The "Timbre Brownfield Prioritization Tool" is available for end-users for free after registration at the following internet address: www.timbre-project.eu/Prioritization-Tool.html.
About this article
Cite this article
Alexandrescu, F., Klusáček, P., Bartke, S. et al. Actor networks and the construction of applicable knowledge: the case of the Timbre Brownfield Prioritization Tool. Clean Techn Environ Policy 19, 1323–1334 (2017). https://doi.org/10.1007/s10098-016-1331-8
Received:

Accepted:

Published:

Issue Date:
Keywords
Actor network theory

Applicable knowledge

Brownfield prioritization

Four moments of translation

End-users

Timbre research project