Abstract
In Taiwan, due to the limited capacity of waste cooking oil, palm oil has been viewed as the potential low-cost imported feedstock for producing biodiesel, in the way of obtaining oil feedstock in Malaysia and producing biodiesel in Taiwan. This study aims to evaluate the cradle-to-grave life cycle environmental performance of palm biodiesel within two different Asian countries, Malaysia and Taiwan. The phases of the life cycle such as direct land-use-change impact, plantation and milling are investigated based on the Malaysia case and those of refining, and fuel production as well as engine combustion is based on Taiwan case. The greenhouse gas (GHG) emission and energy consumption for the whole life cycle were calculated as −28.29 kg CO2-equiv. and +23.71 MJ/kg of palm-derived biodiesel. We also analyze the impacts of global warming potential (GWP) and the payback time for recovering the GHG emissions when producing and using biodiesel. Various scenarios include (1) clearing rainforest or peat-forest; (2) treating or discharging palm-oil-milling effluent (POME) are further developed to examine the effectiveness of improving the environmental impacts
Access options
Buy single article
Instant access to the full article PDF.
USD 39.95
Price excludes VAT (USA)
Tax calculation will be finalised during checkout.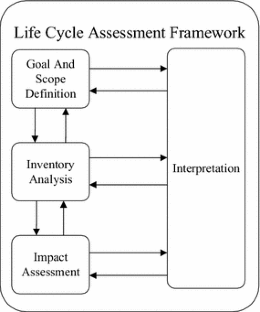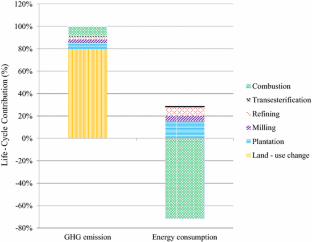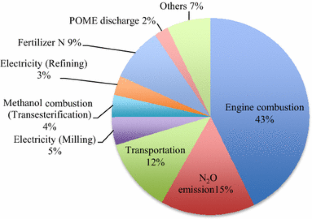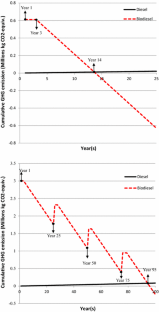 References
Achten WM, Vandenbempt P, Almeida J, Mathijs E, Muys B (2010) Life cycle assessment of a palm oil system with simultaneous production of biodiesel and cooking oil in Cameroon. Environ Sci Technol 44:4809–4815

Al-Zuhair S (2007) Production of biodiesel: possibilities and challenges. Biofuels Bioprod Bioref 1:57–66

Azmi NS, Yunos KFM (2014) Wastewater treatment of palm oil mill effluent (POME) by ultrafiltration membrane separation technique coupled with adsorption treatment as pre-treatment. Agric Agric Sci Procedia 2:257–264. doi:10.1016/j.aaspro.2014.11.037

Basiron Y (2007) Palm oil production through sustainable plantations. Eur J Lipid Sci Technol 109:289–295

Bhojvaid PP (2006) Biofuels: towards a greener and secure energy future. TERI Press, New Delhi

Boustead I, Hancock GF (1979) Handbook of industrial energy analysis. Wiley, New York

Brownstein AM (2014) Renewable motor fuels: the past, the present and the uncertain future. Butterworth-Heinemann, Oxford

Canakci M (2007) Combustion characteristics of a turbocharged DI compression ignition engine fueled with petroleum diesel fuels and biodiesel. Bioresour Technol 98:1167–1175

Corley RHV, Tinker P (2008) The oil palm. Wiley, New York

Da Costa RE, Lora E, Angarita E, Torres E The energy balance in the production of palm oil biodiesel two case studies: Brazil and Colombia. In: Proceedings, world bioenergy. Conference and exhibition on biomass for energy, Jonkoping, Sweden, May 2006

Darnoko D, Cheryan M (2000) Kinetics of palm oil transesterification in a batch reactor. J Am Oil Chem Soc 77:1263–1267

De Lima Montenegro Duarte ARC, Bezerra UH, De Lima Tostes ME, Da Rocha Filho GN (2007) Alternative energy sources in the Amazon. Power Energy Mag IEEE 5:51–57

De Schryver AM, Brakkee KW, Goedkoop MJ, Huijbregts MA (2009) Characterization factors for global warming in life cycle assessment based on damages to humans and ecosystems. Environ Sci Technol 43:1689–1695

Eggleston H, Buendia L, Miwa K, Ngara T, Tanabe K (2006) IPCC guidelines for national greenhouse gas inventories. Institute for Global Environmental Strategies, Hayama

Ekkpowpan P, Arpornpong N, Charoensaeng A, Khaodhiar S (2014) Life cycle assessment of biofuel from microemulsion and transesterification processes. In: international conference on advances in engineering and technology, Singapore, March 2014 pp 610–614

Environment Protection Administration, Taiwan (2015) Waste cooking oil becomes a low-carbon eco-friendly energy resource. web.epa.gov.tw/en/FileDownloadPage_EN.aspx?list = 420&path = 420. Accessed 08/04/2016

Fargione J, Hill J, Tilman D, Polasky S, Hawthorne P (2008) Land clearing and the biofuel carbon debt. Science 319:1235–1238

Ferchau E (2000) Equipment for decentralised cold pressing of oil seeds. Folkecenter for Renewable Energy, Hurup Thy

FFBP (2010) Life cycle assessment for oil palm fresh fruit bunch production from continued land use for oil palm planted on mineral soil (Part 2). J Oil Palm Res 22:887–894

Foidl N, Foidl G, Sanchez M, Mittelbach M, Hackel S (1996) Jatropha curcas L. as a source for the production of biofuel in Nicaragua. Bioresour Technol 58:77–82

Food and Agriculture Organization of the United Nations (2004) Fertilizer use by crop in Malaysia, 1st edn. Food and Agriculture Organization of the United Nations, Rome

Freedman B, Butterfield RO, Pryde EH (1986) Transesterification kinetics of soybean oil 1. J Am Oil Chem Soc 63:1375–1380

Fukuda H, Kondo A, Noda H (2001) Biodiesel fuel production by transesterification of oils. J Biosci Bioeng 92:405–416

Gavin AM, Toeh K, Carlin G (1977) Steam (physical) refining deodorizer for Malaysian palm oil. J Am Oil Chem Soc 54:A312–A316

Germer J, Sauerborn J (2008) Estimation of the impact of oil palm plantation establishment on greenhouse gas balance. Environ Dev Sustainability 10:697–716

Guan HS (1972) Jaocs news feature: malaysian palm oil. J Am Oil Chem Soc 49:322A–324A

Heijungs R, Suh S (2002) The computational structure of life cycle assessment, vol 11. Springer, Dordrecht

Henson I (2003) The malaysian national average oil palm: concept and evaluation. Oil Palm Bull 46:15–27

Industrial Development Bureau Ministry of Economic Affairs, Taiwan (2015) Current situation of biofuel development in Taiwan. proj.tgpf.org.tw/ghg/e_page3-9.asp

ISO 14040: 2006 (1997) Environmental management: life cycle assessment: principles and framework

Köse Ö, Tüter M, Aksoy HA (2002) Immobilized Candida antarctica lipase-catalyzed alcoholysis of cotton seed oil in a solvent-free medium. Bioresour Technol 83:125–129

Lal R (2004) Carbon emission from farm operations. Environ Int 30:981–990

Lamade E, Bouillet J-P (2005) Carbon storage and global change: the role of oil palm. Oilseeds fats Crops Lipids 12:154–160

Malaysia Palm Oil Council (2008) Fact Sheets on Malaysian Palm Oil. Malaysia Palm Oil Council, Darul Ehsan

Malaysian Palm Oil Council (1973) Malaysian Palm Oil, vol 1. Malaysia Palm Oil Council, Darul Ehsan

May CY et al (2005) Palm diesel: green and renewable fuel from palm oil. Palm Oil Dev 23:3–7

Melling L, Hatano R, Goh KJ (2005) Soil CO2 flux from three ecosystems in tropical peatland of Sarawak, Malaysia. Tellus B 57:1–11

Mosier A, Kroeze C, Nevison C, Oenema O, Seitzinger S, van Cleemput O (1998) Closing the global N2O budget: nitrous oxide emissions through the agricultural nitrogen cycle. Nutr Cycl Agroecosystems 52:225–248. doi:10.1023/A:1009740530221

Muhamad H, Sahid IB, Surif S, Ai TY, May CY (2012) A gate-to-gate case study of the life cycle assessment of an oil palm seedling. Tropical Life Sci Res 23:15–23

Murayama S, Bakar ZA (1996) Decomposition of tropical peat soils, 1: Decomposition kinetics of organic matter of peat soils. JARQ (Japan)

Nagi J, Nagi SKAF (2008) Palm biodiesel an alternative green renewable energy for the energy demands of the future. In: international conference on construction and building technology, Kuala Lumpur, Malaysia, 2008 pp 79–94

Nazir N, Setyaningsih D (2010) Life cycle assessment of biodiesel production from palm oil and Jatropha oil in Indonesia. In: 7th biomass Asia Workshop, 2010 pp 29–21

Pleanjai S, Gheewala SH (2009) Full chain energy analysis of biodiesel production from palm oil in Thailand. Appl Energy 86:S209–S214

Pleanjai S, Gheewala SH, Garivait S (2006) Environmental evaluation of biodiesel production from palm oil in a life cycle perspective. In: The 2nd joint international conference on "sustainable energy and environment", Bangkok, Thailand, 2006 pp 1–3

Rohani BMZ (2006) Process Design in Degumming and Bleaching of Palm Oil. Centre of Lipid Engineering and Applied Research/University Teknologi Malaysia, Johor Bahru

Roundtable on sustainable Palm oil (2014) Supporting RSPO certified sustainable palm oil. greenpalm.org/about-palm-oil/where-is-palm-oil-grown-2. Accessed 08/04/2016

Sampattagul S, Nutongkaew P, Kiatsiriroat T (2011) Life cycle assessment of palm oil biodiesel production in Thailand. Int J Renew Energy 6:1–13

SimaPro (2014) SimaPro 8 and Ecoinvent 3. simapro.co.uk/simapro8.html. Accessed 08/04/2016

Smith K, Bouwman L, Braatz B (2000) N2O: direct emission from agricultural soils. Agricultural Sector 361–380

Solomon BD, Barnes JR, Halvorsen KE (2007) Grain and cellulosic ethanol: history, economics, and energy policy. Biomass Bioenergy 31:416–425

Soveran D, Sulatisky M, Ha K, Robinson W, Stumborg M (1992) The effect on diesel engine emissions with high cetane additives from biomass oils. In: Proceedings. American chemical society (Division of fuel chemistry) meeting, San Francisco, CA, 1992 pp 5–10

Stumborg M, Wong A, Hogan E (1996) Hydroprocessed vegetable oils for diesel fuel improvement. Bioresour Technol 56:13–18

Tangviroon P, Svang-Ariyaskul A (2014) Life cycle assessment comparison between methanol and ethanol feedstock for the biodiesel from soybean oil. Int J Chem Mol Nucl Mater Metall Eng 8:400–407

Teoh CH (2002) The palm oil industry in Malaysia. From Seed to Frying Pan. WWF Switzerland, Zürich

Vargas-Gómez C-A (2009) Life cycle analysis of carbon for palm oil in colombia. Científica 13:69–75

Wijbrans R, Van Zutphen J (2011) LCA GHG emissions in production and combustion of Malaysian palm oil biodiesel. J Oil Palm Environ 2:86–92

Yee KF, Tan KT, Abdullah AZ, Lee KT (2009) Life cycle assessment of palm biodiesel: revealing facts and benefits for sustainability. Appl Energy 86:S189–S196

Yusoff S (2006) Renewable energy from palm oil–innovation on effective utilization of waste. J Clean Prod 14:87–93
Acknowledgments
This project was supported by the Ministry of Science and Technology, Taiwan, through Grant 104-2628-E-006-007-MY3.
About this article
Cite this article
Maharjan, S., Wang, WC. & Teah, H.Y. Life cycle assessment of palm-derived biodiesel in Taiwan. Clean Techn Environ Policy 19, 959–969 (2017). https://doi.org/10.1007/s10098-016-1290-0
Received:

Accepted:

Published:

Issue Date:

DOI: https://doi.org/10.1007/s10098-016-1290-0
Keywords