Abstract
Despite significant progress on meeting global water targets, the lack of access to safe drinking water remains a significant problem in today's world. Statistics from health agencies indicate that waterborne diseases are among the leading causes of health-related mortalities, particularly in developing nations. This paper examines the performance and applicability of various point-of-use (POU) water treatment alternatives, namely (i) solar disinfection; (ii) boiling of water; (iii) chlorination; (iv) disinfection–flocculation with a natural coagulant (powdered Moringa seeds); (v) filtration with ceramic pots; and (vi) biosand filtration. We evaluated the efficacy of each alternative using a set of criteria based on environmental sustainability, technological performance, financial viability, and social acceptability. We also integrated several multi-criteria decision analysis (MCDA) approaches to determine the most suitable water treatment method for a given community. The analytic hierarchy process (AHP) was implemented to elicit various preference structures and to generate the weights for the criteria. Subsequent ranking of the POU alternatives was then performed using the technique for order preference by similarity to ideal solutions (TOPSIS) method. Sensitivity analysis and visualization charts were developed to evaluate the impact of changes in preference ratings of each alternative with respect to the criteria. A case study was implemented in a rural area in the Philippines to determine the optimal POU alternatives given variations in AHP and TOPSIS input data. The resulting MCDA framework is flexible and can accommodate the inclusion of other alternatives and criteria, and it can also be generalized for other regions and applications.
Access options
Buy single article
Instant access to the full article PDF.
USD 39.95
Price excludes VAT (USA)
Tax calculation will be finalised during checkout.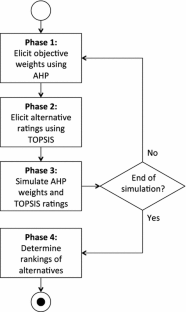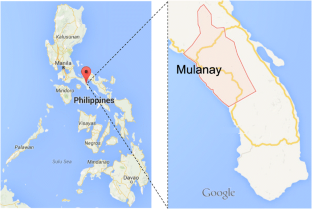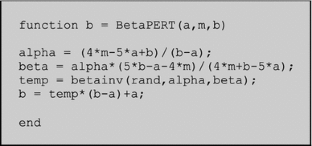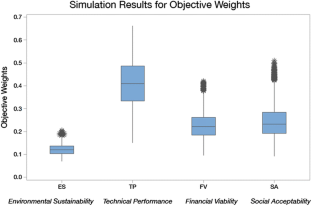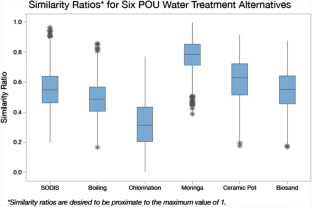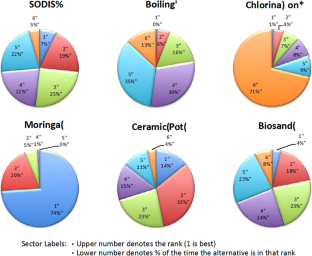 References
Afshar A, Mariño MA, Saadatpour M, Afshar A (2011) Fuzzy TOPSIS multi-criteria decision analysis applied to Karun reservoirs system. W Res Manag 25(2):545–563

American Society of Mechanical Engineers (2011) A regional resilience/security analysis process for the nation's critical infrastructure systems. http://www.serri.org/publications/Pages/reports.aspx. Accessed 31 July 2015

Barajas JR, Pagsuyoin SA (2015) Development of a low-cost water treatment technology using Moringa oleifera seeds. In: IEEE SIEDS 24–28. doi: 10.1109/SIEDS.2015.7116981

Behzadian M, Otaghsara SK, Yazdani M, Ignatius J (2012) A state-of the-art survey of TOPSIS applications. Expert Syst Appl 17(39):13051–13069

Benitez J, Delgado-Galvan X, Izquierdo J, Perez-Garcia R (2015) Consistent completion of incomplete judgments in decision making using AHP. J Comput Appl Math 290:412–422

Bielefeldt A, Kowalski K, Summers RS (2009) Bacterial treatment effectiveness of point-of-use ceramic water filters. Water Res 42(14):3559–3565

Boran FE, Genç S, Kurt M, Akay D (2009) A multi-criteria intuitionistic fuzzy group decision making for supplier selection with TOPSIS method. Exp Syst Appl 36(8):11363–11368

Büyüközkan G, Çifçi G (2012) A combined fuzzy AHP and fuzzy TOPSIS based strategic analysis of electronic service quality in healthcare industry. Expert Syst Appl 39(3):2341–2354

Center of Disease Control (2012) Global WASH-related diseases and contaminants. http://www.cdc.gov/healthywater/wash_diseases.html#one

Center for Disease Control (2015) Solar disinfection. http://www.cdc.gov/safewater/solardisinfection.html. Accessed 26 July 2015

Center for Disease Control (2015) Ceramic filtration. http://www.cdc.gov/safewater/ceramic-filtration.html. Accessed 26 July 2015

Chen CT (2000) Extensions of the TOPSIS for group decision-making under fuzzy environment. Fuzzy Sets Systs 114(1):1–9

Clemen RT, Reilley T (2001) Making hard decisions with DecisionTools®. Duxbury Press, Belmont

Costa R, Silva G, Peixoto J, Silva R (2013) Thermotolerant coliform die-off in water treated with Moringa oleifera seeds. Ciênci e Nat 35(2):24–29

Dessie A, Alemayehu E, Mekonen S, Legesse W, Kloos H, Ambelu A (2014) Solar disinfection: an approach for low-cost household water treatment technology in Southwestern Ethiopia. J Environ Health Sci Eng 12:25

Einarsson E, Svärd S, Troell K (2015) UV irradiation responses in Giardia intestinalis. Exp Parasitol 154(25):25–32

Environmental Protection Agency (2015) Emergency disinfection of drinking water. http://water.epa.gov/drink/emerprep/

Escobar L, Coimbra C, Welch J, Horta B, Santos R, Cardoso A (2015) Diarrhea and health inequity among indigenous children in Brazil: results from the first national survey of indigenous people's health and nutrition. BMC Public Health 15(1):1–11

Flanagan S, Johnston R, Zheng Y (2012) Arsenic in tube well water in Bangladesh: health and economic impacts and implications for arsenic mitigation. Bull World Health Org 90(11):839–846

Garcia-Montoya M, Ponce-Ortega JM, Napoles-Rivera F, Serna-Gonzalez M, El-Halwagi MM (2014) Optimal design of reusing water systems in a housing complex. Clean Technol Environ Policy 17:343–357

Garland R (1991) The mid-point on a rating scale: is it desirable. Market Bull 2(1):66–70

Gopal K, Tripathy SS, Bersillon JL, Dubey SP (2007) Chlorination byproducts, their toxicodynamics and removal from drinking water. J Hazard Mater 140:1–6

Hung CC, Chen LH (2009) A fuzzy TOPSIS decision making model with entropy weight under intuitionistic fuzzy environment. Proc Inter MultiConf Eng Comp Sci 1:13–16

Hwang CL, Yoon K (1981) Multiple attribute decision making: methods and applications. Springer, Berlin

Ivlev I, Vacek J, Kneppo P (2015) Multi-criteria decision analysis for supporting the selection of medical devices under uncertainty. Eur J Oper Res 247(1):216–228

Karanis P, Kourenti C, Smith H (2007) Water borne transmission of protozoan parasites: a worldwide review of outbreaks and lessons learnt. J Wat Health 5(1):1–38

Keeney RL, Raiffa H (1976) Decision making with multiple objectives preferences and value tradeoffs. Wiley, New York

Labib A, Read M (2015) A hybrid model for learning from failures: the Hurricane Katrina disaster. Expert Syst Appl 42(21):7869–7881

Loo SL, Fane AG, Krantz WB, Lim TT (2012) Emergency water supply: a review of potential technologies and selection criteria. Water Res 46(10):3125–3151

Luby SP, Mendoza C, Keswick BH, Chiller TM, Hoekstra R (2008) Difficulties in bringing point-of-use water treatment to scale in rural Guatemala. Am J Trop Med Hyg 78(3):382–387

Ma G, Yu Y, Huang X, Peng Y, Ma N, Shan Z, Niu F, Wang S (2015) Screening key parameters related to passive system performance based on analytic hierarchy process. Ann Nucl Energy 85:1141–1151

Meierhofer R, Landolt G (2009) Factors supporting the sustained use of solar water disinfection—experiences from a global promotion and dissemination programme. Desalination 248:144–151

National Statistical Coordination Board (2015) Municipality of Mulanay. http://www.nscb.gov.ph/activestats/psgc/municipality.asp?muncode=045628000&regcode=04&provcode=56. Accessed: July 31, 2015

Pagsuyoin SA, Santos JR, Latayan JS, Barajas JR (2015) A Multi-attribute decision-making approach to the selection of point-of-use water treatment. Environ Syst Decis. doi:10.1007/s10669-015-9567-0

Paulk MC, Weber CV, Curtis B, Chrissis MB (1993) Capability maturity model for software, version 1.1. Technical Report CMU/SEI-93-TR-024 ESC-TR-93-177. Software Engineering Institute, Carnegie Mellon University, Pittsburgh

Pohl K (2010) Requirements engineering: fundamentals, principles, and techniques. Springer, Berlin

Saaty TL (1980) The analytic hierarchy process. McGraw-Hill Book Co, New York

Saaty TL, Alexander J (1989) Conflict resolution: the analytic hierarchy approach. Praeger, New York

Sadiq R, Rodriguez M (2004) Disinfection by-products (DBPs) in drinking water and predictive models for their occurrence: a review. Sci Tot Environ 321:21–46

Santos JR, Latayan JS, Pagsuyoin SA, Srija S (2015) A stakeholder-based survey for assessing the viability of a water biofilter concept in the Philippines. In: IEEE SIEDS, pp 13–18. doi: 10.1109/SIEDS.2015.7116960

Shih HS, Shyur HJ, Lee ES (2007) An extension of TOPSIS for group decision making. Math Comput Model 45:801–813

Sobsey MD, Stauber CE, Casanova LM, Brown JM, Elliott MA (2008) Point of use household drinking water filtration: a practical, effective solution for providing sustained access to safe drinking water in the developing world. Environ Sci Technol 42(12):4261–4267

Tan RR, Promentilla MAB (2013) A methodology for augmenting sparse pairwise comparison matrices in AHP: applications to energy systems. Clean Technol Environ Policy 15:713–719

United Nations International Children's Emergency Fund and Water and Sanitation Program (2007) Improving household drinking water quality: use of ceramic water filters in Cambodia. http://www.unicef.org/eapro/WSP_UNICEF_FN_CWP_Final.pdf. Accessed 30 April 2015

Villanueva AJ, Targetti S, Schaller L, Arriaza M, Kantelhardt J, Rodriguez-Entrena M, Bossi-Fedrigotti V, Viaggi D (2015) Assessing the role of economic actors in the production of private and public goods in three EU agricultural landscapes. J Environ Plann Manag 58(12):2113–2136

Vose D (1997) Monte Carlo risk analysis modeling. In: Molak V (ed) Fundamentals of risk analysis and management. CRC Press, New York

Wang YM, Elhag TM (2006) Fuzzy TOPSIS method based on alpha level sets with an application to bridge risk assessment. Exp Syst Appl 31(2):309–319

World Health Organization (2008) Safer water, better health. http://whqlibdoc.who.int/publications/2008/9789241596435_eng.pdf. Accessed 30 April 2015

World Health Organization (2009) Health through safe drinking water and basic sanitation. http://www.who.int/water_sanitation_health/mdg1/en/print.html. Accessed 30 April 2015

World Health Organization (2013) Water quality and health strategy 2013–2020. http://www.who.int/water_sanitation_health/publications/2013/water_quality_strategy.pdf?ua=1. Accessed 31 July 2015
Appendix 1: MATLAB simulation code
Appendix 1: MATLAB simulation code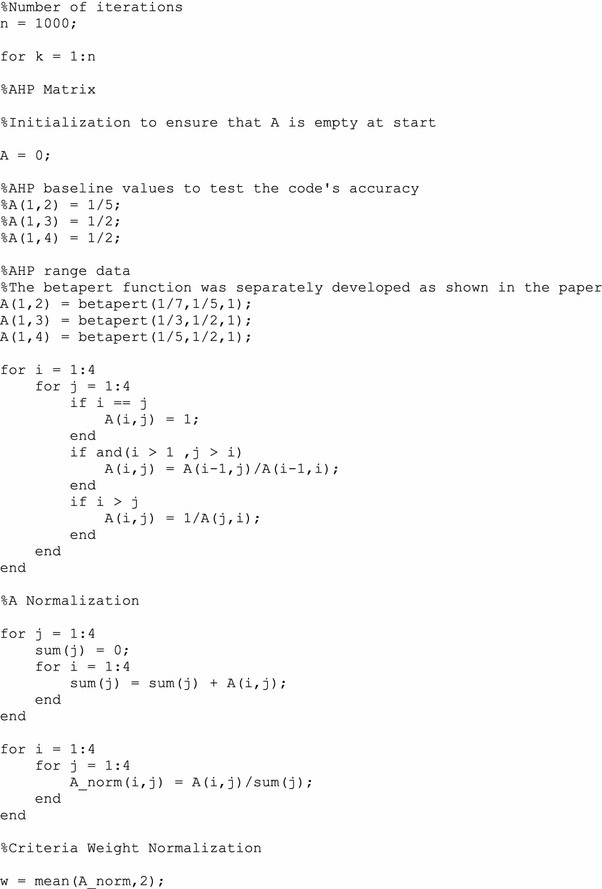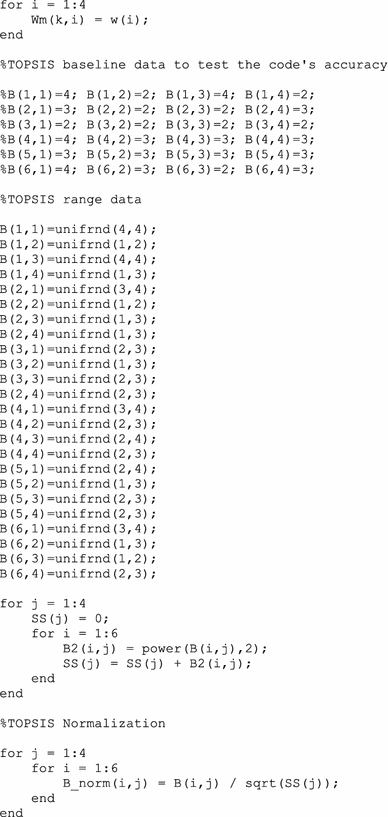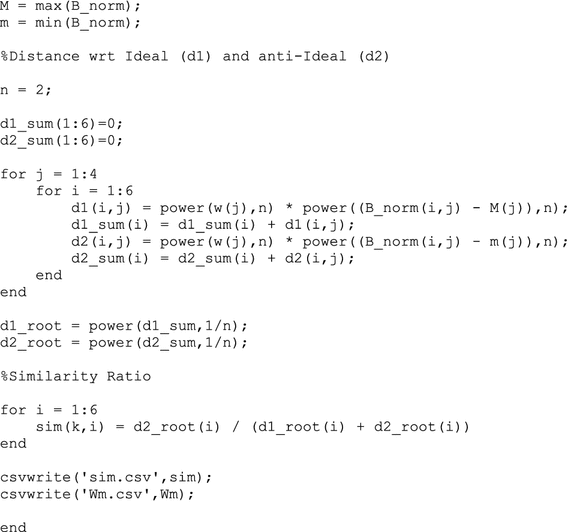 About this article
Cite this article
Santos, J., Pagsuyoin, S.A. & Latayan, J. A multi-criteria decision analysis framework for evaluating point-of-use water treatment alternatives. Clean Techn Environ Policy 18, 1263–1279 (2016). https://doi.org/10.1007/s10098-015-1066-y
Received:

Accepted:

Published:

Issue Date:

DOI: https://doi.org/10.1007/s10098-015-1066-y
Keywords