Abstract
With the establishment of the first wind farm on the island, Cyprus has made progress to satisfy the European Union's 2020 renewable energy targets. Operational since September 2010, the 174 M€ Orites wind farm is currently the largest wind project in the Mediterranean region. In this article, the main characteristics of the project with regard to Cyprus's national action plan for the promotion of renewable energy sources are presented. The socio-economic impacts of the project and its feasibility in the context of an isolated energy system are also examined. The results of a public survey to identify the attitudes of surrounding households and neighbouring cities towards the wind farm are presented. The assessment was based on face-to-face interviews conducted with 50 households from the surrounding communities and 100 interviewees from neighbouring cities. According to the survey, the public opinion on the wind farm was generally positive, and the majority of the respondents considered the wind farm to be acceptable as of no considerable environmental impact.
This is a preview of subscription content, log in to check access.
Access options
Buy single article
Instant access to the full article PDF.
US$ 39.95
Price includes VAT for USA
Subscribe to journal
Immediate online access to all issues from 2019. Subscription will auto renew annually.
US$ 99
This is the net price. Taxes to be calculated in checkout.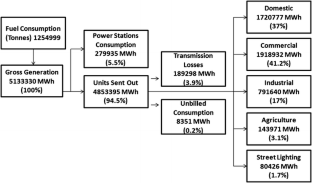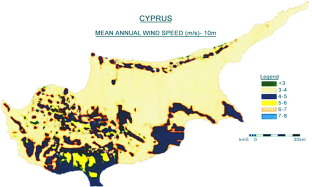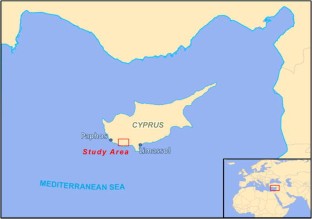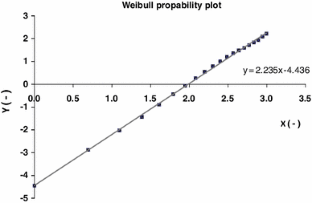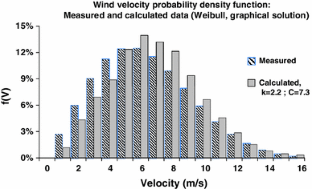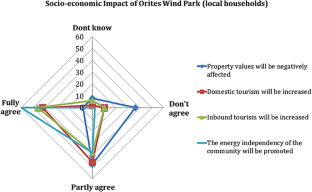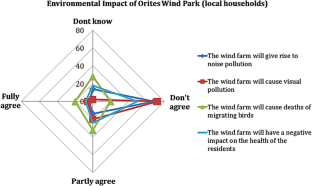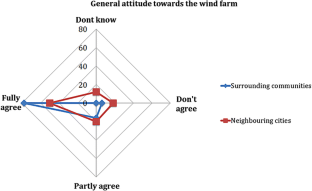 Notes
1.

D.K. Wind Supply Ltd (2010) Personal communication
Abbreviations
A :

Slope, Weibull graphical solution

B :

Intercept with y-ordinate, Weibull graphical solution

C :

Weibull scale parameter (m/s)

E :

East (coordinates) (°, ′)

f :

Probability density function (%)

F :

Cumulative distribution function (%)

k :

Weibull shape parameter

N :

Power (W)

N :

North (coordinates) (°, ′)

U :

Wind velocity (m/s)

V TS :

Technical availability (according to VDI 3423) (%)

X :

Logarithmic transformation parameter, Weibull graphical solution

Y :

Logarithmic transformation parameter, Weibull graphical solution

η :

Number of wind turbines

ω :

Power coefficient

' :

Fluctuation

–:

Average

0:

Nominal

cal:

Calculated

e:

Electric

meas:

Measured

EAC:

Electricity Authority of Cyprus

EC:

European Council

EMF:

Electromagnetic fields

EU:

European Union

GDP:

Gross domestic product

RES:

Renewable energy sources

WASP:

Wind atlas analysis and application programme

WTA:

Willingness to accept

WTP:

Willingness to pay
References
Akdag SA, Bagiorgas HS, Mihalakakou G (2010) Use of two-component Weibull mixtures in the analysis of wind speed in the Eastern Mediterranean. Appl Energy 87:2566–2573

Arrow K, Solow R, Portney PR, Leamer EE, Radner R, Schuman H (1993) Report of the NOAA panel on contingent valuation

Chang TP (2011) Performance comparison of six numerical methods in estimating Weibull parameters for wind energy application. Appl Energy 88:272–282

Cochran WG (1977) Sampling techniques, 3rd edn. Wiley, New York

de Vries BJM, van Vuuren DP, Hoogwijk MM (2007) Renewable energy sources: their global potential for the first-half of the 21st century at a global level: an integrated approach. Energy Policy 35:2590–2610

Department of Energy and Climate Change UK (2010) Digest of United Kingdom energy statistics 2010. National Statistics publication, Newport. ISBN 9780115155260

Devine-Wright P (2005) Beyond NIMBYism: towards an integrated framework for understanding public perceptions of wind energy. Wind Energy 8:125–139

Devine-Wright P (2007) Reconsidering public attitudes and public acceptance of renewable energy technologies: a critical review. Working paper of the research project "Beyond Nimbyism: a multidisciplinary investigation of public engagement with renewable energy technologies". http://www.sed.manchester.ac.uk/research/beyond_nimbyism/. Accessed 31 Aug 2010

Ek C (2005) Public and private attitudes towards "green" electricity: the case of Swedish wind power. Energy Policy 33:1677–1689

Electricity Authority of Cyprus (2009) Annual report, ISSN 0258-4875

Europe's energy portal (2011) http://www.energy.eu/. Accessed 21 Jan 2011

European Parliament and Council (2009) Directive 2009/28/EC on the promotion of the use of energy from renewable sources and amending and subsequently repealing Directives 2001/77/EC and 2003/30/EC. Off J Eur Union, L 140/16

Faux J (2010) Pre-testing survey instruments. Glob Rev Acc Finance 1:100–111

Gamboa G, Munda G (2007) The problem of wind farm location: a social multi-criteria evaluation framework. Energy Policy 35:1564–1583

Haggett C (2011) Understanding public responses to off-shore wind power. Energy Policy 39:503–510

Hau E (2006) Wind turbines. Fundamentals, technologies, applications, economics. Springer, Berlin

Horowitz JK, McConnell KE (2002) A review of WTA/WTP studies. J Environ Econ Manag 44:426–447

Jensen ThL (2000) Renewable energy on small islands, 2nd edn. Forum for Energy & Development, a Danish NGO

Jobert A, Laborgne P, Mimler S (2007) Local acceptance of wind energy: factors of success identified in French and German case studies. Energy Policy 35:2751–2760

Jones CR, Eiser JR (2010) Understanding 'local' opposition to wind development in the UK: how big is a backyard? Energy Policy 38:3106–3117

Kaldellis JK (1999) Wind energy management (in Greek). Stamoulis publications, Athens. ISBN 960-351-255-9

Kaldellis JK (2002) An integrated time-depending feasibility analysis model of wind energy applications in Greece. Energy Policy 30:267–280

Kaldellis JK (2005) Social attitude towards wind energy applications in Greece. Energy Policy 33:595–602

Kaldellis JK, Kavadias KA (2007) Cost–benefit analysis of remote hybrid wind–diesel power stations: case study Aegean Sea islands. Energy Policy 35:1525–1538

Kaldellis JK, Zafirakis D (2007) Present situation and future prospects of electricity generation in Aegean Archipelago islands. Energy Policy 35:4623–4639

Koroneos C, Fokaides P, Moussiopoulos N (2005) Cyprus energy system and the use of renewable energy sources. Energy 30:1889–1901

Krohn S, Damborg S (1999) On public attitudes towards wind power. Renew Energy 16:954–960

Lomborg B (2001) The skeptical environmentalist: measuring the real state of the world. Cambridge University Press, Cambridge. ISBN 0-521-80447-7

Marrero GA, Ramos-Real FJ (2010) Electricity generation cost in isolated system: the complementarities of natural gas and renewables in the Canary Islands. Renew Sustain Energy Rev 14:2808–2818

Neocleous A (2005) Evaluation of electromagnetic fields (EMF) in schools in Cyprus. Environmentalist 25:247–250

Pashardes S (1995) Statistical analysis of wind speed in Cyprus. Meteorological Service Cyprus, Meteorological Report No. 14

Pashardes S, Christofides C (1995) Statistical analysis of wind speed and direction in Cyprus. Sol Energy 55:405–414

Pedhazur EJ (1997) Multiple regression in behavioral research, 3rd edn. Harcourt Brace College Publishers, San Diego. ISBN 0-03-072831-2

Rehfeldt K (1999) Windenergienutzung in der Bundesrepublik Deutschland-stand 31.12.1998. DEWI Magazine 14:6–22

Republic of Cyprus, Ministry of Commerce, Industry and Tourism (2010) National Renewable Energy Action Plan for Cyprus, Article 4 of the Renewable Energy Directive 2009/28/EC

Seguro JV, Lambert TW (2000) Modern estimation of the parameters of the Weibull wind speed distribution for wind energy analysis. Wind Eng Ind Aerodyn 85:75–84

Statistical Service of Cyprus (2001) Census of population, vol III. Government Printing Office, Washington

Swofford J, Slattery M (2010) Public attitudes of wind energy in Texas: local communities in close proximity to wind farms and their effect on decision-making. Energy Policy 38:2508–2519

Verein Deutscher Ingenieure (1998) Verfugbarkeit von Maschinen und Anlagen, Begriffe, Definitionen, Zeiterfassung und Berechnung. VDI Richtlinie 3423

Vestas Wind Systems A/S (2011) http://www.vestas.com/en/wind-power-plants/procurement/turbine-overview/v90-1.8/2.0-mw.aspx#/vestas-univers. Accessed 30 Jan 2011

Weisser D (2004) On the economics of electricity consumption in small island developing states: a role for renewable energy technologies? Energy Policy 32:127–140

Wikimapia (2013) http://wikimapia.org/16252079/Orites-Wind-Farm. Accessed 19 May 2013

Wolsink M (2000) Wind power and the NIMBY-myth: institutional capacity and the limited significance of public support. Renew Energy 21:49–64

Wüstenhagen R, Wolsink M, Bürer MJ (2007) Social acceptance of renewable energy innovation: an introduction to the concept. Energy Policy 35:2683–2691

Zhang J, Chowdhury S, Messac A, Castillo L (2012) A response surface-based cost model for wind farm design. Energy Policy 42:538–550
Appendix
Appendix
See Table 6.
About this article
Cite this article
Fokaides, P.A., Miltiadous, I., Neophytou, M.K. et al. Promotion of wind energy in isolated energy systems: the case of the Orites wind farm. Clean Techn Environ Policy 16, 477–488 (2014). https://doi.org/10.1007/s10098-013-0642-2
Received:

Accepted:

Published:

Issue Date:
Keywords
Wind farm

NIMBY

Apparent YIMBY