Abstract
Changes in production processes and products that result in improvement of environmental, economic and social performance of enterprises are an important element of the overall process towards more sustainable production. The aim of this article is to demonstrate the application of cleaner production and eco-design as sustainable production tools to improve the environmental efficiency of milk processing industry. Milk processing industry is one of the largest and dynamically developing branches of industry in the world. The main impact of milk processing industry on the environment is related to energy and water consumption, and waste and wastewater generation. A number of potential solutions to improve the environmental performance of milk processing industry, to reduce energy and resources consumption are analysed: substitution of cleaning agent in the milk receiving bar for washing of milk tankers with the specialised acidic detergent, integration of the automated CIP washing system in the butter bar, implementation of water recycling system to collect warm (35 °C) water, integration of the membrane technologies for the evaporation process and the use of filtrate received during the condensation for steam generation in the boiler house. Finally, an eco-design solution for cans of milk products is presented. All these proposals have been implemented in the milk processing company.
Access options
Buy single article
Instant access to the full article PDF.
US$ 39.95
Tax calculation will be finalised during checkout.
Subscribe to journal
Immediate online access to all issues from 2019. Subscription will auto renew annually.
US$ 79
Tax calculation will be finalised during checkout.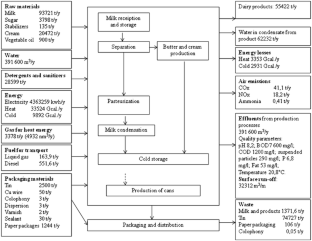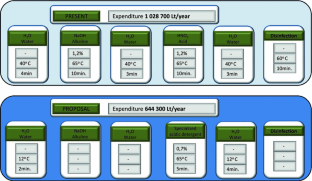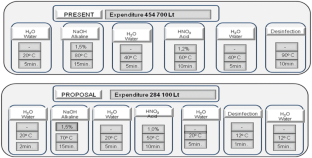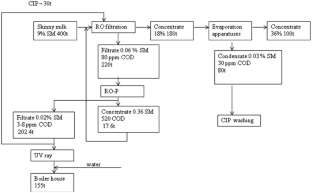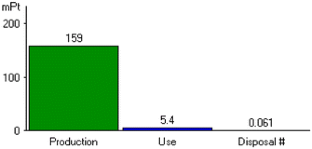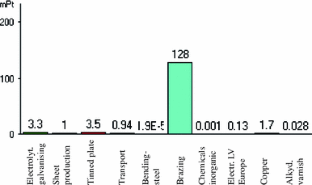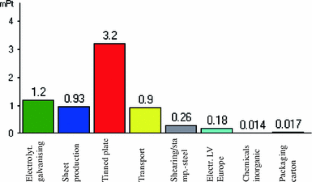 References
Arbačiauskas V, Gaižiūnienė J, Laurinkevičiūtė A, Židonienė S (2010) Sustainable production through innovation in small and medium sized enterprises in the Baltic Sea region. Environ Res Eng Manag 1(51):57–65

COWI (2000) Cleaner production assessment in dairy processing. UNEP, DEPA

Crothers G (2008) Water use in the food processing industry. Canberra: Abare National Outlook Conference

Daufin G, Escudier JP, Carrere H, Berot S, Fillaudeau L, Decloux M (2001) Recent and emerging applications of membrane processes in the food and dairy industry. Trans Inst Chem Eng 79(C2):89–102

Deepak K, Kuschal D (2011) Pollution abatement in milk dairy industry. Department of textile chemistry, D.K.T.E. Society's textile & engineering institute 1(2):145–152

Doyle R (2009) Global president IDF. Dairy agenda for action—climate change. Berlin

Ecoindicators'99 manual for designers (2000) A damage oriented method for life cycle impact assessment. Ministry of Housing, Spatial Planning and the Environment. Hague

Eide MH (2002) Life cycle assessment of industrial milk production. Int J Life Cycle Assess 7(2):115–126

Eide MH, Homleid J, Mattsson P (2003) Life cycle assessment of cleaning in place in dairies. Lebensm Wiss U Technol 36:303–314

Envirowise (2007) Benchmarking water use in dairies. Harwell Science and Innovation Campus, Oxfordshire

Eurostat (2012) Dairy statistics. http://epp.eurostat.ec.europa.eu/statistics_explained/index.php/Dairy_statistics. Accessed 10 May 2011

Flapper J (2009) Environmental impact analysis and benchmarking in the dairy processing industry. Thesis, University of Groningen

Flysjo A (2010) Greenhouse gas emissions related to dairy productions and feeding. XXV FEFAC Congress, Hamburg, Germany, June 10

Foster Ch, Audsley E, Williams A et al (2007) The environmental, social and economic impacts associated with liquid milk consumption in the UK and its production. DEFRA, London

Haugen-Kozyra K (2010) Reducing greenhouse gases from dairy operations in Canada: a double dividend by accessing carbon markets? WCDS Adv Dairy Technol 22:139–150

Honkasalo N, Rodhe H, Dalhammer C (2005) Environmental permitting as a driver for eco-efficiency in the dairy industry: a closer look at the IPPC directive. J Clean Prod 13(10–11):1049–1060

Korsstrom E, Lampi M (2002) Best available techniques (BAT) for the Nordic dairy industry. Nordic Council of Ministries, Copenhagen

Laurinkevičiūtė A, Stasiškienė Ž (2011) SMS for decision making of SMEs. Clean Technol Environ Policy 13(6):797–807

Mavrov V, Belieres E (2000) Reduction of water consumption and wastewater quantities in the food industry by water recycling using membrane processes. Desalination 131(1–3):75–86

Miller EJ (1986) Energy management in milk processing. In: Singh RP (ed) Energy in food processing. Elsevier, Amsterdam, pp 137–153

NIIR Board (2010) Modern technology of milk processing and dairy products. NIIR Project consultancy services

Prasad P, Pagan RJ, Kauter MD, Price N (2005) Eco-efficiency for the dairy processing industry. Dairy Australia, Southbank

Ramirez C, Patel M, Blok K (2006) From fluid milk to milk powder: energy use and energy efficiency in the European dairy industry. Energy 31:1984–2004

Staniškis JK, Stasiškienė Ž (2007) System for cleaner production innovation development and implementation in industry (APINI-SPIN). Environ Res Eng Manag 4(42):54–59

Staniškis JK, Stasiškienė Ž, Jasch Ch (2005) Assessment of environmental costs for sustainable industrial development. Technologija, Kaunas

Staniškis JK, Kruopienė J, Dvarionienė J, Arbačiauskas V (2008a) Preventive measures in Lithuania for reduction of environmental load to the Baltic Sea. Environ Res Eng Manag 2(44):10–17

Staniškis JK, Stasiškienė Ž, Jasch Ch (2008b) Cleaner technologies: environmental management accounting, investment appraisal and financing. Nova Science Publishers, New York

Staniškis JK, Varžinskas V, Arbačiauskas V (2008c) Sustainable production and consumption in Lithuania. Environ Res Eng Manag 3(45):23–32

Staniškis JK, Stasiškienė Ž, Kliopova I, Varžinskas V (2010) Sustainable innovations in Lithuanian industry: development and implementation. Technologija, Kaunas

Vourch M, Balannec B, Chaufer B, Dorange G (2005) Nanofiltration and reverse osmosis of model process waters from the dairy industry to produce water for reuse. Desalination 172:245–256

Vourch M, Balannec B, Chaufer B, Dorange G (2008) Treatment of dairy industry wastewater by reverse osmosis for water reuse. Desalination 219:190–202
About this article
Cite this article
Dvarionienė, J., Kruopienė, J. & Stankevičienė, J. Application of cleaner technologies in milk processing industry to improve the environmental efficiency. Clean Techn Environ Policy 14, 1037–1045 (2012). https://doi.org/10.1007/s10098-012-0518-x
Received:

Accepted:

Published:

Issue Date:
Keywords
Sustainable production

Milk industry

Cleaner technologies

Eco-design

Environmental efficiency