Abstract
The construction and demolition (C&D) waste generated by the Canadian construction industry accounts for 27 % of the total municipal solid waste disposed in landfills. However, it is evident that over 75 % of what the construction industry generates as waste has a residual value, and therefore could be recycled, salvaged and/or reused. The need for comprehensive and integrated waste management mechanisms, technologies, rating systems and policies is widely recognized. Owing to increasing C&D waste volumes, shortage of landfills and long-term adverse environmental, economic and social impacts of the disposed C&D waste, sustainable C&D waste management is becoming increasingly essential to protect public health and natural ecosystems. This paper proposes a conceptual C&D waste management framework to maximise the 3R (reduce, reuse and recycle) and minimise the disposal of construction waste by implementing sustainable and comprehensive strategy throughout the lifecycle of construction projects. In addition, a life cycle based C&D waste sustainability index is developed. This approach can be used to make decisions related to selection of material, sorting, recycle/reuse and treatment or disposal options for C&D waste.
Access options
Buy single article
Instant access to the full article PDF.
USD 39.95
Price excludes VAT (USA)
Tax calculation will be finalised during checkout.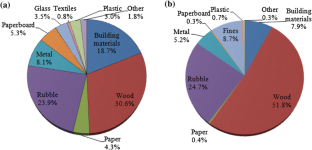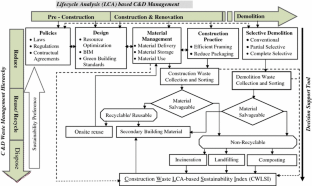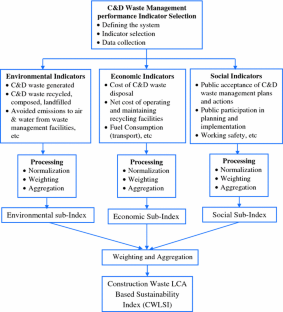 References
Abbas A, Fathifazl G, Isgor OB, Razaqpur AG, Fournier B, Foo S (2006) Environmental benefits of green concrete. In: EIC Climate Change Technology, 2006 IEEE, pp 1–8

Albulescu CT (2010) Forecasting the Romanian financial system stability using a stochastic simulation model. Romanian J Econ Forecast 13(1):81–98

BC Government (2011) Office of the premier. http://www2.news.gov.bc.ca/news_releases_2005-2009/2009OTP0050-000394.htm. Accessed 26 Nov 2011

Bossink BAG, Brouwers HJH (1996) Construction waste: quantification and source evaluation. J Constr Eng Manag 122:55–60

Brydon L (2011) The role of waste management in LEED Canada: Canada Green Building Council. http://www.owma.org. Accessed 25 June 2011

CCA (Canadian Construction Association) (1992) Waste management for the construction industry. http://www.nrtee-trnee.com/eng/publications/waste-management-construction/waste-management-construction.pdf. Accessed 24 Nov 2011

Chung SS, Lo CWH (2003) Evaluating sustainability in waste management: the case of construction and demolition, chemical and clinical wastes in Hong Kong. Resour Conserv Recycl 37:119–145

Cochran K, Townsend T, Reinhart D, Heck H (2007) Estimation of regional building related C&D debris generation and composition: case study for Florida. Waste Manage (Oxford) 27:921–931

Committee BIM (2007) The National BIM Standard. http://www.buildingsmartalliance.org/nbims/about.php. Retrieved 5 Oct 2009

CIC (Canada Infrastructure Conference) (2009) Daily commercial news and construction record. http://dcnonl.com/article/id30927. Retrieved 8 Oct 2009

Dolan PJ, Richard GL, Jacqueline CD (1999) Concepts for reuse and recycling of construction and demolition waste. US Army Corps of Engineers, Construction Engineering Research Laboratories, SACERL Technical Report 97/58

Ekanayake LL, Ofori G (2000) Construction material waste source evaluation. In: Proceedings of 2nd Southern African conference on sustainable development the built environment: strategies for a sustainable built environment, Pretoria, South Africa, 23–25 August 2000, pp 35, 35-1–35-6

Ekanayake LL, Ofori G (2004) Building waste assessment score: design-based tool. Build Environ 39(7):851–861

Faniran OO, Caban G (1993) Minimizing waste on construction project sites. Eng Constr Archit Manag 5(2):182–188

Freudenberg M (2003) Composite indicators of country performance: a critical assessment. OECD Science, Technology and Industry Working Papers, 2003/16. Paris, OECD

Gavilan RM, Bernold LE (1994) Source evaluation of solid waste in building construction. J Constr Eng Manag 120(3):536–555

GBCA (2009) http://www.gbca.org.au/green-star/green-star-overview/. Retrieved 15 Oct 2009

Goedert JD, Meadati P (2008) Integrating construction process documentation into building information modeling. J Constr Eng Manag 134(7):509–516

Hendriks CF, Pietersen HS (2000) Sustainable raw materials: construction and demolition waste. RILEM Publication

Hermans E, Van den Bosscheb F, Wets G (2008) Combining road safety information in a performance index. Accid Anal Prev 40:1337–1344

Hewage KN, Ruwanpura JY (2007) A novel solution for construction on-site communication—the information booth. Can J Civ Eng 36:659–671

Khan FI, Sadiq R, Veitch B (2004) Lifecycle IndeX (LInX): a new indexing procedure for process and product design and decision-making. J Clean Prod 12(1):59–76

Klir GJ, Yuan B (1995) Fuzzy sets and fuzzy logic: theory and applications. Prentice-Hall International, Upper Saddle River

LEED (2009) Understanding Green Building Program Options for Schools CHPS® Criteria & LEED®. http://www.neep.org/HPSE/CHPS%20LEED%20Comparison.pdf. Retrieved 16 Aug 2009

Marchettini N, Ridolfi R, Rustici M (2007) An environmental analysis for comparing waste management options and strategies. Waste Manage (Oxford) 27:562–571

Morris MD (1979) Measuring the condition of the world's poor: the physical quality of life index. Pergamon Policy Studies, vol 42. Pergamon Press, NewYork, pp 20–56

Nardo M, Saisana M, Saltelli A, Tarantola S (2005) Tools for composite indicators building, EUR 21682 EN, European Commission, JRC-IPSC, Italy

Nehdi M, Sumner J (2003) Recycling waste latex paint in concrete. Cem Concr Res 33(6):857–863

Osmani M, Glass J, Price ADF (2008) Architects' perspectives on construction waste reduction by design. Waste Manage (Oxford) 28(7):1147–1158

Poon CS (2007) Editorial—reducing construction waste. Waste Manage (Oxford) 27:1715–1716

PWGSC (Public Works and Government Services Canada) (2011) Construction, renovation and demolition waste: the environmentally responsible construction and renovation handbook (Chapter 8). http://www.tpsgc-pwgsc.gc.ca/biens-property/gd-env-cnstrctn/page-8-eng.html. Accessed 25 June 2011

Reza B, Sadiq R, Hewage K (2011) Sustainability assessment of flooring systems in the city of Tehran: an AHP-based lifecycle analysis. Constr Build Mater 25(4):2053–2066

Sadiq R, Tesfamariam S (2008) Developing environmental indices using fuzzy numbers ordered weighted averaging (FN-OWA) operators. Stoch Env Res Risk Assess 22(5):495–505

Saltelli A (2006) Composite indicators between analysis and advocacy. Soc Indic Res 81:65–77

Slater E, Alam MS (2011) Sustainable green concrete made with FRP scrap and recycled concrete aggregate. Part 1: fresh properties, submitted. ASCE J Mater Civ Eng, manuscript no. JRNMTENG-S-11-00612

Smith D (2006) Innovation "reality" style. Alberta Construction Magazine, May/June, 53–55

Somlikova R, Wachowiak MP (2001) Aggregation operators for selection problems. Fuzzy Sets Syst 131:23–34

Spies S (2009) 3R in Construction and Demolition Waste (CDW)—potentials and constraints. GTZ—German Technical Cooperation, Inaugural Meeting of the Regional 3R Forum in Asia, Tokyo, Japan. www.uncrd.or.jp/env/spc/. Accessed 24 Nov 2011

Statistics Canada (2000) Waste Management Industry Survey 2000-Business and Government Sectors Survey Guide, Environment Accounts and Statistics Division, Canada

USEPA (U.S. Environmental Protection Agency) (1995) Construction and demolition waste landfills. Prepared by ECF Incorporated, Contract No. 68-W3-0008, February. http://www.epa.gov/epaoswer/hazwaste/sqg/const/cdrpt.pdf. Accessed 24 Nov 2011

Vleck RE (2001) Advanced construction and demolition waste management for Florida builders, Masters Thesis, ME Rinker School of Building Construction, University of Florida, Gainesville, Florida, USA

Wolf COH (2009) The performance and value creation of NOCs: an analytical framework. Background Paper for the Study on National Oil Companies and Value Criterion, World Bank, Washington, DC
Acknowledgments
Authors thankfully acknowledge the financial support of Natural Sciences and Engineering Research Council (NSERC) of Canada through ENGAGE and DG programs of second and the last authors.
About this article
Cite this article
Yeheyis, M., Hewage, K., Alam, M.S. et al. An overview of construction and demolition waste management in Canada: a lifecycle analysis approach to sustainability. Clean Techn Environ Policy 15, 81–91 (2013). https://doi.org/10.1007/s10098-012-0481-6
Received:

Accepted:

Published:

Issue Date:

DOI: https://doi.org/10.1007/s10098-012-0481-6
Keywords
Construction and demolition waste

Waste management

Sustainability

Lifecycle analysis (LCA)