Abstract
Perfluorooctane sulfonate (PFOS) and related compounds have recently been designated as target chemicals for regulation by the Stockholm Convention on Persistent Organic Pollutants (POPs). Many countries have investigated and tried to implement various countermeasures in response to this decision. In this article, we collect reports concerning regulations and risk evaluations of perfluorinated compounds (PFCs) and review the current PFC management practiced in various countries. The first part of this review contains a comprehensive collection of proposed standard PFC values, including provisional tolerable daily intakes (pTDI), drinking water guidelines, and predicted non-effect concentrations (PNEC). The pTDI values ranged from 0.1 to 0.3 μg/kg/day for PFOS, and there are wide margins of safety for adults. Health risks for plant workers exposed to PFCs and for infants are of particular concern. The application of these proposed values in controlling PFC pollution is one approach that may effectively control human health risk without unduly sacrificing the benefits from PFC use. The second part of this review contains a collection and review of a number of regulations and countermeasures, such as an EU directive, regulation in Canada, and the Significant New Use Rule (SNUR), including voluntary control (i.e., production phase-out by 3M, stewardship programs, regulation in the semiconductor industry). Most of these regulations are based principally on the precautionary principle. However, they may not be as effective in pollution reduction as intended because the chemicals in question are already widely distributed in the environment owing to their use and mobility in the environment. In addition, these types of regulations would be non-operative in developing countries because rapidly growing economies place great demand on high performance materials, including PFCs. Further development of risk assessment methods that allow the evaluation of the counter risks of PFC alternatives and the loss of benefits from the PFC ban is necessary because of the possible continuous use of PFCs, especially in developing countries.
Access options
Buy single article
Instant access to the full article PDF.
US$ 39.95
Tax calculation will be finalised during checkout.
Subscribe to journal
Immediate online access to all issues from 2019. Subscription will auto renew annually.
US$ 79
Tax calculation will be finalised during checkout.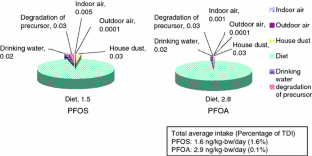 References
Ahrens L, Felizeter S, Sturm R, Xie Z, Ebinghaus R (2009) Polyfluorinated compounds in waste water treatment plant effluents and surface waters along the River Elbe. Ger Mar Pollut Bull 58:1326–1333

Alexander BH, Olsen GW, Burris JM, Mandel JH, Mandel JS (2003) Mortality of employees of a perfluorooctanesulphonyl fluoride manufacturing facility. Occup Environ Med 60:722–729

Ammoniums (2006) Canada bans import of four fluorotelomers. Chem Eng News 84(26):29

Apelberg BJ, Goldman LR, Calafat AM, Herbstman JB, Kuklenyik Z, Heidler J, Needham LL, Halden RU, Witter FR (2007) Determinants of fetal exposure to polyfluoroalkyl compounds in Baltimore, Maryland. Environ Sci Technol 41:3891–3897

BfR (2006) High levels of perfluorinated organic surfactants in fish are likely to be harmful to human health. http://www.bfr.bund.de/en/press_information/2006/21/high_levels_of_perfluorinated_organic_surfactants_in_fish_are_likely_to_be_harmful_to_human_health-8172.html

Canada Gazette (2008) Perfluorooctane sulfonate and its salts and certain other compounds regulations, vol 142, No. 12

COT (2006a) COT statement on the tolerable daily intake for perfluorooctane sulfonate. http://cot.food.gov.uk/pdfs/cotstatementpfos200609.pdf

COT (2006b) COT statement on the tolerable daily intake for perfluorooctanoic acid. http://cot.food.gov.uk/pdfs/cotstatementpfoa200610.pdf

COT (2009) Committees on toxicity, mutagenicity, carcinogenicity of chemicals in food, consumer products and the environment. http://cot.food.gov.uk/pdfs/cotcomcocreport2009.pdf

Dorneles PR, Lailson-Brito J, Azevedo AF, Meyer J, Vidal LG, Fragoso AB, Torres JP, Malm O, Blust R, Das K (2008) High accumulation of perfluorooctane sulfonate (PFOS) in marine Tucuxi dolphins (Sotalia guianensis) from the Brazilian Coast. Environ Sci Technol 42:5368–5373

DuPont (2005) DuPont global PFOA strategy—comprehensive source reduction. U.S. EPA public Docket AR226-1914

DWC (2006) Provisional evaluation of PFT in drinking water with the guide substances perfluorooctanoic acid (PFOA) and perfluorooctane sulfonate (PFOS) as examples. http://www.umweltbundesamt.de/uba-info-presse-e/hintergrund/pft-in-drinking-water.pdf

DWI (2007) Guidance on the water supply (water quality) regulations 2000/01 specific to PFOS (perfluorooctane sulphonate) and PFOA (perfluorooctanoic acid) concentrations in drinking water

DWI (2009) Guidance on the Water Supply (Water Quality) Regulations 2000 specific to PFOS (perfluorooctane sulphonate) and PFOA (perfluorooctanoic acid) concentrations in drinking water. http://www.dwi.gov.uk/stakeholders/information-letters/2009/10_2009annex.pdf

EFSA (2008) Scientific opinion of the panel on contaminants in the food chain on perfluorooctane sulfonate (PFOS), perfluorooctanoic acid (PFOA) and their salts. http://www.efsa.europa.eu/EFSA/Scientific_Opinion/contam_ej_653_PFOS_PFOA_en.pdf?ssbinary=true

Environment Canada (2006) Ecological Screening Assessment Report on perfluorooctane sulfonate, its salts and its precursors that contain the C8F17SO2 or C8F17SO3, or C8F17SO2N moiety. http://www.ec.gc.ca/CEPARegistry/documents/subs_list/PFOS_SAR/PFOS_EC_SAR_June_2006_(en).pdf

EU Directive (2006) Directive 2006/122/ECOF the European Parliament and of the Council of 12 December 2006. http://eur-lex.europa.eu/LexUriServ/site/en/oj/2006/l_372/l_37220061227en00320034.pdf

Fei C, MacLaughlin Jk, Tarone RE, Olsen J (2007) Perfluorinated chemicals and fetal growth: a study within the Danish national birth cohort. Environ Health Perspect 115:1677–1682

Fromme H, Schlummer M, Moller A, Gruber L, Wolz G, Ungewiss J, Bohmer S, Dekant W, Mayer R, Liebl B, Twardella D (2007) Exposure of an adult population to perfluorinated substances using duplicate diet portions and biomonitoring data. Environ Sci Technol 41:7928–7933

Fromme H, Tittlemier SA, Vökel W, Wilhelm M, Twardella D (2009) Perfluorinated compounds—exposure assessment for the general population in western countries. Int J Hyg Environ Heal 212:239–270

FSA (2006) Fluorinated chemicals: UK dietary intakes. http://www.food.gov.uk/multimedia/pdfs/fsis1106.pdf

Giesy JP, Kannan K (2001) Global distribution of perfluorooctane sulfonate in wildlife. Environ Sci Technol 35:1339–1342

Government of Canada (2006) Order adding toxic substances to schekule 1 to the Canadian environment protection act, 1999. Canada Gazette 140, http://gazette.gc.ca/archives/p1/2006/2006-06-17/html/reg1-eng.html

Government of Canada (2009) Regulations adding perfluorooctane sulfonate and its salts to virtual elimination list. Canada Gazette 143, http://canadagazette.gc.ca/rp-pr/p2/2009/2009-02-04/html/sor-dors15-eng.html

Hansen KJ, Johnson HO, Eldridge JS, Butenhoff JL, Dick LA (2002) Quantitative characterization of trace levels of PFOS and PFOA in the Tennessee River. Environ Sci Technol 36:1681–1685

Harada K, Inoue K, Morikawa A, Yoshinaga T, Saito N, Koizumi A (2005a) Renal clearance of perfluorooctane sulfonate and perfluorooctanoate in humans and their species-specific excretion. Environ Res 99:253–261

Harada K, Nakanishi S, Saito N, Tsutsui T, Koizumi A (2005b) Airborne perfluorooctanoate may be a substantial source contamination in Kyoto area. Jpn Bull Environ Contam Toxicol 74:64–69

Higgins CP, Luthy RG (2006) Sorption of perfluorinated surfactants on sediments. Environ Sci Technol 40:7251–7256

Hölzer J, Goen T, Rauchfuss K, Kraft M, Angerer Jg, Kleeschulte P, Wilhelm M (2009) One-year follow-up of perfluorinated compounds in plasma of German residents from Arnsberg formerly exposed to PFOA-contaminated drinking water. Int J Hyg Environ Heal 212:499–504

Jin YH, Liu W, Sato I, Nakayama SF, Sasaki K, Saito N, Tsuda S (2009) PFOS and PFOA in environmental and tap water in China. Chemosphere 77:605–611

Kannan K, Corsolini S, Falandysz J, Fillmann G, Kumar KS, Loganathan BG, Mohd MA, Olivero J, Wouwe NV, Yang JH, Aldous KM (2004) Perfluorooctanesulfonate and related fluorochemicals in human blood from several countries. Environ Sci Technol 38:4489–4495

Kärrman A, Harada KH, Inoue K, Takasuga T, Ohi E, Koizumi A (2009) Relationship between dietary exposure and serum perfluorochemical (PFC) levels—a case study. Environ Int 35:712–717

Leonel J, Kannan K, Tao L, Fillmann G, Montone RC (2008) A baseline study of perfluorochemicals in Franciscana dolphin and Subantarctic fur seal from coastal waters of Southern Brazil. Mar Pollut Bull 56:778–781

Loos R, Gawlik BM, Locoro G, Rimaviciute E, Contini S, Bidoglio G (2009) EU-wide survey of polar organic persistent pollutants in European river waters. Environ Pollut 157:561–568

3M (2000) Phase-out Plan for POSF-Based Products. U.S. EPA public Docket AR226-0600

MDH (2008) Perfluorochemical contamination in lake Elmo and Oakdale, Washington county, Minnesota. http://www.health.state.mn.us/divs/eh/hazardous/sites/washington/lakeelmo/phaelmooakdale.pdf

Ministry of the Environment in Japan (2006) Chemicals and the Environment. http://www.env.go.jp/chemi/kurohon/index.html (in Japanese)

Ministry of the Environment in Japan (2008) Perfluorooctane sulfonate and its salts. http://www.env.go.jp/chemi/report/h19-03/index.html (in Japanese)

Moody CA, Strauss SH, Field JA (2003) Occurrence and persistence of perfluorooctanesulfonate and other perfluorinated surfactants in groundwater at a fire-training area at Wurtsmith Air Force Base, Michigan, USA. J Environ Monit 5:341

Murakami M, Kuroda K, Sato N, Fukushi T, Takizawa S, Takada H (2009a) Groundwater pollution by perfluorinated surfactants in Tokyo. Environ Sci Technol 43:3480–3486

Murakami M, Shinohara H, Takada H (2009b) Evaluation of wastewater and street runoff as sources of perfluorinated surfactants (PFSs). Chemosphere 74:487–493

Naile JE, Khim JS, Wang T, Chen C, Luo W, Kwon B-O, Park J, Koh C-H, Jones PD, Lu Y, Giesy JP (2010) Perfluorinated compounds in water, sediment, soil and biota from estuarine and coastal areas of Korea. Environ Pollut 158:1237–1244

Newsted JL, Jones PD, Coady K, Giesy JP (2005) Avian toxicity reference values for perfluorooctane sulfonate. Environ Sci Technol 39:9357–9362

NJDEP (2007) Guidance for PFOA in drinking water at Pennsgrove Water Supply Company. http://www.nj.gov/dep/watersupply/pfoa.htm

Orata F, Quinete N, Werres F, Wilken R-D (2008) Perfluorooctanoic and perfluorooctane sulfonate in Nile Perch and tilapia from gulf of Lake Victoria. Afr J Pure Appl Chem 2:75–79

Orata F, Quinete N, Werres F, Wilken R-D (2009) Determination of perfluorooctanoic acid and perfluorooctane sulfonate in Lake Victoria Gulf Water. Bull Environ Contam Toxicol 82:218–222

OSPAR Commission (2006) Perfluorooctane sulphonate (PFOS). hazardous substances series. http://www.ospar.org/documents/dbase/publications/P00269_BD%20on%20PFOS%20_2006%20version_.pdf

Post GB, Louis JB, Cooper KR, Boros-Russo BJ, Lippincott RL (2009) Occurrence and potential significance of perfluorooctanoic acid (PFOA) detected in New Jersey public drinking water systems. Environ Sci Technol 43:4547–4554

Quinete N, Wu Q, Zhang T, Yun SH, Moreira I, Kannan K (2009) Specific profiles of perfluorinated compounds in surface and drinking waters and accumulation in mussels, fish, and dolphins from southeastern Brazil. Chemosphere 77:863–869

Rostkowski P, Yamashita N, So IMK, Taniyasu S, Lam PKS, Falandysz J, Lee KT, Kim SK, Khim JS, Im SH, Newsted JL, Jones PD, Kannan K, Giesy JP (2006) Perfluorinated compounds in streams of the Shihwa industrial zone and Lake Shihwa, South Korea. Environ Toxicol Chem 25:2374–2380

RPA & BRE (2004) Risk reduction strategy and analysis of advantages and drawbacks for perfluorooctane sulphonate (PFOS). http://www.pops.int/documents/meetings/cop_1/chemlisting/sweden/PFOS_Stage4_FinalReport.pdf

Saito N, Harada K, Inoue K, Sasaki K, Yoshinaga T, Koizumi A (2004) Perfluorooctanoate and perfluorooctane sulfonate concentrations in surface water in Japan. J Occup Heal 46:49–59

Shoeib M, Harner T, Wilford BH, Jones KC, Zhu J (2005) Perfluorinated sulfonamides in indoor and outdoor air and indoor dust: occurrence, partitioning, and human exposure. Environ Sci Technol 39:6599–6606

Skutlarek D, Exner M, Farber H (2006) Perfluorinated surfactants in surface and drinking water. Environ Sci Pollut Res 13:299–307

So MK, Yamashita N, Taniyasu S, Jiang Q, Giesy JP, Chen K, Lam PKS (2006) Health risks in infants associated with exposure to perfluorinated compounds in human breast milk from Zhoushan. China Environ Sci Technol 40:2924–2929

Stock NL, Ellis DA, Martin JW, Muir DCG, Mabury SA (2004) Polyfluorinated telomere alcohols and sulfonamides in the North American troposphere. Environ Sci Technol 38:991–996

Tao L, Ma J, Kunisue T, Libelo EL, Tanabe S, Kannan K (2008) Perfluorinated compounds in human breast milk from several Asian countries, and in infant formula and dairy milk from the United States. Environ Sci Technol 42:8597–8602

Tittlemier SA, Pepper K, Edwards L (2006) Concentrations of perfluorooctanesulfonamides in Canadian total diet study composite food samples collected between 1992 and 2004. J Agric Food Chem 54:8385–8389

Trudel D, Horowitz L, Wormuth M, Scheringer M, Cousins IT, Hungerbuhler K (2008) Estimating consumer exposure to PFOS and PFOA. Risk Anal 28:251

UK Environment Agency (2004) Environmental Risk Evaluation Report: perfluorooctanesulphonate (PFOS)

UNEP (2008) Consideration of new information on perfluorooctane sulfonate (PFOS). http://www.unon.org/confss/doc/unep/pops/POPRC_04/POPRC_4_INF_17/K0841478%20POPRC-4-INF17.pdf

UNEP (2009a) Annotated outline for a guidance document on perfluorooctane sulfonate alternatives. http://chm.pops.int/Convention/POPsReviewCommittee/hrPOPRCMeetings/POPRC5/POPRC5Documents/tabid/592/language/en-US/Default.aspx

UNEP (2009b) Report of the conference of the parties of the Stockholm convention on persistent organic pollutants on the work of its fourth meeting. http://chm.pops.int/Portals/0/Repository/COP4/UNEP-POPS-COP.4-38.English.pdf

USEPA (2002) Perfluoroalkyl sulfonates; significant new use rule; final and supplemental proposed rule. Federal Register 67, http://www.epa.gov/fedrgstr/EPA-TOX/2002/March/Day-11/t5747.pdf

USEPA (2009a) 2010/15 PFOA Stewardship Program. http://www.epa.gov/opptintr/pfoa/pubs/stewardship/index.html

USEPA (2009b) The toxicity of perfluorooctanoic acid (PFOA) and perfluorooctane sulfonate (PFOS). http://www.epa.gov/opptintr/pfoa/pubs/activities.html

Wang T, Wang Y, Liao C, Cai Y, Jiang G (2009) Perspectives on the inclusion of perfluorooctane sulfonate into the Stockholm convention on persistent organic pollutants. Environ Sci Technol 43:5171–5175

Washino N, Saijo Y, Sasaki S, Kato S, Ban S, Konishi K, Ito R, Nakata A, Iwasaki Y, Saito K, Nakazawa H, Kishi R (2009) Correlations between prenatal exposure to perfluorinated chemicals and reduced fetal growth. Environ Health Perspect 117:660–667

WSC (2009) Joint statement of the 13th meeting of the world semiconductor council (WSC). http://www.eeca.eu/data/File/ESIA%20WSC/Beijing%202009%20WSC%20Joint%20Statement%20Final.pdf

Zushi Y, Masunaga S (2009a) First-flush loads of perfluorinated compounds in stormwater runoff from Hayabuchi River basin, Japan served by separated sewerage system. Chemosphere 76:833–840

Zushi Y, Masunaga S (2009b) Identifying the nonpoint source of perfluorinated compounds using a geographic information system based approach. Environ Toxicol Chem 28:691–700

Zushi Y, Takeda T, Masunaga S (2008) Existence of nonpoint source of perfluorinated compounds and their loads in the Tsurumi River basin, Japan. Chemosphere 71:1566–1573

Zushi Y, Tamada M, Kanai Y, Masunaga S (2010) Time trends of perfluorinated compounds from the sediment core of Tokyo Bay, Japan (1950s–2004). Environ Pollut 158:756–763
About this article
Cite this article
Zushi, Y., Hogarh, J.N. & Masunaga, S. Progress and perspective of perfluorinated compound risk assessment and management in various countries and institutes. Clean Techn Environ Policy 14, 9–20 (2012). https://doi.org/10.1007/s10098-011-0375-z
Received:

Accepted:

Published:

Issue Date:
Keywords
Perfluorinated compounds (PFCs)

Guideline

Risk assessment

Management

Regulation

TDI