Abstract
The old oil refineries are largest chemical industries that are responsible for emission of several pollutants and GHGs. It is possible to minimize energy usage as well as air pollution by some process modification. The main objectives of this investigation were the minimization of air pollution and CO2 emissions in catalytic reforming unit in an oldest and largest refinery in Iran. To assess the air quality, ten sampling stations were selected for measurement of CO, H2S, SO2, and PM10 in ambient air. Also concentrations of C1–C5, H2S, and CO2 were measured in selected unit. In final, structural and process flaws were identified by analyzing real functional circumstances and they were modified. Results show that SO2, H2S, and PM10 concentrations are higher than ambient air standard levels in all seasons. Also, according to achieved results, the cold separator gas flow rate is reduced from 38,936 kg/day (once-through gas process) to 9,649 kg/day (recycle gas process). Beside CO2 and SO2 emission rates will be reduced 1803 and 136.5 kg/day in this unit, respectively. Furthermore, the modification of this process causes prevention of 1654 kg CO2 emission into the atmosphere, during each coke burning and catalytic regeneration.
Access options
Buy single article
Instant access to the full article PDF.
USD 39.95
Price excludes VAT (USA)
Tax calculation will be finalised during checkout.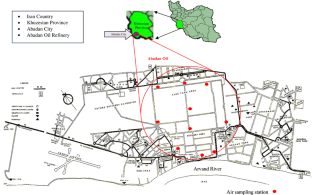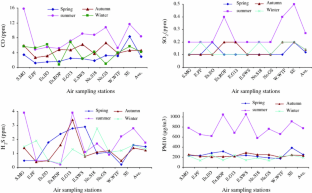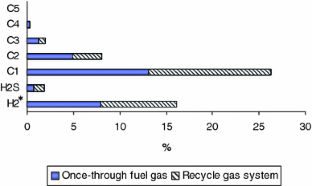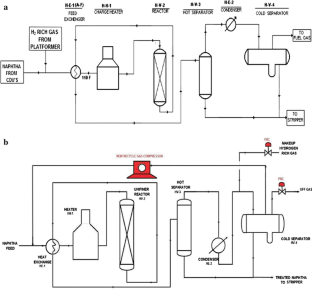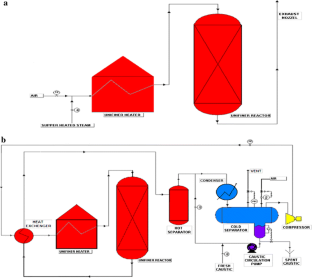 References
Berkel R (2007) Cleaner production and eco-efficiency initiatives in Western Australia 1996–2004. J Clean Prod 8–9:741–755

Department of process engineering in Abadan refinery (2009) Regeneration reports 2000–2009

Dikshit AK, Dutta A, Ray S (2005) Least cost SO2 emission minimization for a petroleum refinery by optimum use of source reduction, tail gas treatment and flue gas desulphurization. Clean Technol Environ Policy 7(3):182–189

Donald M (1985) Catalytic reforming. PennWell Book Publishing Company, Oklahoma

Dov VG, Friedler F, Huisingh D, Klemes J (2009) Cleaner energy for sustainable future. J Clean Prod 17:889–895

Ekins P, Vanner R, Firebrace J (2007) Zero emissions of oil in water from offshore oil and gas installations: economic and environmental implications. J Clean Prod 15:1302–1315

Fernandez I, Ruiz MC (2009) Descriptive model and evaluation system to locate sustainable industrial areas. J Clean Prod 17:87–100

Hojer M, Ahlroth S, Dreborg KH, Ekvall T, Finnveden G, Hjelm O, Hochschorner E, Nilsson M, Palm V (2008) Scenarios in selected tools for environmental systems analysis. J Clean Prod 16:1958–1970

Hyprotech (2003) HYSYS 3.2 customization guide, p 4

Jiandonga Z, Ganga R, Weifeng H, Chenbo H (2010) Simulation based approach for optimal scheduling of fuel gas system in refinery. Chem Eng Res Des 88:87–99

Jovanovic J, Jovanovic M, Jovanovi A, Marinovic V (2010) Introduction of cleaner production in the tank farm of the Pancevo Oil Refinery, Serbia. J Clean Prod 18:791–798

Karavanas A, Chaloulakou A, Spyrellis N (2009) Evaluation of the implementation of best available techniques in IPPC context: an environmental performance indicators approach. J Clean Prod 17:480–486

Karbassi AR, Abbaspour M, Sekhavatjou MS, Ziviyar F, Saeedi M (2008) Potential for reducing air pollution from oil refineries. Environ Monit Assess 145:159–166

Ke-min L, Hai-yan G, Shi-wei P (2005) A study on naphtha catalytic reforming reactor simulation and analysis. J Zhejiang Univ Sci 6(6):590–596

Klemes J, Huisingh D (2008) Economic use of renewable resources, LCA, cleaner batch processes and minimising emissions and wastewater. J Clean Prod 16:159–163

Mohaddeci SR, Sadighi S, Zahedi S, Bonyad H (2006) Reactor modeling and simulation of catalytic reforming process. Pet Coal 48(3):28–35

Mohaddecy SR, Sadighi S, Bahmani M (2008) Optimization of catalyst distribution in the catalytic naphtha reformer of Tehran refinery. Pet Coal 50(2):60–68

Moraes E, Alvarez MET, Maciel MRW, Filho RM (2007) Simulation and optimization of a supercritical extraction process for recovering provitamin A. In: 27th Symposium on Biotechnology for Fuels and Chemicals Book, Humana Press, Totowa, pp 1041–1050

Rao PS, Ankam S, Ansari M, Gavane AG, Kumar A, Pandit VI, Nema P (2005) Monitoring of hydrocarbon emissions in a petroleum refinery. Environ Monit Assess 108(1–3):123–132

Rao PS, Ansari MF, Gavane AG, Pandit VI, Nema P, Devotta S (2007) Seasonal variation of toxic benzene emissions in petroleum refinery. Environ Monit Assess 128(1–3):323–328

Silva PRS, Amaral G (2009) An integrated methodology for environmental impacts and costs evaluation in industrial processes. J Clean Prod 17:1339–1350

Speight JG (1980) The chemistry and technology of petroleum book, Chapter 3, MBI Dekker Inc., Newyork, p 65

UOP (1961) Abadan catalytic reformer manual book. Technical manual of Abadan oil refinery, pp 1–8

UOP (1995) Naphtha hydrotreating process handbook. Technical manual of Abadan oil refinery, p x-8

Xu A, Indala S, Hertwig TA, Pike RW, Knopf FC, Yaws CL, Hopper JR (2005) Development and integration of new processes consuming carbon dioxide in multi-plant chemical production complexes. Clean Technol Environ Policy 7(2):97–115
About this article
Cite this article
Sekhavatjou, M.S., Hosseini Alhashemi, A., Karbassi, A.R. et al. Minimization of air pollutants emissions by process improvement of catalytic reforming unit in an Iranian old refinery. Clean Techn Environ Policy 13, 743–749 (2011). https://doi.org/10.1007/s10098-011-0347-3
Received:

Accepted:

Published:

Issue Date:

DOI: https://doi.org/10.1007/s10098-011-0347-3
Keywords