Abstract
The spread of ESBL producers in the community may impact the management of patients with bloodstream infections (BSI) involving Enterobacterales in emergency departments. Thus, from 2006 to 2018, data for all BSI episodes involving Enterobacterales from the emergency department of a French teaching hospital were retrospectively included. Antimicrobial susceptibility test results and empirical antibiotic regimens were recorded. Treatment was considered as appropriate if all isolates were susceptible in vitro to at least one prescribed antibiotic. A total of 1369 BSI episodes in 1321 patients was included. Urinary tract infection was the main source of BSI (61%). The prevalence of ESBL producers increased from zero to 9.2/100 Enterobacterales BSI cases (p < 0.001), mainly Escherichia coli (6.9 cases/100 BSI in 2018); and no Klebsiella. Third-generation cephalosporins (3GC) were used most frequently (71.8%) and their use as monotherapy increased during the study period (p < 0.001). The rate of appropriate treatment decreased from 95.8 to 89.2% (p = 0.023). Appropriateness of treatment was greater using two drugs vs one (97.3% vs 89.3%, p < 0.001). Treatments with 3GC were appropriate in 92% and 98.3%, when used alone or with another antibiotic, respectively (p < 0.001). Among inappropriate treatments, 45% concerned 3GC, with 74.6% of them attributable to ESBL production. The spread of ESBL producers in the community had a direct impact on the rate of inappropriate empirical treatment. Local antimicrobial resistance monitoring is required to optimize the management of BSI in emergency departments.
Access options
Buy single article
Instant access to the full article PDF.
USD 39.95
Price includes VAT (USA)
Tax calculation will be finalised during checkout.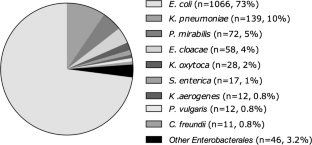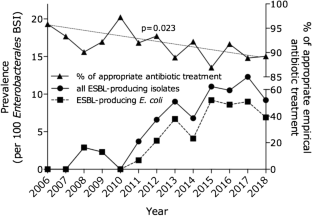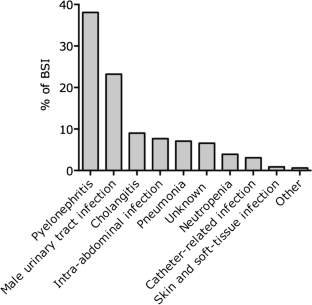 References
1.

Goto M, Al-Hasan MN (2013) Overall burden of bloodstream infection and nosocomial bloodstream infection in North America and Europe. Clin Microbiol Infect Off Publ Eur Soc Clin Microbiol Infect Dis 19:501–509. https://doi.org/10.1111/1469-0691.12195

2.

Shorr AF, Micek ST, Welch EC, Doherty JA, Reichley RM, Kollef MH (2011) Inappropriate antibiotic therapy in Gram-negative sepsis increases hospital length of stay. Crit Care Med 39:46–51. https://doi.org/10.1097/CCM.0b013e3181fa41a7

3.

Retamar P, Portillo MM, López-Prieto MD, Rodríguez-López F, de Cueto M, García MV et al (2012) Impact of inadequate empirical therapy on the mortality of patients with bloodstream infections: a propensity score-based analysis. Antimicrob Agents Chemother 56:472–478. https://doi.org/10.1128/AAC.00462-11

4.

Lodise TP, Zhao Q, Fahrbach K, Gillard PJ, Martin A (2018) A systematic review of the association between delayed appropriate therapy and mortality among patients hospitalized with infections due to Klebsiella pneumoniae or Escherichia coli: how long is too long? BMC Infect Dis 18:625. https://doi.org/10.1186/s12879-018-3524-8

5.

Battle SE, Bookstaver PB, Justo JA, Kohn J, Albrecht H, Al-Hasan MN (2017) Association between inappropriate empirical antimicrobial therapy and hospital length of stay in Gram-negative bloodstream infections: stratification by prognosis. J Antimicrob Chemother 72:299–304. https://doi.org/10.1093/jac/dkw402

6.

Kadri SS, Lai YL, Warner S, Strich JR, Babiker A, Ricotta EE et al (2021) Inappropriate empirical antibiotic therapy for bloodstream infections based on discordant in-vitro susceptibilities: a retrospective cohort analysis of prevalence, predictors, and mortality risk in US hospitals. Lancet Infect Dis 21:241–251. https://doi.org/10.1016/S1473-3099(20)30477-1

7.

Diekema DJ, Hsueh P-R, Mendes RE, Pfaller MA, Rolston KV, Sader HS, et al. The microbiology of bloodstream infection: 20-year trends from the SENTRY antimicrobial surveillance program. Antimicrob Agents Chemother 2019;63:e00355–19, /aac/63/7/AAC.00355–19.atom. https://doi.org/10.1128/AAC.00355-19

8.

Anderson DJ, Moehring RW, Sloane R, Schmader KE, Weber DJ, Fowler VG et al (2014) Bloodstream infections in community hospitals in the 21st century: a multicenter cohort study. PLoS ONE 9:e91713. https://doi.org/10.1371/journal.pone.0091713

9.

De Angelis G, Fiori B, Menchinelli G, D'Inzeo T, Liotti FM, Morandotti GA et al (2018) Incidence and antimicrobial resistance trends in bloodstream infections caused by ESKAPE and Escherichia coli at a large teaching hospital in Rome, a 9-year analysis (2007–2015). Eur J Clin Microbiol Infect Dis 37:1627–1636. https://doi.org/10.1007/s10096-018-3292-9

10.

Robineau O, Robert J, Rabaud C, Bedos J-P, Varon E, Péan Y et al (2018) Management and outcome of bloodstream infections: a prospective survey in 121 French hospitals (SPA-BACT survey). Infect Drug Resist 11:1359–1368. https://doi.org/10.2147/IDR.S165877

11.

Carvalho AS, Lagana D, Catford J, Shaw D, Bak N (2020) Bloodstream infections in neutropenic patients with haematological malignancies. Infect Dis Health 25:22–29. https://doi.org/10.1016/j.idh.2019.08.006

12.

Lee C-C, Wang J-L, Lee C-H, Hung Y-P, Hong M-Y, Chang C-M et al (2017) Age-related trends in adults with community-onset bacteremia. Antimicrob Agents Chemother 61:e01050 17-e01050 e1117. https://doi.org/10.1128/AAC.01050-17

13.

Laupland KB, Church DL (2014) Population-based epidemiology and microbiology of community-onset bloodstream infections. Clin Microbiol Rev 27:647–664. https://doi.org/10.1128/CMR.00002-14

14.

Paterson DL, Henderson A, Harris PNA (2020) Current evidence for therapy of ceftriaxone-resistant Gram-negative bacteremia. Curr Opin Infect Dis 33:78–85. https://doi.org/10.1097/QCO.0000000000000623

15.

Pitout JDD, Laupland KB (2008) Extended-spectrum beta-lactamase-producing Enterobacteriaceae: an emerging public-health concern. Lancet Infect Dis 8:159–166. https://doi.org/10.1016/S1473-3099(08)70041-0

16.

Surveillance of antimicrobial resistance in Europe 2018. Eur Cent Dis Prev Control 2019. https://www.ecdc.europa.eu/en/publications-data/surveillance-antimicrobial-resistance-europe-2018. Accessed 21 Apr 2020

17.

RAISIN. Surveillance des bactéries multiresistantes dans les établissements de santé en France / 2017 / Maladies infectieuses / Rapports et synthèses / Publications et outils / Accueil 2017. http://invs.santepubliquefrance.fr/Publications-et-outils/Rapports-et-syntheses/Maladies-infectieuses/2017/Surveillance-des-bacteries-multiresistantes-dans-les-etablissements-de-sante-en-France. Accessed 8 Oct 2017

18.

Woerther P-L, Burdet C, Chachaty E, Andremont A (2013) Trends in human fecal carriage of extended-spectrum β-lactamases in the community: toward the globalization of CTX-M. Clin Microbiol Rev 26:744–758. https://doi.org/10.1128/CMR.00023-13

19.

Zahar J-R, Lesprit P, Ruckly S, Eden A, Hikombo H, Bernard L et al (2017) Predominance of healthcare-associated cases among episodes of community-onset bacteraemia due to extended-spectrum β-lactamase-producing Enterobacteriaceae. Int J Antimicrob Agents 49:67–73. https://doi.org/10.1016/j.ijantimicag.2016.09.032

20.

Hernández C, Fehér C, Soriano A, Marco F, Almela M, Cobos-Trigueros N et al (2015) Clinical characteristics and outcome of elderly patients with community-onset bacteremia. J Infect 70:135–143. https://doi.org/10.1016/j.jinf.2014.09.002

21.

EUCAST: Disk diffusion methodology n.d. http://www.eucast.org/ast_of_bacteria/disk_diffusion_methodology/. Accessed 25 Sept 2019

22.

EUCAST: Clinical breakpoints and dosing of antibiotics n.d. http://www.eucast.org/clinical_breakpoints/. Accessed 4 Mar 2019

23.

CASFM / EUCAST 2019. Société Fr Microbiol 2019. https://www.sfm-microbiologie.org/2019/01/07/casfm-eucast-2019/. Accessed 12 Nov 2019

24.

Verroken A, Defourny L, Lechgar L, Magnette A, Delmée M, Glupczynski Y (2015) Reducing time to identification of positive blood cultures with MALDI-TOF MS analysis after a 5-h subculture. Eur J Clin Microbiol Infect Dis Off Publ Eur Soc Clin Microbiol 34:405–413. https://doi.org/10.1007/s10096-014-2242-4

25.

McGregor JC, Rich SE, Harris AD, Perencevich EN, Osih R, Lodise TP et al (2007) A systematic review of the methods used to assess the association between appropriate antibiotic therapy and mortality in bacteremic patients. Clin Infect Dis 45:329–337. https://doi.org/10.1086/519283

26.

Chen F-C, Ho Y-N, Cheng H-H, Wu C-H, Change M-W, Su C-M (2020) Does inappropriate initial antibiotic therapy affect in-hospital mortality of patients in the emergency department with Escherichia coli and Klebsiella pneumoniae bloodstream infections? Int J Immunopathol Pharmacol 34:205873842094237. https://doi.org/10.1177/2058738420942375

27.

Mallat H, Grohs P, Levy A (2004) Mainardi JL [Retrospective study of bacteremia diagnosed in an emergency department: frequency, susceptibility of microorganisms, and impact on therapeutic management]. Med Mal Infect 34:310–315

28.

Rapports ONERBA – Onerba n.d. http://onerba.org/publications/rapports-onerba/. Accessed 22 Feb 2021

29.

Caron F. Practice guidelines for the management of adult community-acquired urinary tract infections. Médecine Mal Infect 2018:32
Ethics declarations
Ethics approval for retrospective studies
The study complied with confidentiality regulations and ethical standards, and, in agreement with French regulations, was approved by the institutional review board (CER-MIT no 2021–0101, RGPD no 20210430112615).
Consent to participate
Not applicable.
Consent for publication
All the participant has consented to the submission of the study to the journal.
Conflict of interest
The authors have no relevant financial or non-financial interests to disclose.
Additional information
Publisher's note
Springer Nature remains neutral with regard to jurisdictional claims in published maps and institutional affiliations.
About this article
Cite this article
Clemenceau, M., Ahmed-Elie, S., Vilfaillot, A. et al. Appropriateness of empirical antibiotic prescription for bloodstream infections in an emergency department from 2006 to 2018: impact of the spread of ESBL-producing Enterobacterales. Eur J Clin Microbiol Infect Dis (2021). https://doi.org/10.1007/s10096-021-04351-x
Received:

Accepted:

Published:
Keywords
Bacteremia

ESBL

Antimicrobial resistance

Antimicrobial treatment