Abstract
With rising antibiotic resistance, alternatives to carbapenems are needed for acute cholangitis (AC). Temocillin reaches high biliary concentrations with limited impact on microbiota. We retrospectively included 140 AC episodes and assessed the efficacy of temocillin using microbiology susceptibility testing from blood cultures. Considering all bacteria collected by episode, resistance to temocillin, PIP/TAZ and 3GC occurred in 27/140 (26%), 32 (22.8%) and 31 (22%) episodes, respectively (p = 0.7). After documentation, temocillin could have spared PIP/TAZ or carbapenems in 14/26 and 4/11 episodes. Temocillin may constitute an alternative treatment after microbiological documentation by sparing carbapenems and/or PIP/TAZ, but not as an empirical therapeutic option.
Access options
Buy single article
Instant access to the full article PDF.
US$ 39.95
Tax calculation will be finalised during checkout.
Subscribe to journal
Immediate online access to all issues from 2019. Subscription will auto renew annually.
US$ 79
Tax calculation will be finalised during checkout.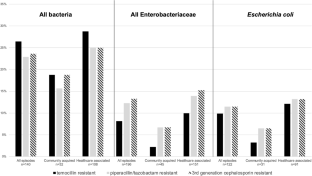 Data availability
All data is available upon request.
Acknowledgements
This work was presented in part as a poster at the European Congress of Clinical Microbiology and Infectious Diseases in Amsterdam in April 2019 (Abstract #P0840).
Ethics declarations
Ethical approval
Data collection for the cohort was declared to the French "Commission Nationale Informatique et des Libertés" (CNIL), registration no. 2080377 on 4/4/2017. Under French law, approval by an Institutional Review Board is not mandatory for retrospective monocentric studies.
Consent to participate
All patients were informed of the study. No specific consent was necessary due to the retrospective nature of the work, according to French law.
Consent to publish
All authors have read the paper and gave their consent for publication.
Competing interests
Victoire de Lastours, Véronique Leflon and Bruno Fantin report non-financial support from EUMEDICA (travel expenses). Bruno Fantin reports financial support for participating on a board organised by EUMEDICA on clinical development of temocillin. All other authors declare no conflict of interest concerning this publication.
Additional information
Publisher's note
Springer Nature remains neutral with regard to jurisdictional claims in published maps and institutional affiliations.
About this article
Cite this article
Chawki, S., Sokal, A., Duprilot, M. et al. Temocillin as an alternative treatment for acute bacterial cholangitis: a retrospective microbiology susceptibility-based study of 140 episodes. Eur J Clin Microbiol Infect Dis (2021). https://doi.org/10.1007/s10096-021-04158-w
Received:

Accepted:

Published:
Keywords
Acute cholangitis

Temocillin

Antibiotic resistance