Abstract
This study aimed to evaluate the prevalence of human rhinoviruses (HRVs) and the emergence of enterovirus D68 (EV-D68) in children. A total of 322 nasopharyngeal swab samples were provided from children with an initial diagnosis of upper and lower respiratory tract infections. A total of 34 and 70 cases were positive for EV-D68 and HRV, respectively. The phylogenetic analysis revealed that the clades A and B are the prevalent genotypes for EV-D68 and the HRV-positive samples belong to three types including HRV-A, HRV-B, and HRV-C. The results showed that EV-D68 and HRV-C are circulating in Iran especially in the winter.
Access options
Buy single article
Instant access to the full article PDF.
USD 39.95
Price excludes VAT (USA)
Tax calculation will be finalised during checkout.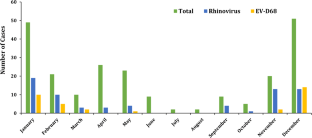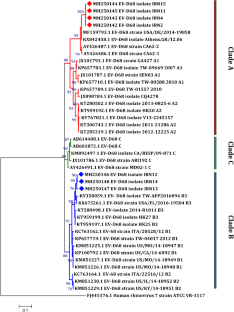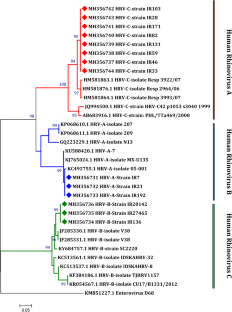 Data availability
All data generated or analyzed during this study are included in this published article. In addition, all sequences obtained in this study have been submitted to NCBI's GenBank sequence database and accession numbers MH250142-MH250148 and MH356731-MH356744 were assigned for partial VP1 gene sequences of EV-D68 and 5′-UTR sequences of HRV, respectively.
References
Schieble JH, Fox VL, Lennette EH (1967) A probable new human picornavirus associated with respiratory diseases. Am J Epidemiol 85(2):297–310

Xiang Z, Xie Z, Liu L, Ren L, Xiao Y, Paranhos-Baccala G, Wang J (2016) Genetic divergence of enterovirus D68 in China and the United States. Sci Rep 6:27800

Imamura T, Suzuki A, Lupisan S, Kamigaki T, Okamoto M, Roy CN, Olveda R, Oshitani H (2014) Detection of enterovirus 68 in serum from pediatric patients with pneumonia and their clinical outcomes. Influenza Other Respir Viruses 8(1):21–24

Oermann CM, Schuster JE, Conners GP, Newland JG, Selvarangan R, Jackson MA (2015) Enterovirus d68. A focused review and clinical highlights from the 2014 U.S. Outbreak. Ann Am Thorac Soc 12(5):775–781

Ikeda T, Mizuta K, Abiko C, Aoki Y, Itagaki T, Katsushima F, Katsushima Y, Matsuzaki Y, Fuji N, Imamura T, Oshitani H, Noda M, Kimura H, Ahiko T (2012) Acute respiratory infections due to enterovirus 68 in Yamagata, Japan between 2005 and 2010. Microbiol Immunol 56(2):139–143

Lauinger IL, Bible JM, Halligan EP, Aarons EJ, MacMahon E, Tong CY (2012) Lineages, sub-lineages and variants of enterovirus 68 in recent outbreaks. PLoS One 7(4):e36005

Linsuwanon P, Puenpa J, Suwannakarn K, Auksornkitti V, Vichiwattana P, Korkong S, Theamboonlers A, Poovorawan Y (2012) Molecular epidemiology and evolution of human enterovirus serotype 68 in Thailand, 2006-2011. PLoS One 7(5):e35190

Meijer A, van der Sanden S, Snijders BE, Jaramillo-Gutierrez G, Bont L, van der Ent CK, Overduin P, Jenny SL, Jusic E, van der Avoort HG, Smith GJ, Donker GA, Koopmans MP (2012) Emergence and epidemic occurrence of enterovirus 68 respiratory infections in The Netherlands in 2010. Virology 423(1):49–57

Piralla A, Lilleri D, Sarasini A, Marchi A, Zecca M, Stronati M, Baldanti F, Gerna G (2012) Human rhinovirus and human respiratory enterovirus (EV68 and EV104) infections in hospitalized patients in Italy, 2008-2009. Diagn Microbiol Infect Dis 73(2):162–167

Tokarz R, Firth C, Madhi SA, Howie SRC, Wu W, Sall AA, Haq S, Briese T, Lipkin WI (2012) Worldwide emergence of multiple clades of enterovirus 68. J Gen Virol 93(Pt 9):1952–1958

Jaramillo-Gutierrez G, Benschop KS, Claas EC, de Jong AS, van Loon AM, Pas SD, Pontesilli O, Rossen JW, Swanink CM, Thijsen S, van der Zanden AG, van der Avoort HG, Koopmans MP, Meijer A (2013) September through October 2010 multi-centre study in the Netherlands examining laboratory ability to detect enterovirus 68, an emerging respiratory pathogen. J Virol Methods 190(1-2):53–62

Lu QB, Wo Y, Wang HY, Wei MT, Zhang L, Yang H, Liu EM, Li TY, Zhao ZT, Liu W, Cao WC (2014) Detection of enterovirus 68 as one of the commonest types of enterovirus found in patients with acute respiratory tract infection in China. J Med Microbiol 63(Pt 3):408–414

Meijer A, Benschop KS, Donker GA, van der Avoort HG (2014) Continued seasonal circulation of enterovirus D68 in the Netherlands, 2011-2014. Euro Surveill 19(42)

Opanda SM, Wamunyokoli F, Khamadi S, Coldren R, Bulimo WD (2014) Genetic diversity of human enterovirus 68 strains isolated in Kenya using the hypervariable 3'-end of VP1 gene. PLoS One 9(7):e102866

Piralla A, Girello A, Grignani M, Gozalo-Marguello M, Marchi A, Marseglia G, Baldanti F (2014) Phylogenetic characterization of enterovirus 68 strains in patients with respiratory syndromes in Italy. J Med Virol 86(9):1590–1593

Seppälä E, Sillanpää S, Nurminen N, Huhtala H, Toppari J, Ilonen J, Veijola R, Knip M, Sipilä M, Laranne J (2016) Human enterovirus and rhinovirus infections are associated with otitis media in a prospective birth cohort study. J Clin Virol 85:1–6

Rahamat-Langendoen J, Riezebos-Brilman A, Borger R, van der Heide R, Brandenburg A, Scholvinck E, Niesters HG (2011) Upsurge of human enterovirus 68 infections in patients with severe respiratory tract infections. J Clin Virol 52(2):103–106

Martin EK, Kuypers J, Chu HY, Lacombe K, Qin X, Strelitz B, Bradford M, Jones C, Klein EJ, Englund JA (2015) Molecular epidemiology of human rhinovirus infections in the pediatric emergency department. J Clin Virol 62:25–31

Bragstad K, Jakobsen K, Rojahn AE, Skram MK, Vainio K, Holberg‐Petersen M, Hungnes O, Dudman SG, Kran AMB (2015) High frequency of enterovirus D 68 in children hospitalised with respiratory illness in N orway, autumn 2014. Influenza Other Respir Viruses 9(2):59–63

Zhang T, Li A, Chen M, Wu J, Huang F (2016) Respiratory infections associated with enterovirus D68 from 2011 to 2015 in Beijing, China. J Med Virol 88(9):1529–1534

Calvo C, Garcia ML, Pozo F, Reyes N, Perez-Brena P, Casas I (2009) Role of rhinovirus C in apparently life-threatening events in infants, Spain. Emerg Infect Dis 15(9):1506–1508

Miller EK, Khuri-Bulos N, Williams JV, Shehabi AA, Faouri S, Al Jundi I, Chen Q, Heil L, Mohamed Y, Morin LL, Ali A, Halasa NB (2009) Human rhinovirus C associated with wheezing in hospitalised children in the Middle East. J Clin Virol 46(1):85–89

Midgley SE, Christiansen CB, Poulsen MW, Hansen CH, Fischer TK (2015) Emergence of enterovirus D68 in Denmark, June 2014 to February 2015. Euro Surveill 20(17):21105

Kieninger E, Fuchs O, Latzin P, Frey U, Regamey N (2013) Rhinovirus infections in infancy and early childhood. Eur Respir J 41(2):443–452
Funding
This work was financially supported by Research Center of Tehran University of Medical Sciences (grant no. 31864).
Ethics declarations
Conflict of interest
The authors declare that they have no competing interests.
Ethics approval and consent to participate
This study was approved by ethical committee of Tehran University of Medical Sciences.
Additional information
Publisher's note
Springer Nature remains neutral with regard to jurisdictional claims in published maps and institutional affiliations.
About this article
Cite this article
Mozhgani, SH., Keshavarz, M., Mousavi, N. et al. Frequent detection of enterovirus D68 and rhinovirus type C in children with acute respiratory infections. Eur J Clin Microbiol Infect Dis 40, 637–642 (2021). https://doi.org/10.1007/s10096-020-04051-y
Received:

Accepted:

Published:

Issue Date:

DOI: https://doi.org/10.1007/s10096-020-04051-y
Keywords