Abstract
The clinical importance of Mycobacterium abscessus subsp. abscessus (M. abscessus) lung disease has been increasing, but few studies have assessed the clinical characteristics associated with the treatment outcome. We retrospectively analyzed 75 consecutive patients with M. abscessus lung disease diagnosed at a tertiary hospital from January 2004 to April 2018. Among 52 patients with sufficient clinical data, 19 patients (42.2%) achieved treatment success. Compared with 26 (57.8%) patients in the treatment failure group, body mass index (BMI) (19.8 vs 17.5 kg/m2, P = 0.022), previous nontuberculous mycobacterial (NTM) lung disease (26.3% vs 61.5%, P = 0.034), the presence of cavitary lesions (31.6% vs 69.2%, P = 0.017), and the bronchiectasis score (3.0 vs 5.0, P = 0.003) were significantly different in the treatment success group. Multivariate analysis showed that age (adjusted hazard ratio (aHR), 0.94; 95% confidence interval (CI), 0.90 to 0.99; P = 0.010), the presence of cavitary lesions (aHR, 0.34; 95% CI, 0.12 to 0.94; P = 0.039), and previous NTM lung disease (aHR, 0.28; 95% CI, 0.09 to 0.86; P = 0.026) were negatively associated with treatment success. This is the first study to show that previous NTM lung disease might be a clinically important factor related to unfavorable treatment outcomes in M. abscessus lung disease patients. To increase our understanding the characteristics of M. abscessus lung disease, this factor should be independently analyzed in future research.
Access options
Buy single article
Instant access to the full article PDF.
US$ 39.95
Tax calculation will be finalised during checkout.
Subscribe to journal
Immediate online access to all issues from 2019. Subscription will auto renew annually.
US$ 79
Tax calculation will be finalised during checkout.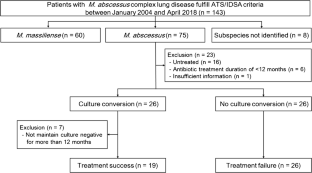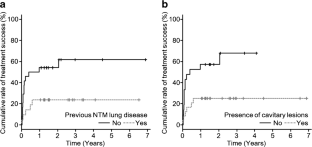 Data availability
The datasets generated during and/or analyzed during the current study are available from the corresponding author on reasonable request.
Acknowledgments
The authors are grateful to all the hospital staff who supported this research.
Funding
This study was supported by the Japan Agency for Medical Research and Development (19fk0108043, JP20fk0108129).
Ethics declarations
Conflict of interest
The authors declare that they have no conflict of interest.
Ethics approval and consent to participate
The study protocol was approved by the Fukujuji Hospital Institutional Review Board (protocol number: 19042), and informed consent was waived because of the retrospective nature of the analysis.
Consent for publication
Not applicable.
Code availability
Not applicable.
Additional information
Publisher's note
Springer Nature remains neutral with regard to jurisdictional claims in published maps and institutional affiliations.
Electronic supplementary material
About this article
Cite this article
Fujiwara, K., Furuuchi, K., Aono, A. et al. Clinical risk factors related to treatment failure in Mycobacterium abscessus lung disease. Eur J Clin Microbiol Infect Dis 40, 247–254 (2021). https://doi.org/10.1007/s10096-020-04026-z
Received:

Accepted:

Published:

Issue Date:
Keywords
Mycobacterium abscessus

Treatment outcomes

Lung disease

Cavity