Abstract
Antibiotic prophylaxis (AP) of infective endocarditis (IE) in dental practice is a controversial topic. We evaluated the characteristics of the odontogenic IE and assessed the practice and sources of information pertaining to the topic utilized by the Croatian dentists. We conducted a retrospective review of consecutive medical charts of adult patients with IE, admitted to the University Hospital for Infectious Diseases in Zagreb, Croatia, between January 2007 and December 2017. In addition, a cross-sectional, self-reporting questionnaire survey was conducted with participation of 348 Croatian dentists. Of the 811 admissions for suspected IE (40.3% of all Croatian and 92.1% of all Zagreb hospitals), 386 patients were confirmed as definite IE: 68 with odontogenic IE and 318 with IE of other origin. Their first hospital admissions were analyzed. Definite odontogenic IE was defined as a positive echocardiographic result in conjunction with two separate positive blood cultures showing exclusive oral cavity pathogen or Streptococcus viridans associated with current or recent (< 1 month) dental, periodontal, or oral cavity infection. The annual number of new odontogenic IE patients appeared constant over time. In 91.2% of the cases, odontogenic IE was not preceded by a dental procedure; poor oral health was found in 51.5% of patients, and 47.1% had no cardiac condition that increases the IE risk. In-hospital mortality was 5.1% with conservative treatment and 4.5% with cardiac surgery and was much lower for odontogenic IE than in non-odontogenic IE (14.6% and 34.4%, respectively). An increasing number of admissions for non-odontogenic IE were observed in parallel with an increasing number of staphylococcal IE. Surveyed dentists (500 invited, 69.6% responded) were aware of the AP recommendations, but were largely reluctant to treat patients at risk. In people with poor oral health, AP should be considered regardless of cardiac risk factors. Improvement of oral health should be the cornerstone of odontogenic IE prevention.
Access options
Buy single article
Instant access to the full article PDF.
US$ 39.95
Tax calculation will be finalised during checkout.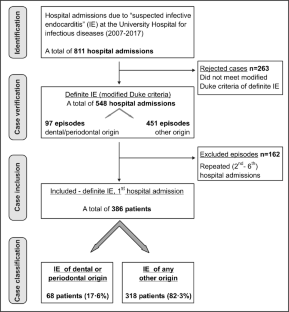 References
1.

Cahill TJ, Prendergast BD (2016) Infective endocarditis. Lancet 387:882–893

2.

Baddour LM, Wilson WR, Bayer AS, American Heart Association Committee on Rheumatic Fever, Endocarditis, and Kawasaki Disease of the Council on Cardiovascular Disease in the Young, Council on Clinical Cardiology, Council on Cardiovascular Surgery and Anesthesia, and Stroke Council et al (2015) Infective endocarditis in adults: diagnosis, antimicrobial therapy, and management of complications: a scientific statement for healthcare professionals from the American Heart Association. Circulation 132:1435–1486

3.

Bin Abdulhak AA, Baddour LM, Erwin PJ et al (2014) Global and regional burden of infective endocarditis, 1990-2010: a systematic review of the literature. Glob Heart 9:131–143

4.

Ambrosioni J, Hernandez-Meneses M, Téllez A et al; Hospital Clinic Infective Endocarditis Investigators (2017) The changing epidemiology of infective endocarditis in the twenty-first century. Curr Infect Dis Rep 19:21

5.

Habib G, Lancellotti P, Antunes MJ et al; ESC Scientific Document Group (2015) ESC guidelines for the management of infective endocarditis: The Task Force for the Management of Infective Endocarditis of the European Society of Cardiology (ESC). Endorsed by: European Association for Cardio-Thoracic Surgery (EACTS), the European Association of Nuclear Medicine (EANM). Eur Heart J 36:3075–3128

6.

Nishimura RA, Otto CM, Bonow RO et al (2017) AHA/ACC focused update of the 2014 AHA/ACC guideline for the management of patients with valvular heart disease: a report of the American College of Cardiology/American Heart Association Task Force on clinical practice guidelines. Circulation 135(25):e1159–e1195

7.

DeSimone DC, Tleyjeh IM, Correa de Sa DD et al (2015) Incidence of infective endocarditis due to viridans group streptococci before and after the 2007 American Heart Association's prevention guidelines: an extended evaluation of the Olmsted County, Minnesota, population and nationwide inpatient sample. Mayo Clin Proc 90:874–881

8.

Jain P, Stevenson T, Sheppard A et al (2015) Antibiotic prophylaxis for infective endocarditis: knowledge and implementation of American Heart Association guidelines among dentists and dental hygienists in Alberta, Canada. J Am Dent Assoc 146:743–750

9.

Li JS, Sexton DJ, Mick N et al (2000) Proposed modifications to the Duke criteria for the diagnosis of infective endocarditis. Clin Infect Dis 30:633–638

10.

Duval X, Delahaye F, Alla F et al; AEPEI Study Group (2012) Temporal trends in infective endocarditis in the context of prophylaxis guideline modifications: three successive population-based surveys. J Am Coll Cardiol 59:1968–1976

11.

Murdoch D, Corey R, Hoen B et al (2009) Etiology and outcome of infective endocarditis in the 21st century: the international collaboration on endocarditis-prospective cohort study. Arch Intern Med 169:463–473

12.

Radić M, Benjak T, Dečković Vukres V, Rotim Ž, Filipović Zore I (2015) Presentation of DMF index in Croatia and Europe. ActaStomatol Croat 49:275–284

13.

Macan D, Ćabov T, Šnjarić D, Perić B, Macan JŠ, Brajdić D (2005) Antibiotic prophylaxis of infective endocarditis in stomatology: a survey of cardiologists. Lijec Vjesn 127:72–76

14.

Habib G, Hoen B, Tornos P, ESC Committee for Practice Guidelines et al (2009) Guidelines on the prevention, diagnosis, and treatment of infective endocarditis: the task force on the prevention, diagnosis, and treatment of infective endocarditis of the European Society of Cardiology (ESC). Endorsed by the European Society of Clinical Microbiology and Infectious Diseases (ESCMID) and the International Society of Chemotherapy (ISC) for infection and cancer. Eur Heart J 30:2369–2413

15.

Wilson W, Taubert KA, Gewitz M et al (2007) Prevention of infective endocarditis: guidelines from the American Heart Association: a guideline from the American Heart Association Rheumatic Fever, Endocarditis, and Kawasaki Disease Committee, Council on Cardiovascular Disease in the Young, and the Council on Clinical Cardiology, Council on Cardiovascular Surgery and Anesthesia, and the Quality of Care and Outcomes Research Interdisciplinary Working Group. Circulation 116:1736–1754

16.

Jordal S, Kittang BR, Salminen PR et al (2018) Infective endocarditis in Western Norway: a 20-year retrospective survey. Infect Dis (Lond) 50:757–763

17.

Bannay A, Hoen B, Duval X, et al for the AEPEI Study Group (2011) The impact of valve surgery on short- and long-term mortality in leftsided infective endocarditis: do differences in methodological approaches explain previous conflicting results? Eur Heart J 32:2003–2015

18.

Kang DH, Kim YJ, Kim SH et al (2012) Early surgery versus conventional treatment for infective endocarditis. N Engl J Med 366:2466–2473

19.

Shrestha NK, Shah SY, Hussain ST et al (2019) Association of surgical treatment with survival in patients with prosthetic valve endocarditis. Ann Thorac Surg S0003-4975(19):31565–31566. https://doi.org/10.1016/j.athoracsur.2019.09.015

20.

Chu VH, Park LP, Athan E et al; International Collaboration on Endocarditis (ICE) Investigators (2015) Association between surgical indications, operative risk, and clinical outcome in infective endocarditis: a prospective study from the International Collaboration on Endocarditis. Circulation 131:131–140

21.

Remadi JP, Habib G, Nadji G et al (2007) Predictors of death and impact of surgery in Staphylococcus aureus infective endocarditis. Ann Thorac Surg 83:1295–1302
Ethics declarations
Conflict of interest
The authors declare that they have no conflict of interest.
Ethical approval
The study was approved by the Ethics Committees of the School of Dental Medicine, University of Zagreb, (approval no. 05-PA-30-IV-2/2019) and the University Hospital for Infectious Diseases "Dr Fran Mihaljević", Zagreb, Croatia (approval No. 01–397–2-2019). All procedures were conducted in accordance with the recommendations of the Declaration of Helsinki.
Informed consent
Not applicable in the present study.
Additional information
Publisher's note
Springer Nature remains neutral with regard to jurisdictional claims in published maps and institutional affiliations.
Electronic supplementary material
About this article
Cite this article
Šutej, I., Peroš, K., Trkulja, V. et al. The epidemiological and clinical features of odontogenic infective endocarditis. Eur J Clin Microbiol Infect Dis 39, 637–645 (2020). https://doi.org/10.1007/s10096-019-03766-x
Received:

Accepted:

Published:

Issue Date:
Keywords
Infective endocarditis

Odontogenic

Antibiotic

Prophylaxis