Abstract
Group A streptococci (GAS) are among the most frequent pathogens in children. Many epidemiological studies focus on specific GAS infections (such as tonsillopharyngitis or invasive disease), on GAS carriers or on post-streptococcal sequelae. By comparison, reports on regional GAS characteristics, particularly circulating non-invasive GAS in Europe, are rare. In a monocentric study, all GAS isolated from pediatric patients at a tertiary care hospital over a 6-year period (2006–2012) were characterized. GAS emm types and clusters were determined. Associated patient data were analyzed. Five hundred sixty-six GAS strains were collected. GAS tonsillopharyngitis was most common (71.6%), followed by pyoderma (6.0%), otitis media (3.7%), perineal dermatitis (3.4%), and invasive infections (1.4%). Colonizing strains represented 13.6% of GAS. GAS emm12 was most prevalent among invasive and non-invasive isolates. Emm1, emm4, emm28, and emm89 were the most frequent non-invasive GAS strains. The emm E4 cluster was most common, followed by the A-C4, A-C3, and E1. Among the GAS infections, different emm types and clusters were identified, e.g., emm4 was more common among patients with scarlet fever. Three new emm subtypes were characterized: emm29.13, emm36.7, and emm75.5. This comprehensive review of a large, local GAS cohort points to the differences between and similarities among GAS genotypes and disease manifestations, while minimizing regional variations. Considerable deviation from previous epidemiological findings is described, especially regarding the frequent detection of emm1 and emm89 in non-invasive GAS infections. Periodic updates on molecular and epidemiological GAS characteristics are needed to track the multifaceted pathogenic potential of GAS.
Access options
Buy single article
Instant access to the full article PDF.
US$ 39.95
Tax calculation will be finalised during checkout.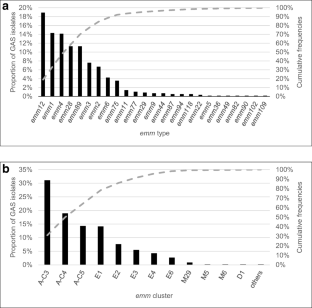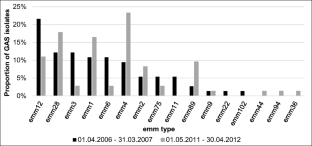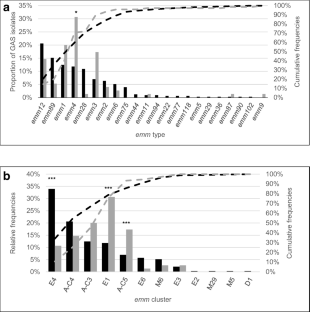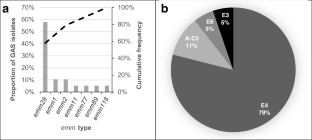 Data availability
Data are available upon reasonable request.
Acknowledgments
We thank Ursula Schmid, Käthe Brell, Susanne Fukala, and Uta Falke for their excellent technical assistance.
Ethics declarations
Conflict of interest
The authors declare that they have no conflict of interest.
Ethic approval
All procedures performed in this study were in accordance with the ethical standards of the institutional and national research committee and with the 1964 Helsinki declaration and its later amendments or comparable ethical standards.
Informed consent
For this type of study, formal consent is not required.
Additional information
Publisher's note
Springer Nature remains neutral with regard to jurisdictional claims in published maps and institutional affiliations.
Electronic supplementary material
About this article
Cite this article
Konrad, P., Hufnagel, M., Berner, R. et al. Long-term, single-center surveillance of non-invasive group A streptococcal (GAS) infections, emm types and emm clusters. Eur J Clin Microbiol Infect Dis 39, 273–280 (2020). https://doi.org/10.1007/s10096-019-03719-4
Received:

Accepted:

Published:

Issue Date:
Keywords
Group A streptococci (GAS)

Streptococcus pyogenes

Epidemiology

Pediatric infections

Circulating non-invasive isolates