Abstract
The aim of this study is to investigate the antimicrobial susceptibility of strains isolated from the major hospitals in China. A total of 44 teaching hospitals were involved. Antimicrobial susceptibility testing was conducted by Kirby-Bauer automated systems, and results were interpreted using CLSI criteria. Totally 244,843 strains were isolated in 2018, of which gram-negative bacilli and gram-positive cocci were accounting for 71.8% and 28.2%, respectively. 39.7% of isolates were cultured from lower respiratory tract, 18.8% from urine, 14.8% from blood, 1.3% from cerebrospinal fluid, respectively. Of those, the five major species were most often isolated (65.5%, 63%, 52.3%, and 30.3%). The resistance rate of MRSA to most antimicrobial agents was significantly higher than that of MSSA strains, except for to trimethoprim-sulfamethoxazole in urine specimen. E.coli was still highly susceptible to carbapenem antibiotics, and the resistance rate was less than 5%. Carbapenem resistance among Klebsiella pneumoniae, especially cultured from cerebrospinal fluid, increased significance from 18.6 to 64.1%. The resistance rates of Pseudomonas aeruginosa to carbapenems were nearly 30% in the blood, in urine, and in the lower respiratory tract, but about 60% of that in cerebrospinal fluid. About 80% of Acinetobacter baumannii strains was resistant to imipenem and meropenem, respectively. Bacterial resistance of five major clinical isolates from cerebrospinal fluid to common antibiotics (in particular Carbapenem-resistant Klebsiella pneumoniae) currently shows an increasing trend. It is worth to emphasize the importance of serious control of hospital infection and better management of clinical use of antimicrobial agents.
This is a preview of subscription content, log in to check access.
Access options
Buy single article
Instant unlimited access to the full article PDF.
US$ 39.95
Price includes VAT for USA
Subscribe to journal
Immediate online access to all issues from 2019. Subscription will auto renew annually.
US$ 99
This is the net price. Taxes to be calculated in checkout.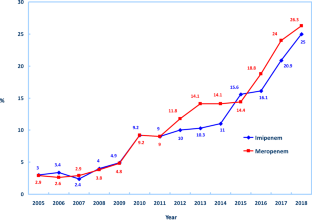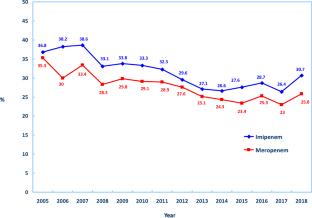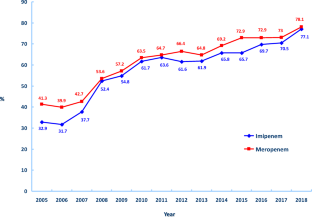 References
1.

Clinical and Laboratory Standards Institute (CLSI) (2018) Performance standards for antimicrobial susceptibility testing. M100 28th edition. Wayne, PA

2.

Hu FP, Guo Y, Zhu DM, Wang F, Jiang XF, Xu YC et al (2018) 2017 surveillance of bacterial resistance in China. Chin J Infect Chemother 18(3):241–251

3.

Hu FP, Guo Y, Zhu DM, Wang F, Jiang XF, Xu YC et al (2016) Resistance trends among clinical isolates in China reported from CHINET surveillance of bacterial resistance, 2005-2014. Clin Microbiol Infect 22(Suppl 1):S9–S14

4.

Qin X, Yang Y, Hu F, Zhu D (2014) Hospital clonal dissemination of Enterobacter aerogenes producing carbapenemase KPC-2 in a Chinese teaching hospital. J Med Microbiol 63(Pt 2):222–228

5.

Zhu DM, Wang F, Hu FP, Jiang XF, Ni YX, Sun JY et al (2011) 2010 surveillance of bacterial resistance in China. Chin J Infect Chemother 11(5):321–329

6.

Hu FP, Guo Y, Zhu DM, Wang F, Jiang XF, Xu YC et al (2017) CHINET 2016 surveillance of bacterial resistance in China. Chin J Infect Chemother 17(5):481–491

7.

Wang H, Yu YS, Wang MG, Ni YX, Ma Y, Ren JK et al (2013) Expert consensus on the procedure of tigecycline in vitro susceptibility test. Chin J Lab Med 26(7):584–587

8.

Zhang R, Liu L, Zhou H, Chan EW, Li J, Fang Y et al (2017) Nationwide surveillance of clinical Carbapenem-resistant Enterobacteriaceae (CRE) strains in China. EBioMedicine. 19:98–106

9.

Yin D, Dong D, Li K, Zhang L, Liang J, Yang Y et al (2017) Clonal dissemination of OXA-232 Carbapenemase-producing Klebsiella pneumoniae in neonates. Antimicrob Agents Chemother 61(8)
Acknowledgments
We gratefully acknowledge the contributions of the members of CHINET for collection of the isolates tested in this study. Their names and affiliations are as follows: Yingchun Xu and Xiaojiang Zhang from the Peking Union Medical College Hospital; Zhaoxia Zhang and Ping Ji from the First Affiliated Hospital of Xinjiang Medical University; Mei Kang and Chao He from West China Hospital, Sichuan University; Chuanqing Wang and Leiyan He from the Children's Hospital of Fudan University; Yuanhong Xu and Ying Huang from the First Affiliated Hospital of Anhui Medical University; Zhongju Chen and Ziyong Sun from Tongji Hospital, Tongji Medical College, Huazhong University of Science & Technology; Yuxing Ni and Jingyong Sunfrom Ruijin Hospital, Shanghai Jiaotong University School of Medcine; Yunzhuo Chu and Sufei Tian from the First Affiliated Hospital of China Medical University; Zhidong Hu and Jin Li from Tianjin Medical University General Hospital; Yunsong Yu and Jie Lin from Sir Run Run Shaw Hospital, Zhejiang University School of Medicine; Bin Shan and Yan Du from the First Affiliated Hospital of Kunming Medical University; Sufang Guo and Yanyan Wang from the First Affiliated Hospital of Inner Mongolia Medical University; Lianhua Wei and Xin Wang from the Gansu Provincial Hospital; Hong Zhang and Chun Wang from the Children's Hospital of Shanghai; Yunjian Hu and Xiaoman Ai from Beijing Hospital; Chao Zhuo and Danhong Su from the First Affiliated Hospital of Guangzhou Medical University; Ruizhong Wang and Hua Fang from the Pudong New Area People's Hospital; Bixia Yu from the Zhejiang Ningbo Zhenhai Longsai Hospital; Ping Gong and Miao Song from the People's Hospital of Zigui, Hubei Province; Dawen Guo and Jinying Zhao from the First Affiliated Hospital of Harbin Medical University; Wen'en Liu and Yanming Li from Xiangya Hospital, Central South University; Yan Jin and Yueling Wang from Shandong Provincial Hospital; Kaizhen Weng and Yirong Zhang from the Jinjiang Municipal Hospital; Xuesong Xu and Chao Yan from the China-Japan Union Hospital, Jilin University; Xiangning Huang and Hua Yu from the Sichuan Provincial People's Hospital; Yi Li and Shanmei Wang from the Henan Provincial People's Hospital; Lixia Zhang and Juan Ma from the Shaanxi Provincial People's Hospital; Shuping Zhou and Jiangwei Ke from the Jiangxi Provincial Children's Hospital; Lei Zhu and Jinhua Meng from the Children's Hospital of Shanxi; Wenqi Song and Fang Dong from the Beijing Children's Hospital, Capital Medical University; Han Shen and Wanqing Zhou from the Nanjing Drum Tower Hospital, Affiliated Hospital of Nanjing; Gang Li and Wei Jia from the General Hospital of Ningxia Medical University; Jinsong Wu and Yuemei Lu from the Shenzhen People's Hospital; Jihong Li from the Second Hospital of Hebei Medical University; Jiangshan Liu from Jinchang Hospital of integrated traditional Chinese and Western Medicine; Longfeng Liao from The People's Hospital of Ganxian; Hongqin Gu from Guangrao County People's Hospital; Lin Jiang from The People's Hospital of Huixian, Henan Province; Wen He from Central Hospital of Yingkou Development Zone, Liaoning Province; Shunhong Xue from Huzhu County People's Hospital, Qinghai Province; Jiao Feng from The People's Hospital of Linshui, Sichuan Province; Rui Dou from Lixin County People's Hospital; and Chunlei Yue from Jiutai People's Hospital.
Funding information
This work was supported in part by the Pfizer Investigator Initiated Research (grant WI207259) and the National Natural Science Foundation of China (grant 81871690).
Ethics declarations
The study is conducted on already available data. Ethical approval was approved by the Institutional Review Board of Huashan Hospital, Fudan University (Number:2018-408).
Conflict of interest
The authors declare that they have no conflict of interest.
Disclaimer
The funders had no role in study design, data collection and analysis, decision to publish, or preparation of the manuscript.
Additional information
Publisher's note
Springer Nature remains neutral with regard to jurisdictional claims in published maps and institutional affiliations.
About this article
Cite this article
Hu, F., Guo, Y., Yang, Y. et al. Resistance reported from China antimicrobial surveillance network (CHINET) in 2018. Eur J Clin Microbiol Infect Dis 38, 2275–2281 (2019) doi:10.1007/s10096-019-03673-1
Received:

Accepted:

Published:

Issue Date:
Keywords
Bacterial resistance surveillance

Antimicrobial susceptibility testing

Methicillin-resistant Staphylococcus

Carbapenem-resistant gram-negative bacilli