Abstract
Vaginosis is a dysbiotic condition of the vaginal cavity that has deleterious effects during pregnancy. The role of methanogens in this disease is unknown since current methods of investigation are not appropriate for the search of methanogens. We prospectively investigated the presence of methanogens in vaginal specimens collected from 33 women thereafter diagnosed with bacterial vaginosis and 92 women thereafter diagnosed without bacterial vaginosis (control group) by direct microscopic examination and fluorescent in situ hybridization, PCR-sequencing, and real-time PCR and isolation and culture. These investigations found only one methanogen, Methanobrevibacter smithii, exclusively in 97% bacterial vaginosis specimens and in two intermediate microbiota specimens. M. smithii was detected microscopically in 2/20 specimens analyzed, by PCR-based observations in 34/125 specimens with 99% sequence similarity with the reference 16S rRNA and mcrA gene sequences and was cultured in 9/40 specimens. These data suggest that the detection of M. smithii could be used as a biomarker for the laboratory diagnosis of bacterial vaginosis.
Access options
Buy single article
Instant access to the full article PDF.
USD 39.95
Price excludes VAT (USA)
Tax calculation will be finalised during checkout.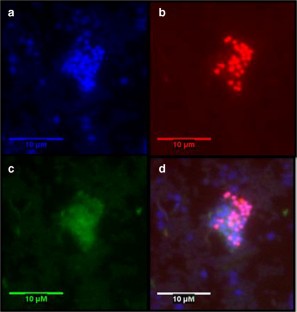 Availability of data and materials
The datasets used and/or analyzed during the current study are available from the corresponding author.
References
Bitew A, Abebaw Y, Bekele D, Mihret A (2017) Prevalence of bacterial vaginosis and associated risk factors among women complaining of genital tract infection. Int J Microbiol 150:1–13

Myer L, Denny L, Telerant R et al (2005) Bacterial vaginosis and susceptibility to HIV infection in south African women: a nested case control study. J Infect Dis 2:1372–1380

Kenyon C, Colebunders R, Crucitti T (2013) The global epidemiology of bacterial vaginosis: a systematic review. Am J Obstet Gynecol 209:505–523

Spiegel C (1991) Bacterial vaginosis. Clin Microbiol Rev 4:485–502

Thorsen P, Jensen IP, Jeune B, Ebbesen N, Arpi M, Bremmelgaard A, Moller BR (1998) Few microorganisms associated with bacterial vaginosis may constitute the pathologic core: a population-based microbiologic study among 3596 pregnant women. Am J Obstet Gynecol 178:580–587

Sha BE, Chen HY, Wang QJ, Zariffard MR, Cohen MH, Spear GT (2005) Utility of Amsel Criteria, Nugent Score, and Quantitative PCR for for Diagnosis of Bacterial Vaginosis in Human Immunodeficiency Virus-Infected Women. Society 43:4607–4612

Mohammadzadeh F, Dolatian M, Jorjani M, Alavi Majd H (2014) Diagnostic value of Amsel's clinical criteria for diagnosis of bacterial vaginosis. Global J Health Sci 7:8–14

Fredricks DN, Fiedler TL, Marrazzo JM (2005) Molecular identification of bacteria associated with bacterial vaginosis. N Engl J Med 353:1899–1911

Thomason JL, Anderson RJ, Gelbart SM, Osypowski PJ, Scaglione NJ, el Tabbakh G et al (1992) Simplified gram stain interpretive method for diagnosis of bacterial vaginosis. Am J Obstet Gynecol 167:16–19

Ison CA, Hay PE (2002) Validation of a simplified grading of gram stained vaginal smears for use in genitourinary medicine clinics. Sex Transm Infect 78:413–415

Nugent RP, Krohn MA, Hillier SL (1991) Reliability of diagnosing bacterial vaginosis is improved by a standardized method of gram stain interpretation. J Clin Microbiol 29:297–301

Menard JP, Mazouni C, Salem-Cherif I et al (2010) High vaginal concentrations of Atopobium vaginae and Gardnerella vaginalis in women undergoing preterm labor. Obstet Gynecol 115:134–140

Menard JP, Mazouni C, Fenollar F, Raoult D, Boubli L, Bretelle F (2010) Diagnostic accuracy of quantitative real-time PCR assay versus clinical and gram stain identification of bacterial vaginosis. Eur J Clin Microbiol Infect Dis 29:1547–1552

Menard J, Fenollar F, Henry M, Bretelle F, Raoult D (2008) Molecular quantification of Gardnerella vaginalis and Atopobium vaginae loads to predict bacterial vaginosis. Clin Infect Dis 47:33–43

Bretelle F, Rozenberg P, Pascal A et al (2015) High Atopobium vaginae and Gardnerella vaginalis vaginal loads are associated with preterm birth. Clin Infect Dis 60:860–867

Srinivasan S, Fredricks DN (2008) The human vaginal bacterial biota and bacterial vaginosis. Interdiscip Perspect Infect Dis 208:1–22

Hillier SL, Krohn MA, Rabe LK, Klebanoff SJ, Eschenbach DA (1993) The normal vaginal flora, H2 O2-producing lactobacilli, and bacterial vaginosis in pregnant women. Clin Infect Dis 16:273–281

Dominguez-Bello MG, De Jesus-Laboy KM, Shen N et al (2016) Partial restoration of the microbiota of cesarean-born infants via vaginal microbial transfer. Nat Med 22:250–253

Ling Z, Kong J, Liu F, Zhu H, Chen X, Wang Y et al (2010) Molecular analysis of the diversity of vaginal microbiota associated with bacterial vaginosis. BMC Genomics 11:482–428

Montoya VK (2013) Metagenomic analyses of two female genital tract diseases : bacterial vaginosis and ovarian cancer. A Thesis. University of British Columbia available at https://open.library.ubc.ca/cIRcle/collections/ubctheses/24/items/1.0073777

Aagaard K, Riehle K, Ma J, Segata N, Mistretta TA, Coarfa C et al (2012) A metagenomic approach to characterization of the vaginal microbiome signature in pregnancy. PLoS One 7:12–20

Liu Y, Whitman WB (2008) Metabolic, phylogenetic, and ecological diversity of the methanogenic archaea. Ann N Y Acad Sci 1125:171–189

Khelaifia S, Ramonet PY, Bedotto Buffet M, Drancourt M (2013) A semi-automated protocol for archaea DNA extraction from stools. BMC Res Notes 6:186–191

Belay N, Mukhopadhyay B, Conway de Macario E, Galask R, Daniels L (1990) Methanogenic bacteria in human vaginal samples. J Clin Microbiol 28:1666–1668

Dridi B, Henry M, El Khéchine A, Raoult D, Drancourt M (2009) High prevalence of Methanobrevibacter smithii and Methanosphaera stadtmanae detected in the human gut using an improved DNA detection protocol. PLoS One 4:23–29

Dridi B, Fardeau ML, Ollivier B, Raoult D, Drancourt M (2011) The antimicrobial resistance pattern of cultured human methanogens reflects the unique phylogenetic position of archaea. J Antimicrob Chemother 66:2038–2044

Drancourt M, Nkamga VD, Lakhe NA, Régis JM, Dufour H, Fournier PE et al (2017) Evidence of archaeal methanogens in brain abscess. Clin Infect Dis 65:1–5

Nkamga VD, Lotte R, Roger PM, Drancourt M, Ruimy R (2016) Methanobrevibacter smithii and Bacteroides thetaiotaomicron cultivated from a chronic paravertebral muscle abscess. Clin Microbiol Infect 22:1008–1009

Hungate R, Macy J (1973) The roll-tube method for cultivation of strict anaerobes. Modern methods in the study of microbial ecology. Oikos Editorial Office: Bulletins of the Ecological Research Committee, pp 123–126

Khelaifia S, Raoult D, Drancourt M (2013) A versatile medium for cultivating methanogenic archaea. PLoS One 8:13–20

Nkamga VD, Drancourt M (2015) Methanomassiliicoccaceae. In: Whitman WB (ed) Bergey's manual of systematics of archaea and bacteria. Wiley, Chichester

Khelaifia S, Lagier JC, Nkamga VD, Guilhot E, Drancourt M, Raoult D (2016) Aerobic culture of methanogenic archaea without an external source of hydrogen. Eur J Clin Microbiol Infect Dis 35:985–991

Lepp PW, Brinig MM, Ouverney CC, Palm K, Armitage GC, Relman DA (2004) Methanogenic archaea and human periodontal disease. Proc Natl Acad Sci 101:6176–6181

Raskin L, Stromley JM, Rittmann BE, Stahl D (1994) Group-specific 16S ribosomal-Rna hybridization probes to describe natural communities of methanogens. Appl Environ Microbiol 60:1232–1240

Grine G, Boualam MA, Drancourt M (2017) Methanobrevibacter smithii, a methanogen consistently colonising the newborn stomach. Eur J Clin Microbiol Infect Dis 12:1–7

Demonfort V, Henrissat B, Drancourt M (2017) Archaea: essential inhabitants of the human digestive microbiota. Hum Microbiome J3:1–8

Dridi B, Fardeau ML, Ollivier B, Raoult D, Drancourt M (2012) Methanomassiliicoccus luminyensis gen. Nov., sp. nov., a methanogenic archaeon isolated from human faeces. Int J Syst Evol Microbiol 62:1902–1907

Nguyen-Hieu T, Khelaifia S, Aboudharam G, Drancourt M (2013) Methanogenic archaea in subgingival sites: a review. Apmis 121:467–477

Gaci N, Borrel G, Tottey W, O'Toole PW, Brugère JF (2014) Archaea and the human gut: new beginning of an old story. World J Gastroenterol 20:16062–16078

Huynh HTT, Pignoly M, Drancourt M, Aboudharam G (2017) A new methanogen "Methanobrevibacter massiliense" isolated in a case of severe periodontitis. BMC Res Notes 10:657–663

Koskinen K, Pausan MR, Perras AK, Beck M, Bang C, Mora M et al (2007) First insights into the diverse human Archaeome: specific detection of archaea in the gastrointestinal tract, lung, and Nose and on Skin. MBio 8:1–17

Grine G, Terrer E, Boualam MA, Aboudharam G, Chaudet H, Ruimy R et al (2018) Tobacco-smoking-related prevalence of methanogens in the oral fluid microbiota. Sci Rep 8:91–97

Johnston C, Ufnar JA, Griffith JF, Gooch JA, Stewart JR (2010) A real-time qPCR assay for the detection of the nifH gene of Methanobrevibacter smithii, a potential indicator of sewage pollution. J Appl Microbiol 109:1946–1956

Ufnar JA, Wang SY, Christiansen JM, Yampara-Iquise H, Carson CA, Ellender RD (2006) Detection of the nifH gene of Methanobrevibacter smithii: a potential tool to identify sewage pollution in recreational waters. J Appl Microbiol 101:44–52

Fenollar F, Raoult D (2009) Does bacterial vaginosis result from fecal transplantation? J infect dis. 2016;214:1784-90.Vianna ME, Conrads G, Gomes BPFA, Horz HP. T-RFLP based mcrA gene analysis of methanogenic archaea in association with oral infections and evidence of a novel Methanobrevibacter phylotype. Oral Microbiol Immunol 24:417–422
Acknowledgments
The authors thank Magdalen Lardière for English correction.
Funding
This study was funded by the IHU Méditerranée Infection, Marseille, France.
GG benefits from a PhD grant from the Fondation Méditerranée Infection, Marseille, France. This work was supported by the French Government under the «Investissements d'avenir» (Investments for the Future) program managed by the Agence Nationale de la Recherche (ANR, fr: National Agency for Research), (reference: Méditerranée Infection 10-IAHU-03).
This work was supported by Région Provence Alpes Côte d'Azur and European funding FEDER PA 0000319 IHUBIOTK.
Ethics declarations
Conflict of interest
GG, FF, DR, and MD are co-inventors of a patent on the molecular detection of M. smithii for the diagnosis of BV.
Ethical approval
The study was authorized by the local Institut Fédératif de Recherche 48 Ethics Committee (Marseille, France) under agreement number 09-022.
Informed consent
All patients studied in this report have signed an informed consent.
Additional information
Publisher's note
Springer Nature remains neutral with regard to jurisdictional claims in published maps and institutional affiliations.
Electronic supplementary material
About this article
Cite this article
Grine, G., Drouet, H., Fenollar, F. et al. Detection of Methanobrevibacter smithii in vaginal samples collected from women diagnosed with bacterial vaginosis. Eur J Clin Microbiol Infect Dis 38, 1643–1649 (2019). https://doi.org/10.1007/s10096-019-03592-1
Received:

Accepted:

Published:

Issue Date:

DOI: https://doi.org/10.1007/s10096-019-03592-1
Keywords
Diagnosis

Methanobrevibacter smithii

Methanogens

Vaginosis